In this article, I'll explain the smart casual dress code, step by step, in simple terms.
I'll define smart casual, explain what it means, what is considered smart casual dress code, and where you can wear smart casual for a maximum stylistic effect.
What is Smart Casual Dress Code?
Oxford Dictionary defines a 'smart casual' look as "a neat, conventional, yet relatively informal style worn to conform to a particular event that requires a dress code."
In simple terms, the smart casual dress code ranges between anything smarter than a tracksuit and less formal than a suit.
A popular dressing code, smart casual looks excellent on all genders, body sizes, and types, and even on kids.
And depending on who's wearing it and for what occasion, the smart casual dress code can be "formal smart casual" and "informal smart casual."
Time to detail the smart casual dress code with a few representative examples and pics.
What is Considered Smart Casual Attire?
Smart casual dressing style combines "smart wear" such as business attire, with "casual wear" such as informal clothes and even streetwear.
On the spectrum of formality, smart casual lies between business casual (dress pants and pencil skirts) and dressy casual (jeans and blouses).
The easiest way to create a smart casual look is to match clothes with different levels of formality.
Some of the most suitable clothes for a casual dress code are coats, button-downs, pencil skirts, vibrant sweaters, polo shirts, dress pants, chinos, plain t-shirts, dark-wash jeans, and practical footwear.
Overall, the smart casual dress code requires a balance between a polished office look and informal clothes to create a relaxed style that appears elegant and comfortable.
When to Wear Smart Casual Attire?
By conferring an exquisite balance between casual and formal looks, the smart-casual dress code is suitable for all social occasions, professional or not.
As explained above, the smart casual dress code can be: "formal smart casual" and "informal smart casual."
In case of a business or work-related event, you want to wear a format smart casual dress code.
Such events are business conferences, business meetings, and after-work-related functions such as an office gathering for dinner.
In case of a more relaxed event like meeting friends for dinner or going to a friend's b-day party, you can wear informal smart casual.
Smart Casual Attire for Dinner
The smart casual dress code is highly versatile and one of the most suitable for dinner dates.
Men should go for dark tones and avoid sneakers at all costs.
Ideally, combine a polished pair of shoes with dark trousers and a relaxed top.
Women's best smart casual attire should showcase a mix of classic with modern styles such as high heels and dress in a plain t-shirt and a casual top.
Smart Casual Attire for Wedding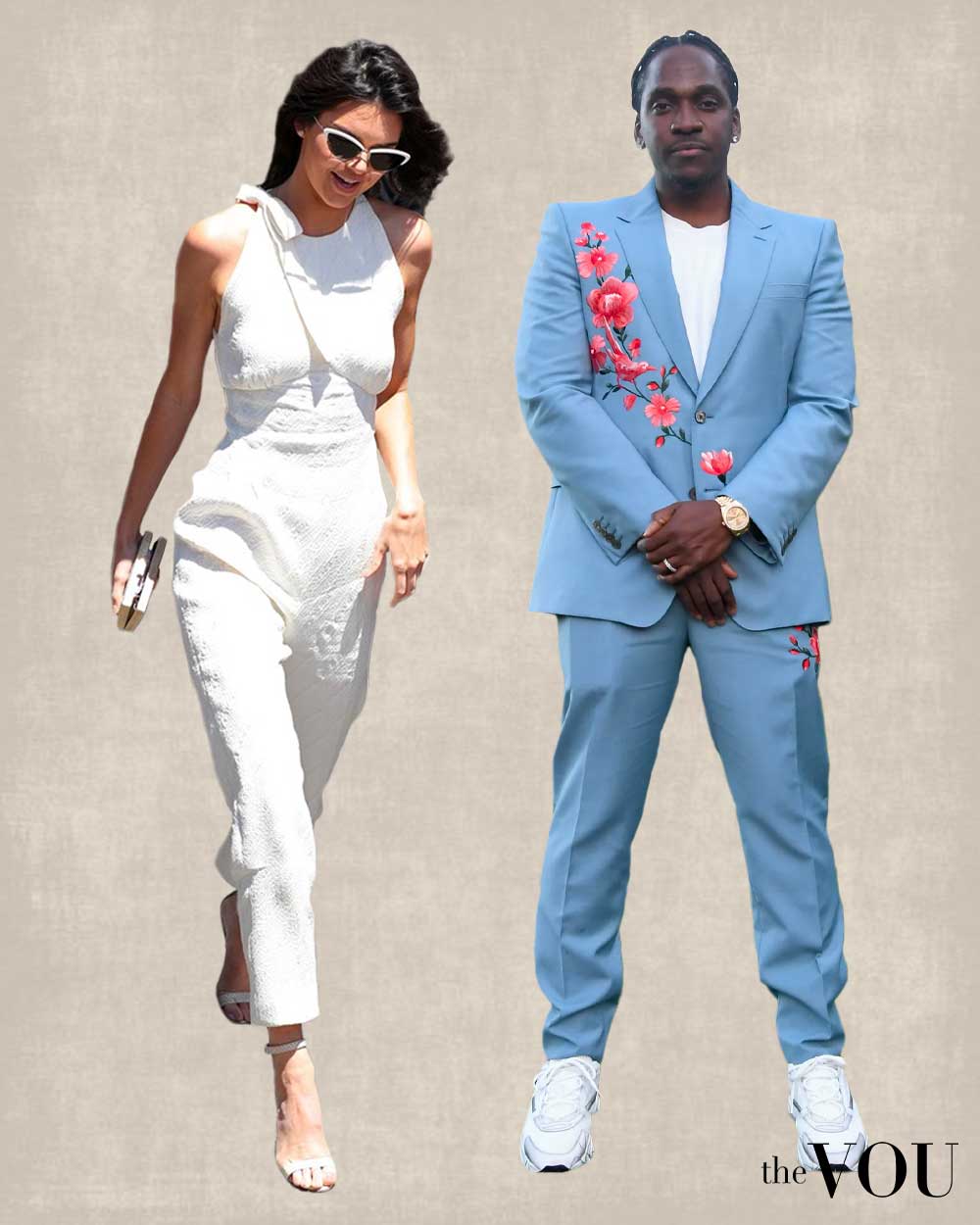 Friends' weddings are another excellent occasion to wear informal smart-casual ensembles.
While important by nature, these events tend to have a relaxed and friendly vibe.
Thus, while maintaining stylistic respect for the event type and your friends, feel free to showcase your unique style,
Above all, you do not want to appear over-or under-dressed but chic and comfortable.
Smart Casual Office Wear
Remember that the smart casual dress code is the most popular dressing style among business and office people.
However, unlike the classic business dress code, smart casual attire is more versatile and relaxed.
While you must retain the professional look, this is your chance to put a spin on your look.
Consider swapping the boring office suit and tie ensemble for a pair of chinos, a sleeve-up shirt, a relaxed blazer, and an open jacket thrown over your shoulders for a look suitable for all genders and ages.
Smart Casual Attire for Day Events
Unlike formal occasions such as weddings, dinners, or black tie events, day events offer more dressing flexibility.
Regardless if you're heading to a relaxed brunch with a friend or an afternoon tea, the smart casual dress code changes during the day towards the informal, everyday look with colorful tones and sporty outfits.
As such, denim jackets, chic tops, midi skirts, sneakers, and many accessories work wonders.
Let's now see how the smart dress code compares with the casual and business dress code.
Smart Casual Vs. Casual Dress Code
Compared to the smart casual dress code, the casual style is simple and oriented towards relaxed streetwear.
The casual dress code ranges from slouchy to relaxed and comprises anything from tracksuits to baggy jeans and hoodies, while smart casual has an extra stylistic touch of business.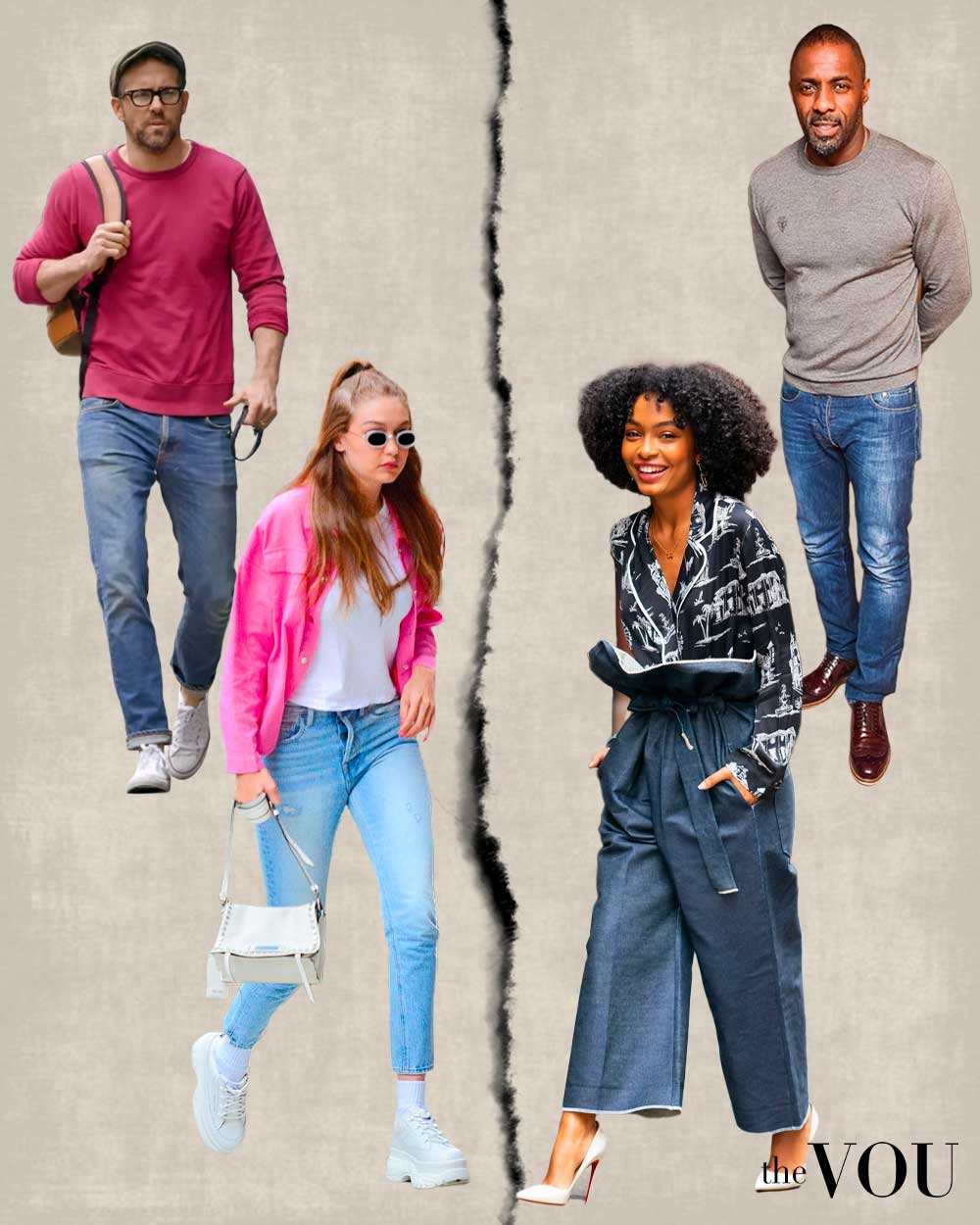 A further distinction is smart casual leads to a more polished look, swapping printed t-shirts for collared polos and baggy hip-hop style jeans for chinos or dark wash denim.
That said, casual attire can be a great jumping-off point for finding the ideal smart-casual outfit.
Start with clothes you already have in your wardrobe and gradually add upscale garments to lift the overall outfit look and unique personal style.
Smart Casual Vs. Business Casual
Given its relaxed yet polished aesthetic, smart casual is often confused with the business casual dress code, and for a good reason.
For example, both dress codes use most of the same garments, with few clothing choices and style-matching rules.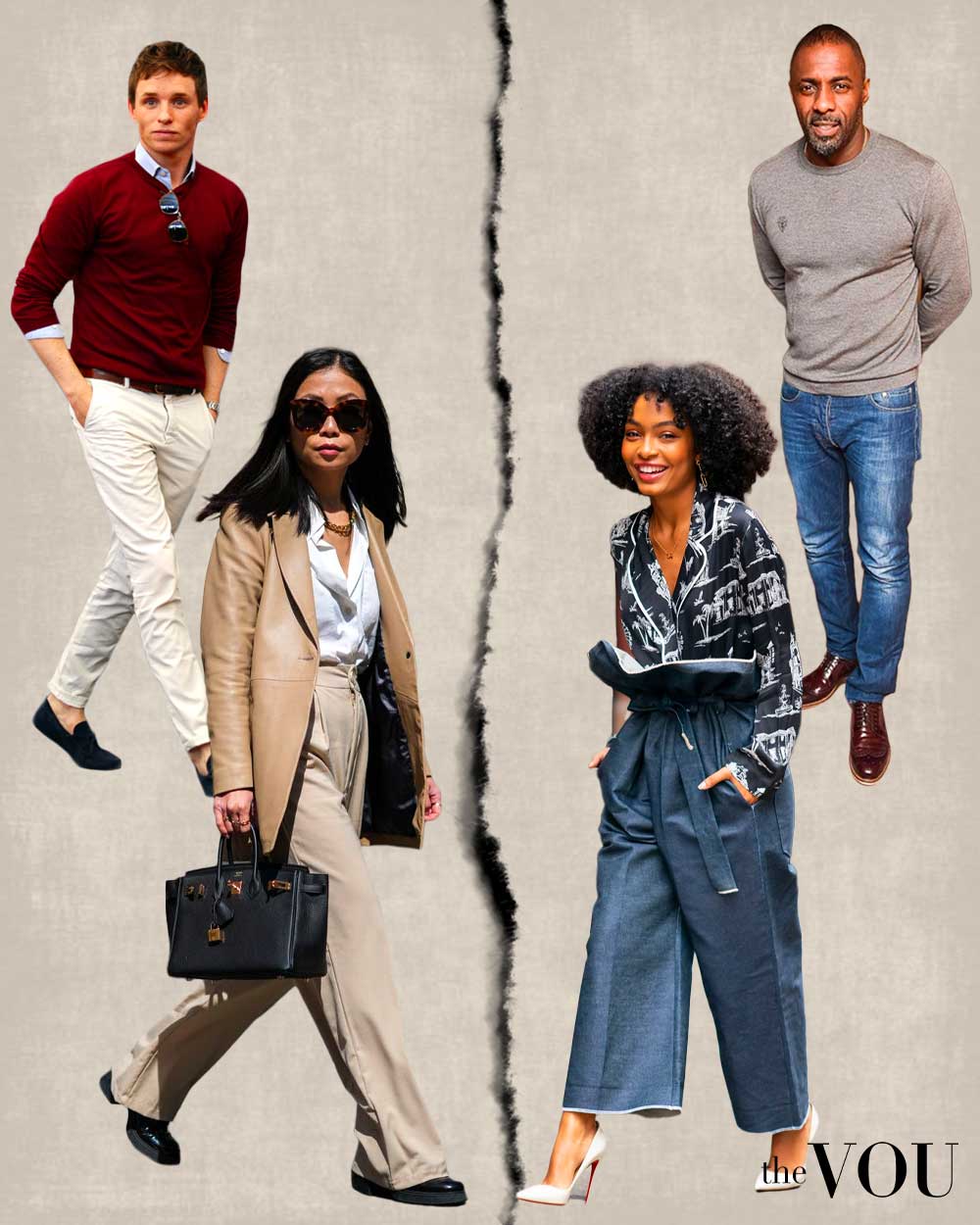 The business casual dress code requires a more conservative style of dressing, while smart casual is a bit more relaxed and fashion-forward.
Consistent with the current fashion trends, typical business casual, formal wear would consist of an unstructured blazer with a white shirt, a pair of black pants, and a quality pair of casual dress shoes to reinforce a classic style.
On the other hand, a casual style requires simple, casual clothes such as nice T-shirts in bright colors and casual footwear.
Smart Casual FAQs
Can I Wear Jeans for Smart Casual?
Jeans are a smart casual dress code staple.
The preferred jeans style for smart casual attire is the tailored fit in darker wash tones, ideally paired with a heel for women or smart shoes for men.
What is Allowed in Smart Casual?
Starting with the shoes, the smart casual dress code requires replacing white sneakers with dress shoes such as dark leather loafers or Oxford shoes.
On the top, replace your printed t-shirt and hoodies with a dress shirt, such as a short-sleeved (or long-sleeved) collared shirt or a button-down shirt.
Bottom-wise, replace baggy jeans with tailored chinos, dress pants, and a leather belt in the same color as the pants.
What is the Difference Between Casual and Smart Casual?
There are stylistic differences dictated by the event you're dressing for.
For example, casual wear is worn on informal occasions, whereas smart casual can be worn at both informal and formal events.
Are Jeans and a Top Smart Casual?
When styled accordingly, jeans are a smart casual dress code staple.
A great smart casual look is mixing a dark wash pair of jeans with a tailored blouse and a pair of smart shoes.
Avoid ripped or acid-washed jeans at all costs; these are unsuitable for formal environments such as job interviews.
Can I Wear Sneakers for Smart Casual?
Men should avoid sneakers when dressing smart casual and opt for casual shoes such as Oxford shoes.
However, women have more flexibility with the smart casual dress code and can blend sneakers and tennis shoes with casual skirts and tops.
Conclusion
Regardless of your gender, whether a woman, man or gender-free, the smart casual dress code rules apply the same.
Always combine well-fitting, polished business clothes like shirts, button-downs, dress pants, and office shoes with casual garments like blouses, dark-wash jeans, plain t-shirts, and practical footwear.
Weekly Newsletter
Keep up with the latest in fashion, beauty and style!
Now it's your turn…
Which tips for smart casual dress code did you like the most?
Do you think we've missed any other important elements of the smart casual dress code that we should include in our next article update?
What are the most important factors you consider when wearing smart casual clothes?
Please leave your comments below; we always appreciate your comments and use them to learn, improve, and update these articles.
With an AA from the Fashion Institute of Design & Merchandising in Los Angeles and over five years of experience in the fashion industry, Susan Kim is the founder of Sum+Style Co. - a Seattle-based personal styling company turned online marketplace focused on innovative K-Fashion (Korean Fashion) styles. Kim's expertise in men's and women's styling for the most demanding occasions has her editorial pieces covered by top fashion and style magazines worldwide.