As Korea continues to be a leading source for the 'Next Big Thing,' Korean fashion brands and designers are taking center stage.
As Korean social ideals are rooted in Confucianism, most Koreans have a more reserved approach to fashion.
However, as Korean women break old patriarchal norms, women empowerment movements and libertarian dressing causes are catching ground fast.
In this article, I have curated 28 of the best Korean fashion brands taking over Seoul's streets and beyond in 2023.
From modern streetwear to fine couture, these must-know Korean brands represent the cream of the country's thriving fashion scene.
---
1
/28
HYEIN SEO
High-end Korean Streetwear
Showcasing a unique sensual edge, often associated with the Fairy Grunge clothing style, Hyein Seo is one of the most sought high-end Korean streetwear brands.
Hyein's designs are the antithesis of past Korean social ideals and conservative views of constant external validation.
Hyein Seo's fashion creations are forms of female body liberation that shift how Korean women express and view the latest Korean beauty standards.
Unique, special, and striking, this Korean fashion label is loved and endorsed by Rihanna on Instagram.
---
2
/28
ROKH
High-end Korean Staples
Rok Hwang is a Korean fashion designer based in London, UK, that reached worldwide recognition after winning the LVMH Prize in 2018.
Before launching Rokh, Hwang worked under the tutelage of Céline's Phoebe Philo, followed by stints with Louis Vuitton and Chloe.
Rok's label boasts classic wardrobe staples reassembled in clever, unique ways, with an aesthetic clothing style that fills the gap left by Phoebe Philo's departure from 'old Céline.'




---
3
/28
REIKE NEN
Designer Shoes & Bags
Directed by designer Rei Yoon Hong Mi, Reike Nen is a high-end accessories label renowned for blending traditional with contemporary Korean styles.
Reike Nen's designs are simple and yet, unique, in an exquisite choice of colors that augments the brand's air of delicate sophistication.
---
4
/28
EENK
Vintage Style Clothing
Outspoken lover of vintage fashion, designer Hyemee Lee ensures her views are shown in her clothing label EENK.
Each of Lee's collections is rooted in classic haute couture but augmented with a modern, unexpected twist.
The brand's designs take on influences from past Korean eras, and the resulting looks are impressive.
"By making the kind of clothes young people want to wear right now, clothes that inspire confidence and timelessness, Lee has become a leading Korean designer,"
explains Kwon Ji-Yong, a South Korean rapper, singer-songwriter, and record producer known by his stage name G-Dragon.
"The brand is incredibly versatile. You can go in any direction with EENK pieces,"
completes Lie Sang Bong, a Korean fashion designer whose creations are sported by Beyoncé, Rihanna, Lady Gaga, and Lindsay Lohan.
Hailed as one of the top Korean fashion designers, it is only a matter of time before Lee's creations make it big in the west.
---
5
/28
TIBAEG
Nature-inspired Korean Designer Fashion
Tibaeg is a creation of Chou Eun-ae, a South Korean up-and-coming designer.
The label's designs have a flavor of tradition only found in Bohemian clothing brands.
Akin to "the way a tea bag infuses its rich flavors into the water," Tibaeg's garments are permeated with natural colors and prints that express "tender emotions and lots of joy."
---
6
/28
LIE COLLECTION
Modern Korean Fashion
LIE Collection was born from a shared vision of Chung Chung Lee and Nana Lee – children of the renowned designer behind the legendary Korean fashion house Lie Sangbong.
The Korean clothing label creates a wide range of styles for modern women, from e-girl clothing to cyberpunk fashion.
---
7
/28
SJYP
Designer Denim
Launched by the Korean designer duo Steve J and Yoni P in the summer of 2015, SJYP is a contemporary Korean fashion label taking the world by storm.
Winner of Style Icon Asia in 2016, the Korean brand's crinkle pants and jackets in unique cut-offs and extravagant shades of blue denim are instant eye-catchers.
---
8
/28
GOEN JONG
Korean Haute-Couture
After receiving a degree in fashion design from Paris' prestigious Studio Berçot, Goen Jong returned to her native Korea in 2012 to launch her eponymous fashion brand.
The designer's architectural silhouette oozes refined romanticism, recognized and demanded by retailers such as Opening Ceremony and Harvey Nichols.
The balance between delicate and structural design makes a powerful visual impact on women's bodies.
A winner of the 2017 SFDF Awards, the label is one of Korea's most representative fashion brands right now.
---
9
/28
MÜNN
Androgynous Clothing
Launched in 2013 by South Korean designer Han Hyun-min, MÜNN is an androgynous clothing label that impresses with brilliant cuts and a balanced blend of streetwear.
Some of Han Hyun-min's most famous creations are deconstructed formal wear – suits from salvaged wool or woven capes from men's ties.
Infused by a retrofuturistic style with zippers or patches 'wrongly' placed, every outfit carries a sense of intent and a polished look.
---
10
/28
ANDERSSON BELL
Gender-free Japandi Style
At first glance, Andersson Bell's creations of urban, street-inspired style can be confused with a Scandinavian fashion brand.
And that's not bad at all, especially now with the growing demand for 'Japandi' fashion.
Clean, calm, and harmonious, the blending of Japanese fashion and Scandinavian designs (hence 'Japandi') is becoming a hot commodity in fashion circles.
Similarly, Andersson's couture pieces deliver that unique Scandinavian minimalism but, hailing from Seoul, with a blend of Korean straightforwardness.
The brand incorporates elements of both cultures to create genderless clothing wrapped in a timeless and eccentric silhouette.
And, as expected from a top fashion brand, Andersson Bell is now available at top clothing stores worldwide.
---
11
/28
ROCKET X LUNCH
Designer Day Wear
Insisting not to have logos part of the brand's design, Rocket-x-Lunch is the epitome of high-end, chic Korean fashion.
Featuring a wide selection of clothing, from layered tees to leather jackets, the brand's pieces have a quirky, irreverent touch that stays relevant all year round.
---
12
/28
WE11-DONE
Korean Androgynous Clothing
In 2014, lifelong friends Dami Kwon (G-Dragon's sister) and Jessica Jung founded Rare Market, a concept store that unearths Korean cult labels and other overseas gems.
The duo launched WE11DONE (pronounced "well done"), an androgynous fashion label.
Distinct and elevated, the brand's clothes weave in past historical references in designs reimagined for the modern day.
---
13
/28
FLEAMADONNA
Maximalist Korean Clothing
Inspired by the latest runway collections, Fleamadonna is an excellent representative of maximalist Korean trendy couture.
The brand's designer speaks of the Fleamadonna as 'a girl who is never afraid to try and experiment with new designs, textures, and colors.'
---
14
/28
WNDERKAMMER
Sustainable Korean Clothing
Founded in 2010 by Hye Young Shin, Wnderkammer is an independent Korean designer label that creates closet staples with a sustainable fashion twist.
Made from organic and natural fabrics, Wnderkammer pieces have an eco-friendly take on women's wear.
The elevated outside-the-box designs create a subtle and charismatic vibe, reflected by minimalist silhouettes and clean details.
---
15
/28
NOHANT
Korean Streetwear
A mash-up of modern preppy styles and streetwear, Nohant's specialty lies in its signature Lonely/Lovely sweatshirts (adored by model Barbara Palvin) and Université de Nohant hoodies.
The brand is also popular for casual rugby-striped tees, checked dusters over slouchy denim, and sweatsuits topped with varsity jackets.
You can shop for the brand via the official page or at the W Concept store.
---
16
/28
13 MONTH
Korean Street Style
According to the founders, the reason behind the label 13 Month is 'a shared ambition to launch something that does not exist, just like the 13th month of the year.'
Instead of returning to January from December, the creators hope to grow further from a place most people call "the end."
Thus, the brand's name symbolizes further growth and continuous development, and the creations are just that; 'sweet figments of imagination turned into reality.'
---
17
/28
IISE
Streetwear
IISE stands out by infusing streetwear fashion with unique elements of Korean culture, showcasing a relaxed and modern look.
Blending timeless cuts with practical functionality, IISE has everything from sweats and tees to accessories, even clothing for petit silhouettes.
Moreover, IISE blurs the line between genders with its gender-neutral clothing collections, uncommon in traditional Korean culture.
---
18
/28
CHARM'S
Korean Chic Grunge Streetwear
If chic Korean grunge fashion is your aesthetic, then Charm's is the fashion brand to shop for.
Best known for a unique urban streetwear style loved by K-pop royalty, the brand fuels fun and loud silhouettes.
Moreover, Charm's sportswear capsule collaborations with Key from boy band Shinee and Irene Kim stand out from a mile.
---
19
/28
CHANCECHANCE
Korean Punk-Style Streetwear
Launched by Kim Chan in 2013, CHANCECHANCE blends Korean streetwear with a bit of 80s punk aesthetic in a dandy, unique way.
Not yet known in Europe or the US, the Korean designer is endorsed by Korean influencers, including the boy band BTS.
Chan's colorful and multitextured high-waisted punk trousers, oversized peach blazers, matching shirts, checkered jeans for women, and vests are a must-wear in 2023.
---
20
/28
MINJU KIM
High-End Korean Fashion
If you follow the 'Next in Fashion' series on Netflix, I am sure you're familiar with Minju Kim's playful fashion style and unique aesthetics.
Kim, the winner of Netflix's reality series Next in Fashion and creator of the world tour costumes for the boy band BTS, has a "forward-thinking, and yet ultra-feminine" take on Korean fashion.
With unexpected colors, cuts, prints, and designs, Kim's will make you feel like you're living in a fairytale world.
---
21
/28
STYLENANDA
Premium Women's Clothing
While Stylenanda offers only Korean fashion for women, it has an English website and international shipping.
The site hosts a large variety of apparel from its brand, with the cheapest product starting at under $20.
While most clothes in the store are pretty affordable, Stylenanda has a premium offering as well, with prices going up to $400.
---
22
/28
KYE
Designer Casual Wear
KYE is a Korean brand catering to fashion lovers that love to look well-put-together without sacrificing comfort.
Also popular in the US – Rihanna and Kylie Jenner love the brand – KYE often showcases its rare designs at New York Fashion Week.
---
23
/28
DABAGIRL
Women's Casual & Formal Wear
As the name suggests, Dabagirl is a Korean clothing brand catering to women only.
The brand has an English version website that's easy to browse and shop, with worldwide delivery.
From check shirts to graphic knits and sweaters, the brand's clothes are comfortable and easy to style.
Price-wise, Dabagirl is one of the more expensive Korean clothing brands, but as the saying goes, 'you get what you pay for.'
---
24
/28
BEYOND CLOSET
Versatile Korean Clothing
A creation of Tae Yong, the concept of Beyond Closet is true to the brand name by offering collections beyond just clothes that hang in the wardrobe.
This varsity-inspired Korean clothing label celebrates individuality and style, offering trendy apparel that mixes high school preppiness with funky streetwear.
---
25
/28
JUSTONE
Affordable Korean Basics
With a highly elegant look, Justone can be found in the greatest Korean online stores, such as Yessstyle.
Despite the intentional approach, Justone's online store offers affordable clothing collections, starting at under $20.
---
26
/28
CHUU
Aesthetic Clothing
Chuu is a womenswear brand famous in Korea for high-quality, super skinny jeans and aesthetic clothing.
The brand's pants are so popular that buyers call them -5kg jeans (apparently, wearing them makes you look super skinny).
Besides 5kg jeans, Chuu has limited edition goods created in collaboration with Asian celebrities that sell exceptionally well.
The prices are slightly higher than those you might get in shopping malls such as Yesstyle and Kooding.
---
27
/28
KORE LIMITED
Premium Korean Streetwear
With Korean celebrities wearing their streetwear clothing, Kore Limited has reached popularity in recent years.
But, if street-style clothing isn't your thing, I still recommend you check them out – the brand has unique pieces and iconic designs you won't find anywhere else.
And, since it offers only its designs, Kore Limited is more pricey than the other Korean clothing brands on this list.
---
28
/28
THE BALD TIGER
Affordable Korean Streetwear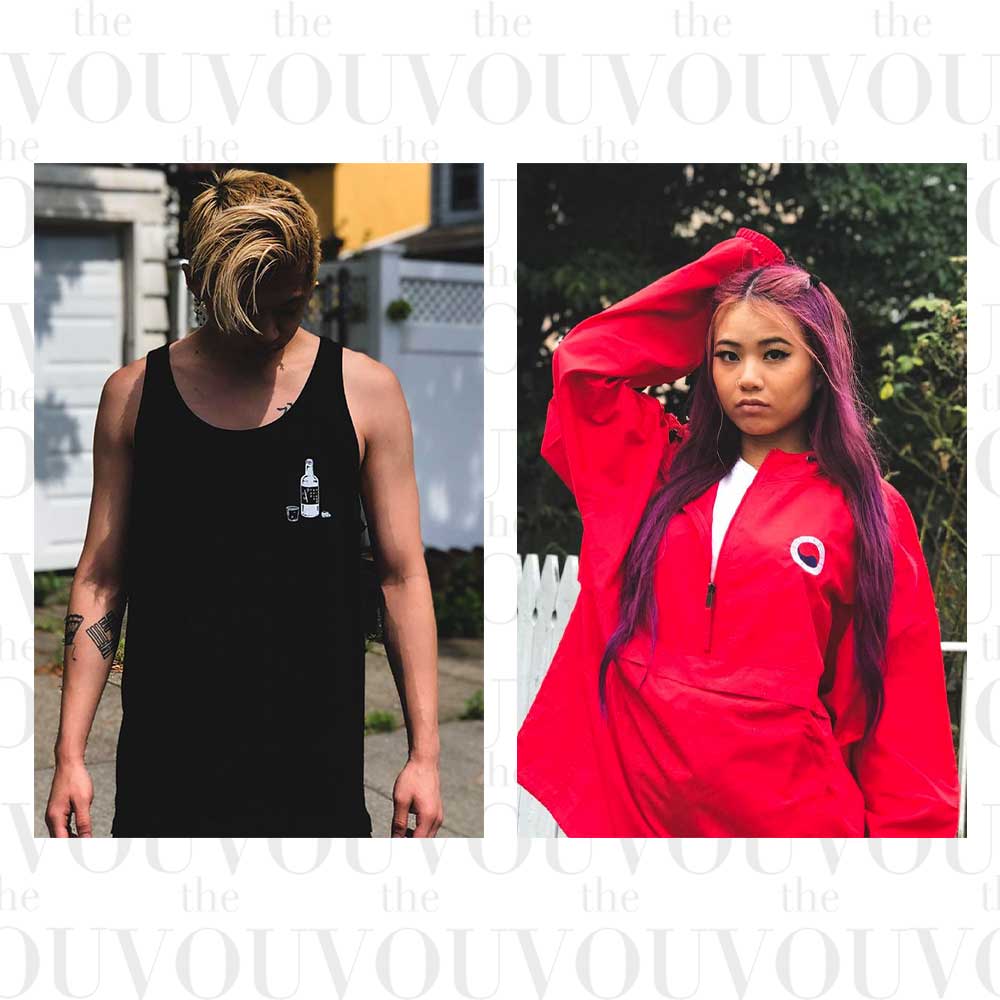 The Bald Tiger is one of the many affordable streetwear brands emerging from Korea right now.
The brand infuses American and Korean aesthetics and is loved by Korean-American celebs, like Jessica Jung – a former member of the South Korean girl group, 'Girls' Generation.'
Expect Korean tigers, yin and yang symbols, American flags, and eagles to join forces in creating unique designs that'll help you stand out immediately.
---
Conclusion
I hope you liked my article covering the most popular Korean fashion brands in 2023.
To recap, in this article, I have curated the best Korean fashion brands, Korean designer labels, and Korean couture houses you can wear right now.
Leading the Korean fashion trends, some are more niche than others, but the prices are for all pockets.
Weekly Newsletter
Keep up with the latest in fashion, beauty and style!
Now it's your turn…
Which one of these Korean clothing brands is your favorite and why?
Are there any other great Korean fashion brands you've tried and want to add to this list?
Please leave your comments below; we always appreciate them and use them to learn, improve, and update these articles.
After years of managing hundreds of fashion brands from London's office of a global retailer, Mandy has ventured into freelancing. Connected with several fashion retailers and media platforms in the US, Australia, and the UK, Mandy uses her expertise to consult for emerging fashion brands create top-notch content as an editorial strategist for several online publications.