Most Popular Korean Fashion Brands In 2023!
This article details Korean Fashion, offering a complete guide to Korean fashion trends, brands, designers, and stores.
This article will look at the ascension of Korean fashion in the last five years and the best 28 Korean clothing brands.
We'll then explore the best 9 Korean fashion online stores and the top 11 fashion trends in 2023.
And finally, I'll introduce you to the top 10 Korean fashion influencers you must follow.
As a bonus, we'll look at the most popular Korean fashion stores for men and traditional Korean clothes.
Without further ado, this is the most comprehensive guide to Korean Fashion right now:
IN THIS ARTICLE
Korean Fashion Guide
What is Korean Fashion Like in 2022?
Best 9 Korean Fashion Online Stores
11 Korean Street Fashion Trends
Top 10 Korean Fashion Influencers
What is Korean Fashion Like in 2023?
South Korean fashion has gained so much popularity worldwide, especially over the last five years.
The advance in Korean fashion is attributed, in part, to Korean beauty, K-pop celebrities, Korean dramas, music, and TV shows with worldwide appeal.
With Selena Gomez, Lady Gaga, and Halsey collaborating with K-pop stars, modern South Korea has greatly influenced global pop culture.
Korean culture, be that k-pop, Korean beauty, or fashion is so powerful and far-reaching that there's a unique term to describe its impact: Hallyu.
Hallyu, or the Korean Wave, cements the East Asian country's position as a contemporary world power in fashion, beauty, and entertainment.
Brands like Soko Glam lead the Korean beauty world, while names like Bong Joon Ho, BTS, or Blackpink are at the forefront of the Korean entertainment industry.
And while Asian countries are mass exporting viral entertainment, celebrities scandal, and men's beauty, Korean fashion brands are the next area worth exploring.
As Korea continues to be a leading source for the 'Next Big Thing,' it only makes sense that its fashion designers would become the industry's next stars.
The growth of the Korean fashion scene is also helped by a surge in government funding and programs like 'Concept Korea' in recent years.
Therefore, whether it's the latest trends or culturally-infused sartorial sense, the Korean fashion scene, rising straight out of Seoul, can no longer be ignored.
Top 28 Korean Clothing Brands
Without further ado, these are the best Korean fashion designers in 2023.
---
1
/28
HYEIN SEO
High-end Streetwear
Hyein Seo is one of the best high-end Korean streetwear brands with a uniquely sexy edge, often associated with the Fairy Grunge clothing style.
Hyein's designs are the antithesis of classic Korean social ideals of conservative views and constant external validation.
The Korean label is loved and endorsed by Rihanna on Instagram.
As Korean social ideals are rooted in Confucianism, most Koreans have a more reserved approach to fashion.
However, as Korean women break old patriarchal norms, women empowerment movements and libertarian dressing causes are catching ground fast.
With undeniably sexy and highly conceptualized couture pieces, Hyein Seo played a significant role in this emancipation movement.
Hyein Seo's interpretation of the female body and dress as a form of liberation shifts how Korean women express and view the latest Korean beauty standards.
---
2
/28
ROKH
High-end Classic Staples
Rok Hwang is a Korean fashion designer based in London, UK.
Rok reached worldwide recognition after winning the LVHM Special Prize in 2018.
A year later, in 2019, he debuted at Paris Fashion Week.
Before launching his label, Rokh, Hwang worked under the tutelage of Phoebe Philo, who was then head of house at Céline, followed by stints with Louis Vuitton and Chloe.
Rok's label boasts classic wardrobe staples reassembled in clever, new ways.
Also, most fashion critics feel the designer has an aesthetic clothing style that may fill the gap left by Phoebe Philo's departure from 'old Céline.'
---
3
/28
REIKE NEN
Designer Shoes & Bags
Directed by designer Rei Yoon Hong Mi, Reike Nen is a Korean handbag and footwear label that offers contemporary and classic styles.
Reike Nen's designs are unique yet very simple, allowing them to go well with a wide range of looks.
Moreover, the designers' choice of colors augments the brand's air of delicate sophistication.
---
4
/28
EENK
Vintage Style Clothing
Known for her love for vintage fashion, designer Hyemee Lee makes sure it shows in her clothing label EENK.
Each of Lee's collections is deeply rooted in classic haute couture but augmented with a modern, unexpected twist.
The brand's designs take on influences from past eras, resulting in multiple styles.
"Lee has become a popular Korean designer by making the kind of clothes young people want to wear right now. Her clothes inspire confidence and timelessness,"
shares Kwon Ji-Yong, a South Korean rapper, singer-songwriter, and record producer known by his stage name G-Dragon.
"The brand is also incredibly versatile. You can go in any direction with EENK pieces,"
completes Lie Sang Bong, a Korean fashion designer whose creations are sported by Beyoncé, Rihanna, Lady Gaga, and Lindsay Lohan.
Hailed as one of the top designers in Korea right now, it is only a matter of time before Lee's creations make it on their way west.
---
5
/28
TIBAEG
Nature-inspired Designer Clothing
Tibaeg is a creation of Chou Eun-ae, a South Korean up-and-coming designer.
The label's designs remind me of some of the best Bohemian clothing brands.
Akin to "the way a tea bag infuses its rich flavors into the water," Tibaeg's garments seem permeated with bold colors and graphic prints.
I find each garment of a very delicate nature, filled with details that express "tender emotions and lots of joy."
---
6
/28
LIE COLLECTION
Modern Korean Fashion
LIE Collection was born from a shared vision of Chung Chung Lee and Nana Lee – children of renowned designer parents behind the legendary Korean fashion house Lie Sangbong.
Chung Chung Lee partnered in 2011 with sister Nana to launch the fashion label LIE Collection.
In simple terms, the Korean label creates fashion for modern women, whether e-girl clothing or cyberpunk fashion.
Since its launch, LIE has grown to include two free-standing stores in Korea, multiple pop-up shops throughout Asia, and a concept store in New York's Meatpacking District.
---
7
/28
SJYP
Designer Denim
Launched by the Korean designer duo Steve J and Yoni P in the summer of 2015, SJYP is a contemporary Korean fashion label taking the world by storm.
Winner of the Style Icon Awards Asia 2016, the Korean label is known for its denim-DNA features and signature destroyed details.
The brand stands out thanks to its crinkle pants and jackets and unique cut-offs in the most extravagant shades of blue denim.
If you're after fantastic fashion discoveries, shop this label at SJYP at Ssense, Net-A-Porter, Nordstrom, Masarishop, and Farfetch.
---
8
/28
GOEN JONG
Luxury Couture
After receiving a degree in fashion design from Paris' prestigious Studio Berçot, Goen Jong returned to her native Korea to launch her eponymous label in 2012.
The designer's architectural silhouette oozes refined romanticism, recognized and demanded by retailers such as Opening Ceremony and Harvey Nichols Hong Kong.
The balance between delicate and structural design makes a powerful visual impact on the dynamic movements of women's bodies.
Goen J. is now carried by high-fashion online and offline retailers, including Net-a-Porter, Farfetch, Barneys, Selfridges, Liberty, Bergdorf Goodman, Moda Operandi, Shopbop, and Yoox.
As the 2017 SFDF Awards winner, the label is one of Korea's most representative fashion brands.
---
9
/28
MÜNN
Androgynous Clothing
Launched in 2013 by South Korean designer Han Hyun-min, MÜNN is an androgynous clothing label that impresses with brilliant cuts and a balanced blend of streetwear.
Some of Han Hyun-min's most famous creations are deconstructed formal wear, such as wool and selvage suiting, and innovative pieces, like his woven cape made from men's ties.
The autumn/winter 2020 collection was filled with detailed clothes like an oversized, asymmetrical pinstripe blazer/ coat hybrid or a long coat with a flowing scarf tail.
Every outfit carries a wide range of textures, fabrics, and accessories, yet there is a sense of intent and a polished look.
For example, even when zips seemed placed in all directions – on a silver nylon jacket – the overall look resembled a perfect spacecraft retrofuturistic style.
---
10
/28
ANDERSSON BELL
Gender-free Japandi Style
Seoul-based with a perfected urban, street-inspired style, at first glance, Andersson Bell's creations can be confused for a Scandinavian fashion brand.
And that's not bad, especially now with the growing demand for 'Japandi' styles.
Clean, calm, and harmonious, the blending of Japanese fashion and Scandinavian designs (hence 'Japandi') is increasingly sought-after.
Similarly, Andersson's couture pieces deliver that unique Scandinavian minimalism but blend with Korean straightforwardness.
The brand incorporates elements of both cultures to create genderless clothing with timeless and eccentric silhouettes.
And, as expected from a top fashion brand, Andersson Bell is now available at top clothing stores worldwide.
---
11
/28
ROCKET X LUNCH
Designer Day Wear
Rocket-x-Lunch is the epitome of effortless chic, standing out as one of the brands not to have their logo integrated into the design.
The label aims to make its name solely based on its style and is undoubtedly doing a fine job.
Featuring a wide selection of clothing, from layered tees to leather jackets, these products are trendy pieces crafted with a quirky, irreverent touch that will stay relevant all year round.
---
12
/28
WE11-DONE
Korean Androgynous Clothing
In 2014, lifelong friends Dami Kwon (G-Dragon's sister) and Jessica Jung founded Rare Market, a concept store that unearths Korean labels and cult overseas gems under the radar.
The duo launched WE11DONE (pronounced "well done"), known for its androgynous, distinct, and elevated pieces that weave references from the aughts, reimagined for today.
Expect cool-girl styles in inventive silhouettes that convey an understated sophistication.
---
13
/28
FLEAMADONNA
Maximalist Clothing
Fleamadonna is an excellent brand for Korean fashion trendy pieces inspired straight from the runway.
The brand's designer speaks of the Fleamadonna as a girl who is never afraid to try and experiment with new designs, textures, and colors.
---
14
/28
WNDERKAMMER
Sustainable Designer Clothing
Founded in 2010 by Hye Young Shin, Wnderkammer is an independent Korean designer label that creates closet staples with a sustainable fashion twist.
Made from organic and natural fabrics, Wnderkammer pieces have an eco-friendly take on women's wear.
The elevated outside-the-box designs create a subtle and charismatic vibe, reflected by minimalist silhouettes and clean details.
---
15
/28
NOHANT
Korean Streetwear
A mash-up of collegiate prep and streetwear, Nohant's specialty lies in its signature Lonely/Lovely sweatshirts (so loved by model Barbara Palvin) and Université de Nohant hoodies.
The brand is famous for its casual rugby-striped tees, checked dusters over slouchy denim, and sweatsuits topped with varsity jackets.
You can shop the brand directly or browse for it at the W Concept store.
---
16
/28
13 MONTH
Korean Street Style
According to the founders, the reason behind the label 13 Month is a shared ambition "to launch something that does not exist," just like the 13th month of the year.
Instead of returning to January from December, the creators hope to grow further from a place most people call "the end."
Thus, the brand's name symbolizes further growth and continuous development, and the creations are just that – figments of imagination turned into reality.
---
17
/28
IISE
Streetwear
IISE stands out by infusing streetwear fashion with unique elements of Korean culture.
As a result, the brand's designs have a relaxed and modern look, blending timeless cuts with practical functionality.
IISE has everything from sweats and tees to accessories, even clothing for petit silhouettes.
There's also an ethical side to this Korean label.
The designer uses local fabrics and eco-conscious manufacturing techniques to remind the strength of Korean culture.
And to top it up, IISE blurs the line between genders with its gender-neutral clothing collections, which are uncommon in traditional Korean culture.
---
18
/28
CHARM'S
Streetwear
If bold and grunge chic is your aesthetic, then Charm's is a Korean fashion brand to shop for.
The brand fuels fun and loud silhouettes, best known for a unique urban streetwear style loved by K-pop royalty.
Charm's has sportswear capsule collaborations with Key from boy band Shinee and Irene Kim.
---
19
/28
CHANCECHANCE
Streetwear
Launched by Kim Chan in 2013, CHANCECHANCE deftly blends streetwear, punk, and a hint of a dandy.
Not yet known in Europe or the US, the Korean designer is endorsed by Korean influencers, including the boy band BTS.
Chan's collection stands out via its colorful and multitextured technical fabrics.
Expect high-waisted punk trousers, oversized peach blazers, matching shirts, checkered skinny trousers and vests, and lots of vests.
And yet, everything in Kim Chan's collections can be incorporated into everyday wardrobes.
---
20
/28
MINJU KIM
Luxury Couture
If you watch the 'Next in Fashion' series on Netflix, you're probably familiar with the bold and playful aesthetics of Minju Kim's namesake label.
As the winner of Netflix's reality competition series Next in Fashion, designer Minju Kim had a chance to introduce her eponymous brand to a global market, including the opportunity to be stocked on NET-A-PORTER.
Kim, who has created world tour costumes for the boy band BTS, brings a unique sense of playfulness and joy to her couture designs.
The brand's unique creations are "forward-thinking, and yet super feminine."
Kim is also famous for creating couture for members of BTS.
The designer doesn't copy trendy currents in the industry but instead uses nature's ever-changing facet – at a micro and macro level – to drive her collections.
In bright colors and prints, Kim's designs will make you feel like you're living in the fairytale world.
---
21
/28
STYLENANDA
Premium Women's Clothing
Stylenanda is a trendy clothing brand in Korea.
While the company only offers Korean fashion for women, it has an English website and international shipping.
The site hosts a large variety of apparel from its brand, with the cheapest product starting at under $20.
While most clothes in the store are pretty affordable, Stylenanda has a premium offering, with prices going up to $400.
---
22
/28
KYE
Designer Casual Wear
If you have not heard of this brand, it's because it is not too popular in some parts of the world.
More popular in the US, KYE has showcased designs at New York Fashion Week.
KYE is a label for fashion lovers that love to look well put together without sacrificing comfort.
And, if United States celebrities like Rihanna and Kylie Jenner love the brand, I guess you, too, can trust this Korean fashion brand.
---
23
/28
DABAGIRL
Women's Casual & Formal Wear
As the name suggests, Dabagirl is another Korean clothing brand for women's fashion.
Dabagirl's clothing line is also available on the site among many other Korean.
Similarly, you can also find Dabagirl clothing on other Korean clothing websites.
The site has an English version; it is easy to browse and shop – it also delivers worldwide.
Although Dabagirl only offers women's fashion, they also provide accessories to complete the outfits.
They offer everything from handbags to jewelry and other accessories.
You can easily purchase a complete outfit here if that's what you want!
Price-wise, Dabagirl is one of the more expensive Korean clothing brands.
---
24
/28
BEYOND CLOSET
Versatile Korean Clothing
A creation of Tae Yong, the concept of Beyond Closet is true to the brand name; to offer a selection of pieces beyond just clothes that hang in the wardrobe.
This varsity-inspired Korean clothing label celebrates individuality and style, offering trendy pieces that mix high school preppiness and funky streetwear.
Beyond Closet is about creating comfortable and easy-styling pieces, from check shirts to graphic knits and sweaters.
---
25
/28
JUSTONE
Affordable Basics
Justone is a Korean label targeting a more elegant look.
Justone runs a dedicated fashion line that can be found along with other great Korean online stores, such as Yessstyle.
Despite the intentional approach, Justone's online store offers affordable clothing collections where you can find shirts under $20.
The label also offers some rather pricy collections; however, in my experience, the quality is high, and the extra cost is always worth it.
---
26
/28
CHUU
Aesthetic Clothing
Chuu is a womenswear brand famous in Korea for its high-quality, super skinny jeans and aesthetic clothing.
The brand's pants are so popular that buyers call them -5kg jeans (apparently, wearing them makes you look super skinny).
Apart from -5kg jeans, Chuu has a variety of clothing that is hard to find anywhere else.
The online store offers all kinds of fashion for women, from tops and pants to phone cases.
However, Chuu has limited edition goods created in collaboration with Asian celebrities that sell exceptionally well.
The prices are slightly higher than those you might get in shopping malls such as Yesstyle and Kooding.
---
27
/28
KORE LIMITED
Streetwear
Kore Limited is a Korean streetwear brand that has reached popularity in recent years.
Many Korean celebrities are wearing their clothing, and the label is getting more popular daily.
Kore Limited is one of the few popular Korean clothing brands that cater to women, men, and children.
However, since Kore Limited is a pure streetwear label, they offer street-style clothing.
Assuming that street fashion isn't your thing, I still recommend you check them out, as I am sure you'll love their unique pieces and iconic designs.
The brand launches fashion catalogs every season, each containing unique designs and limited editions.
Kore Limited is more pricey than the other online clothing stores on this list.
And, since it offers only its designs, the label is seen as a premium brand with top-quality clothing.
---
28
/28
THE BALD TIGER
Streetwear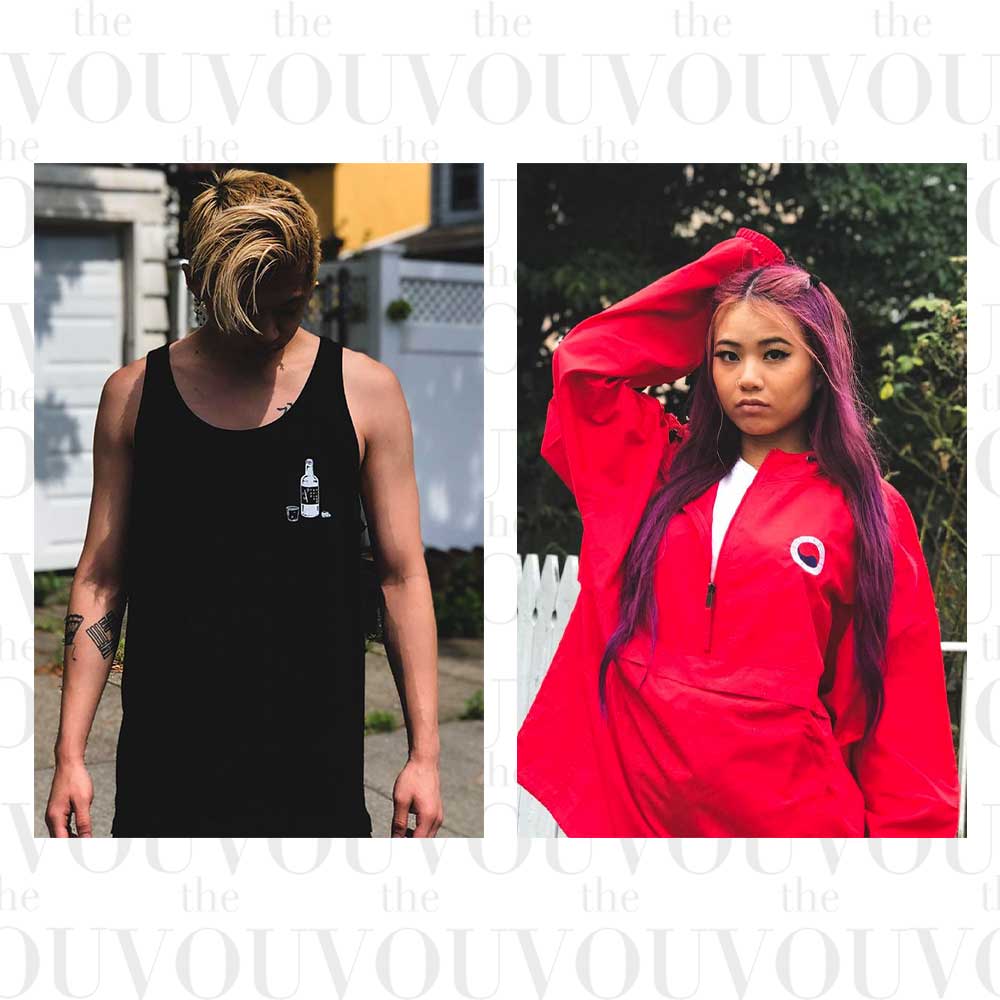 The Bald Tiger is one of the emerging affordable streetwear brands from Korea with a unique twist to Korean fashion.
The label is Loved by Jessica Jung – a Korean-American singer, songwriter, actress, and former member of the South Korean girl group, Girls' Generation.
Like Kore Limited's style and concept, The Bald Tiger excels with different execution.
For once, The Bald Tiger clothing infuses American and Korean streetwear elements into each piece.
Blends of Korean tigers and yin and yang symbols, American flags, and eagles join forces to create recognizable yet unique designs that'll help you stand out immediately.
While The Bald Tiger offers clothing for everyone, its catalog is limited as it sells only its brand.
---
Best 9 Korean Fashion Online Stores
With International Shipping
Knowing where to purchase Korean clothing can be challenging, especially if you don't live in Korea.
In this section, I've curated some of the best Korean fashion online stores right now that have websites in the English language and ship worldwide.
---
1
/9
W CONCEPT
Korean Designer Clothing
W Concept is one of the biggest fashion websites in South Korea – if not in the top three online clothing stores in the country right now.
W Concept has Korean and non-Korean brands, and you will be hard-pressed to find an online store with a broader clothing variety.
The online store is split into two sections, Korean and US.
While the U.S. version of the website features different appeal styles relevant to American trends and shoppers, you can always switch to Korean brands using the menu bar.
And to top it up, W Concept offers fashion and beauty products from famous Korean cosmetic brands such as COSRX and Hera.
---
2
/9
YESSTYLE
Biggest Korean Department Store
Arguably the most famous Korean shopping mall on this list, Yesstyle is a name most Korean fashion enthusiasts are already familiar with.
Not only does Yesstyle offer clothing for both men and women, but they also offer cosmetics, accessories, shoes, pet apparel, homeware, and even artisanal goods.
This website has an incredible variety of Korean fashion, often discounted or on sale.
And while not all garments sold on this site are made by Korean designers, the company focuses on Korean fashion aesthetics.
As Yesstyle stocks clothes from hundreds of brands and designers, the price and product quality vary accordingly.
Pricing on this website starts at around $5 for some of the cheaper T-shirts, shorts, and pants and could reach thousands for limited edition pieces you can't find anywhere else.
Yesstyle has a considerable offering, but that can be overwhelming at times.
For that, I recommend this store to those who know what they want and are already familiar with Korean clothing brands.
---
3
/9
KOODING
Widest Range of Korean Clothing
Kooding is another tremendous Korean fashion website that stocks and ships worldwide.
The online store has a wide range of clothing for women, men, and kids from top Korean clothing brands.
While the online store focuses on clothing, Kooding also stores accessories such as phone cases, pens and pencils, and designer face masks.
I love shopping at Kooding for unique Korean clothing, such as modern hanbok.
Not many sites offer modern hanbok, and I'm happy to see Kooding offering it, as I love the style.
Kooding's prices are in the cheaper range compared to most sites on this list.
---
4
/9
STHSWEET
Korean Fashion & K-beauty
Sthsweet is an online Korean fashion store owned by the same company as Chuu.
However, where Chuu has its clothing line, Sthsweet is an aggregation website that sells a wide range of popular Korean brands, including Chuu!
The store has clothes from JustOne, Dabagirl, Cherrykoko, Choper, and many more popular Korean fashion designer labels.
I love that Sthsweet makes the brand names evident, making it easier to find and follow those brands if you feel they suit your taste.
Moreover, Sthsweet has many cosmetics and fashion accessories, such as K-beauty products and designer masks.
Overall, Sthsweet is an excellent one-stop shop for anyone looking to stock up on Korean beauty and fashion products!
Pricing-wise, Sthsweet sits in the middle compared to all Korean fashion brands on my list.
---
5
/9
LIANOX
Aesthetic Clothing
Lianox is a Korean fashion online store that I came across a few months ago.
However, after several purchases, this fashion website is one of the first I recommend to friends and family.
Lianox has an extensive catalog of Korean designer fashion and much East-Asian couture.
Above all, the prices are very affordable, and there's free shipping, depending on the order size.
I like Lianox's online store's excellent sorting by clothing aesthetics.
Rather than searching by the type of garments, such as shirts, trousers, or skirts, you can search by the look you want to achieve.
Select 'sort by aesthetics clothing and styles' and then type what you're looking for, be that Y2K style outfits, hot goth looks, e-girl outfits, or cool streetwear aesthetic clothes.
---
6
/9
STYLEUPK
K-pop Clothing
StyleupK is one of the most popular Korean fashion online stores right now.
The store has a large variety of street fashion and typical Korean-style clothing for both males and females.
The best part about this Korean fashion online store is that it stores only ubiquitous and popular labels in Korea.
The store has warehouses and is shipped right from Seoul, Korea.
The delivery might take a bit longer than expected as it will take a few days for StyleupK to receive the clothes from the brands and then prep them for shipping.
However, given the wide range of authentic Korean clothing and designs, the wait is worth it.
The pricing on this Korean fashion online store seems to be a bit higher than in the local shopping malls.
---
7
/9
FASHION CHINGU
Kpop & Kdrama Outfits
Compared to the other Korean fashion stores and designers on this list, Fashion Chingu has a unique spin.
While most Korean clothing stores follow US or UK fashion trends, Fashion Chingu follows the trends of Korean celebrities.
And since celebrities are leading the fashion trends in Korea, you'll buy the latest trends even before they hit the streets of Seoul.
To top it up, if you like a particular K-pop idol or group, you can also shop by their fashion choices.
Currently, some of the most wanted and purchased idols/group apparel are Blackpink, BTS, IU, GOT7, Hyuna, and Mamamoo, so there are plenty of styles to choose from.
---
8
/9
DARK VICTORY
Affordable Streetwear
Dark Victory has one of the trendiest Korean fashion styles at a very affordable price.
The online clothing store has a wide range of casual and affordable streetwear blends.
Dark Victory's prices are affordable, so most brands advertised here are within any budget.
If you want something to stand out, this is an excellent website to check out and discover unique pieces, limited editions, and other rare finds.
---
9
/9
MIXXMIX
Affordable Women's Fashion
Mixxmix is one of the most well-known online shopping sites for Korean clothing in 2023.
The online store focuses on women's fashion but has tremendous unisex and gender-free clothing.
Although you may not have heard of these brands outside of Korea, Mixxmix hosts several popular Korean brands such as Neverm!nd, Essay, Lonely Club, and so on.
The pricing on Mixxmix is average-affordable compared to other online-based Korean clothing sites.
The cheapest clothing items start at around $10; however, expensive garments can go up hundreds of US dollars.
---
Top 11 Korean Street Fashion Trends of 2023
This section is for you if you're interested in the latest fashion trends right from the streets of Seoul.
First, regarding Korean fashion, know that nearly everything is inspired by the streetwear brands of Seoul's capital city.
So, what clothes are trending in Korea right now?
In this section, I'll share the best Korean fashion trends, from Seoul Fashion Week to Seoul streets.
---
1
/11
Off-shoulder Oversized Tops
Korean women also love oversized tops right now in 2023.
The oversized tops trend in Korean fashion has a rich history, in the past, associated with conservative fashion.
In the past, fitted clothes that showed women's body shapes were not considered appropriate.
As a result, styles that exposed the midriff or chest area were rarely found in Korean fashion trends.
As time passed and restrictions in women's Korean style loosened, the oversized style remained, albeit with slight modifications such as shoulder slits and off-shoulder styles to show a little more skin.
While this particular product is more risqué than what you might find in the streets of Hongdae, it's catered more towards the trend seen in KPOP fashion which typically is more daring and may show off a little bit more skin.
---
2
/11
Schoolgirl Tennis Skirt
While tennis skirts are not a new trend in Korean fashion, style plays a big part in women's fashion.
Most popular amongst younger women, this style of skirt is widely worn during spring and especially summer.
A versatile and feminine piece, the tennis skirt is often worn with oversized sweaters or varsity-styled vests over fitted tops.
The schoolgirl tennis skirt trend is also heavily popularized by KPop celebs and influencers.
---
3
/11
Chunky Sneakers
After sock sneakers, chunky shoes are taking over Seoul streets.
Koreans love chunky shoes, ideally from recognized western sneakers websites.
Asian fashion tends to gravitate towards looking 'cute, even clumsy' over 'sexy.'
Thus, any stylistic element that helps achieve the look is highly desirable.
As a rule of thumb for sneaker trends, don't mix chunky sneakers with tennis skirts.
The best way to wear chunky sneakers (in Seoul) is with baggy trousers or flared jeans for women.
---
4
/11
Blazers
In the past, blazers were associated with business and work.
But in current fashion trends, blazer styling has become a trend that sees the blazer as suitable for everyday loungewear.
As with most garments – especially tops – Koreans prefer their blazers oversized.
The blazer's looseness allows any outfit to appear more casual from its shapeless nature but still put together from the intricacy of the piece.
Many Koreans wear blazers over everyday casual streetwear clothes to create a clean and well-put outfit for everyday wear.
---
5
/11
Puff Sleeves
The trend of puff sleeves has come, gone, and returned; after all, fashion is a cycle.
This popular feminine Korean style is a statement piece of its own, drawing attention to your upper half and letting your top do all the talking.
The sleeve isn't restricted in length; you'll see balloon-shaped sleeves as short as shoulder-length or sleeves reaching as long as a quarter sleeve or whole arm.
Sleeves are often cuffed at the end to create the puffy effect – known as the puffed sleeve today.
As oversized clothes are associated with youthfulness in Korean beauty culture, sleeves that reach lengths more extended than the arm are considered trendy in Korean fashion.
---
6
/11
Street Style Face Masks
Wearing a face mask was never a common occurrence in Western fashion.
Health concerns are the only reason face masks have been – reluctantly – adopted over the last two years worldwide.
However, face masks are worn daily as a streetwear fashion in Asia, including Korea.
Korean streetwear face masks are trendy and integrated with the latest streetwear outfits.
---
7
/11
Pink & Green Neon
In what seems to be a blend of retro-futurism with Y2K fashion, Koreans prefer streetwear outfits with an edge.
Koreans love garments in futuristic colors but with classic cuts, representing the millennium styles.
---
8
/11
Flared Jeans
Relaxed jeans look great with casual women's sneakers; there's no doubt about that.
Koreans love wearing both chunky trainers and oversized bottom jeans.
The trousers are best paired with large belts and oversized tops for easy fit and effortless day-to-night looks.
---
9
/11
All-White
Just like the Japanese, Koreans love an excellent minimalist look.
All-black and all-white are colors that Korean celebs recourse to every year to achieve that sophisticated look.
If 2020-2021 was the 'season' of all black, 2023 is the season of all-white ensembles but with a twist – '90s styles this time.
---
10
/11
Classic Tailoring
No matter how much Seoul culture, streetwear, or K-pop influence Korean fashion, classic tailoring remains a critical part of wealthy Korean lifestyles.
Ideally, you'll get classic tailoring cuts from a local expert stylist instead of women's online clothing stores.
However, if not possible, because you're outside Korea, you can always use custom styling services to take measurements and deliver excellent couture in classic Korean tailoring style.
---
11
/11
Cargo Pants & Oversized Joggers
As most Korean fashion trends are driven by hip-hop and music, the emergence of gender-free K-pop celebrities promoted genderless clothing, particularly joggers and cargo pants.
Seen as versatile androgynous styles, these pieces of clothing are used on various occasions, whether for lounging or casual streetwear.
Style them with chunky sneakers, a crop top, and baseball caps for a perfect casual-cool look.
---
Top 10 Korean Fashion Influencers To Follow In 2023
If France is the home of traditional luxury fashion, honoring elegant and noble styles of the past, Korea's dynamic culture has become the style Mecca of younger generations.
In recent years, Seoul Fashion Week has garnered a stellar reputation and attracted international media attention, expanding Korea's global fashion influence.
Over the last five years, the country's celebrities, singers, actors, models, and influencers have asserted their position on the international stage.
And while the western public is mainly aware of Korean K-pop idols, there's also a world of 'K-Style' influencers that transcend Korean fashion into the mainstream fast.
If you're interested in keeping up with the latest Korean fashion news and developments, these are the top 10 Korean influencers you must follow right away:
---
1
/10
Park Sora
Born in 1988 in Busan, Park Sora was once known as an actress and singer of Flying Girls.
However, Sora's most significant success came in the world of fashion.
The Korean influencer is the face of the fashion brand Style Nanda and Korea's leading cosmetics brand 3ce.
According to Sora, her street style can be defined as "dynamism and cuteness mixed with a bit of edge."
Overall, Sora's simple but fresh look has influenced a large part of Korean youth style culture.
---
2
/10
Aimee Song
If you're a fan of Korean fashion, the name Aimee Song should sound familiar.
Originally an interior designer, Song has become one of social media's biggest Asian-American fashion influencers.
Born in South Korea but raised in Los Angeles, Song's fashion style combines Eastern motifs with Western modernity.
With almost 6 million followers on Instagram, Aimee Song was also mentioned in Forbes' list of 30 under 30.
---
3
/10
Soo Joo Park
Born in Korea, Soo Joo Park moved to California to follow a modeling career.
After walking on many high-end catwalks and becoming one of Chanel's brand ambassadors, Park has decided to create her style.
Inspired by her sharp grasp of Asian culture combined with the liberal views of the West, Park's 'premium looks' are appreciated worldwide.
---
4
/10
Chriselle Lim
Chriselle Lim is famous for her styling, makeup, and inspirational lifestyle videos.
Chriselle graduated from the Los Angeles Academy of Fashion Design and Business and worked as the stylist and editor of a magazine in Beverly Hills.
With an Instagram page of 1.4 million followers, Chriselle's styles inspire elegance, sophistication, and no less youthfulness.
---
5
/10
Lee Ho Jung
No stranger to fans of K-pop groups like Exo or Big Bang, Lee Ho Jung is known for co-acting with male singers in popular music videos.
In addition, the model was featured on the covers of major Korean fashion magazines such as Elle Korea, Vogue Korea, and W Magazine.
With a minimalist fashion style, Lee often wears denim and matching sets from head to toe.
Above all, Lee Ho Jung always knows how to dress to attract the crowd's attention every Seoul Fashion Week.
---
6
/10
Irene Kim
Irene is topping the list as one of the biggest Korean fashion influencers, with over two million followers on Instagram.
Thanks to her dual Korean and American heritage, Irene collaborates with many big names like Chanel, Estée Lauder, and Calvin Klein while building her Korean brand.
Irene's outfits and hair colors are always fresh, allowing the fans to see her rebellious personality and style.
---
7
/10
Jung Da Won
Jung Da Won was born in 1990 and is more known for being the sister of BTS member J-Hope.
However, Da Won is also the CEO of Mejiwoo, a famous Korean brand that copies Supreme's limited edition clothing business model.
Arguably, the brand (some say brother) has granted Da Won 9 million followers on Instagram, a level of popularity rivaling global stars.
When asked, the star said that her everyday look is inspired by her brand's direction:
"blending youthfulness with a bit of sexiness."
---
8
/10
Sora Choi
Sora Choi is another notable representative of the Korean modeling and fashion industry.
When Sora stepped on the international runway at the Louis Vuitton show seven years ago, she captured the eye of high-end designer brands thanks to her 'icy' face.
Followers worldwide appreciate Sora's unique rock-chic style and her capability to remain feminine and delicate simultaneously.
---
9
/10
Lee Sung Kyung
Lee Sung Kyung is a Korean model and actress with a versatile sense of style.
From runway looks to daily fashion choices, the influencer proves an ability to adapt and transform any look quickly, making her wardrobe every fashion lover's dream.
If you want inspiration to create your Korean wardrobe, Lee is the influencer you must follow right now.
---
10
/10
Jessica Jung
Jessica Jung's Instagram account shows a top fashion sense, sexy outfits, and lots f luxury accessories.
Former Girls' Generation member Jessica is currently a solo artist and Creative Director of Blanc & Eclare.
To some extent, Jessica impersonates the essence of an upscale bourgeois lady.
Jessica is also known to rock casual attire, like blazers with jeans, so she is a great influencer to follow for those on a budget.
---
Best Stores to buy Korean Fashion for Men
Here are some of my recommended stores for those looking for Korean clothing for men, for themselves, or partners.
The top 4 online stores for men's Korean clothing are Kore Limited, Styleupk, Yesstyle, and Kooding.
All four stores offer a large variety of Korean apparel for men in all price ranges and affordable options.
Some of the Korean fashion lines (and brands) you'll find in these online stores also have clothing for women, so you might want to shop with your partner.
From these stores, Kore Limited and StyleupK are the best if you are looking for popular Korean brands.
I say that because many Korean brands you can shop on StyleupK are popular on the streets of Seoul.
On the other hand, I'd go with Yesstyle and Kooding if you want to discover new Korean fashion brands or look for cheaper clothing.
Of all stores here, Yesstyle has the widest variety of Korean men's fashion; however, remember that the quality can vary greatly.
Kooding has higher quality brands, but the prices are also slightly higher.
In summary, these are the top 4 online stores for Korean fashion for men and why I recommend them here:
Kore Limited – a great store if you're after Korean fashion for men in unique designs and high quality.
Styleupk – a great place to shop for popular Korean fashion brands for men.
Yesstyle – a large variety of Korean fashion for men at affordable prices.
Kooding – a wide range of emerging Korean fashion brands for men, and introductory – medium prices.
What is Traditional Korean Fashion Called?
Hanbok (in South Korean) or Chosŏn-ot (in North Korean) is the name given to traditional Korean garments.
In direct translation, 'Hanbok' means 'Korean clothing.'
Hanbok goes back to the Three Kingdoms of Korea (a 1st century BC to 7th century AD period) and the peoples of what is now known as northern Korea and Manchuria.
The early styles of the hanbok consisted of the Jeogori jacket, Baji pants, Chima skirt, and the Po coat.
The Hanbok was simple and designed to facilitate ease of movement.
Yet, that did not stop hanbok designers to integrated motifs of nature, animals, and people.
Hanbok prices vary greatly; the cheapest start at around $30, while the most expensive cost over $1500.
There are two different types of hanbok:
Traditional Hanbok.
Modern Hanbok
Traditional Hanbok is very popular, and most online photos are about the classic Korean fashion style.
It is a style available for hire at many locations in Korea.
Modern Hanbok, on the other hand, is a contemporary style made for regular wear.
The modern Hanbok is generally cheaper as it is a cut-down version of the traditional Hanbok.
Best Online Stores for Traditional Korean Clothes
Are you looking to find some hanbok online?
Look no more, as these are the best sites for traditional Korean clothing in 2023.
Best Online Stores For Traditional Hanbok:
Hanbok Sarang is the most pricey but also has the best quality. It is an excellent store for high-quality traditional Hanbok.
The Korean In Me makes affordable hanbok, offering the best prices out there; an online store for both traditional and modern Hanbok.
And Jode Ta has a good selection of hanbook for children.
In summary:
Hanboksarang (premium)
KoreanInMe (affordable)
Jote Ta (for children)
Best Online Stores For Modern Hanbok:
The best online stores to buy modern Hanbok are Kooding, Yesstyle, and Leesle.
Yesstyle is the cheapest store for modern aesthetic clothing.
Kooding is similar to Yesstyle with a broader range of styles.
In comparison, Leesle has many modern and contemporary styles of Hanbok but they are also more expensive.
In summary:
Kooding (widest range)
Yesstyle (most affordable)
Leesle (premium)
Conclusion
I hope you liked my article covering Korean fashion, from the best online clothing stores in the English language, with international shipping, to the latest trends in Korean fashion in 2023.
As a form of a recap – especially for those who start reading at the end of the article – you'll find a blend of Korean fashion designers, stores, and brands in this article.
Some are more niche than others, but the prices are for all pockets.
I chose to include some smaller sites that offer only their brand line and more significant online Korean clothing sites that offer clothes from various brands.
I hope that through this article, you'll find new places to purchase fascinating Korean clothing no matter where you are!
I've also introduced some of the best online stores for Korean fashion for men, traditional Korean clothing, modern Korean clothing, and all variations.
Finally, this article doesn't contain every Korean fashion designer or website.
There are many more Korean designers and stores, but I chose not to add them to my list because they lack worldwide shipping or do not have English websites.
Finally, we've covered the critical fashion influencer of Korean fashion and the most popular trends in 2023.
I also cover in my article Korean fashion trends that have been (and still are) popular in the country and the latest trends in Korean fashion right from the Seoul runways.
Finally, I look forward to your feedback and contribution to this Korean fashion article.
I welcome Korean fashion trends, celebrities, influencers, brands, and stores you know, trust, and feel we should mention here.
Weekly Newsletter. Sign Up Now!
Celebrities, designers, and latest news in sustainable fashion.
Weekly Newsletter
Keep up with the latest in fashion, beauty and style!
Now it's your turn…
Which one of these Korean clothing brands is your favorite and why?
Are there any other great Korean fashion online stores you've tried and want to add to this list?
Name your number one Korean fashion influencer, and explain why.
Please leave your comments below so others can benefit from your knowledge of Korean Fashion.



After years of managing hundreds of fashion brands from London's office of a global retailer, Mandy has ventured into freelancing. Connected with several fashion retailers and media platforms in the US, Australia, and the UK, Mandy uses her expertise to consult for emerging fashion brands create top-notch content as an editorial strategist for several online publications.