Cocktail attire is more relevant than ever – especially now, after two years of quarantining at home, nestled in head-to-toe fleece.
Current fashion trends blend casual and formality, from one extreme of anything-goes to another of 20s-like glitzy styles and black-tie suits.
Cocktail attire sits right in the middle, showcasing a unique style between casual and formal occasions, with plenty of room for a personal touch.
In this article, I'll detail the ideal cocktail attire for women and men and what you need to look the best at your next "cocktail dress-code event."
What Is Cocktail Attire?
Definition
Cocktail attire is a semi-formal dressing style for women and men, designed for late afternoon to early-evening events, social gatherings, and similar occasions.
One of the best fashion designers of all time, Christian Dior, was the first to name the early evening frock a "cocktail" attire in the late 1940s.
The cocktail attire was designed to fill the space between casual daytime and fancy evening wear.
In doing so, the iconic French designer allowed fashion magazines, department stores, and rival British and American designers to promote such unique creations as cocktail-specific outfits.
Such in-between outfits were designed for the in-between hours.
Therefore, the cocktail attire was dressier than the daytime smart-casual looks but more casual than the formal diner black-tie ensembles.
Promoted by the wealthy during cocktail hour, the cocktail attire became a tool in defining social class and power.
However, in terms of style and function, cocktail attire has also evolved to meet the style and needs of contemporary people.
The Evolution of Cocktail Attire
While modern-day cocktail attire is an ode to its historical roots, it has undergone several changes in style, aesthetics, and functionality over the last century.
Moreover, by changing silhouettes, hemlines, waistlines, and fabrics, cocktail attire has become an evening staple in any respectable socialite closet.
In the past, cocktail outfits were reserved for swanky late-afternoon drinking.
However, nowadays, cocktail dresses and cocktail suits are a must-wear attire at high-class early-evening events.
You can see cocktail attire at evening festivities, theatre, birthday parties, after-work events, get-together occasions, and even professional settings.
Nowadays, there are many kinds of cocktail attire, according to the occasion, location, time, and cocktail event you will attend.
In this article, I'll break down the main types of cocktail attire and the best cocktail dresses, shoes, bags, and suits women and men should wear in 2023.
Cocktail Attire for Women
Falling between business casual and black-tie formal, cocktail attire for women has a nice balance of traditional with casual and elegant with comfort.
While cocktail attire for women is not strictly conservative, it must be reserved and sophisticated.
1. THE COCKTAIL DRESS
In terms of style, cocktail dresses are a step or two up from regular streetwear and work dresses.
Often made of luxurious fabrics such as silk and satin, cocktail dresses are tastefully detailed with sequins, embroidery, or conservative prints.
As you're off to a special event rather than a nightclub, keep your hemlines on the generous side and necklines tamed, as good rules of thumb when choosing a cocktail dress.
Lenght-wise, the cocktail dress was created as the in-between attire of the in-between time of day.
Therefore, "in-between" is also the best approach with the length of your cocktail dress, with the hemline falling right above the knees.
Avoid floor-length gowns if you prefer longer cocktail dresses, and wear a midi-dress.
Also, a perfect go-to is a midi dress that can confer a more streamlined look but not over the top.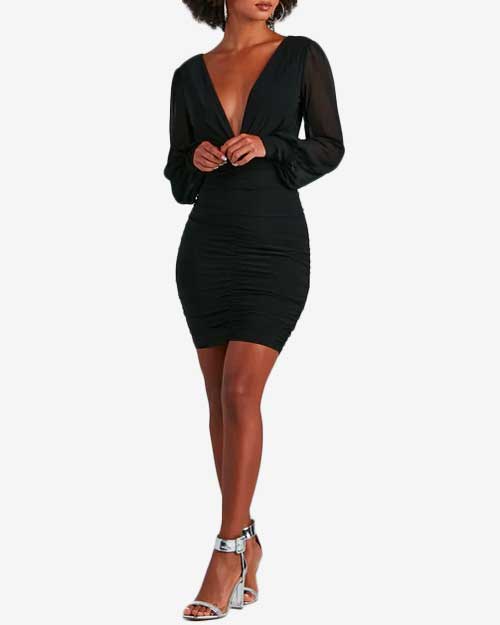 Amaria Formal Ruched Chiffon Mini Dress
$49.90
Ruffled For Florals Cocktail Midi Dress
$36.90
Scarlet Formal Glitter Drape Cocktail Dress
$69.90
Chelsea Satin High Slit Formal Cocktail Dress
$64.90
2. THE COCKTAIL JUMPSUIT
If the cocktail party is more relaxed, you can swap the cocktail dresses with an equally flattering and flowy cocktail jumpsuit.
An excellent alternative to the cocktail dress is the classic cocktail jumpsuit in black, from silky fabric, or a bolder choice in a bright color and even a leopard print pattern.
The bonus of wearing a cocktail jumpsuit over a dress is that you can style it with any evening shoes, though slingback pumps and wedges are the ideal options.
A tailored pantsuit or appropriately styled dress pants can be a fabulous outfit choice for a cocktail party.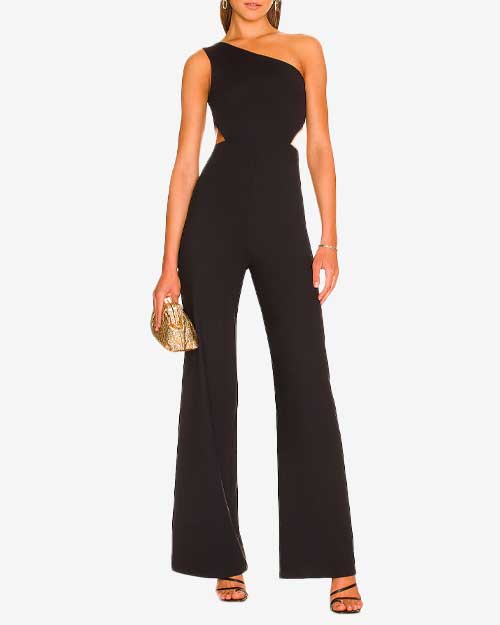 Asymmetrical Cut-Out Jumpsuit
$198
Britt Champagne Jumpsuit
$228
Nadine White Jumpsuit
$436
Laurien Cross Front Jumpsuit
$76
3. THE COCKTAIL SHOES
Like everything else in the overall cocktail attire, cocktail shoes should be a nice balance of fancy and casual.
Leave your boots and sneakers at home and wear a little dressier and formal shoes.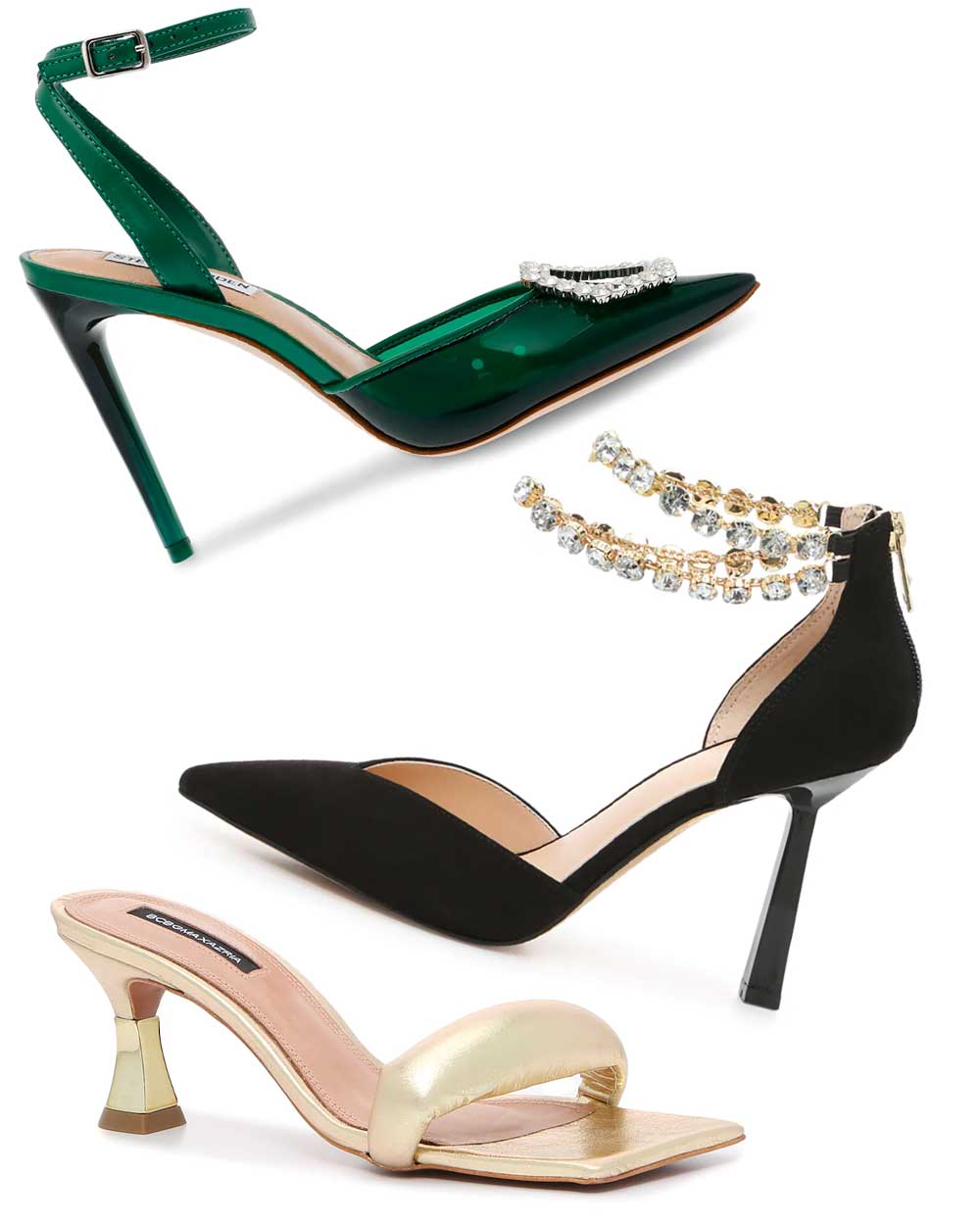 This being said, wearing tall stilettos would be overkill, so a simple pair of heels, mules, or even women's flats are ideal for bestowing your look with a sophisticated finish.
Choose cocktail shoes in neutral colors such as black, nude, or navy, or go for glitters and floral patterns if you want to be bold.
Sandals or pump-style heels are equally subtle, stylish, and the perfect accompaniments to any cocktail dress.
Duponi Cocktail Sandals
$238.99
Favari Cocktail Shoes
$208.99
Taros Cocktail Pumps
$69.99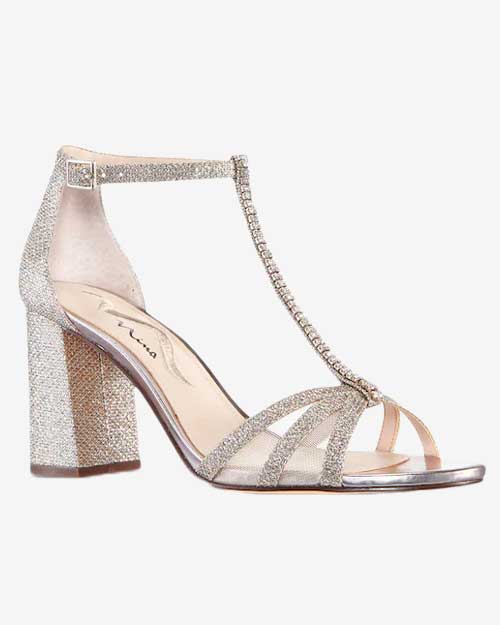 Haviva Cocktail Shoes
$69.99




4. THE COCKTAIL ACCESSORIES
Accessories that match your cocktail attire are a lovely way to showcase your personality but try them without going over the top.
Avoid too much jewelry or statement pieces that could detract from your overall ensemble. After all, a cocktail party is not Cinderella's ball!

Try to match two statement pieces of jewelry, such as a necklace with a hair accessory or earrings, with a couple of ultra-thin bracelets to catch people's attention without taking away from the rest of your outfit.
Finally, choose a clutch or small designer purse that color matches your shoes rather than your dress, and no matter what you do, don't bring along your work bag.
Carlita Carnivale Clutch
$90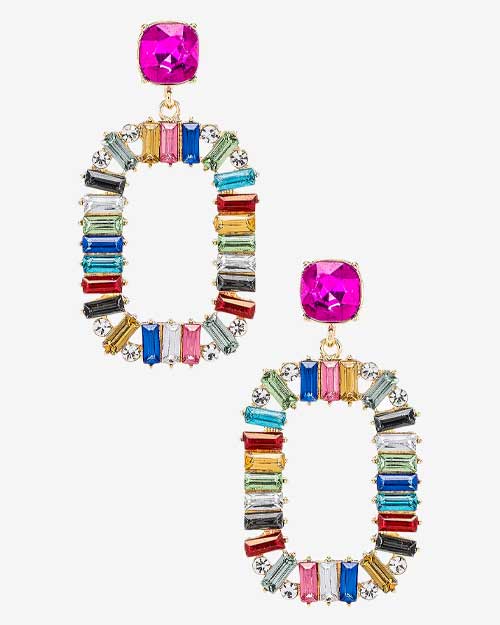 Sasha Hoops
$40
Stevie Statement Choker
$42
Dianna Soft Crystal Clutch
$135
Women's Cocktail Attire DOs & DON'Ts
Oversimplified, there are two principal cocktail dress codes: formal and semi-formal.
The cocktail attire for evening parties is usually formal and requires appropriate dresses, shoes, bags, and accessories.
If the cocktail dress code is more relaxed (semi-formal), you can be creative with your look but don't exaggerate.
1. Wear Event-Related Cocktail Dresses
To ensure what type of cocktail dress you need for a specific event, check my cocktail dresses guide, where I detail the most popular cocktail dresses in 2023 and their suitability according to the event.
If you're attending a formal event, ensure your cocktail attire maintains a fun, tasteful, even-appropriate style balance.
Wear cocktail dresses in flattering cuts and lengths that skim your body but don't restrict movement.
The classic little black dress is a top option, but don't be afraid of a bit of color.
Rose gold, bold teal, and fiery red are the most popular in 2023, but many more colors look amazing on a cocktail dress.
2. Wear Relevant Shoes
Dinner events are always the perfect excuse to wear those fancy shoes you have, but…
Regarding cocktail attire shoes, safe styles are recommended, and pumps are still a timeless choice.
Go for a sophisticated pair of pumps made of premium material, but don't forget a fun touch, like a hint of sparkles.
Don't wear sports or casual shoes; even the best women's sneakers are unsuitable for cocktail attire.
Equally important, match the color of the shoes with a sparkly clutch or purse.
3. Wear Subtle Undergarments
Keeping your undergarments subtle is one of the many unwritten cocktail attire rules.
Avoid anything that sticks out, wear stick-on or strapless bras and seamless panties, or go for under-dress shapewear.
Even at more relaxed venues (such as a beach, barn, or vineyard), do not let your undergarment peek out from underneath your dress.
Also, don't show too much cleavage; your neckline should not be distracting from your outfit.
4. Avoid Miniskirts and Shorts
While cocktail attire can undoubtedly be fun, it should always be tasteful.
The primary goal of a cocktail dress is to create an elegant look, and a mini skirt or shorts are far from that.
To guide the level of 'fun,' you can infuse in your cocktail attire and imagine how close ones will see you.
Are you comfortable wearing a nightclub-like miniskirt if your parents attended the event?
If not, try adding a blazer over a slinky dress or wearing tights underneath a skirt that's on the shorter side.
5. Avoid Backpack or Workday Tote
There's a time and place for oversized bags, but not at a cocktail dress event.
The ideal cocktail attire dress code is meant to draw attention to your look but for good reasons.
Nevertheless, while many modern interpretations of cocktail outfits and accessories exist, any cocktail attire must abide by the above rules.
Cocktail Attire for Men
While a cocktail dress code isn't as strict as a black tie (or white), it's not an invitation to wear just anything.
Adhering to the dress code is polite and will help you feel at ease in your surroundings.
The venue will also give you a clue as to how stringent you need to be with your cocktail attire.
For example, the cocktail attire for an afternoon outdoor vineyard visit would likely be less formal than the attire required for a business evening event at a private club.
A strict cocktail dress code for men means that the jacket and tie are a must, no matter what.
For a more relaxed cocktail dress code event, you can wear a sports jacket in airy fabrics.
Wear darker hues in chillier months or for late evening events and lighter grays or blues in warmer weather or early evening celebrations.
As for shoes, keep them classy with a nice pair of dark dress shoes that match your belt and your style.
Traditionally, the jacket needs to stay on during the cocktail party but feel free to scan the crowd, and if others are shrugging them off, it's okay to do the same.
1. THE COCKTAIL SUIT
Suits are considered too dressy for a cocktail party, so separates are preferred, such as a smart jacket and trousers in neutral colors.
This way, you can match straight-pressed trousers with unusually flamboyant jackets or blazers.
If you choose to wear a suit, select the one you wouldn't wear at the office, in a different color or cloth.
Slim-fit Navy Cocktail Suit
$345
Slim-fit Black Cocktail Suit
$325
Slim-fit Cream Cocktail Suit
$325
Slim-fit Glen Cocktail Suit
$345
2. THE COCKTAIL BLAZER
The more relaxed nature of the cocktail dress code means you can bust out your swankiest double-breasted tailoring or the wild-style blazer that's too daring to wear to your 9 to 5.
And if you're in a pinch, now's the chance to repurpose that navy blue number squirreled away in the back of your closet, provided you accessorize with gusto.
The blazer might have detailing not typically found on conventional suit jackets, like a silk grosgrain shawl collar, turn-back cuffs, or a low, single-button fastening.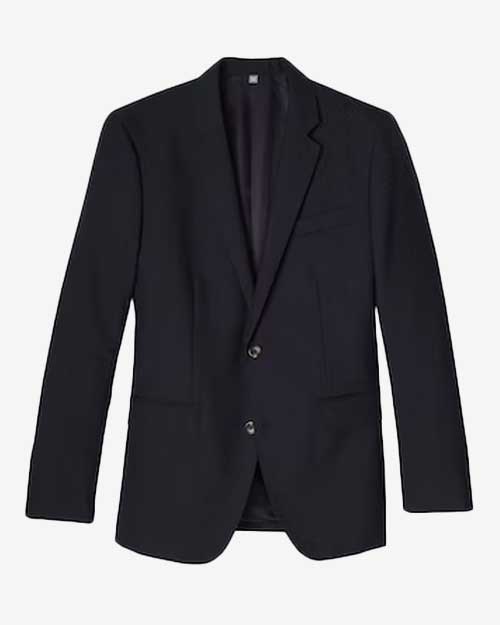 Italian Black Cocktail Wool Blazer
$400
Italian Plaid Cocktail Linen Blazer
$450
$300
Italian Brown Cocktail Knit Blazer
$350
Italian Wool Cocktail Grey Blazer
$400
3. THE ROLL NECK
A perfect alternative to the cocktail dress shirt, the roll neck frames the face in an inherently more relaxed way.
Moreover, the roll neck doesn't look lost without a tie, unlike the open-neck shirt.
Opt for cotton, silk, or merino rather than traditional heavier wools, or you're going to look rather sweaty at your cocktail party event.
Cashmere Turtleneck Sweater
$524
Wool Turtleneck Sweater
$239
Soft Cotton Polo Turtleneck
$89.50
Slim Fit Rib-Knit Wool Sweater
$795
4. THE COCKTAIL SHIRT
You're on the right track if your gut instinct tells you to reach for a sizzling camp shirt.
You can also wear a funky shirt but avoid veering too far into "smart casual" territory.
Avoid t-shirts, and if you also refuse to wear a white shirt that buttons down to the navel, opt for luxe, retro-indebted knit polo shirts instead.
Athletic Fit Dress Shirt
$70
$35
Cotton Dress Shirt
$75
$37
Slim Dress Shirt
$70
$35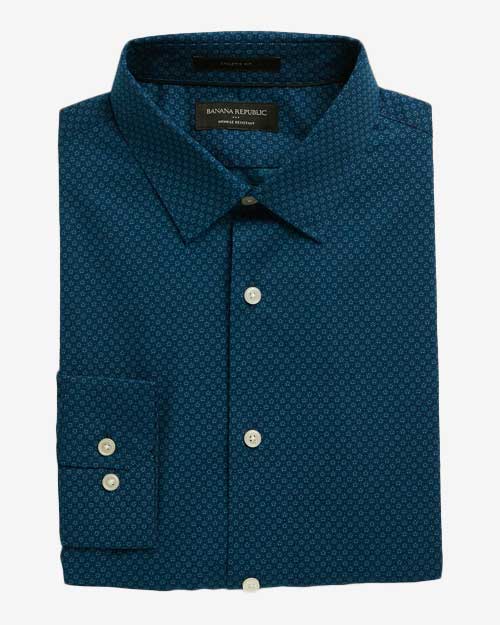 Athletic-fit Dress Shirt
$70
$35




5. THE COCKTAIL PANTS
If you're breaking up a suit—or plan on ditching your cocktail jacket to hit the dance floor, you'll need pants that can anchor your fit.
Jeans are a big NO, regardless of the wash or cut.

Moreover, if you're gearing up for a warm-weather occasion, creamy trousers are a pro move, bonus points if they come pleated and with a high waist.
Bowery Slim-fit Stretch Wool Pants
$128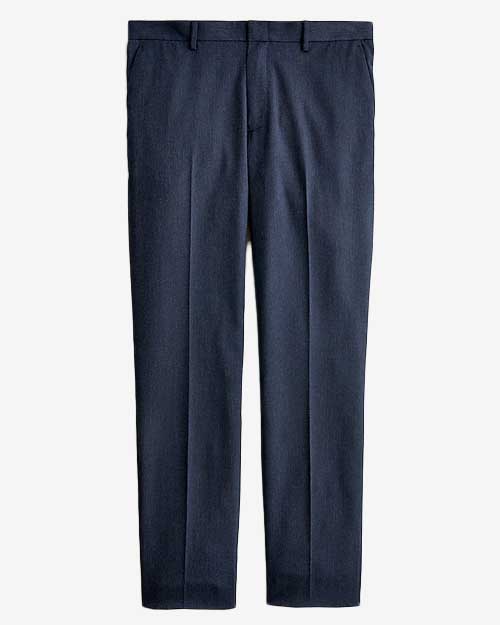 Bowery Slim-fit Oxford Dress Pants
$98
Ludlow Slim-fit Suit Wool Pants
$225
Bowery Slim-fit Stretch Wool Pants
$128
6. THE COCKTAIL SHOES
Time to think beyond the brogues, as you're not wearing a tux.
Skip the patent leather pumps and go for a dusty-hued pair of derbies in a belt-matching color.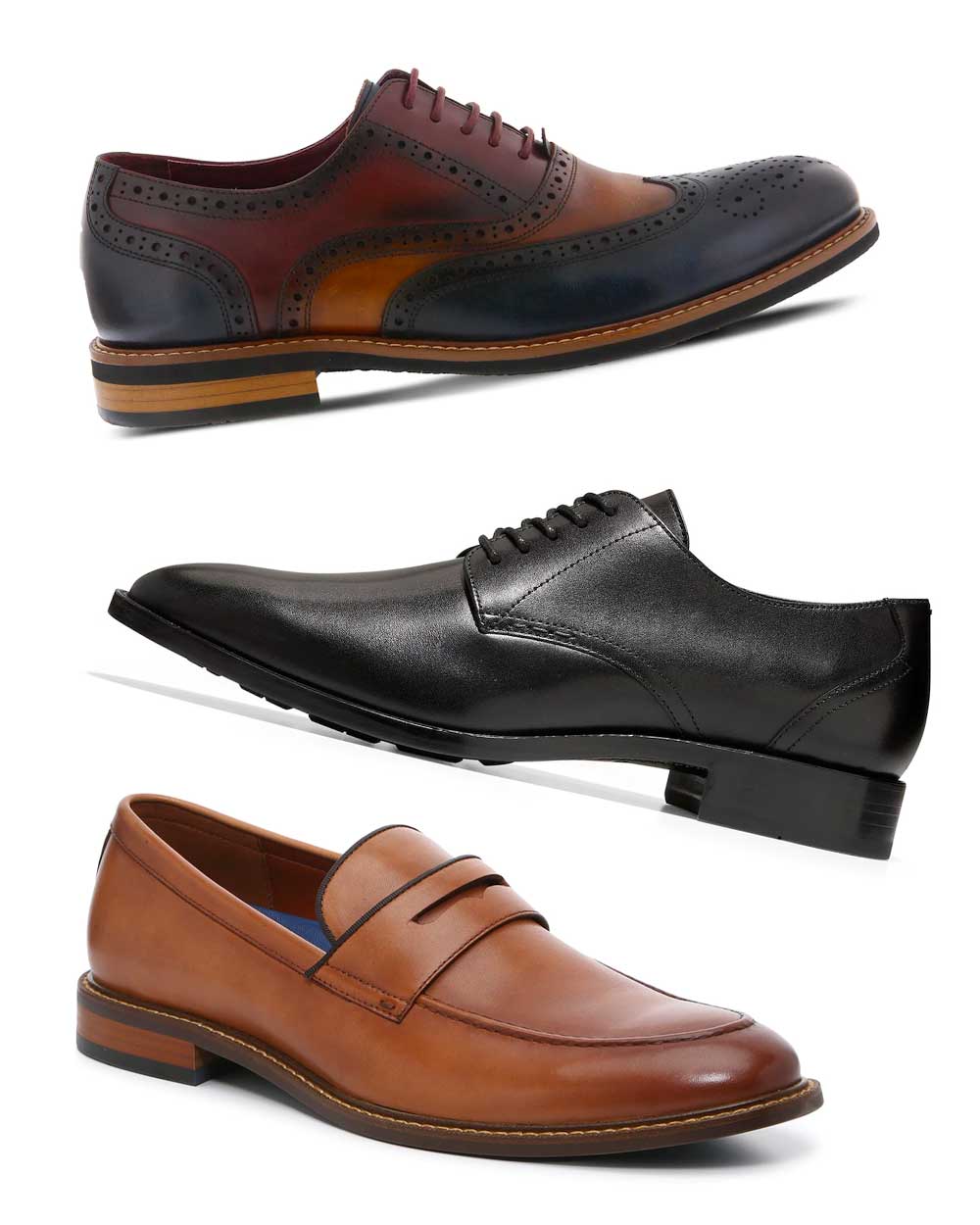 Or, even better, a pair of sleek-as-hell Oxfords that match your wrist accessories.
Truman Oxford Cocktail Shoes
$199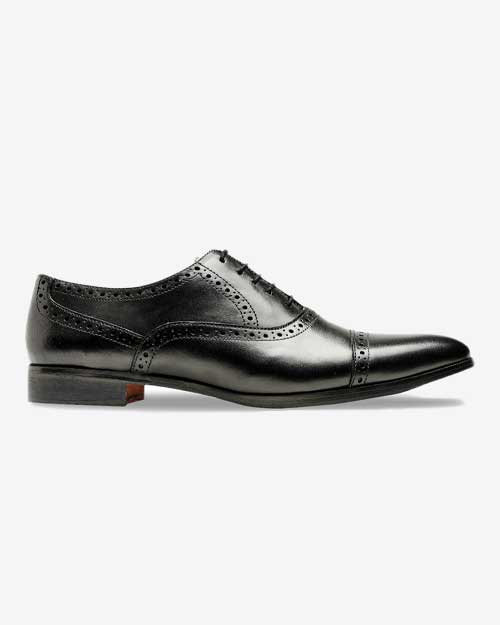 Legacy Cap Toe Oxford Shoes
$139
Tazewell Cocktail Loafer Shoes
$79.99
Watkins Cocktail Slip-on Shoes
$109
7. THE COCKTAIL ACCESSORIES
The rules for cocktail attire accessories for men are simple; you don't have to bother with any of the stultifying accessories of more formal events.
That means no bow tie, no cufflinks, and no pocket square.
The even better news? Now's your chance to bust out the statement-making jewelry, sleazy tinted shades, or tie that's a little too jazzy to wear to work.
At fun events, maybe even a purse!
CUBITTS Rectangular Tortoiseshell Acetate Sunglasses
$165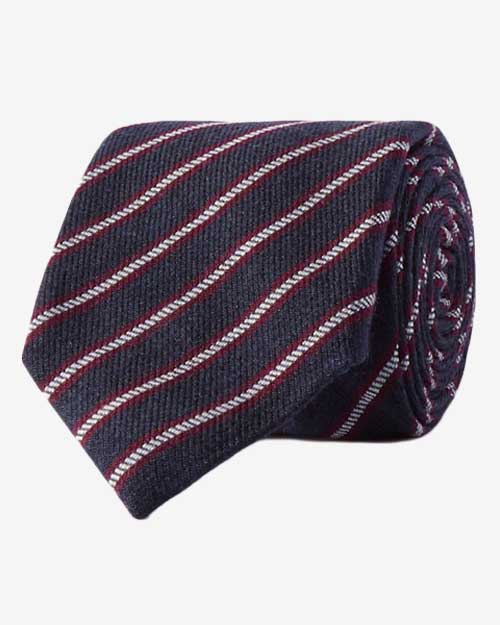 SULKA Wool and Silk-Blend Jacquard Tie
$140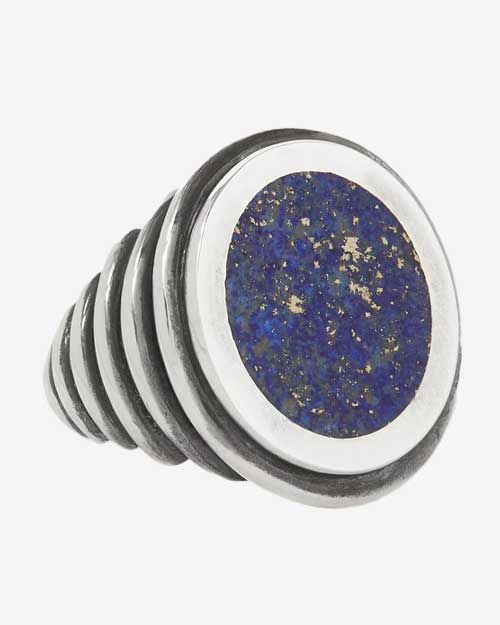 M.COHEN Sterling Silver Lapis Signet Ring
$550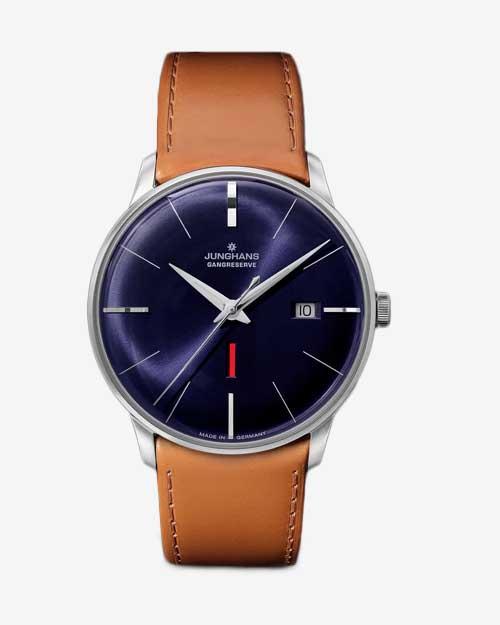 JUNGHANS Limited Edition Automatic Watch
$1,976
Cocktail Attire DOs & DON'Ts
Just like with women's cocktail attire, the cocktail attire dress code for men has its own rules.
In simple terms, men's cocktail attire is a delicate balance between office wear and what you'd wear to a black-tie event.
Without delay, these are the DOs and DONTs to ensure a perfect cocktail attire for men:
1. Avoid Jeans
Avoid denim jeans regardless of the cocktail dress code and event type.
Denim – even black jeans – is far too casual, even with accessories that dress it up.
2. Avoid Sneakers
Sneakers are also hard to style in a way that works for a more formal occasion; thus, they are too casual as shoes for cocktail attire.
However, you might get away with a pair of Derby lace-up sneakers, nicely paired with a matching-color leather belt.
3. Accessorize, But Not Too Much
A reminiscence of the 50s fashion times, cocktail attire is ideal for showcasing your taste, and nothing does it faster and better than well-matched accessories.
However, avoid wearing too many rings, bracelets, or, even worse, a Hawaiian-style flower necklace!
4. No Bow Tie or Cufflinks
Another danger to men's cocktail attire (apart from looking too relaxed) is creating a too-formal look or wearing a black tie.
Therefore, avoid wearing a bow tie, regardless of the color or pattern, and say no to cufflinks.
Cocktail Attire FAQs
What is acceptable for cocktail attire?
Best cocktail attire for women avoid extremes; knee-length dresses over maxi and mini dresses, pump shoes instead of stilettos, and baguette bags over backpacks.
Similarly, men should strive to achieve a middle ground between casual wear and office style.
What is the cocktail dress code for ladies?
Cocktail attire for ladies describes outfits designed to wear at evening parties and similar semi-formal events.
Ladies' most common cocktail dress code comprises a knee-height dress, medium heel shoes, and a hand purse in matching color.
What does cocktail attire mean for a man?
Cocktail attire for men means wearing a dress code: a relaxed suit without a front pocket (or jacket), a shirt, leather shoes, and a tie (never a bow tie).
Avoid sneakers and jeans – regardless of color.
Does cocktail attire mean a suit?
Cocktail attire does not mean a suit but rather the whole outfit ensemble for a particular type of evening event.
As such, a suit can be part of your cocktail attire, together with leather shoes, a shirt, belt, and tie – see the article above on how to put together the best cocktail attire for men.
Conclusion
What's certain is that cocktail attire is occasion wear reserved for special events and one-off evenings that require further distinction.
Cocktail attire is not your streetwear fashion or 9-5 business suit.
Equally, cocktail attire is not highly formal either, as is the case of black or white tie dress code events.
Weekly Newsletter
Keep up with the latest in fashion, beauty and style!
Now it's your turn…
Which one of these cocktail attire dress code guidelines was most useful to you?
Are there other cocktail attire tips we've missed and should we include in our next article update?
Please leave your comments below; we always appreciate them and use them to learn, improve, and update these articles.
With an AA from the Fashion Institute of Design & Merchandising in Los Angeles and over five years of experience in the fashion industry, Susan Kim is the founder of Sum+Style Co. - a Seattle-based personal styling company turned online marketplace focused on innovative K-Fashion (Korean Fashion) styles. Kim's expertise in men's and women's styling for the most demanding occasions has her editorial pieces covered by top fashion and style magazines worldwide.