Wearing men's makeup in 2023 is an activity for more than metrosexual dudes.
Over the last few years, men across the globe have realized makeup's transformative and beauty-enhancing powers.
From blemish coverup kits to complete transformational tools, in this article, I've rounded up the best men's makeup brands you can shop for in 2023.
Though, if you're new to makeup and unsure where to start, read this article about makeup for men first.
Otherwise, time to explore the best men's makeup brands and kits you can order in 2023.
---
1
/23
DIOR BEAUTY

Best Men's Makeup Concealers
From $29
EDITOR'S NOTE:
"Get the best of your skin with the latest Dior Makeup collection part of the Dior Homme Dermo Skincare line and finish the look with a touch of foundation from the Dior Backstage line."
Like any Dior product line, the brand's makeups and cosmetics for men showcase excellent plays on eccentricity.
Peter Philips, Dior's Creative and Make-up Director, focuses on metallic silver for this collection.
Peter recommends wearing this makeup for men with false eyelashes (in the inner corner of the eye) or under the lower lash line.
Dior's lines, colors, and shades for men are designed to match haute couture, almost like a diamond that captures and reflects light.
Dior Backstage Face & Body Powder-no-powder

$40

Dior Backstage Flash Perfector Concealer

$29
---
2
/23
STRYX
Best Men's Makeup Starter Kit
From $55
EDITOR'S NOTE:
"With natural pigments that can hide acne, razor burns, scars, and more, Stryx men's makeup products restore healthy skin looks in seconds."
Every man has an embarrassing experience to share, from the first date to the first business meeting.
Or that investment video call, where people were distracted by a blemish on the top of his nose.
Similarly, Stryx's journey as a makeup for men brand started the day when a pimple nearly ruined a wedding.
Founded on the firm belief that 'Men want to look handsome as well,' Stryx makeup products are designed to get the best out of you.
Stryx Mens Makeup Starter Kit

$61

$55

Stryx Mens Makeup Complete Kit

$252

$227
---
3
/23
L'OREAL PARIS
Best Eye Concealer Makeup For Men
From $5.49
EDITOR'S NOTE:
"L'oreal are not only makers of the best makeup products for men to date, but also experts in content creation such as application techniques to help men look and feel like the best version of themselves."
L'oreal's latest makeup collection for men is designed for those working from home, sick of staring at themselves during video calls.
If you notice skin imperfections previously hard to spot or not noticeable, the L'Oreal makeup for men line is for you.
L'Oreal Paris True Match Eye Concealer Cream

$11.99

$5.98

L'Oreal Paris Perfect Radiant Eye Concealer Serum

$9.99
---
4
/23
WAR PAINT FOR MEN
Best Natural Male Makeup
From $8
EDITOR'S NOTE:
"Every man deserves to feel comfortable in their skin, and War Paint has what you need; these are the tools you need to feel sexy and confident again."
How many of you remember the entrepreneur who went to the Dragons' Den to introduce a makeup for men line called War Paint For Men?
After a great pitch and a successful partnership, War Paint – a British makeup for men label – has become a global success with excellent products.
The brand's vegan, cruelty-free bronzer is ideal for helping men reemerge from the pasty clutches of lockdown.
War Paint Men's Natural Concealer

$24

War Paint Men's Tinted Moisturiser

$29
---
5
/23
ARTIST COUTURE
Best For Bold Makeup For Men
From $15
EDITOR'S NOTE:
"More than just a makeup brand for men, Artist Couture has become a community of bold and fearless #GLOWGETTERS!"
Founded by celebrity makeup artist and beauty influencer Angel Merino, Artist Couture was created to inspire men's self-expression and celebrate individuality through makeup artistry.
The label has redefined the concept of "nudes" with a lavish new palette of colors that reigns supreme amongst the rest of men's makeup brands.
This palette features eight buttery mattes, one richly pigmented metallic, and three multidimensional high pearl finishes in an array of neutral, calm, and warm tones.
Take your artistry to the next level and transform your eyes with this versatile, glow-getter-approved palette!
Artist Couture Diamond Glow Powder

$18.57

Artist Couture Diamond Lip Tease

$18

$9
---
6
/23
THE ORDINARY
Best Skincare Makeup Kit For Men
From $11.90
EDITOR'S NOTE:
"The Ordinary has long been loved by men interested in neutrally branded products that offer excellent results at affordable costs."
I first explored The Ordinary's makeup for men's products in June 2021.
I loved the overall sturdiness, the variety of shades, and the very affordable cost.
Now in Jan 2023, my initial assessments about this makeup-for-men brand are still holding up.
To apply the company's makeup products for men and avoid smearing, pat gently on your face with your pinky finger.
Above all, remember: a little goes a long way.
The Ordinary 4 Pieces Face Serum Set

$18.57

The Ordinary 3 Pieces The Daily Set

$18

$9
---
7
/23
FENTY BEAUTY
Best Lip Balm Makeup Set For Men
From $7
EDITOR'S NOTE:
"A globally recognized name and brand by now, Fenty's excellent makeup for men is available in 50 different colors for all skin types, complexes, textures, and structures."
I still remember Daniel Kaluuya when he set the internet on fire after revealing he wore Rihanna's Fenty beauty brand to the 2018 Oscars.
Kaluuya's choice of makeup for men inspired the business to create a series of online makeup tutorials for men.
Four years later, Fenty's makeup lines are used by men from all walks of life, from celebrities to actors and the next-door neighbor.
Fenty Pro Kiss'r Lip Makeup Kit

$24

$17

Fenty Pro Kiss'r Duo Makeup Kit

$36

$31
---
8
/23
TARTE COSMETICS
Best Vegan-Friendly Makeup Kit For Men
From $5
EDITOR'S NOTE:
"All Tarte makeups for men are formulated with a blend of naturally derived ingredients designed to perform, protect, and improve."
Taking the beauty market for men by storm, Tarte Cosmetics is an American cosmetics company headquartered in New York City.
Founded by Maureen Kelly in 1999, the brand's first product was a cheek stain used the following year for the cover of Self magazine.
Made from vegan-friendly ingredients, Tarte's makeup for men is free of parabens, mineral oil, phthalates, triclosan, sodium lauryl sulfate, and even gluten.
Tarte Power Players Bundle

$67

$52

Tarte Power Couple Bundle

$50

$38
---
9
/23
MMUK MAN
Best Men's Makeup For Beginners
From $19
EDITOR'S NOTE:
"Masculine, captivating, and even unparalleled are words that best describe the brand's luxurious range of makeup for men."
Featured in leading men's magazines like GQ, Esquire, Men's Health, and The VOU, MMUK MAN is a cosmetics for men brand that we can't stop talking about.
Whether you need a good foundation for men to cover light blemishes, concealer sticks to target unsightly spots, or natural makeup to maintain the post-holiday tan, this is the brand for you.
MMUK MAN Foundation Stick

$39.50

MMUK MAN Beard & Brow Filler

$23
---
10
/23
TOO FACED
Makeup Artist Approved Men's Makeup
From $6
EDITOR'S NOTE:
"By focusing on skin-nurturing makeup products and stunning color palettes, Too Faced has progressed from the confines of a counter makeup brand into a full-fledged beauty label for men."
Knowing which beauty products to add to your makeup bag and spend money on.
Need a matte eyeshadow palette for everyday use?
What about a colorful shade of lipstick that lasts all day?
Too Faced has all the answers, all makeup for men's products, and more.
From flawless foundations to rich lipsticks and, not to mention, #1-selling mascara, there's a reason Too Faced makeups are loved by men.
Too Faced Natural Matte Neutral Eye Shadow Palette

$39

Too Faced Born This Way Setting Powder

$34
---
11
/23
4VOO
Best Men's Luxury Makeup & Beauty
From $34
EDITOR'S NOTE:
"Loved by the best experts in the men's makeup market and loved by some of the biggest names in the music and entertainment industry, this makeup for men label is your opportunity to resemble red carpet royalty looks as well."
Ever wondered what makeup brand the sexiest men in Hollywood wear?
With the likes of Johnny Depp, Brad Pitt, George Clooney, and Dustin Hoffman officially endorsing 4VOO Men's Cosmetics, there is little surprise that this brand's popularity has surged so much.
4VOO's makeup range includes their hugely popular Shine Reduction Powder, Face and Body Bronzer, Confidence Corrector Cover Stick, and high-performance and wonderfully natural brow gel and eyeliner.
4VOO has developed a luxury range of makeup formulas just for men, worn by thousands of people across the globe.
Manufactured in Canada and designed by the legendary male beauty guru Marek Hewryk, put your best face forward daily with the brand's makeup line for professional gentlemen.
4VOO Uber Tech Instant Lift Serum

$100

4VOO Confidence Corrector

$34
---
12
/23
NARS
Best Matte Makeup Kits For Men
From $18
EDITOR'S NOTE:
"The iconic makeup brand for men NARS was around long before the freshly crowned beauty mogul Kylie Jenner was a twinkle in her parent's eyes."
Founded in 1994 by the French makeup artist and photographer Francois Nars, NARS is an OG in the makeup space.
But that doesn't mean it is obsolete; on the contrary, NARS is as beloved as ever by makeup enthusiasts regardless of gender, sex, skin color, or political views.
The cosmetics line began with twelve lipsticks sold at Barneys, New York.
Since then, NARS has created various multi-use beauty products for men and is now a subsidiary of Shiseido.
Nars Soft Matte Primer, Concealer & Foundation Bundle

$90.10

Nars The Soft Matte Lip & Cheek Makeup Bundle

$65.45
---
13
/23
ILIA

Best Skin Serum Concealers For Men
From $34
EDITOR'S NOTE:
"With a potent makeup for men formula, designed with active skincare ingredients that shield skin from environmental stressors, ILIA's products improve looks while repairing skin damage."
ILIA is a makeup brand for men and women who believe in 'skin that looks like skin' with a healthy, natural radiance.
With transparency as the brand's guide and color as its vehicle, the designers at ILIA challenge the conventions of clean beauty to create something radically new.
Above all, all of ILIA's makeup for men products are potent but safe formulas designed to protect, nourish, and revive your skin.
Ilia Super Serum Skin Tint SPF 40

$48

Ilia True Skin Serum Concealer

$30
---
14
/23
YSL BEAUTY
Best Primer Makeup For Men
From $29
EDITOR'S NOTE:
"YSL's collection of men's makeup products include foundation, concealer, mascara, eyeliner, and even bronzer, all geared to help modern-day men put their best face forward."
YSL has redefined the boundaries of makeup for years.
The brand's concealers, makeup, and overall male skincare products provide men with flawless and stylish complexions.
Exceptional, world-class, outstanding…The list goes on when reading the brand's reviewers' reactions to the men's makeup line.
Whether you're a model, Instagram star, fashion blogger, or average Joe keen to upgrade your complexion, YSL's makeup for men range is a must.
YSL Nu Glow In Balm A Priming Moisturizer

$36

YSL Nu Blotting Lotion A Priming Mattifier

$34
---
15
/23
SHISEIDO
Best Men's Moisturizing Makeup Serums
From $25
EDITOR'S NOTE:
"Shiseido's men's makeup collection comprises several best-selling and award-winning products such as the Multi Solution Gel, the Urban Environment Oil-Free UV Protector SPF 42, and the Moisturizing Emulsion."
Shiseido was started in 1872 in Ginza, Tokyo, as Japan's first private pharmacy.
Since then, the brand has become an internationally bestselling makeup and skincare brand for women and men.
Looking at the brand's range of makeup for men, Shiseido's products are targeted around a healthy skincare routine for men.
The brand's cosmetics collection for men includes cleansers, moisturizers, and treatment products, all built around Shiseido's advanced skincare formulas.
Shiseido Ultimune Power Infusing Serum

$71

Shiseido Hydrating Lightweight Lotion

$33
---
16
/23
FORMEN
Best Subtle Male Makeup Kit
From $29.99
EDITOR'S NOTE:
"Love the brand's trio wheel – designed for men with multiple skin issues — like most of us. It contains the best concealers for men in a convenient and portable package."
House of Formen is the world's first male cosmetic house, specializing in professional makeup for men.
The brand's product is formulated to fix issues such as male acne, facial shine, under-eye bags, oily skin, and imperfections.
Always in my bag, I highly recommend House of Formen's makeup product for male skin.
Formen Beginner Men's Makeup Kit

$95

Formen Men's Under Eye Concealer

$29
---
17
/23
TOM FORD
Best Makeup Foundation For Men
From $34
EDITOR'S NOTE:
"Tom Ford's foundation and concealer for men is creamy, with impressive coverage, affordable, and luxurious, and I am afraid you'll fall in love with them."
Tom Ford Beauty's covetable collection of cosmetics and fragrances for men was shaped by Tom Ford's vision of modern male glamour.
Crafted with the ultimate quality and luxury in mind, the line was launched in 2016 when Tom Ford introduced Tom Ford Black Orchid, a luxurious and sensual fragrance of rich, dark accords.
Tom Ford Traceless Flawless Foundation Makeup Stick

$75

Tom Ford Traceless Touch Foundation Cushion Compact Case

$29.50
---
18
/23
GIVENCHY BEAUTY
Best Unisex Makeup For Men
From $30
EDITOR'S NOTE:
"Givenchy men's makeup line is part of the Universal Range. Clever, easy to use, and highly effective, each piece has a specific function that helps men create a unique, personal style."
Mister by Givenchy men's makeup collection brings easy-to-apply textures and state-of-the-art makeup in modern graphics packaging.
The four beauty essentials of the Mister range are designed to enhance the beauty of men (and women) in the blink of an eye.
Givenchy Mister Instant Corrective Pen

$28.90

Givenchy Prisme Libre Skin-Caring Foundation

$38.90
---
19
/23
HOURGLASS COSMETICS
Best Lip Care Makeup For Men
From $15
EDITOR'S NOTE:
"There is no more dramatic accessory than perfectly done lip makeup. As the focus of the face, the lip will define the overall look" – Hourglass 'Lip Care' Line for Men.
Hourglass is a cruelty-free beauty brand known for constant innovation and commitment to reinventing luxury cosmetics for men.
Men's complexion, color, and skincare products are crafted to be undetectably transformative while effortless to apply.
Paradigm products feature cutting-edge formulas with active ingredients and covetable packaging that elevate expectations of how a product should look, feel, and perform.
Also, the brand's range of shades for men is impressive, and no wonder makeup artists tout this cult-favorite stick.
Hourglass Cosmetics Nº 28™ Lip Treatment Oil

$52

Hourglass Cosmetics Girl™ Lip Stylo

$34
---
20
/23
MAKE UP FOR EVER
Best Makeup Tools For Men
From $23
EDITOR'S NOTE:
"Loved by all-gender makeup artists, students, and industry professionals (estheticians, cosmetologists, salon/spa professionals), Make Up For Ever pioneers the gender-free makeup market."
Created in 1984 by makeup artist Dany Sanz, Make Up For Ever is a French cosmetics brand owned by LVMH.
As a professional makeup brand, Make Up For Ever provides men (and women) performers with the makeup and tools needed to prepare for the stage.
Creators of high-performance makeup products for professional makeup artists and fans all around the world, the label is distributed in over 60 countries.
It also has over 2200 points of sale around the world, so it's easy to find.
Make Up For Ever Eclectic Makeup Brush Set

$69

$48

Make Up For Ever Buildable Coverage Sponge

$16

$11.20
---
21
/23
LANCOME

Best Makeup Setting For Men
from $25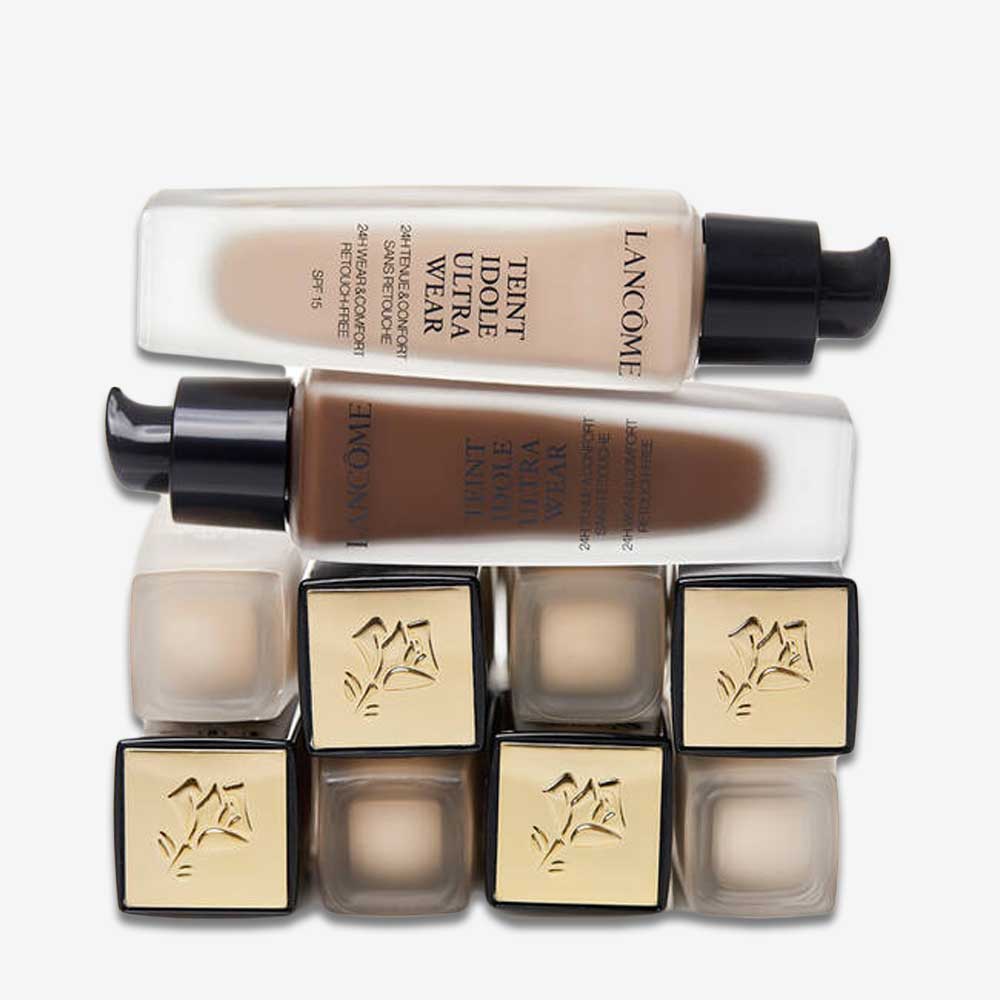 EDITOR'S NOTE:
"Coming from one of the world's most prestigious luxury makeup houses, Lancome's makeup for men products are divine and definitely worth the splurge."
Part of the L'Oreal Luxury Products division, Lancome is a French luxury perfume and cosmetics house with years of heritage and market expertise.
Lancome's fragrances are great, and the brand's makeup for men is divine.
Of all, my fav is Lancome's mascara for men – I find it of superb quality, and the eye shadows grant me a unique touch.
Lancome Dual Finish Powder Foundation

$45

Lancome Fix It Forget It Setting Spray

$34
---
22
/23
VIOLET VOSS
Best Shade Pallete Makeup For Men
From $15
EDITOR'S NOTE:
"Violet Voss has a broad selection of makeup products for men seeking to create bold looks; in particular, the brand's shadows provide excellent color coverage that lasts a long time."
Men who want to get a daily dose of makeup magic should try Violet Voss's wide range of sunset palettes.
Created by a team of makeup artists, it only makes sense that Violet Voss has garnered a significant following and Instagram and YouTube.
With stories inspired by the magical colors of the sunset, your eyes are sure to be the main attraction.
Always pigmented and blendable, the label delivers from everyday warm neutrals to iconic makeup colors for men who want to stand out.
I like Violet Voss' addicting formulas and the perfect mix of mattes, shimmers, and metallics.
Violet Voss Eye Pinky Promise Palette

$19

Violet Voss Like A Boss Palette

$78
---
23
/23
ALTR LONDON
Best Men's Essential Makeup Kit
From $19.99
EDITOR'S NOTE:
"Powered by a fresh range of men's skincare products designed to improve appearance, Altr for Men has become a popular name in today's Men's Grooming Industry."
Alex Doyle, the founder, launched the brand because of his endless skincare problems.
Suffering from issues ranging from acne to eczema, Alex tried numerous pharmaceutical and medical solutions but to no avail.
Eventually, a female friend recommended a concealer and non-irritable moisturizer.
Despite being unsuitable for his skin type, the products helped Alex overcome confidence issues.
Nowadays, Altr London is one of the most popular makeup for men brands, at affordable prices and from natural ingredients.
Altr London Starter Kit

$43

$24

Altr London Blemish Kit

$40

$35
---
Conclusion
Debate what makeup for men means to masculinity as much as you like.
We're not going to; these are just makeup products – lip balms, concealer sticks for a wide range of skin tones, lipsticks, and men's makeup products are skin products.
Men's makeup has come a long way since you borrowed a dab of your sister's concealer to cover a zit.
Nowadays, you can get cosmetics engineered explicitly for men because men get those spots before a date, too.
And the dark circles because we thought one more drink wouldn't kill us.
And the creases in the skin after working a 50-hour week.
The big difference in male makeup from female, or the crazy, contoured artistry you might see on RuPaul's Drag Race, is that this makeup is designed to be invisible.
It's more like grooming 2.0, a subtle evolutionary step from your daily moisturizer that slaps an Instagram filter on your face in real life.
Choosing not to cover up a pimple or add a little pop to a look is a bit like vowing to fix that leaky faucet without any wrench—by willfully ignoring the handiest tools in the box, you hamstring yourself from the outset.
You don't need beauty guru levels to give men's makeup a go.
And you don't need to be a da Vinci with the makeup brush, or a Dürer with the eyebrow pencil, to apply men's makeup.
Maybe you want to touch up a few blemishes now and then and even out your skin tone.
Or camouflage dark circles – a small collection of products can help with all that.
We don't think it's a revolution or feminization gone berserk.
It's just an option – one you can take or leave as you see fit to fine-tune your appearance.
And if you do, below you'll find everything you need to know about the products to get expert advice on how best to use them.
Weekly Newsletter
Keep up with the latest in fashion, beauty and style!
Now it's your turn…
Which one of these men's makeup brands is your favorite and why?
Are there other makeup kits for men you've tried and want to add to this list?
Comments below, please!



A passionate advocate for inclusivity and diversity, Aidan is the driving force behind The VOU magazine as its Editorial Manager. With a unique blend of editorial acumen and project management prowess, Aidan's insightful articles have graced the pages of The Verge, WWD, Forbes, and WTVOX, reflecting his deep interest in the dynamic intersection of media and technology.