If you spend more than two hours a day in front of a computer or smartphone screen, you should wear blue light glasses to protect your eyes.
It is science; extended screen time causes eye strain, dryness, itchiness, and headaches.
Squinting into digital screens also impacts circadian rhythm by inhibiting melatonin production, preventing you from falling asleep.
Worst of all, prolonged screen exposure could lead to macular degeneration and loss of vision.
The solution is simple and affordable; blue light glasses must prevent eye fatigue, insomnia, and potential eye damage.
In this article, I'll introduce you to the best 19 blue light glasses right now, designed to protect your eyes and make you look like a star.
1
/10
Peepers Blue Light Focus
Trendiest Clear Frame
from $21.45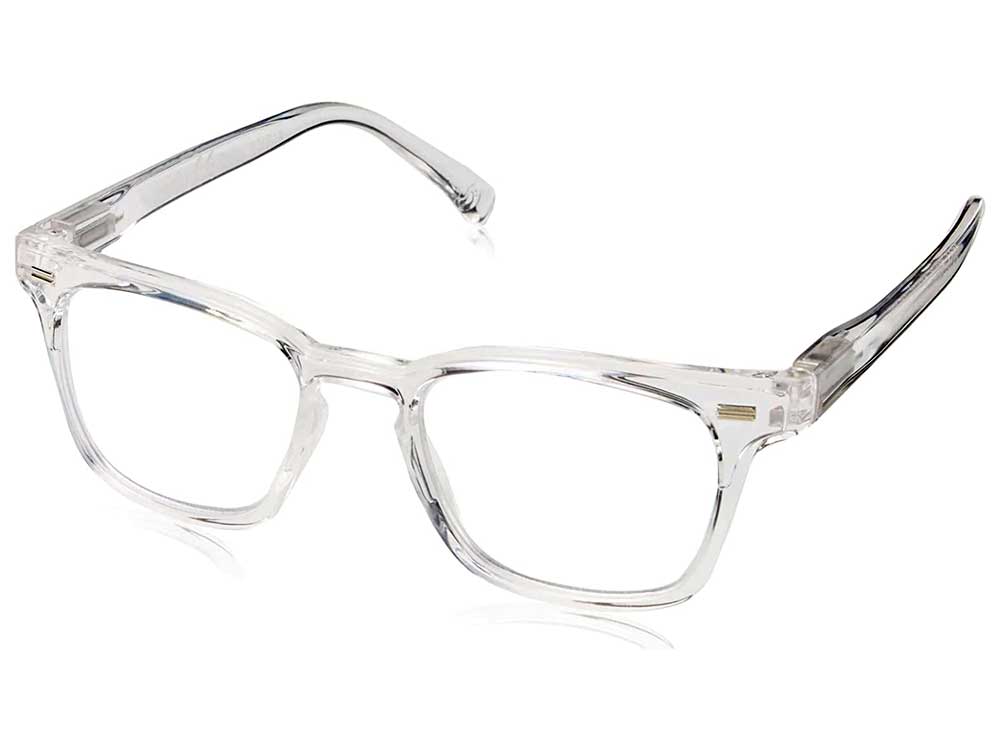 EDITOR'S NOTE
"Peepers offers great blue light blocking glasses and UV protection with an unparalleled selection of frame styles."
Peepers current lineup features 100 frame models that vary in weight, dimensions, shape, and color and are designed to filter blue light and block up to 99.9% of UV rays.
You can choose from blue light glasses with minimalist looks, throwback styles, or futuristic glasses frames in many colors and shades for any outfits you have in mind.
Highlights:
For those who prefer blue-light-blocking glasses with minimal tinting and variable strength.
Nine strength options ranging from 1.00 to 3.00
2
/10
EyeBuyDirect Blue-Light Blocking
Best Prescription
from $39
EDITOR'S NOTE
"Customers can choose from over 1,400 frame styles and select the type of blue light blocking technology required, in line with their needs."
EyeBuyDirect (EBD) takes an unconventional approach to blue light protection glasses.
The EBDBlue Plus technology includes:
Advanced blue light blocking
UV protection
An anti-static layer to safeguard the glasses from dust
A lens coating to reduce smudging
The innovative EBBBlue Smart option automatically enables the lenses to adjust based on natural light and darkness levels.
Highlights:
For gamers and avid e-readers with specific frame preferences.
Four blue light-blocking options for wearers with different needs.
3
/10
Ray-Ban Aviator
Best Designer Frame for Blue Light Glasses
from $140
EDITOR'S NOTE
"From a world favorite eyewear icon brand, these blue light Ray-Ban glasses are available with clear, photochromic lenses and light-responsive sun lenses that adapt to changing weather conditions."
If you're into 'Top Gun' retro looks, you'll love these gold-rimmed aviator frames from Ray-Ban designed for multiple blue light waves.
Blue-light filtering technology can shield your eyes from digital eye strain during screen time, and the thin metal frame won't weigh heavily on your temples.
Also available as prescription eyewear, every pair of Ray-Ban blue light glasses is covered by a lifetime warranty.
Highlights:
For retro-style fashionistas who want to keep their eyes healthy and safe.

Unique photochromic technology.
4
/10
Eyekeeper Blue-Light Filter
Most Affordable Blue Light Glasses
from $13.99
EDITOR'S NOTE
"With minimal flame and color distortion, these blue light-blocking glasses are ideal for kids who spend a long time with electronic devices, play computer games, or watch TV late."
Adults aren't the only people who can benefit from blue light lenses but children, especially those spending a long time looking at computer screens and TV.
The Eyekeeper Kids Blue Light Glasses are a low-cost but highly effective option, able to block 93% to 99% of emissions in the range of 400 to 420 nm.
Highlights:
For those who study online or play video games before bed.

Prescription-free blue light glasses that block up 99% of blue light.
5
/10
Jonas Paul Eyewear Teen
Trendiest Blue-Light Glasses For Teens
from $39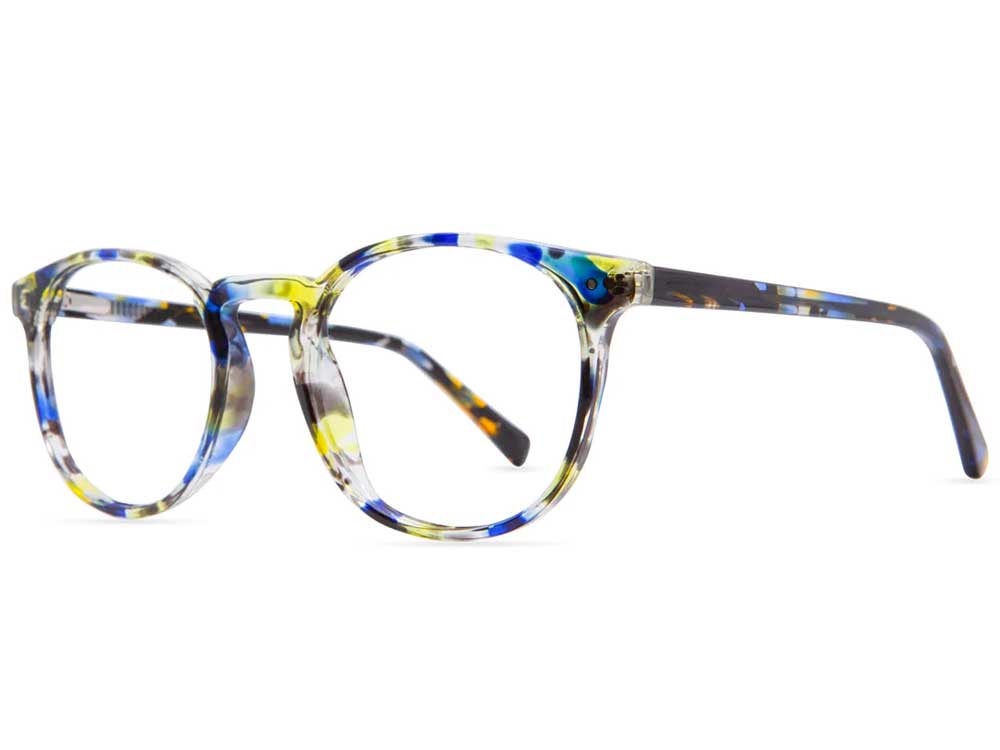 EDITOR'S NOTE
"The Teen Blue Light collection includes four designs (Vint, Charlie, Margaret, and Katherin) ideal for teens who don't wear prescription glasses, each available in three color options."
These Blue Light Glasses from Jonas Paul Eyewear are a low-cost option for high school students and young adults.
The lenses are engineered to block over 60% of damaging blue light wavelengths between 380 to 450 nanometers.
That's the blue light range that negatively impacts circadian rhythm the most, disturbing sleep at night.
Highlights:
For limited-budget students with class loads that require online coursework.

The "Virtual Try-On" tool lets you see how different styles look without in-person testing.
6
/10
Look Optic Blue-Light Readers
Best Blue Light Glasses For Reading
from $74
EDITOR'S NOTE
"These lightweight Blue-Light readers are available in eight different styles — and each style comes in a wide variety of colors, featuring spring hinges that can be adjusted for a good fit."
While some blue light glasses feature lenses coated with blue light-blocking film, these Blue Light glasses feature a proprietary Retina Shield Blue lens designed to resist scratches.
Apart from being some of the most stylish blue glasses on this list, the company allows you to choose between five magnification options, from zero to 2.5.
Highlights:
For those interested in wearing functional but very stylish eyewear.

There are five magnification options and eight styles, each with various color options.
7
/10
Felix Gray
Best Anti-Glare Blue Light Glasses
from $95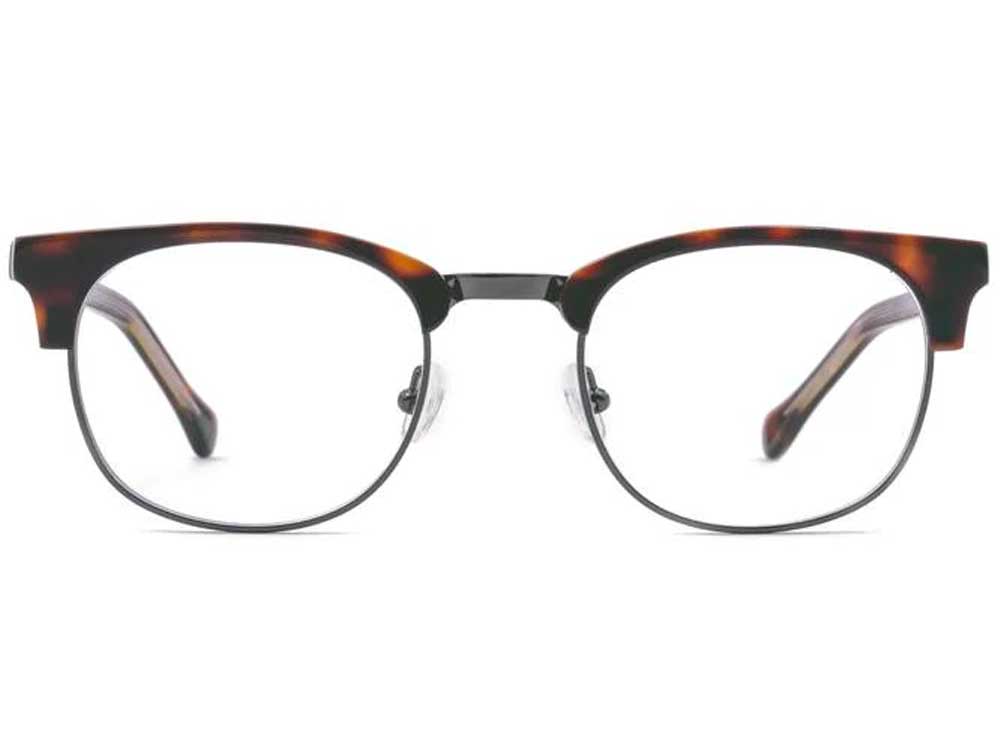 EDITOR'S NOTE
"With a proprietary anti-glare coating that reduces up to 98% of blue light exposure, available in multiple styles and colors, Felix Gray blue light glasses are the best option for preteens."
Each of the brand's 17 teen-friendly blue light glasses styles is designated to fit narrow, medium, and broad faces very comfortably.
Four frames are designed for 'low bridge' noses that sit below the pupils, with kid sizes for ages 4 to 8 years or 9 to 13 years.
You can also choose between clear or amber lenses depending on your preference, and most of the frames are available in at least two to three different colors.
Highlights:
For small children, preteens, young adults, and people with 'low bridge' noses.

Clear lens, several prescriptions, and stylish low bridge options.
8
/10
Prive Revaux Cat-eye Eyewear
Coolest Non-prescription Blue Light Glasses
from $74
EDITOR'S NOTE
"Fancy name, awesome frames, high-quality blue light glasses from Privé Revaux, an eyewear brand for all, her, him, and unisex."
This swanky-named eyewear brand sells some of the best blue light glasses at a price you can't find anywhere else.
Priced at around $40, the brand uses lenses with blue light protective filters and an antiglare coating to reduce eye strain.
Not only does the name of these blue light filtering glasses sound super fancy, but the styles – there are over three dozen to choose from – are designer-inspired at an affordable price.
Highlights:
For eyewear fashionistas looking for stylish blue-light-blocking glasses.

Styles suitable for all genders and face types.
9
/10
Oakley Gamer
Best Blue Light Glasses For Gaming
from $108
EDITOR'S NOTE
"A pair of glasses for hardcore gamers with prolonged exposure to blue light, from one of the best companies in glasses making, covering ergonimics, lens quality, and style."
Oakley knows that gamers are in front of their screens the most, so they designed a line of glasses just for them.
Designed to increase visual performance through proprietary lens technology, ordinary people can wear these blue light non-prescription glasses for a better sleep-wake cycle.
Not only do the lenses have blue light-blocking technology, but the frames are designed specially so gaming headphones won't interfere or cause headaches for glasses-wearing gamers.
Highlights:
For gamers that spend hours in front of computer screens.

Gaming technology with headphones in mind.
10
/10
Ocushield Anti Blue-Light
Best Clip On Blue Light Glasses
from $42.99
EDITOR'S NOTE
"Blue light glasses suitable for late-night workers and people who must use electronic devices before bedtime."
While Ocushield Anti Blue Light Glasses are comfortable and lightweight, these clip-on lenses are highly effective at protecting your eyes.
The Ocushield lenses block up to 99% of UV rays and blue light with wavelengths between 300 and 400 nanometers.
Available in two standard frame styles with three colors apiece, these blue light glasses have a unisex design.
You can also select a clip-on option with prescription lenses or sunglasses.
All glasses are treated to resist glare, fog, and smudging, allowing for near-perfect clarity.
Highlights:
Clip-on lenses over regular frames for late evening work on laptops and tablets.

Clip-on blue light glasses resist glare, fogging, and smudges.
Blue Light Glasses FAQs
How Efficient are Blue Light Glasses?
According to the American Macular Degeneration Foundation (AMDF) and The American Academy of Ophthalmology, the visible light spectrum, including blue light) from digital devices does not damage the eye.
However, prolonged usage of mobile devices at night can lead to blurred vision and disturbance of the internal clock and sleep cycle.
What are the Benefits of Blue Light Glasses?
As the name suggests, blue light glasses are designed to block the harmful blue-light wavelength that emanates from your digital devices' screens, such as laptops and cellphones, contributing to your eyes' health, eye twitching, and discomfort.
Are Blue Light Glasses Good for Your Eyes?
Depending on the type of light – prolonged usage of mobile devices at night can lead to blurred vision and disturbance of the internal clock and sleep cycle.
Artificial light sources, such as the light from screens for an extended period, can cause blurry vision and signs of eye strain, so wearing yellow tint glasses can help protect against nocive blue wavelengths.
Conclusion
There's no argument that nowadays, we spend more time than ever in front of digital devices and computer screens than ever.
In 2021, one in three adults reported spending at least 6 hours online, in front of computers, laptops, and smartphone screens, often late in the evening.
However, the explosion of digital device usage comes with a hefty price as these screens emit high-energy blue light waves that impact the eye's health.
Moreover, when digital devices are used in the late evening hours, blue light exposure disrupts the normal sleep-wake cycle.
To date, the most effective and affordable way to combat screen time's adverse effects before bed is wearing blue light glasses.
Whether you're a gamer or need to work on your computer before bed, the ten blue light glasses curated in this article are the best you can buy right now.
Weekly Newsletter
Keep up with the latest in fashion, beauty and style!
Now it's your turn…
Which one of these blue light glasses do you see as the best, and why?
Which blue light-blocking glasses do you think we've missed and should include in our next article update?
Please leave your comments below; we always appreciate them and use them to learn, improve, and update these articles.
Driven by a deep passion for the environment and a desperate need to do something to save it, Rebecca's true love lies in environmental justice, currently studying for a Master's degree in 'Conservation and Biodiversity' at The University of Exeter. With years of expertise in the worlds of advertising, PR, events, and movie publicity, Rebecca's lifestyle, sustainability, and wildlife content intrigue, inspire, and mobilize.