The core aim of the indie aesthetic is to depict an idea of stylistic freedom.
The staple pieces of the Indie aesthetic are band tee and crop tops, flower embroidered knits, baggy jeans, skater skirts, platform shoes, and clay jewelry.
Ideally, each Indie garment is color saturated and has a retrofuturistic tone and texture.
To help you create your own unique style, I have put together 25 must-have Indie aesthetic pieces.
With authenticity at the forefront and capitalism on the back burner, the modern indie aesthetic opens the door to innovative styles and looks, so feel free to experiment.
---
1
/25
Indie Flower Knit Sweater Vest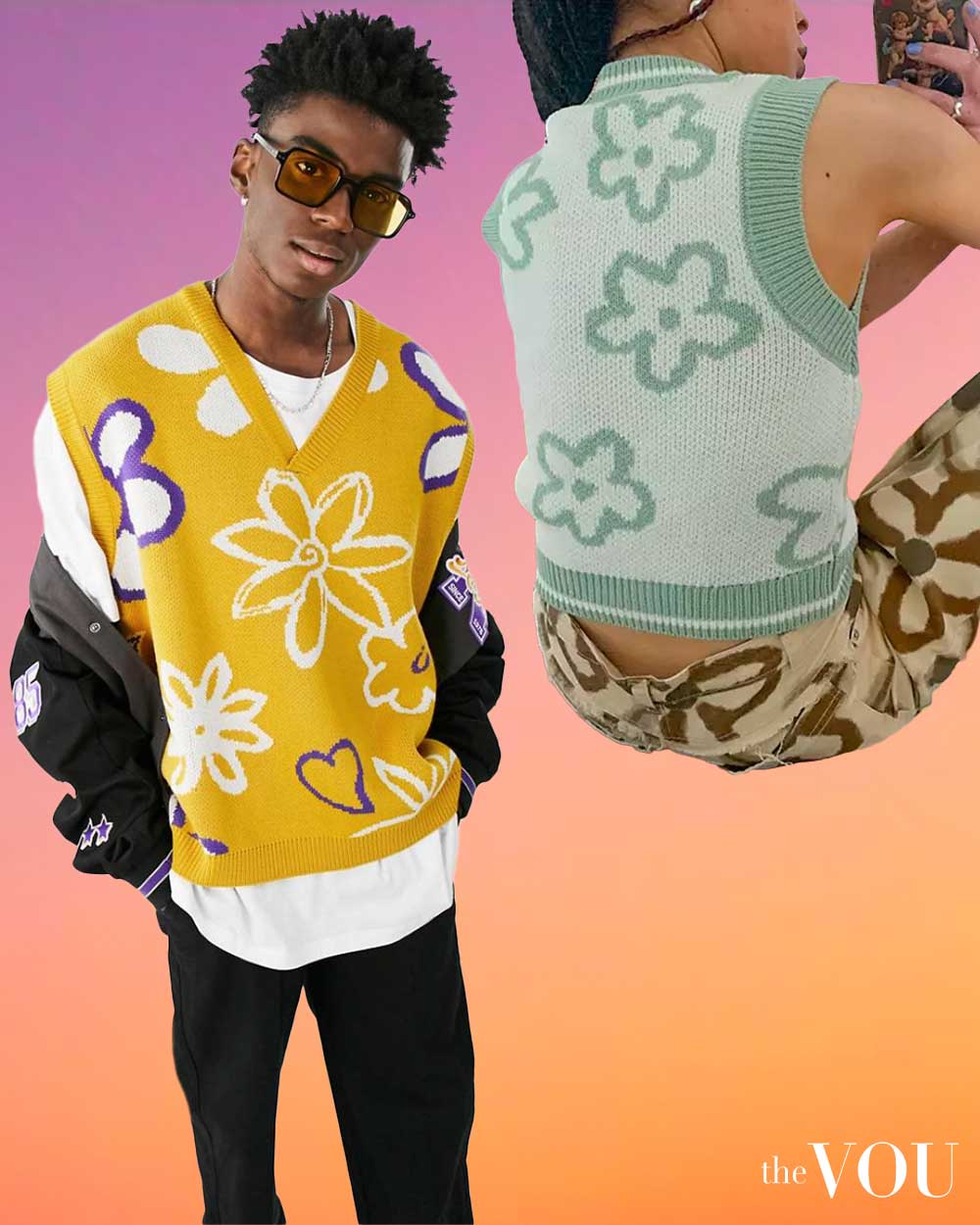 Flowery vests have been the staple of the Indie aesthetic since its inception.
Driven by the growing popularity of light academia aesthetics, vests are also trending on social media.
But, if you want to add a touch of Indie aesthetic and flair to your look, choose a vest with floral elements.
Floerns Women's Floral Sweater Vest
$21.99
Floral Check Pattern Knit Vest
$22
---
2
/25
Indie Cropped Fruit Print Cami
Inspired by 2000s fashion, eclectic prints on blouses are a great go-to for any Indie style.
The more, the better, especially when the print is cutesy and in bright colors.
Fruit prints are the best example of some of the best Indie aesthetic fashion staples.
Printed and used on anything, from indie posters to photo walls and collages, fruit prints are the best example.
Some popular Indie-style fruit prints are cherry, strawberry, peach, and pineapple patterns.
Cherry Print Sweater-Knit Cropped Cami
$19.99
Summer Strawberry Knitted Tank
$14
---
3
/25
Indie Oversized Knit Cardigan
Oversized cardigans are the perfect addition to indie outfits.
Even more so if the cardigan is crocheted with multiple colored knits.
It adds a dose of boho style that goes well with the Indie aesthetic.
Fuzzy Flowers Oversize Cardigan
$32
Floral Pattern Drop Shoulder Cardigan
$24
---
4
/25
Indie Aesthetic Crochet Top
Seen as an Indie kid staple and one of the most popular tops in the summer of 2022, crochet shirts are a must in 2023.
On the earthy aesthetic side of the Indie fashion look, crochet tops are perfect to pair with oversized jeans and tote bags.
Colorful Floral Crochet Top
$20
Granny Square Crochet Top
$29.99
---
5
/25
Indie Style Pleated Skirt
Pairing a crop top with a pleated fit-and-flare skirt will never go out of style and remains a great go-to for any indie-style outfit.
But, for the ultimate Indie aesthetic, add some indie accessories made of clay or faux pearls.
Pleated Denim Mini A-Line Skirt
$20
Plaid Print Fold Pleated Skirt
$11
---
6
/25
Indie Knitted Polo Shirt
Another staple of the Indie aesthetic, knitted polo shirts look amazing on anyone, regardless of gender, age, or body type.
The oversized polo shirts, in particular, are an Indie clothing trademark.
Yet, don't be afraid to knit your polo shirt shorter, to let some skin out.
Remember, personal touch and style are vital to Indie aesthetics.
Floral Embroidery Polo Knit Top
$13
Knit Check Pattern Polo
$26
---
7
/25
Indie Style Lace Slip-On
A '90s fashion staple, the slip dress was revived in 2022 by indie girls wearing them out on the town.
For the ultimate Indie outfit, pair your lace slip-on with an oversized coat and chunky Doc Martens.
Floral Lace Bow Front Asymmetrical Hem Cami Dress
$24
Indie Butterfly Lace Mini Dress
$20
---
8
/25
Indie Aesthetic Printed Jeans
People wearing clothing made for the Indie subculture know that indie-style jeans are anything but boring.
But if you don't want to spend on a new pair of indie jeans, here's what you can do.
Wear old jeans you already own and augment them with patchwork details and bleached shapes.
Then, add a couple of printed patterns like those found in an Indie wall collage or Indie posters for a room aesthetic.
Heartthrob Straight Leg Jeans
$24
PacSun Embroidered Workwear Carpenter Pants
$35
---
9
/25
Crop Top & Indie Wide-Leg Pants
If you're ever looking for an outfit that is chic and easy to toss on- this would be it.
Effortless and easy to dress up or down, it's the ultimate street-style option for an indie kid.
Ultra High-rise White Wide Leg Ankle Jeans
$29
Tartan Pattern Wide Leg Pants
$26
---
10
/25
Indie Grunge Aesthetic
Heavily influenced by the grunge aesthetic, the Indie-grunge stylistic variation is an excellent choice to make a personal fashion statement.
Blend core grunge elements like denim jackets, heavy boots, and rock jewelry with relaxed indie aesthetics for a unique look.
Yellow Denim Oversized Shacket
$78
Strawberry Fields Wide Leg Trousers
$34
---
11
/25
Oversized Indie Knit Sweaters
Veering into the oversized '70s and '80s fashion, this Indie look has a casual, homey feel.
You can give it an extra retro feel by adding some Birkenstocks or a large canvas tote bag.
Flower Stripe Oversized Indie Sweater
$28
Mock Neck Star Pattern Drop Shoulder Sweater
$24
---
12
/25
Indie Aesthetic Flannels
A staple of the 80s rock looks, Flannels are also great for putting together Indie outfits with a bit of grunge inspiration.
You can tuck the flannel in to give it a more timeless Indie feel or crop it.
Black Oversized Flannel Shirt
$16
---
13
/25
Indie Aesthetic Knit Beanies
Every fashion aesthetic outfit has its hat, made to pair well and augment the overall look.
In the case of Indie outfits, the beanie is the most suitable hat.
Combining the homespun look of indie style with Y2K style, the beanie is an accessory you can't miss.
Cherry Crochet Hat
$10
---
14
/25
Indie Kid Hoodies
As the Indie aesthetic plays into the hands of 'coming of age dressing, hoodies, and jeans, it makes perfect sense that oversized clothing plays a crucial part in this style.
Plain or printed, oversized jeans and hoodies are Indie clothing staples that will give your outfit a unique style.
Floral & Slogan Graphic Drawstring Thermal Lined Hoodie
$14
---
15
/25
Indie Style Vans Shoes
Initially launched for skater kids, Vans shoes have become shortly after a total Indie aesthetic element.
Simple and affordable, Vans shoes can transform any outfit from basic to extraordinary.
Vans SK8-Hi Tapered Stackform
$85
Vans Comfycush Old Skool
$89
---
16
/25
Indie Baby Tees
With a preppy take on the classic Indie aesthetic, Indie baby tees and tennis skirts are loved by 'old money' fashion lovers.
Put the look together by pairing a short, pleated tennis skirt with a cropped baby tee.
For an extra stylistic touch, wear chunky loafers and claw clips.
Strawberry Embroidery Baby Tee Top
$7.20
SHEIN Mushroom Print Crop Tee
$7
---
17
/25
Indie Floral Skirt and Cropped Tank
Similar to the look of pleated tennis skirts and baby tees, this style oozes Indie mixed with Y2K aesthetics and a dash of late '60s fashion.
Floral skirts and cropped tanks are the perfect transition outfits between summer and fall.
Mesh Floral Print Mini Skirt
$17
Mesh Floral Mini Skirt
$17
---
18
/25
Indie Style Baggy Jeans
If crop tops aren't showing enough skin for you, then a bra top is!
Popularised in the late '90s fashion and early 2000s fashion, those that follow Indie fashion can't get enough of this style.
Moreover, this style becomes the most characteristic Indie look when paired with big bottoms or baggy jeans.
PacSun Mushroom Elastic Waist Baggy Cargo Pants
$37
---
19
/25
Indie Skirt & Oversized Argyle Sweater
While wardrobe essentials in this fashion category, pleated, Indie skirts are pretty hard to come by.
However, if you have one, pair it with an oversized argyle sweater to get a rare combination of dark academia and indie looks.
Fuzzy Argyle Sweater
$17
---
20
/25
Indie Style Tank With Loose-fitting Jeans
Pairing large pants with small shirts is another classic look of the indie clothing style.
Go for light, girly colors on both top and denim.
Love You So Knit Tank
$14
---
21
/25
Indie Aesthetics Neon Matching Sets
Since Indie clothing has roots in the '70s fashion, matching sets are a big part of the aesthetic.
In 2023, some of the most worn Indie matching sets are in super bright, neon colors that make you stand out easily.
Great to wear by themselves or with a hoodie, Indie matching sets are a powerful fashion statement.
SHEIN Checker Print Drop Shoulder Blouse & Shorts Set
$23
---
22
/25
Indie Mesh Camisole Top
By now, you might be questioning why the Indie aesthetic obsesses over the outfit combination of jeans and various mini tops.
That's because camisoles deliver a rare vibe of sexiness that matches remarkably with casual jeans.
Pair the look with a baguette purse for an extra Indie touch.
Strawberry Print Mesh Crop Cami Top
$17
---
23
/25
Indie Printed Mini Skirt & Cropped Top
Mini skirts with Indie patterns matched with cropped tops give the ultimate 'coming-of-age' vibes.
Seen as the standard indie dressing style, the look is affordable and can be easily put together.
Multi-Printed Ring Detail Tie Waist Mirco Mini Skirt
$8.50
---
24
/25
Indie Aesthetic Crochet Dress
Another garment relevant to the aesthetic, after the Indie crochet top, is the Indie crochet dress.
Go for complicated weaves and color schemes that can deliver a complex stylistic ensemble.
Flower Patchwork Mini Knit Dress
$38
---
25
/25
Indie Core Accessories
Some of the most popular Indie kid looks are completed with pearls with clay beads accessories.
You can also wear butterfly clips, plastic jewelry, and layered chains, especially if you want to depict a blend of aesthetics, such as Indie Y2K or Indie Grunge.
Indie Smiley Face Beaded Phone Charm Strap
$6.99
---
Indie Aesthetic FAQs
What is Indie Aesthetic?
Indie aesthetic (indie=independent) is built around the concept of stylistic freedom.
As such, the indie style relies upon creating and wearing a unique style free from mainstream fashion trends.
The 70s fashion is the staple of the indie rock aesthetic; band T-shirts, chunky sneakers, and bucket hats in bright colors.
Where to Get Indie Aesthetic Clothes?
Some of the best places and online stores to get indie aesthetic clothes right now are:
Reformation
Simple Retro
Amour Vert
Bohemian Mama
Miss Patina
Hearts and Found
How to be Indie Aesthetic?
The core aim of the indie aesthetic is to depict an idea of stylistic freedom with band T-shirts, chunky sneakers, and bucket hats in bright colors.
Initial' Indie kid' looks had a more feminine touch, but nowadays, the aesthetic blends indie vibes with Y2K themes in colorful flowers and irregular waist jeans in dark colors.
Conclusion
The core message of the Indie aesthetic is stylistic independence through and through.
Choose less formal styles and go for freedom depicting elements like floral, heavy patterned, and bright-colored clothes.
Blend these Indie aesthetic elements with oversized garments, like hoodies and jeans, to depict your Indie aesthetic style.
Weekly Newsletter
Keep up with the latest in fashion, beauty and style!
Now it's your turn…
Which one of these indie aesthetic ideas is your favorite and why?
Are there any other indie aesthetic outfits you've tried and want to add to this list?
Comments below, please!



A University of Oxford graduate in Design History, Katherine Saxon is researching arising TikTok cultures from a consumer psychology perspective while covering emerging aesthetics in fashion and beauty for TheVOU, Forbes, Business Insider, and more.