Long considered the apex of high fashion, haute couture has a rich history of ravishing relevance.
Pronounced [oht koo-toor], or with the French [oht koo-tyr], haute couture remains centric in luxury fashion design, representing an unmatched level of prestige and craftsmanship.
While the term haute couture comes from the French "Haute" (high) and "Couture" (sewing), its meaning comprises more than garment mastery but fashion heritage and legacy.
In this article, we'll dive deep into the topic of haute couture, from its definition and role in fashion to the biggest haute couture houses in the world.
What is Haute Couture?
Haute couture is a term used in fashion to describe made-to-order garments at the highest level of artisanal craftsmanship, sartorial experience, and exclusivity.
Handcrafted by skilled artisans, haute couture creations are made from the highest quality materials and textiles, with meticulous attention to detail. [1]
Moreover, haute couture is more than an abstract concept but a legally protected term.
Fashion designers must meet the precise standards set by the governing body, La Chambre Syndicale de la Couture, which codifies what's to be considered haute couture. [2]
Pierre Balmain, a designer synonymous with Parisian elegance, eloquently described haute couture as the "architecture of movement." [3]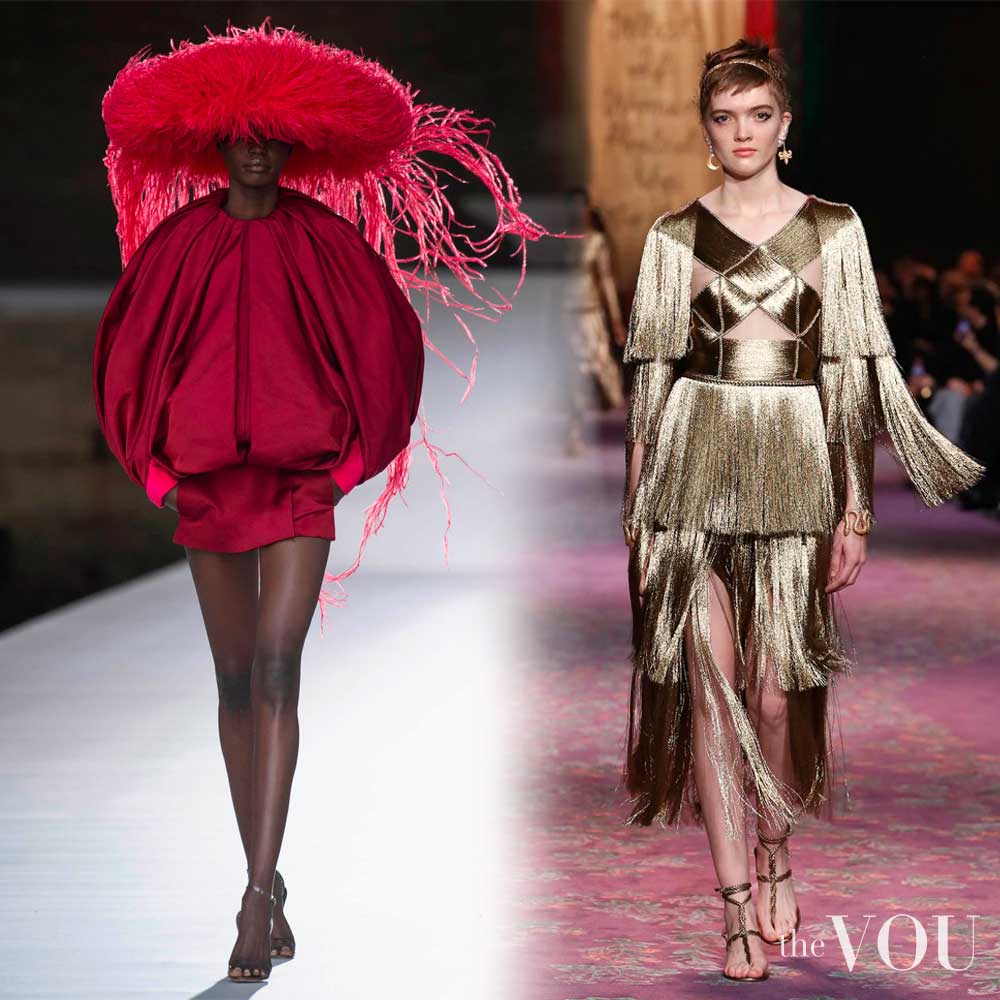 Designers utilize painstakingly detailed embroidery techniques, plugin methods, and tambour beading to bring their enchanting visions to life.
Though haute couture is traditionally associated with worn fashion, the model is also prominently featured in upper-class interior design.
From window treatments to wall coverings and furnishings to delicate embellishments, upper-class interior designers use fabrics and patterns from haute couture labels such as Chanel to inspire high-class home decor.
What is the Origin of Haute Couture in Fashion?
The term haute couture first appeared in 1800s France during the Industrial Revolution to describe a new style of hand-crafted dress tailor-made for royalty.
Rooted in Parisian fine fashion, 'Haute Couture' translates from French into English as 'high sewing.'
Fashion designer Charles Frederick Worth is credited with institutionalizing haute couture in the 19th century.
In his Parisian atelier, Worth was one of the first designers to create one-of-a-kind garments tailored to the client's unique specifications.
Nowadays hailed as the "Father of Haute Couture," Worth was also the first fashion designer to attach labels to his creations, emphasizing the importance of the designer as an artist and innovator, a radical idea at the time. [4]
In 1868, the 'Federation de la Haute Couture et de la Mode' (FHCM) was founded in Paris to maintain and preserve the highest standards of fashion craftsmanship.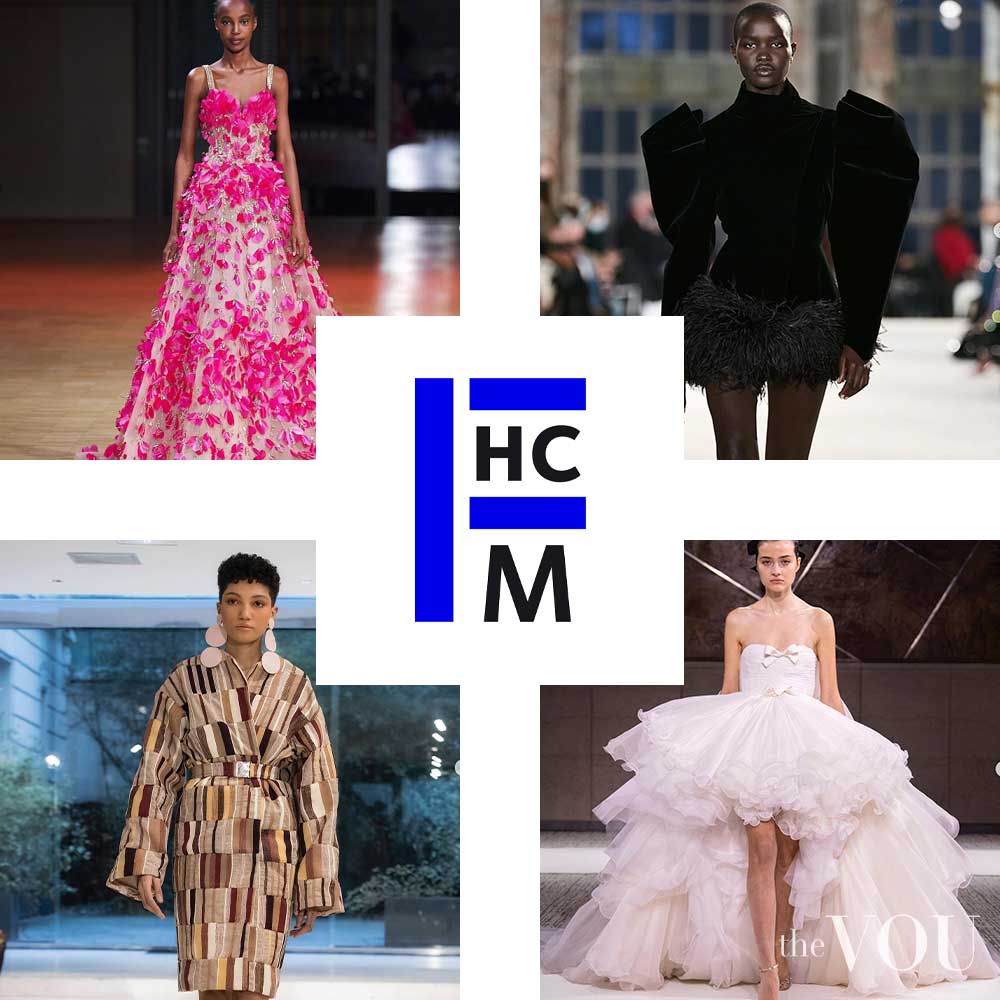 With strict requirements regarding the art of couture, FHCM granted the official recognition of haute couture design to an exclusive few listed on its official website as FHCM members.
Throughout the years, haute couture has grown to include a more comprehensive selection of the highest quality fashion and contemporary design pieces of a unique design process.
What Are the Main Characteristics of Haute Couture?
1. Expertise
According to Didier Grumbach – a prestigious figure in the world of fashion as the co-founder of Saint-Laurent Rive Gauche with Yves Saint-Laurent and Pierre Bergé – the creation of haute couture garments is complex and laborious, requiring legions of skilled artisans and sewers and over 700 hours of work. [5]
2. Exclusivity
Exclusivity is a cornerstone of haute couture creations, as each garment is an exclusive artwork tailored to the client's exact measurements. [6]
3. Quality
From fabrics woven with gold threads to custom-developed dyes and hand-beaded embellishments, the materials used in haute couture are of an incomparable quality, sourced from the rarest, most exquisite origins. [7]
What is the Role of Haute Couture in Fashion?
Enchanting every year, right from the world's fashion capital, Paris Haute Couture Week ensures the haute couture market triumphs as the pinnacle of the fashion industry.
Such classic couturiers revolutionized how clothing is designed and worn by creating new silhouettes for bodies, pushing the boundaries of what was understood as fashion.
Haute couture has inspired generations of fashion designers and continues to be universally held as the highest achievement in fashion craftsmanship.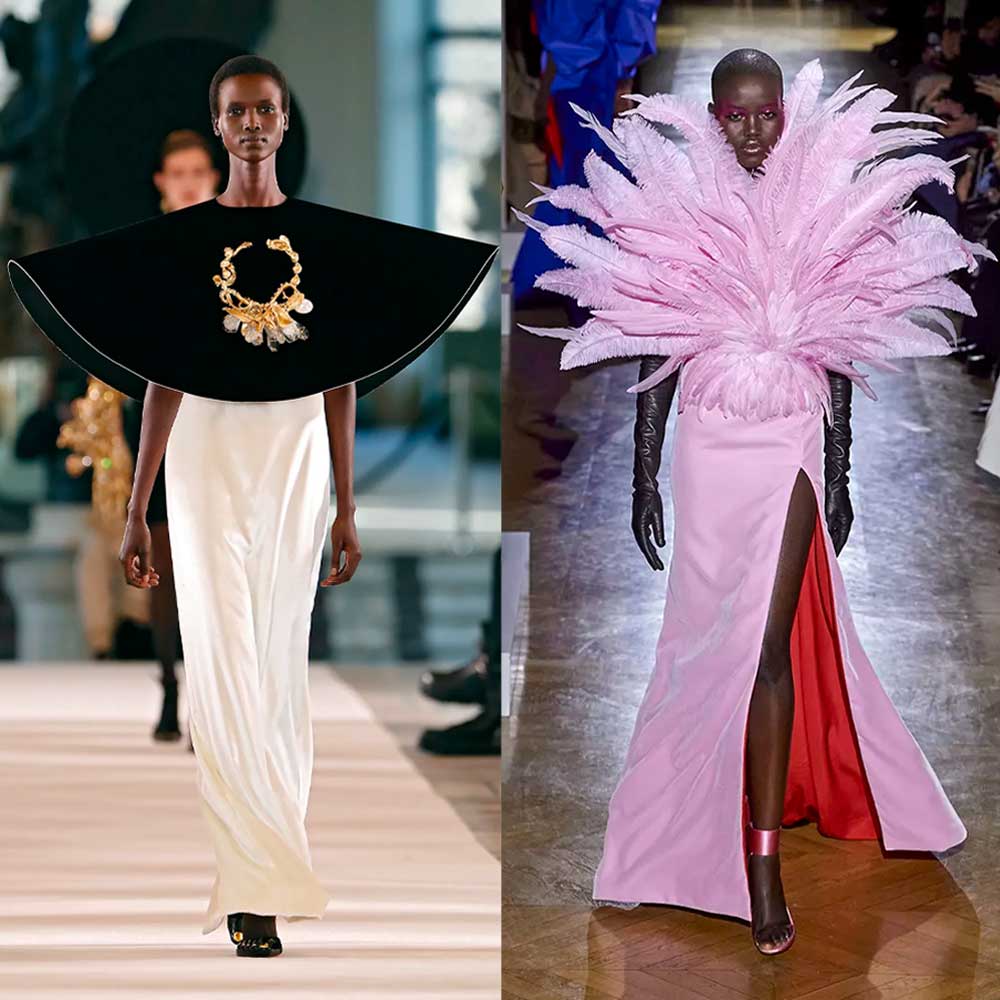 Haute couture embraces the very best in charming design and couture sewing to deliver the world's most exquisite, enigmatic, and expensive clothing.
Driven by classic Parisian garments of rare inspiration and ingenuity, haute couture designers (also known as couturiers) continue expanding high fashion's horizons.
Nowadays, a couturier's unique style and expert skill are the determining factors in deciding if the fashion designer deserves the title.
Steered by traditional and modern haute couture, design houses like Schiaparelli, Adeline Andre, and Frank Sorbier showcase cutting-edge designs, placing the creative bar unflinchingly high.
What Are the Most Important Haute Couture Houses?
Revered for stunning couture pieces of original designs, Christian Dior, Chanel, Charles Frederick Worth, Maurizio Galante, Jean Paul Gaultier, Givenchy, and Frank Sorbier are some of the most esteemed designers, topping this list of exclusive haute couture houses.
Modern haute couture brands such as Alexander McQueen and Jean Paul Gaultier have infused the art of haute couture with cultural elements in unseen creations.
Paris contains the highest concentration of haute couture Maisons, followed by Italy and the UK. Here are the 11 most important haute couture houses in 2023:
1. DIOR
France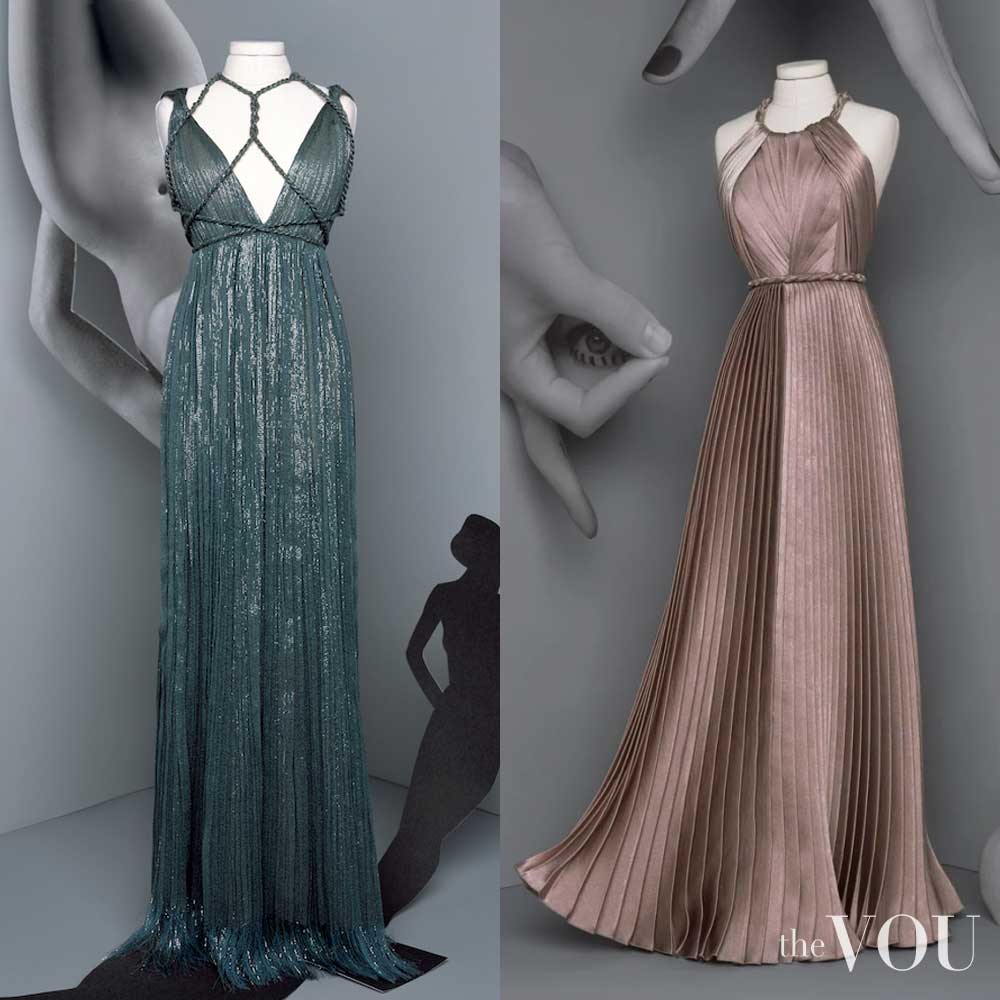 The subject of many fashion books, Christian Dior, is the world's most prestigious haute-couture house.
Directed by the CEO Pietro Beccari, the French haute couture house depicts a rare stylistic vision through timeless creations of elegant, structured, and feminine garments worn by film stars, heads of state, royals, and celebrities alike.
Renowned for his groundbreaking "New Look" design in 1947, the French couturier Christian Dior is the hallmark of modern haute couture.
2. CHANEL
France
Born Gabrielle Bonheur Chanel on August 19, 1883, in Saumur, France, "Coco" founded Chanel, a name that eventually became a globally recognized haute-couture maison.
A modern approach to practical design and stylistic simplicity made the designer an influential figure in 20th-century fashion; the house's creations dressed Jackie Kennedy and Princess Diana.
Founded by Coco Chanel and known for the 'little black dress' design and the revolutionary Chanel No. 5 perfume, the house of Chanel has reigned supreme since the early 20th century as the epitome of timeless elegance.
3. SCHIAPARELLI
France
Italian aristocratic family of great cultural background, erudition, and accomplishments, Elsa Schiaparelli, is hailed by fashion critics as Coco Chanel's greatest rival.
Inspired by Salvador Dalí and Jean Cocteau, Schiaparelli's unconventional couture pieces are eccentric and unmatched celebrations of wearable surrealism.
4. JEAN PAUL GAULTIER
France
Born in 1952 in Val-de-Marne, France, Jean-Paul Gaultier's couture pieces and unique couture creations, such as Madonna's famous conical bras for the 1990 Blond Ambition tour – exude a sensual, irreverent style that challenges the stereotypical idea of femininity and re-shape traditional gender roles.
5. GIVENCHY
France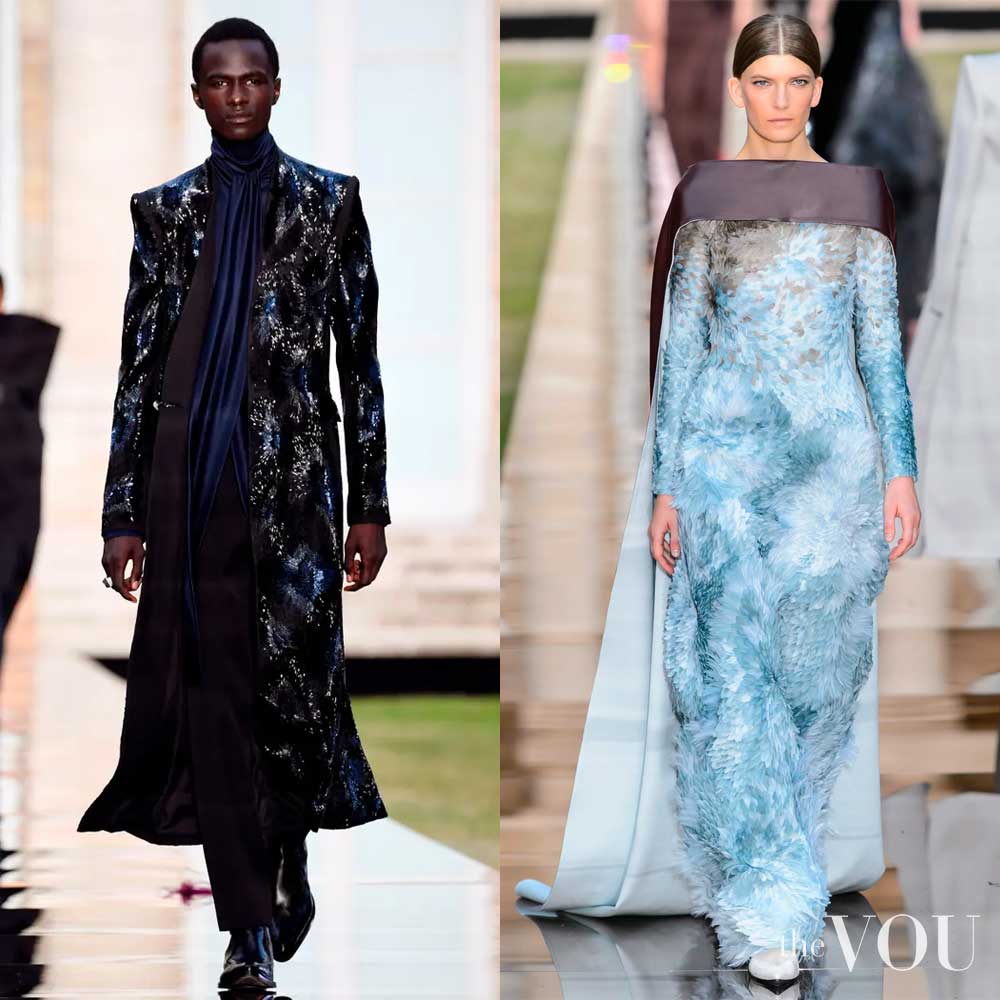 Founded in 1952 by Hubert de Givenchy and Jaani Robert Duffy, Givenchy is a Parisian haute couture Maison.
Givenchy is one of the world's most coveted labels known to trigger instant recognition and admiration.
Popularized by the style icon Audrey Hepburn, Givenchy's haute couture work inspired by romantic aesthetics stands the test of time.
6. ALEXANDER MCQUEEN
United Kingdom
Founded by Lee Alexander McQueen in 1992, the British haute couture house has produced some of the world's most acclaimed collections.
Alexander McQueen showcases the designer's unique stylistic vision, time-honored craftsmanship, and extravagant approach to clothing design.
7. VALENTINO
Italy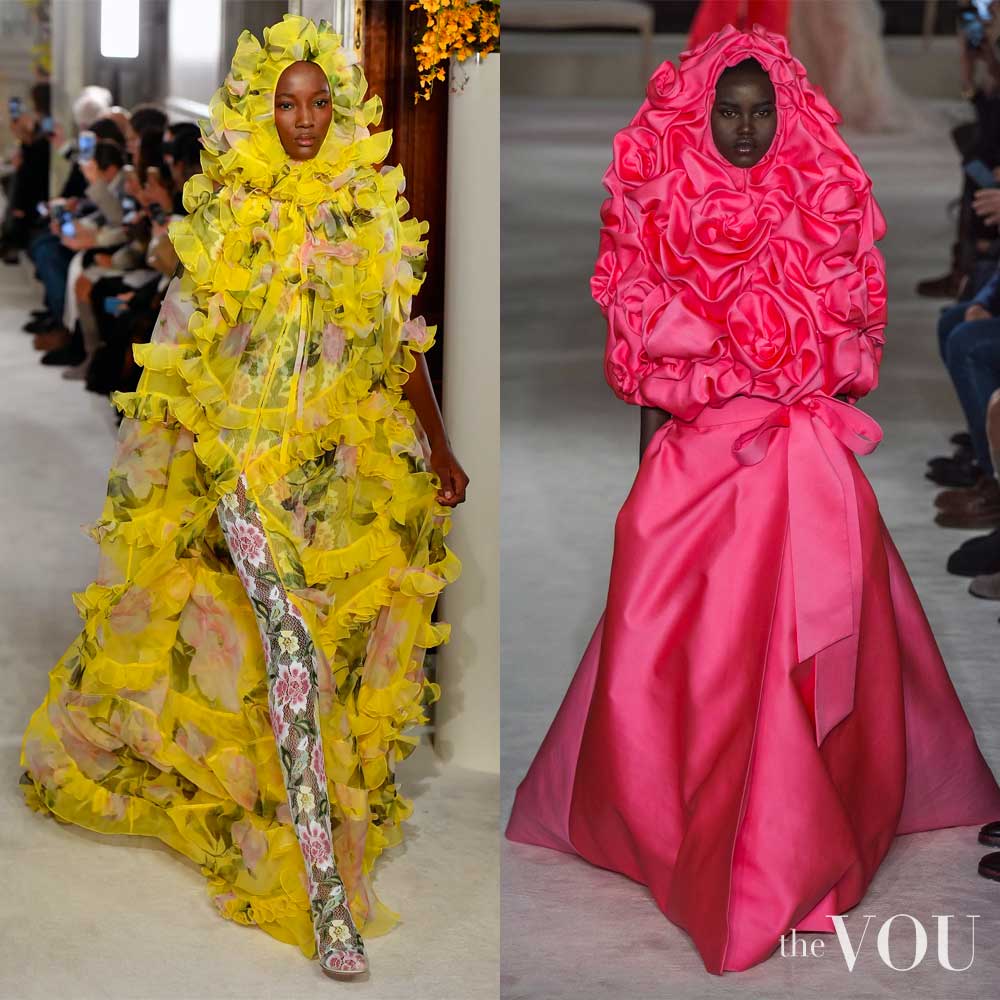 Valentino is a haute couture house of Italian heritage.
The French couture label is Known for designing iconic wedding dresses for Elizabeth Taylor, Jennifer Lopez, Anne Hathaway, and Julia Roberts.
As one of the world's top fashion brands, Valentino is loved by modern-day celebrities such as Meghan Markle, Gwyneth Paltrow, Cate Blanchett, Penelope Cruz, and Keira Knightley.
Valentino Garavani's house is renowned for classic haute couture designs with an aura of modern opulence.
8. FENDI
Italy
Established by Adele and Edoardo Fendi in Rome in 1925, the House of Fendi is a renowned haute couture house of rare elegance, craftsmanship, innovation, and style.
The Italian haute couture house is currently owned by the Parisian fashion conglomerate LVMH.
9. ADELINE ANDRE
France
Adeline Andre is a French fashion designer taught by Surrealist painter Salvador Dali, who influenced her work.
The French designer stands out via slender shapes with svelte shoulders in fluid materials such as silk crepes, wool satins, and fine cashmere clothes.
10. FRANCK SORBIER
France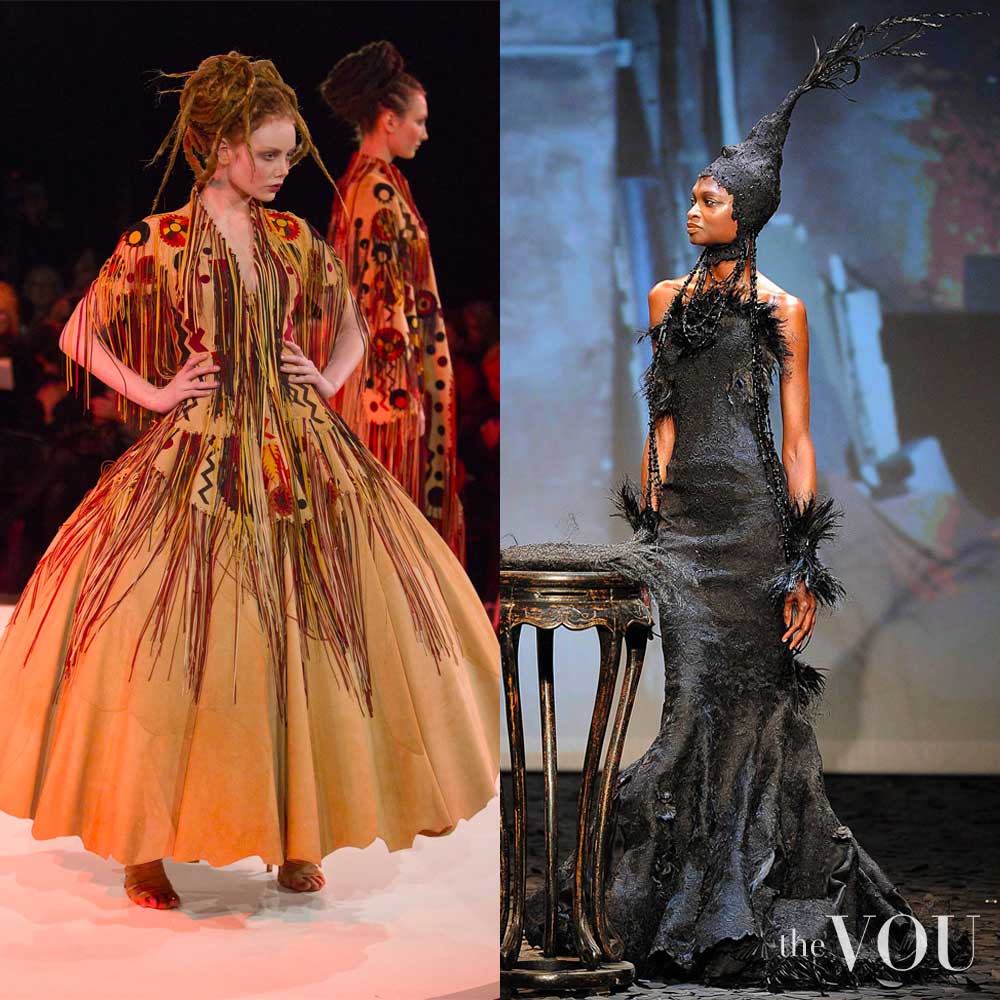 Franck Sorbier is a contemporary French haute couture designer.
The label's collections impress with clean cuts, excellent crafts, prints, embroideries, hand-painted fabrics, ornamental diversions, and refined details, emphasizing the many beautiful facets of a woman.
11. BALENCIAGA
France
Hailed as "The Master" of haute couture, Cristóbal Balenciaga's ingenuity lies in his architectural approach to fashion design.
How Much Does Haute Couture Cost?
Haute couture prices start around $20,000 and can escalate to astronomical sums—sometimes exceeding $100,000 for more intricate designs. [8]
In rare cases, haute couture dresses can cost millions of dollars, as was the case of Christian Dior's two million USD form-fitting chartreuse column gown, worn by Nicole Kidman at the 1997 Oscars.
However, haute couture creations – clothes, footwear, accessories – are monumental investments.
Reflected on the high cost of quality craftsmanship, haute couture designers create stunning and one-of-a-kind garments using only the finest textiles, with a single garment sometimes taking a team of 8-10 designers close to 700 hours to complete.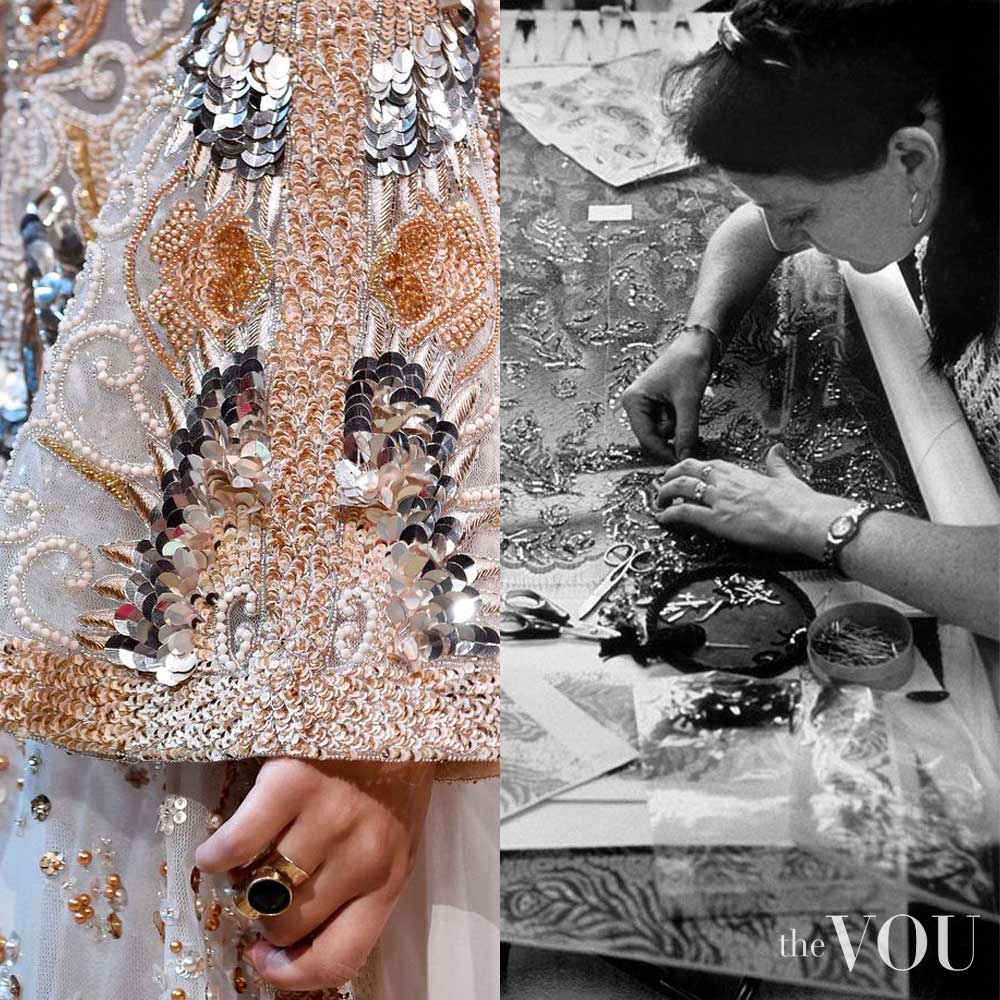 Prices of coveted designs from exclusive haute couture designers range from a few thousand dollars well into the hundreds of thousands of dollars.
As highly complex, elaborate creations, haute couture prices vary according to the designer's strong history, the intricacy of each design, and even the type of fabric used.
What is the Difference Between Pret-a-Porter and Haute Couture?
While haute couture pieces are custom-made for high-profile clients, Pret a Porter (Ready-to-Wear) designs are mass-produced and made available to the general public.
Haute couture creations are tailored to the client's unique needs and body measurements, Whereas Pret a Porter garments are designed in standard sizes.
The creation of haute couture mandates hand-sewing by skilled artisans, while the manufacturing of Pret a Porter involves machines and other automatic systems. [9]
Pret-a-porter comprises clothing lines for those looking to indulge in haute-couture-like fashion but without the made-to-order heart-breaking price tags.
A blend of haute couture designs and pret-a-porter lines from Valentino, Versace, and Fendi Couture is often showcased on the red carpet, at political events, and at other grand functions.
Driven by a 20th-century generation of designers like Emanuel Ungaro, Alexis Mabille, Alexandre Vauthier, Julien Fournie, Giambattista Valli, and Antonio Grimaldi, one-of-a-kind evening garments evolved into an industry of shoes, accessories, and even perfumes.
Who Wears Haute Couture?
The bulk of haute couture clients comprises celebrities, royals, and high-net-worth individuals who are not merely buying garments but invest in pieces of art that can reflect their identity and status. [10]
As haute couture pieces are made to order, each creation is custom-made for a given client.
Given the prohibited prices to create genuine haute couture pieces, some of the most common haute couture buyers are celebs and royals.
Celebrities such as Zendaya (Valentino), Kylie Jenner (Balmain), Rihanna (Giambattista Valli), Yara Shahidi (Chanel), and Kim Kardashian (Thierry Mugler) are very often seen wearing haute couture.
The stunning and unique nature of haute couture clothing lends itself to a premier choice of wedding attire and other formal occasions.
Similarly, those who work in industries where formal attire is necessary regularly often elect for haute couture designs from designers such as Armani and Stephane Rolland.
Haute Couture Paradox
Despite the obsessive attention to detail, material quality, long working hours, and lofty price tags, haute couture creations rarely generate profits.
The real value of haute couture lies in the creations' ability to boost a fashion house or designer's prestige, which in turn drives sales in other divisions, such as ready-to-wear and fragrances. [11]
Haute Couture in the Digital Era
Contemporary haute couture designers are embracing the benefits of technological innovation.
Now part of the design process, CAD design and 3D printing offer harmonious blends of tradition and modernity. [12]
Key Takeaways
Just because a brand has the word couture in its name – Juicy Couture, I'm looking at you – it doesn't mean it is a haute couture house.
Yet, with movies and books describing the journeys of Chanel, Dior, McQueen, and Schiaparelli, the understanding of haute couture is rising.
Weekly Newsletter
Keep up with the latest in fashion, beauty and style!
Now it's your turn…
Which one of the haute couture houses do you see as the best, and why?
Which haute couture brands do you think we've missed and should include in our next article update?
Please leave your comments below; we always appreciate them and use them to learn, improve, and update these articles.
Bibliography
[1] Steele, V., (2003). Fashion, Italian style. Yale University Press.
[2] Pouillard, V., (2016). Managing fashion creativity. The history of the Chambre Syndicale de la Couture Parisienne during the interwar period. Investigaciones de Historia Económica-Economic History Research, 12(2), 76-89.
[3] Pierre Balmain. Britannica.
[4] Krick, J., (2004). Charles Frederick Worth (1825–1895) and the House of Worth. Heilbrunn timeline of art history, The Metropolitan Museum of Art.
[5] Grumbach, D., (2023). History of International Fashion. Interlink Books.
[6] Steele, V., (2017). Paris fashion: a cultural history. Bloomsbury Publishing.
[7] Wilson, E., (2020). Adorned in dreams: Fashion and modernity. Bloomsbury Publishing, Revised and Updated Edition.
[8, 11] Thomas, D. (2007). Deluxe: How luxury lost its luster. Penguin.
[9] Agins, T., (2006). The end of fashion: How marketing changed the Clothing Business Forever. New York: Harper Collins Publishers.
[10] Crane, D., (2012). Fashion and its social agendas: Class, gender, and identity in clothing. University of Chicago Press.
[12] Seymour, S., (2008). Fashionable technology: The intersection of design, fashion, science, and technology. New York: Springer.
Holding a Bachelor of Science in Computer Science and owner of a wedding photography venture in the DC area, Marie Valentois has a lifelong passion and predilection for the written word, with an accent on fashion and style trends. Structural, logical, and highly visual, Marie has a rare ability to deconstruct and reconstruct styles and put them on paper for millions of readers to understand, learn and benefit from.