Trendy Slow Fashion Stores From US, UK & Europe
A new generation of slow fashion brands has emerged, making one-of-a-kind designs and luxe-feeling sustainable fabrics, steering the industry to a more ethical path.
A new wave of mindful and thoughtful slow fashion designers promoting environmental and social responsibility with trendy and stylish creations.
Slow fashion is opposed to fast fashion where garments are mass-produced and sold for cheap.
Instead, slow fashion is part of the sustainable fashion movement where clothes are made from high-quality materials and designed to last thanks to their durable, mindful construction.
In this article, I'll introduce you to the best slow fashion brands right now: Made in the UK, US, Europe, and Australia, for all body types, luxurious and affordable, and above all, TRENDY as hell.
EDITOR'S CHOICE
Top 3 Slow Fashion Brands
ABLE CLOTHING
Best Plus Size Slow Fashion Store
MAURIE AND EVE
Best Affordable Slow Fashion Brand
RAG & BONE
Best Trendy Slow Fashion Brand
The 10 slow fashion brands curated below are known for their great quality clothes in small batches, made by hand by skilled artisans, sewers, and craftspeople.
Without further ado, these are the best 10 slow fashion brands that will help you ditch fast fashion for good.
---
1
/10
ABLE
Best Slow Fashion Store For Plus Size
UNITED STATES
Affordable
EDITOR'S NOTE:
"ABLE makes high-quality slow fashion goods from eco-friendly materials, handmade jewelry, stylish apparel, denim, and shoes that aren't just investment pieces for your wardrobe but an investment in women worldwide."
Founded in 2010 in Nashville, Tennessee, ABLE is an American slow fashion brand making stylish, sustainable clothes from eco-friendly materials with the help of local artisans.
Free from fur, wool, down, exotic animal skin, animal hair, or angora, ABLE's 'slow fashions' women from head to toe.
The label's thoughtfully designed plus size clothing pieces are to showcase them as creative, strong, influential, and worthy.
* AVAILABLE IN PLUS SIZE
* MATERNITY FRIENDLY
Able Nico Swing Dress

$130

$64

Able Beata Robe Sweater

$145 

$88
Able Camila Sandal

$75 

$40

Able Margaret Mule

$88 

$44
---
2
/10
ASKET
Best Slow Fashion Basics From Europe
SWEDEN
Affordable
EDITOR'S NOTE:
"ASKET's rare collections of zero-compromise – made in complete transparency and with lifecycle responsibility – comprise beautiful slow fashion pieces worth investing in."
ASKET is a slow fashion brand from Sweden that disregards the concept of seasonal collections as wasteful and unnecessary.
According to the founder: "Fewer pieces, well done, of high quality and great style, means more love and satisfaction."
And indeed, the brand's garments are all-inclusive, affordable, super stylish, and suitable for any occasion you have in mind.
Asket The T-Shirt

$45

Asket The T-Shirt

$50
Asket The Washed Denim Jeans

$155

Asket The Standard Jeans

$150
---
3
/10
MAURIE AND EVE
Best Slow Fashion Organic Collection
AUSTRALIA
Affordable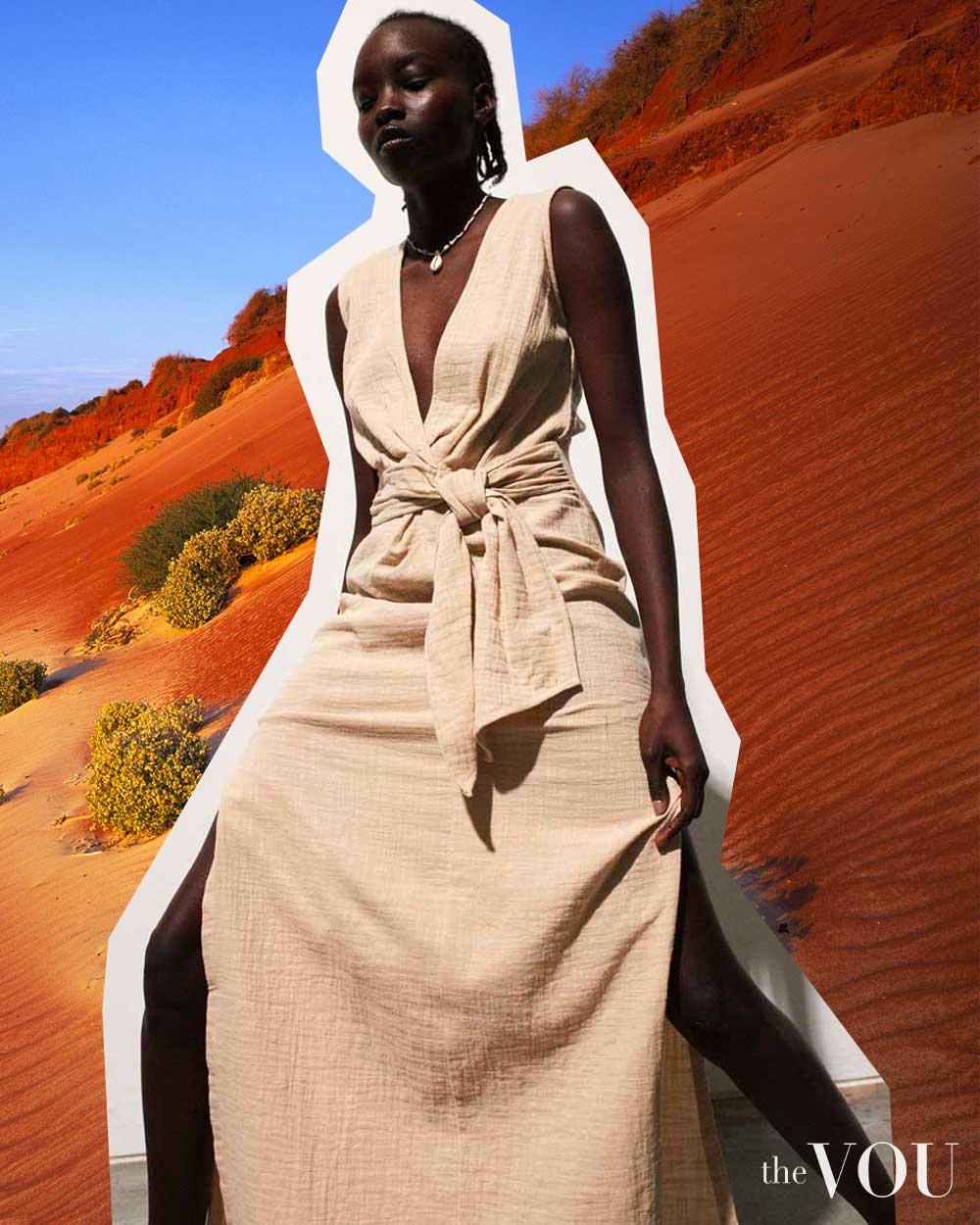 EDITOR'S NOTE:
"A timeless womenswear label inspired by the Australian Coast, Maurie & Eve creates simplistic essentials with minimal environmental impact."
MAURIE + EVE's slow fashion pieces are still stitched on grandma Eve's sewing machine.
With beautifully made designs cued by mindfulness, travel, and a grounding sense of 'home,' the slow fashion label inspires comfort, timelessness, and style.
The label does not use fur, leather, down, exotic animal skin, exotic animal hair, or angora, and its relaxed pieces with workable exteriors and billowing sleeves transcend seasonality.
* MATERNITY FRIENDLY
Maurie And Eve Setting Sun Shirt

$122 

$62

Maurie And Eve Acme Mini Dress

$122
Maurie And Eve Me And Mine Bucket Hat

$61

Maurie And Eve Setting Sun Oversized Shirt

$150
---
4
/10
CHRISTY DAWN
Best Bohemian Slow Fashion Brand
UNITED STATES
Premium
EDITOR'S NOTE:
"Christy Dawn designs vintage-inspired dresses and accessories made from deadstock and organic fabrics and regenerative cotton from the land Christy Dawn and its customers steward."
The brand's Organic Cotton Collection, woven in collaboration with Oshadi Collective in Erode, India, is made from organic cotton and colored with natural or organic dyes.
The collection is unique and oozes a rare sense of life's journeys and adventures – a rare collection made, as the founder says:
"From Mother Earth, for Mother Earth, designed to be loved by many more generations."
* MATERNITY FRIENDLY
Christy Dawn The Lennon Dress

$208 

$149

Christy Dawn The Dawn Boot

$358
Christy Dawn The Dawn Dress

$198

Christy Dawn The Lula Jean

$178
---
5
/10
EILEEN FISHER
Best Minimalist Slow Fashion Brand
UNITED STATES
Premium
EDITOR'S NOTE:
"Eileen's stunningly beautiful slow fashion pieces follow a four-step straightforward sustainable approach to please the buyer and change the industry for good."
Once an interior and graphic designer, Eileen Fisher is now a fashion designer passionate about slow fashion couture.
The designer upcycles old textiles and discarded garments, eventually turning them into luxurious and sustainable, high-end pieces you'll love to wear.
Eileen Fisher also puts a particular focus on human rights, sustainability, and improving the lives of local fashion artisans.
* AVAILABLE IN PLUS SIZE
* MATERNITY FRIENDLY
Eileen Fisher Sheer Silk Georgette Classic Collar Long Shirt

$298

Eileen Fisher Easy Fit Organic Linen Wrap Skirt

$148
Eileen Fisher Washed Organic Linen Delave Wide-leg Pant

$178

Eileen Fisher Organic Linen Gauze Strata Mandarin Shirt

$158
---
6
/10
MARA HOFFMAN
Best Slow Fashion Designer Brand From USA
UNITED STATES
Premium
EDITOR'S NOTE:
"Mara Hoffman's clothes made from organic textiles such as hemp, natural linen, organic cotton, and other fibrous plant-based materials are superb quality and taste."
Mara Hoffman is a slow fashion brand launched in 2000, after Mara graduated from the Parsons School of Design in New York City, together with a new wave of sustainable fashion designers.
Mara's slow fashion brand uses primarily eco-friendly fabrics such as Repreve or Econyl as green alternatives to traditional, wasteful materials.
Right now, in 2022, Mara Hoffman leads the "mindful consumption" conversation from all slow fashion brands, acting as a source of inspiration and female empowerment.
* AVAILABLE IN PLUS SIZE
* MATERNITY FRIENDLY
Mara Hoffman Namari Dress

$597

Mara Hoffman Chrishell One Piece

$265
Mara Hoffman Cleo Dress

$350

Mara Hoffman Luz Coverup

$325
---
7
/10
RAG & BONE
Best Trendy Sustainable Clothing
UNITED STATES
Premium
EDITOR'S NOTE:
"Marcus Wainwright's unique stylistic approach to slow fashion is visible in every piece created by Rag & Bone, from the cuts to the colors chosen and patterns used."
Marcus Wainwright's fashion story starts with a desire to create the perfect pair of jeans for women.
The dream eventually concluded with the designer launching Rag & Bone, a fully-fledged slow fashion label.
Renowned for its keen focus on local production and sustainability, the label leads several slow fashion initiatives, such as Cotton Inc's 'Blue Jeans Go Green' partnership for the denim recycling program.
Their innovative project urges customers to bring in old jeans in exchange for a 20 percent discount on the purchase of new jeans from the brand.
* AVAILABLE IN PLUS SIZE
Rag & Bone Miramar Cropped Denim Trucker Jacket For Women


$325

Rag & Bone Graham Paperweight Cotton Shirt Jacket For Men

$395
Rag & Bone Calista Cotton Mini Dress For Women

$395

Rag & Bone Casella Athletic Fit Stretch Jean For Men

$255
---
8
/10
STELLA MCCARTNEY
Best Sustainable Luxury Brand
UNITED KINGDOM
Luxury
EDITOR'S NOTE:
"Driven by an ethos of being responsible, honest, and modern, Stella McCartney's commitment to slow fashion is evident throughout all creations that place the designer at the top of all sustainable fashion houses right now."
London-born Stella McCartney has launched the slow fashion brand with the same name with one goal: "provide fashion lovers with high-quality, sustainable, and ethical clothes, shoes, and accessories."
A vegetarian for most of her life, Stella purposefully avoids fur and leather in her cruelty-free, slow fashion creations.
A pioneer of the landscape and one of the most sustainable designer brands, Stella champions eco-friendly materials such as organic cotton, ethically sourced wool, and recycled textiles.
Stella McCartney Mushroom Print Silk Shirt For Women

$795

Stella McCartney Unisex Fantasia Centaurette Logo T-Shirt

$350
Stella McCartney Mushroom Print Mini Dress

$1,650

Stella McCartney Stella Logo Shoulder Bag

$950
---
9
/10
VIVIENNE WESTWOOD
Best Slow Fashion British Desginer
UNITED KINGDOM
Luxury
EDITOR'S NOTE:
"Westwood's superb creations and innovative designs capture one's imagination while campaigning to protect the environment."
As the face of one of the last independent British fashion houses globally, Vivienne Westwood is engaged in multiple anti-fast-fashion protests via slow fashion collections.
"Choose well, buy less, make it last," says the British designer, arguing that prioritizing slow fashion clothes over fast fashion always pays back.
A keen promoter of human rights in the fashion industry, the British designer remains one of the few high-end slow fashion labels championing quality over quantity.
Vivienne Westwood Aramis Neutral Sweatshirt

$420

Vivienne Westwood Stripped Krall White Shirt

$360
Vivienne Westwood Classic Multicoloured Sweatpants

$435

Vivienne Westwood Cropped George Trousers Tartan

$720
---
10
/10
DRIES VAN NOTEN
Best Slow Fashion Luxury Brand From Europe
BELGIUM
Luxury
EDITOR'S NOTE:
"If you have a taste for beautiful, eccentric, and elegant pieces in rare prints, colors, and fabrics, then Dries Van Noten is the slow fashion designer you need to know about."
Dries Van Noten is a slow fashion designer from Belgium, named in 2005 by The New York Times as "one of fashion's most cerebral designers."
Van Noten's slow fashion brand is loved for its eccentric layering styles and embroidery forms created with sustainable materials in eco-friendly ways.
According to the designer:
"I draw inspiration from nature and give back to nature."
Dries Van Noten Embroidered Dress

$1,855

Dries Van Noten Long Printed Shirt

$585
Dries Van Noten Big Tote Bag

$798

Dries Van Noten Leather Boat Shoes

$1,095
---
What does a slow fashion brand mean?
Slow fashion brands are the opposite of fast fashion labels (yes, ZARA is a fast-fashion brand), known for creating sustainable clothes as an alternative to mass-produced ones.
Compared to fast fashion brands, slow fashion designers and brands have specific unique characteristics, such as:
Slow fashion brands make clothes from high-quality, sustainable materials such as organic linen and organic cotton.
Garments made by slow fashion brands are designed to be timeless, trendy, and not season bound (seasonless collections).
Slow fashion designers produce clothes in small batches and sell them only at local stores, unlike fast fashion factories that mass produce for huge fast-fashion retail giants like ZARA.
Slow fashion labels sourced raw materials locally from local producers.
Most slow fashion brands make made-to-order or limited edition clothes to reduce unnecessary production and material waste.
Weekly Newsletter. Sign Up Now!
Celebrities, designers, and latest news in sustainable fashion.
Weekly Newsletter
Keep up with the latest in fashion, beauty and style!
Now it's your turn…
Which one of these slow fashion brands is your favorite and why?
Are there any other slow fashion designer or stores you've tried and want to add to this list?
Comments below, please!