What Is Wearable Technology?
Wearable technology is a general term used to describe electronic devices (popularly known as "wearables") such as smartwatches, rings, glasses, accessories, sensors embedded in shoes and clothing, and even tattooed on the skin or implanted in the user's body.
Often described as mini computers, these hand-free functional gadgets have batteries, microprocessors, memory, and the ability to connect to the internet.
WEARABLE TECHNOLOGY – Definition
Wearable technology is a term used to describe devices embedded with smart sensors, such as smartwatches, rings, glasses, shoes, clothing, tattoos, and even replacement body parts via implantables – popularly known as 'wearables'.



While wearable technology is almost 30 years old, the recent consumer adoption of smart devices has popularized wearable technology, the Internet of things (IoT), and IIoT (Industrial Internet of Things) as technologies that change how we interact with the surrounding environment.
In the consumer space, sales of smart wristbands (aka activity trackers by companies like Jawbone and Fitbit started accelerating in 2013, reaching 193 million units sold in 2020, according to CCS Insight's report.
The impressive 22% growth in 2020 – in unit sales for smartwatches and fitness trackers – has helped the market reach almost $24 billion.
The accelerated growth is further helped by the high penetration of smartphones in most world markets, the low cost of MEMS sensors, energy efficient connectivity technologies (Bluetooth 4.0), and a flourishing app ecosystem.
FACT
According to a 2020 PriceWaterhouseCoopers Wearable Future Report, at least one in two American adults own or have used a wearable device.
Moreover, the advent of wearable technology and its mass adoption in fitness trackers have spilled over into other realms, such as medical wearables and connected garments or fashion technology.
Also known as smartwear, smart garments, connected garments, tech togs, or fashion electronics, garments powered by electronic devices (sensors and microcontrollers) are also part of the wearable tech family.
The only wearable tech difference between fitness trackers and smart clothes is that the former is worn on the skin's surface, while the latter is embedded in shoes and garments.
Other than that, all of them contain similar wearable technology designed to detect, analyze, and transmit data from and to the body.
The data comprises (not limited to) vital signs, heart rate, sleep patterns, biometrics, and ambient data such as UV exposure, and CO2, allowing the wearer immediate feedback and the ability to react.
In professional sports, wearable technology has applications in monitoring and real-time feedback for athletes.
How Wearable Technology Works
Wearable technology devices, also known as "wearables," are electronic devices that can be worn and used to track, analyze and transmit personal data.
While most smart devices track biometric data, the new generation is used for entertaining purposes in the gaming and fashion industries.
In simple terms, smart devices embedded with wearable technology work by connecting to the Internet and exchanging data with multiple contact points.
The devices can receive and send data back to the user, manufacturer, or any other smart devices – via Bluetooth, Wi-Fi, or standalone mobile 4G LTE data connections – as long as they're on the Internet or the user's body.
How does WEARABLE TECHNOLOGY WORK?
Smart devices embedded with wearable technology work by connecting to the Internet and exchanging data with multiple contact points.
The data sync is performed seamlessly, without the need for human intervention, making wearable tech an integral part of the larger category of Internet of Things but also a potential security risk, as you'll see below.
As the demand for wearables and IoT devices continues to grow, the field of wearable technology continues to expand, with new ways of connecting, collecting, and sharing data.
For example, while all of these are classed as commercial consumer electronics built on wearable technology, smartwatches and fitness trackers perform different roles compared with augmented reality and virtual reality devices. Thus, the way they operate is different.
The same can be said about dedicated GPS systems, connected textiles, or smart devices created solely for healthcare purposes; the materials, the way they work, roles, and functionality are different as well.
Are Phones Wearable Technology?
Wearable technology had existed since the 13th century when the first pair of eyeglasses was created – a historical record.
However, modern wearable technology is defined by the computerized and Internet era, and thus a wearable tech device must incorporate a microprocessor and an internet connection.
Fitness activity trackers were the first big wave of wearable technology to catch on with consumers.
But, it was the growth of mobile networks that fostered the development of wearable technology, with larger screens and dedicated mobile applications.
Compared to wearable activity monitors, smartphones are complex wearable technology devices able to record the user's daily activity, take phone calls, send and receive email updates, and even sedentary time.
In the case of smartphones, most displays are AR and VR ready and can be used to provide a wealth of modern types of entertainment and educational content while digitally enhancing the world around us.
Are PHONES WEARABLE TECHNOLOGY?
Yes, compared to wearable activity monitors, smartphones are complex wearable technology devices able to record the user's daily activity, take phone calls, send and receive email updates, and even sedentary time.
The gaming industry delivers more wearable technology for smartphones, packed with apps, web-enabled applications, virtual reality, and augmented reality solutions than all other sectors combined.
And, as the costs of manufacturing are decreasing, combined with the rise in processing power, smartphones are critical to the widespread adoption of wearable technology across multiple segments.
Popular Wearable Tech Companies
The early generations of wearable technology gadgets saw portable computers and other similar devices clipped to our bodies.
The prime focus was connecting with the digital realm rather than tracking movement through motion sensors.
Later on, wearable technology delivered accelerometers, pedometers, and GPSs used to measure energy expenditure and movement patterns.
However, recent advancements in computing, material design, and data collection brought a wide range of robust sensors that work via direct contact with the skin.
Thus, the second generation of wearable tech gadgets moved from backpacks to body parts such as the wrists, fingers, chest, forearms, ears, eyes, and head.
1.
GOOGLE
In 2013, Google invited "Glass Explorers," who had pre-ordered its wearable glasses at the 2012 Google I/O conference, to pick up their devices.
This day marked the official launch of Google Glass, a smart-glass device with a 5 MP camera able to record video at 720p, intended to deliver rich text and notifications via a heads-up display.
Google Glass's many functions were activated via voice commands, such as "OK Glass."
The optical head-mounted display technology remained somehow niche, with smartwatches and activity trackers taking off.
---
2.
AUGMEDIX
This innovative start-up has reinvented the way Google Glass is used.
Augmedix allows doctors to better connect with their patients by changing how documentation and administrative tasks are completed.
Also, Augmedix allows doctors to wear smartglasses during appointments and interact with human transcribers via a live stream.
---
3.
ATLAS TRACKING
Body sensing technology is the primary focus of Atlas Tracking.
The company's proprietary body sensing technology keeps a record of the user's activity and delivers suggested goals based on the wearer's movement history.
The Atlas Multi-Trainer 3 is reportedly the only sports watch that is compatible with over 1,000+ exercises.
---
4.
PEBBLE
The same year, Pebble's start-up put the smartwatch at the forefront of wearable technology after their Kickstarter crowdfunded campaign received over $10m in funding.
In early 2015, Pebble went back to crowdfunding, raising a further $20m for the next-generation smartwatch, Pebble Time.
---
5.
MATRIX
Matrix is a leader in thermoelectric energy efficiency for smartwatches and wearable products.
What sets Matrix-powered watches apart from other smartwatches is that charging is no longer needed.
Running on a dual thermoelectric and solar-cell technology, Matrix wearable devices power up by capturing body heat from the user and the sun.
---
6.
MOTOROLA
Also, in 2014, Motorola unveiled the Moto 360 smartwatch powered by Android Wear.
The smartwatch was a modified version of the mobile operating system Android, however, designed for smartwatches and other wearable devices.
---
7.
FITBIT
As the first company to introduce wireless syncing with wireless devices, Fitbit has been at the forefront of wearable healthcare technology for years.
The company's latest wearable tracker range includes heart rate monitors, sleep trackers, on-screen workouts, and many more unique features.
---
8.
APPLE
And, following over a year of speculations, Apple announced its smartwatch, the Apple Watch, in September 2014.
Wearable technology was a popular topic at the trade show Consumer Electronics Show in 2014, dubbed "The Wearables, Appliances, Cars and Bendable TVs Show" by industry commentators.
Among numerous wearable products showcased were smartwatches, activity trackers, smart jewelry, head-mounted optical displays, and earbuds.
---
9.
GARMIN
For outdoor users, Garmin produces top-tier wearable technology that comes with accurate GPS navigation.
The Garmin Forerunner 235 is described as a GPS running watch and can track the wearer's distance, pace, and heart rate.
---
10.
ATHOS
The Athos Training System is one of the few wearable health technologies that comes as clothing.
This wearable technology includes form-fitting shirts, shorts, and leggings with plastic panels for an oval-shaped biosignal sensor to be inserted during workouts.
---
11.
MIT
The Massachusetts Institute of Technology is one of the many research institutions developing and testing technologies in the field of wearable technology.
The MIT Wearable Lab research is focused on improving haptic technology to integrate next-generation wearables.
Other MIT projects focus on using wearable technology to assist the visually impaired in navigating their surroundings.
---
12.
STANFORD BIOLOGY
Researchers at Stanford University School of Medicine, along with other collaborators, tracked the biology of over 100 people and discovered a new means of detecting disease.
Their study used data from wearable technology, genome sequencing, and microbial and molecular profiling that gave each person an initial, individual baseline of data.
---
13.
NEUROTECH
As the innovator of in-home EEG setups, Neurotech is a standout leader in the EEG industry.
The company's EEG solution performs both Routine and Long-Term Monitored EEG studies that can be recorded.
And the results are available for viewing on Neurotech's innovative Physician Database.
---
14.
NEURALINK
With the advancement of wearable technology implantables, we see a transition from the body to inside the body.
Neuralink Corporation, a neurotechnology company developing implantable brain-machine interfaces founded by Elon Musk, is at the forefront of this field.
---
Wearable Technology Examples
There are many categories of wearables, as some products exist in more than one group, while others create and define categories of their own.
1.
SMARTWATCHES
Smartwatches are wrist-worn devices that connect to your mobile phone to provide quick "at-a-glance" access to your digital life.
The mighty Apple Watch dominates the landscape with its GPS and LTE models in the realm of smartwatches.
The watch can collect and deliver calls and notifications from the iPhone, and tracks physical and health activity, all in an AI-backed interface that's easy to use.
Beyond the Apple Watch, Google's Wear OS is the equivalent for Android phone users.
Android smartwatches offer slim designs and are great for men's and women's wrists alike.
In the past, other smartwatch makers decided to create their own watch OS, as was the case with Samsung and its own Tizen OS.
---
2.
FITNESS TRACKERS
Fitness trackers remain very popular among people who want to track progress through heart rate, steps, and estimated calorie burn while receiving some smartphone notifications.
They're perfect if you don't/want super-advanced metrics provided by sports watches or don't want a mini smartwatch like the Apple Watch.
Moreover, compared to smartwatches, fitness trackers offer longer battery life.
Nowadays, most fitness trackers are waterproof and provide a wide range of functions such as:
heart-rate tracking;
sleep tracking;
VO2 max;
UV;
CO2;
Swim tracking;
Smartphone notifications;
and, most importantly, weeks of battery life.
Fitbit's devices remain some of the best, with great looks, low prices, great accuracy, and excellent overall quality.
---
3.
SPORTS WATCHES
Dedicated to those who love running, cycling, swimming, or even golf, sports watches have excellent GPS and heart rate tracking sensors, plus lots of associated insights.
The data collected can provide the next level of information about your body, allowing you to take your training to the next level.
As a company operating in the wearable technology space, Garmin has led the way with its series of GPS sports watches for the last ten years.
The brand's flagship devices are designed for elite triathletes who require Olympic-level biometric data collection for expert training programs.
The data includes metrics like VO2 max and training status with adjustments for heat, altitude acclimation status, training load focus, recovery time, and aerobic and anaerobic training effects.
The Fenix 6 series is perhaps the ultimate sports watch and features all of the top features from the company's running, trekking, outdoors, swimming, and golf devices – and features tracking for every sport imaginable.
There's a full-color display, on-board maps, and Spotify offline syncing.
Options like the Polar Vantage V and Suunto 9 Baro are great for those seeking a high-end training watch.
The best sports watches run upwards of $500, but there are options at friendlier price points.
The Garmin Forerunner 45 still delivers accurate GPS and represents incredible fantastic value at $200.
---
4.
HEAD-MOUNTED DISPLAYS
Wearable technology has expanded from small pieces of technology on the wrist to apparel all over the body.
Head-mounted displays are a general category of wearable technology devices covering several segments such as virtual reality and augmented reality glasses, and even social media smart glasses, like those launched by Snapchat a few years back.
Virtual Reality (VR)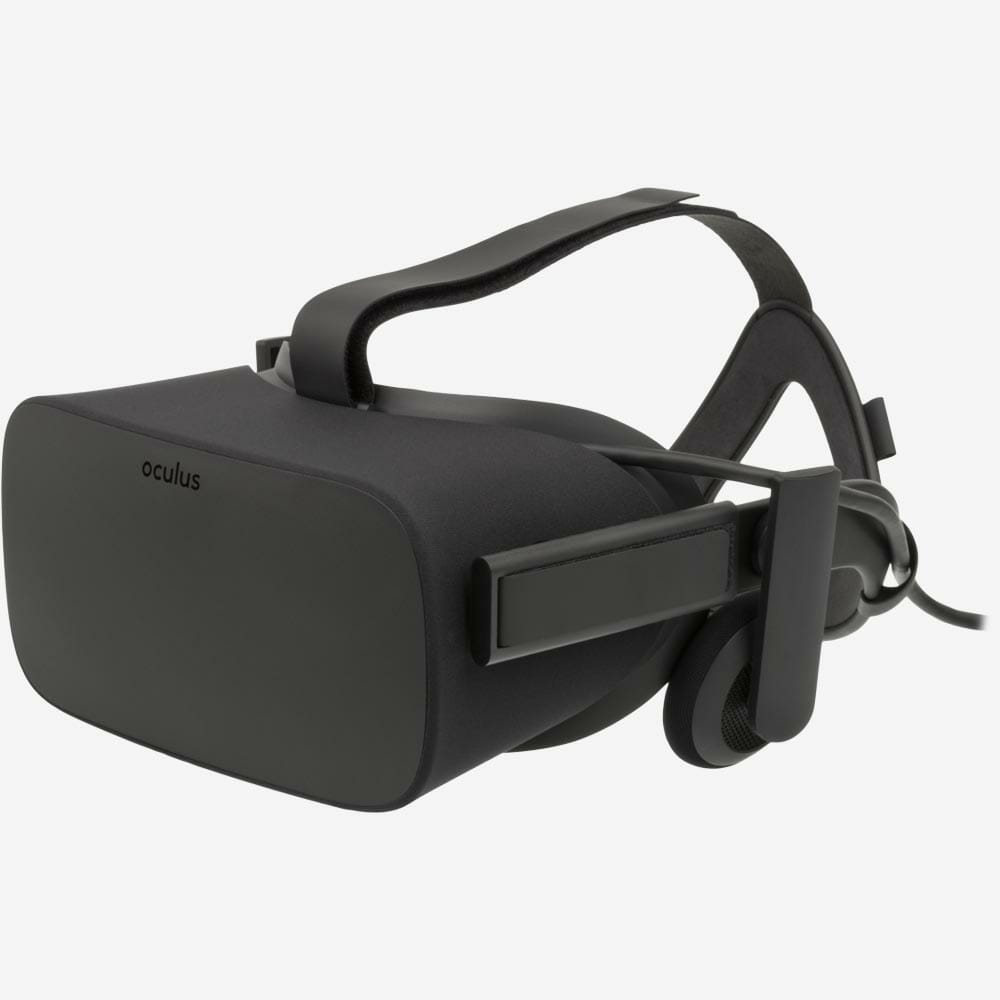 VR headsets, such as the higher-end Oculus Rift, HTC Vive, and PlayStation VR, block out the rest of the world and immerse the wearer into a virtual reality world.
Past devices used to be connected to PC/games consoles to present computer-generated virtual reality scenes.
The more recent VR headsets are independent of any consoles and wire-free, allowing a much better experience.
You can experiment with VR by inserting your smartphone into a Google Cardboard headset for around $15, but some of the best VR headsets are created by Oculus.
Google Daydream and Samsung Gear VR headsets offer greater quality for under $100, while the Oculus Go provides an affordable standalone virtual reality experience, free from a smartphone and a PC.
Augmented Reality (AR) / Smart Glasses
Augmented reality headsets and smart glasses enhance the real world by placing AR elements in your line of sight.
Imagine watching the news on a large projector screen hanging on your living room wall or playing a Minecraft game on your desk, with one difference.
None of these entities are physically real, but just computer-generated simulations of reality.
Similarly, you can use AR apps to walk around a big city and see restaurant recommendations or turn-by-turn directions.
Microsoft's Hololens headsets and the range of third-party Windows Mixed Reality devices lead the way.
Still, there is a growing range of smartglasses that perform the function in more recognizable form factors.
The Eyesight Raptor and Solos glasses for cyclists, for example, enable serious riders to keep their eyes on the road and keep track of all their stats, maps, and weather.
AR smartglasses are still an emerging category, a long way from reaching the mainstream.
Yet, Apple's rumored interest in building AR hardware could change all that.
---
5.
HEARABLES
Hearables is a now fading term used to describe early in-ear devices designed to listen to music and communicate, hands-free, with your others and your personal AI.
The term was popularized by Bose Frames, an innovative device for that time, designed to use the skull bone's conductive property to deliver audio in a new way.
However, 'hearables' are no longer distinguished from the more generic category of smart headphones.
The most famous example is Apple's AirPods, a pair of true wireless earphones that offer quick access to the Siri voice assistant.
Similarly, any pair of head/earphones that interacts with a voice assistant like Alexa and the Google Assistant can be considered a hearable device.
There are also live translation tools like Google's Pixel Buds and the Waverley Labs Pilot, or smart hearing aids like the Nuheara IQbuds Boost and the LifeBEAM Vi headset for on-board virtual run coaching.
---
6.
WEARABLES IN FASHION
Clothes have social, psychological, and physical functions, and with the use of technology, these attributes can be further amplified.
Connected clothes, smart clothes, E-textiles, digital textiles, or even fashionable wearables are terms used to describe garments and accessories that combine aesthetics and style with functional technology.
Garments are the interface to the exterior mediated through digital technology, allowing endless possibilities for the dynamic customization of apparel.
In this sense, wearable technology augments both the functional and aesthetic perspectives.
When made from a functionalist perspective, designers and engineers create wearables to provide convenience to the user, to help and simplify the lives of the wearers.
For example, with the help of smartwatches, people can track health, connect, and communicate on the go.
On the other hand, smart fabrics interact with the user by sensing the customer's overall body moves.
Some of the earliest attempts at fashion tech and wearable technology-infused garments began in 1967 with the French fashion designer Pierre Cardin.
Known for his futuristic designs created a collection of garments entitled "Robe Electronique" that featured a geometric embroidered pattern with LEDs (light-emitting diodes).
Pierre Cardin's unique designs were featured in an episode of the Jetsons animated show where one of the main characters demonstrates how her luminous "Pierre Martian" dress works by plugging it into the mains.
In 1968, the Museum of Contemporary Craft in New York City held an exhibition named Body Covering which presented the infusion of technological wearables with fashion.
Some of the projects presented were clothing that changed temperature and party dresses that light up and produce noises.
The designers from this exhibition creatively embedded electronics into the clothes and accessories to create these projects.
As of 2022, fashion designers continue to explore wearable technology in fashion, and these are some of the biggest names right now:
– Project Jacquard
Project Jacquard is a Google-owned innovative clothing project led by Ivan Poupyrev.
One of the earliest creations was Jacquard's collaboration with Levi Strauss to create a smart jacket with touch-sensitive sleeves to control smartphones.
The cuff links are removable and charged in a USB port.
– Intel X Chromat
Intel partnered with Chromat to create a sports bra that responds to changes in the body of the user, as well as a 3D printed carbon fiber dress that changes color based on the user's adrenaline levels.
– Intel X Tag Heuer
Intel also partnered with Google and TAG Heuer to make a smartwatch.
– Iris Van Herpen
Iris van Herpen is a Dutch designer that uses innovative fabrics and 3D printing to create high fashion couture.
Van Herpen was the first fashion designer to use stretchable circuits printed right into the fabric using conductive ink and rapid prototyping as 3D printing technology.
It only makes sense that wearable technology has permeated the fashion industry.
Athletes wear full-body suits, equipped with hundreds of miniature IoT sensors, to measure their every move.
The data gathered will help them to optimize better their swing, shot, or kick.
The consumer wearable technology clothing industry is still relatively new, albeit already intriguing.
Smart jackets aim to cool or warm the body according to the wearer's body temperature, as taken from sensors embedded in the jacket.
Smart rings are giving people a stylish way to track steps or measure sleeping habits.
And trousers are smart enough to use the thermal energy produced by the body to charge smartphones and other gadgets.
The use of wearable technology in fashion shows that tech can be both, smart and stylish at the same time.
---
7.
WEARABLE TECHNOLOGY IN GAMING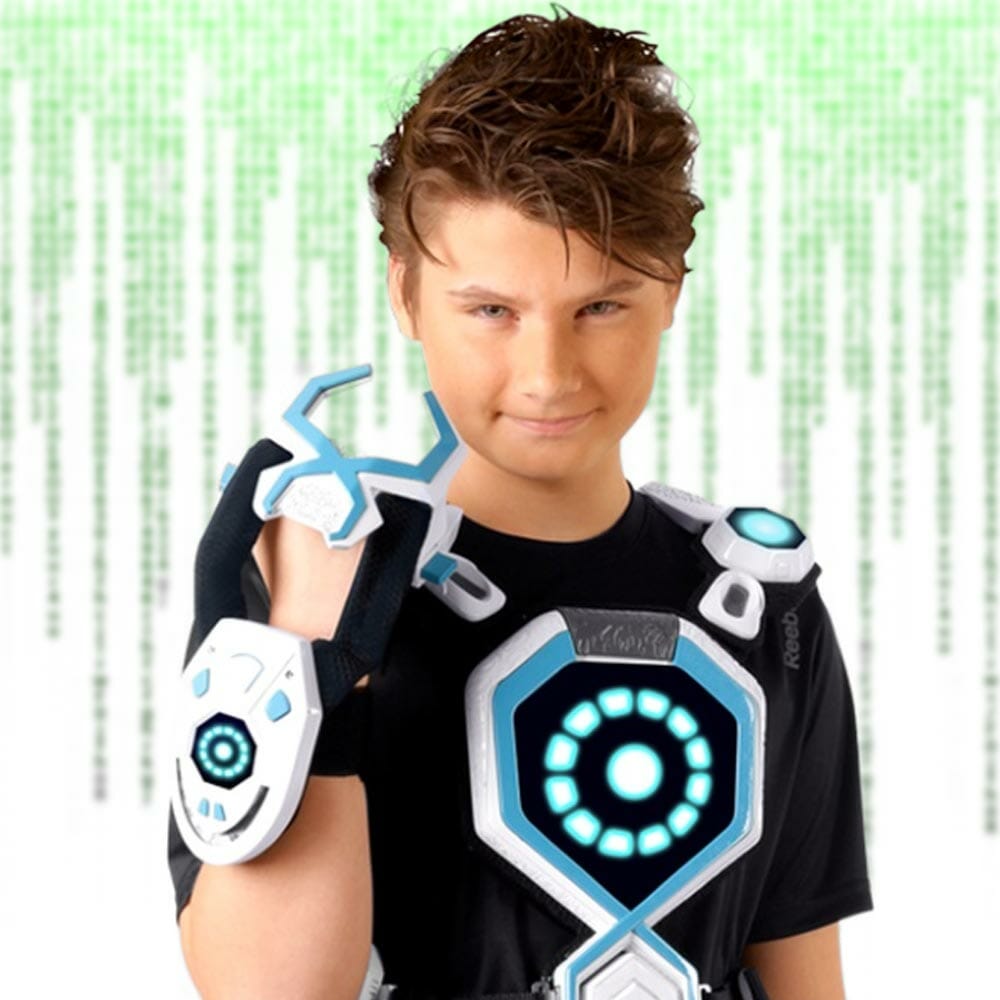 The gaming industry depends on the constant adoption of the latest technological innovations.
The first gadget used for electronic gaming was a controller for Pong, and since, the way we play games has evolved year after year.
Nowadays, the two most common forms of "controlling" a game are via a controller, video game consoles, or a mouse and keyboard for PC games.
But, since it was introduced to the general public in 2012, virtual reality headsets have changed the way we play games and the gaming industry.
VR headsets were first conceptualized in the 1950s but officially launched in the 60s.
The creation of the first virtual reality headset can be credited to Cinematographer Morton Heilig.
Heilig created a device known as the Sensorama in 1962, a video game-like device so heavy that it needed to be held up by a suspension device.
Since then, numerous wearable technology devices have reached the gaming industry market, from VR gloves to footboards and sensorial suits.
In 2016 Sony debuted its first portable, connectable virtual reality headset codenamed Project Morpheus, rebranded for PlayStation in 2018.
In 2019 Microsoft launched its HoloLens 2, a headset that blends virtual reality with augmented reality, to create what we call now a mixed reality environment.
HoloLens 2 works by allowing the wearer to see a projected image at multiple angles and interact with the holographic image.
The device is used by educators, scientists, engineers, military personnel, surgeons, and many more.
But, above all, gaming is the biggest market for wearable technology.
Virtual reality (VR) headsets are the most common (and popular) wearables in the industry.
Like the Oculus Rift or the Playstation VR, VR headsets immerse gamers in other-worldly experiences from the second they strap in.
Do you want to know how it would feel about fighting with Lightsabers?
Maybe you want to live out your adrenaline-junky dreams of racing in the Indianapolis 500?
VR wearables are bringing awe-inspiring experiences like these to gamers all over the world.
And more recently, we see wearable technology used to create haptic devices for the gaming industry.
These devices provide tactile feedback to a gamer in real-time by controlling the gamer's sense of touch and providing force or vibrations back to the user.
The more natural the experience and feeling in gaming, the better; haptic vests, gloves, and suits help us achieve that like never before.
Gamers can already feel the gun's recoil after shooting a virtual weapon or experience what it feels like to dribble a virtual basketball.
Though still in infancy, haptic technology is poised to make the future of gaming and wearables more entertaining and realistic.
---
8.
WEARABLE TECHNOLOGY IN ENTERTAINMENT
Wearable technology has expanded into the entertainment space by creating new ways to enjoy digital media.
Just like in the gaming industry, virtual reality headsets and augmented reality glasses have come to exemplify wearables in entertainment.
Virtual reality headsets such as the Oculus Rift, HTC Vive, and Google Daydream View allow for immersive media experiences, either by simulating the first-person experience or displaying the media in the user's whole field of vision.
Every year, new films, TV shows, and educational content (simulators) are developed specifically for these devices to be used by professionals and consumers alike.
---
9.
WEARABLES & CONSUMER HEALTH DEVICES
A huge growth area for wearable technology is consumer health; we're not just talking about improving fitness here but medical class sensors found in consumer wearable products designed to save lives.
The FDA-approved electrocardiogram (ECG) in the Apple Watch can detect signs of A-Fib, while it'll also check for an irregular heartbeat at regular intervals.
The fall detection tool can alert the emergency services/contacts if you take a tumble.
It's tools like these that are broadening the appeal of wearables to new audiences.
The Dream 2 headset – seeking out FDA approval – is taking on chronic insomnia with cognitive behavioral therapy.
The company says 80% of its users experience relief after just six weeks.
There are wearable blood sugar monitors, blood pressure monitors, and even sweat trackers that'll tell you when you need to hydrate.
The Flow headset is certified to treat depression, while L'Oreal is selling the My Skin Track UV patch, which indicates your exposure to damaging UV rays.
Another field of application of wearable technology is monitoring systems for assisted living and eldercare.
Wearable sensors have a huge potential in generating big data, with great applicability to biomedicine and ambient assisted living.
For this reason, researchers are moving their focus from data collection to the development of intelligent algorithms able to glean valuable information from the collected data, using data mining techniques such as statistical classification and neural networks.
Wearable technology can also collect biometric data such as heart rate (ECG and HRV), brainwave (EEG), and muscle bio-signals (EMG) from the human body to provide valuable information in the field of healthcare and wellness.
---
10.
EPIDERMAL (SKIN) ELECTRONICS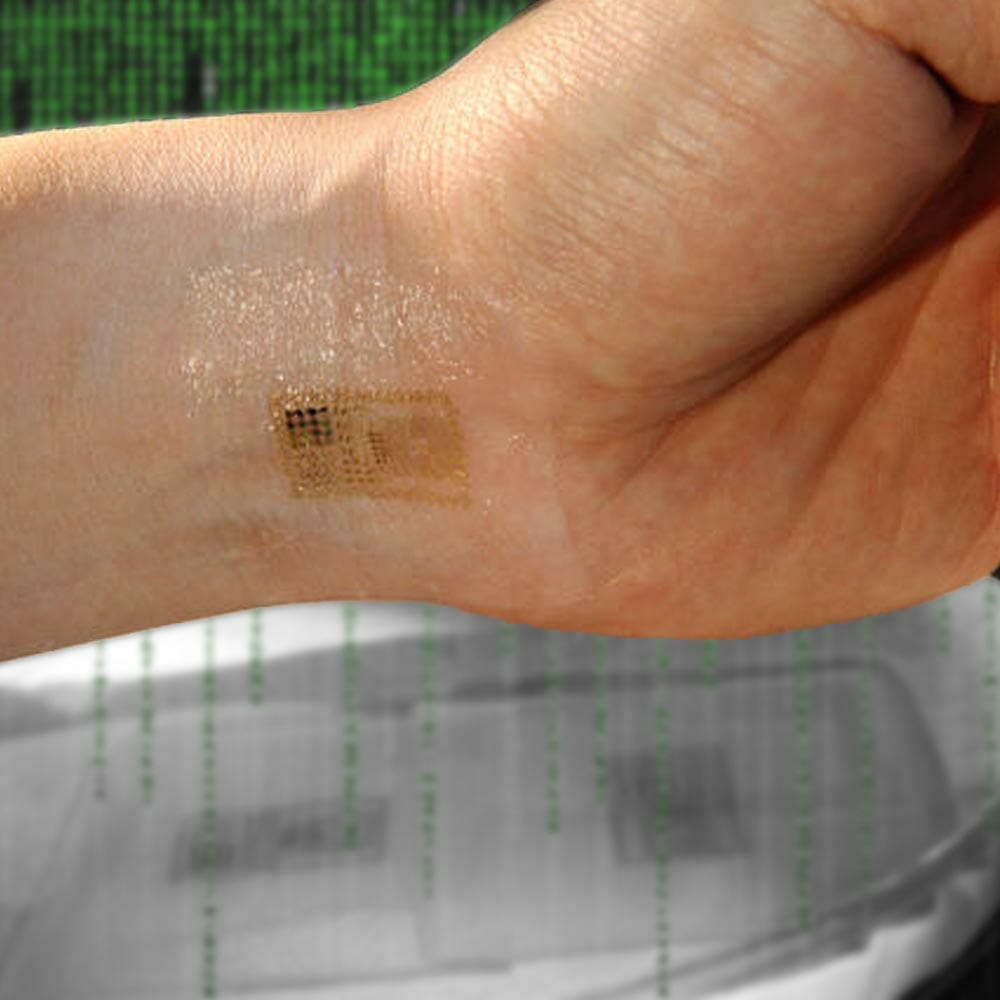 Epidermal electronics is an emerging field of wearable technology, termed for their properties and behaviors comparable to those of the epidermis, or outermost layer of the skin.
These wearable tech devices are mounted directly onto the skin to monitor physiological and metabolic processes, both dermal and subdermal.
Wireless capability is typically achieved through a battery, Bluetooth, or NFC, making these devices convenient and portable as a type of wearable technology.
Currently, the usage of epidermal technology is limited by existing fabrication processes, and epidermal electronics are developed for fitness and medical monitoring.
"Mechanically invisible" to the wearer, the thin, soft, flexible design of epidermal electronics resembles that of temporary tattoos laminated on the skin.
Several materials are used to achieve skin-like properties; photolithography patterned serpentine, gold nanofilm, and patterned doping of silicon nanomembranes.
Research into printing epidermal electronics directly on the skin is currently available as a sole study source.
---
11.
IMPLANTABLES
Wearable technology can be found not just outside the body but also residing inside, as smart implants or implantables.
Implantables are already used as 3d printed organs, birth control pills (as is the case of MicroCHIPS' collaboration with the Gates Foundation to create an implantable female contraceptive chip), and even brain control interfaces and AI chipsets – see Elon Musk's Neuralink project.
A new range of implantable chipsets (also known as technology-enhanced weight loss intervention chipsets) is under clinical trial for secondary outcomes relating to physical activity, baseline weight, and long-term weight loss.
Other implantable chipsets extract users' behavioral weight loss approaches to understand if and how body temperature, body fat, and body mass impact activity levels and any adverse events we can avoid.
---
12.
WEARABLE TECH IN MILITARY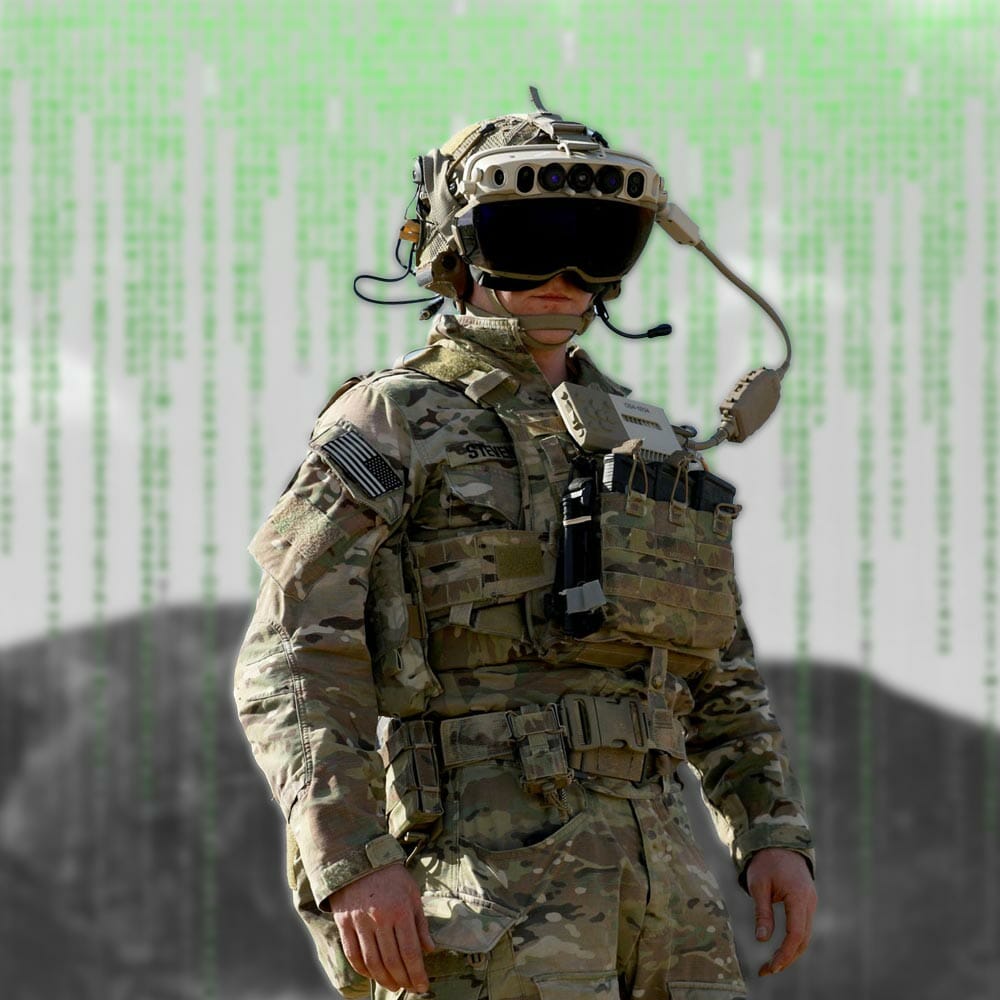 Current use of wearable technology in the military ranges from training exercises to educational purposes and sustainability purposes.
Most wearable technology for the army revolves around tracking the soldier's vitals, such as heart rate, blood pressure, and emotional status, in real-time.
According to chemist Matt Coppock, a soldier's lethality can be enhanced by collecting different biorecognition receptors to eliminate emerging personal and environmental threats.
With the advent of virtual reality, it is natural to create military simulations and combat simulations for VR for soldiers to train on.
Recent simulations include a soldier wearing a shock belt during a combat simulation.
Each time the wearer is shot, the belt simulates a shot wound by electroshocking the user.
---
Modern Types Of Wearable Technology
The focus on the development of wearable technology now appears to be moving from consumer accessories to more specialized and practical applications.
Microchip implants are now being used to replace keys and passwords.
Embedded in a fingertip, the chips use near-field communication (NFC) or radio-frequency identification (RFID) and are similar to the chips used to track lost pets.
The U.S. military is reportedly considering using RFID chips to keep track of its troops around the world.
The real life-altering applications in wearable technology, however, can be found in medical devices.
The past few years have seen rapid development and the introduction of wearable technology products adapted for medical and healthcare uses.
These include:
In Louisville, Kentucky, wearable devices made by AIR Louisville are being used to monitor local air quality, measure pollutants, and identify hotspots for residents with respiratory problems.
Cyrcadia Health has developed iTBra, an intelligent patch that can detect early signs of breast cancer and transmit the information to a lab for analysis.
Wearable medical alert monitors are extending greater mobility and independence to the elderly and impaired.
Smart tattoos that contain flexible electronic sensors are developed to monitor heart and brain activity, sleep disorders, and muscle function.
A smartwatch for people with Parkinson's disease tracks symptoms and transmits the data to develop more personalized treatment plans.
Child monitoring devices equipped with GPS are available from many manufacturers for as little as $25.
Wearable Technology – Pros & Cons
FDA's guidance for low-risk devices expects personal health wearables and wellness products to collect only data relating to weight, fitness, relaxation and stress management, mental acuity, self-esteem, sleep, or sexual function.
However, despite the FDA's guidance, most wearable tech devices are still invading the wearer's privacy.
For example, wearables used to track vital signs of patients possess privacy issues relating to collecting data and third-party use of non-consented information; that is, potential usage without the user's permission of being recorded.
Compared to a smartphone, any new portable device poses unknown reliability and safety challenges directly or indirectly caused by device manufacturers and software developers.
The limited display area, low computing power, little volatile and non-volatile memory, the non-conventional shape of the devices, an abundance of sensor data, complex communication patterns of the apps, and limited battery size are factors that cause further problems.
Moreover, since many of the wearable devices are used for health purposes, to either monitor or treat, accuracy gives rise to safety concerns.
Wearables are most associated with the health and wellness sectors.
Smartwatch makes, like Garmin, Fitbit, or Apple, have changed the way we track everything, from the heart rate to our daily steps.
These watches inherently encourage healthier lifestyles because of the data they collect. Knowing how far your run enables you to push yourself further to beat your old record.
Seeing that you're almost to your daily 10,000 step goal encourages you to go for a walk around the block.
Even tracking your current sleep habits could lead to changes that help you sleep more soundly at night.
In a sense, wearable technology is one of the best ways to gamify the health and wellness journey, but health comes at a cost, as you'll see below.
PRO WEARABLE TECH
Wearable devices improve healthcare
Consumer health wearables contain wearable technology designed to monitor the user's health status in real-time.
The trend started in the 80s after the first wireless ECG was invented.
But in the last decades, the research has moved to patient monitoring digital health solutions such as digital tattoos, smart skin patches, and implantables.
These healthcare wearables can collect the following types of health data:
Heart rate
Calories burned
Steps walked
Blood pressure
Release of certain biochemicals
Time spent exercising
Seizures
Physical falls or strains
Skin burns
Headaches
Glucose level
VO2 max
Changes in mood and stress
Measuring blood alcohol content
Frailty and risks of age-dependent diseases
Athletic performance
AGAINST WEARABLE TECH
Data collection, breach, and abuse
Nowadays, there is a growing interest in using wearables for individual health tracking and corporate health and wellness programs.
Given that wearables create a massive data trail that employers could repurpose for objectives other than health, more and more research has begun to study the dark side of wearables.
The most worrying aspect of wearable technology is its capacity to connect to the larger grid of IoT devices.
In that sense, anything you do, say, buy, or visit is monitored in real-time, allowing whoever controls the grid to replicate your identity, or even worse, to cause physical harm.
Final Thoughts
In straightforward terms, wearable technology describes a wide range of smart sensors, each with its functionality.
These sensors are used in fitness trackers, smartwatches, and smartphones, to record a wide range of body metrics.
The data recorded is then used to help the wearer achieve all sorts of personal goals such as staying fit and active, losing weight, or tracking overall mental and physical health.
However, we've only scratched the surface of wearable technology.
There are various data points that we can connect to provide better entertainment, training, and a greater understanding of one's health.
Last but not least, as wearable technology is increasingly used, any usage, even in fitness or gaming, must undergo deep scrutiny for reliability, security, and safety.
Weekly Newsletter
Keep up with the latest in fashion, beauty and style!
Now it's your turn…
Which one of these wearable technologies is your favorite and why?
Are there any other topics on 'Wearable Technology' you'd like us to cover?
Please leave your comments below so others can benefit from your expertise and knowledge.



Growing up in western PEI, Bruce Knox blends his extensive public health, non-profit, and public sector background with a deep love for innovative technologies to bring people together in healthier communities and environments.