In a world of no internet and social media, 80s fashion drew inspiration from music and TV shows, creating more style idols than in any previous fashion decade.
With eye-straining colors and patterns, power suits, shoulder pads, dramatic earrings, and acid wash jeans, the 80s looks are described as 'big,' 'bright,' and 'loud.'
In this article, I'll take you back down memory lane to explore the 21 most essential styles of the 80s fashion decade, which later became trends.
Without further ado, these are the 21 most representative styles and looks of the 80s that redefined fashion as we know it.
---
1
/21
Power Suits
Power suits or "power dressing" was all the rage in the 80s.
The trend was created by celebrities and movie stars playing influential, power-hungry career women.
Grace Jones' sharply-tailored suits with broad padded shoulders inspired the 'girl power' and cross-dressing movement of the 1980s – an inspiration for artists such as Annie Lennox, Lady Gaga, Rihanna, Solange, and Lorde.
Also, as a sign women were rising through the ranks, Britain was run by Margaret Thatcher, the country's first-ever female Prime Minister.
---
SHOP THE LOOK
---
2
/21
Oversized Shoulder Dresses
The shoulder pads were such an influential trend in the 80s fashion that dress designers even adopted them.
Notable shoulder pads matched vaporous dresses with puffed sleeves to create unique geometric shapes and cuts.
---
SHOP THE LOOK
---
3
/21
80s Leg Warmers
The 80s fashion styles were influenced by those times stars and celebrities, promoting fitness and aerobic exercises on TV.
Olivia Newton-John and Jane Fonda's appearances (Flashdance in particular) turned legwarmers into every woman's fashion statement.
Aerobic outfits, gym leggings, oversized sweaters, and even skinny jeans for women were all garments that required legwarmers as a finishing touch.
---
SHOP THE LOOK
---
4
/21
Leather Jackets with Rolled Up Sleeves
Worn by music and movie stars such as Bon Jovi, Madonna, Cher, Tom Cruise (Top Gun), and Morten Harket, leather jackets were a must-have in the 80s.
However, the 80s most popular leather jacket styles had large, padded shoulders and were worn with the sleeves rolled up, and Michael Jackson's Thriller look is the perfect example.
Other popular 80s leather jacket styles were the double rider and cafe-racer jackets, with an option to customize them to your liking.
---
SHOP THE LOOK
---
5
/21
80s Preppy Fashion
The 80s was also the decade of designers focusing on comfortable and stylish preppy styles.
Brands like Polo, Lacoste, Tommy Hilfiger, and Calvin Klein launched college-styled jackets, trousers, and shirts in pastel colors with stripes.
In the 80s, preppy-style shirts (also seen in 'Light Academia') were worn as formal button-downs or with chinos as smart casual t-shirts.
---
SHOP THE LOOK
---
6
/21
Statement & Slogan T-shirts
Statement tees, also called slogan t-shirts, are another 80s fashion-defining moment, beautifully exemplified by Katharine Hamnett's pieces.
The designer's anti-nuclear-missiles T-shirt, worn while meeting then-prime minister Margaret Thatcher in 1984, is now part of 80s fashion history.
The trend of slogans printed on t-shirts was quickly adopted by Pepsi, Nike, Adidas, and Guess after realizing the advertising power of their own printed logos on T's.
---
SHOP THE LOOK
---
7
/21
Mini Skirts with Thick Belts
The 80s was the decade of mini skirts, skater skirts, and Rah-rah's made from denim and spandex (see Kylie Minogue's high-shine minidresses).
Matched with go-go boots, mini skirts were first seen in 1960s fashion magazines.
But the mini-skirt & thick waist belt style peaked in the mid-80s – sometimes matched with legwarmers and/or leggings or augmented with layers of net and lace, Madonna-style.
---
SHOP THE LOOK
---
8
/21
Polka Dot Dresses
Popular in 1940s fashion (and later in the 50s fashion), polka dot dresses, skirts, and tops resurfaced in the 80s with a vengeance.
The French fashion house Emanuel Ungaro brought the pattern back on its SS 1985 ready-to-wear collection, fast adopted by royalty, pop stars, and cinema celebrities alike.
Princess Diana loved sporting polka dot skirts; the Strawberry Switchblade pop duo had them on big PVC belts, and Claudia Cardinale on her characteristic dresses with tie necklines.
---
SHOP THE LOOK
---
9
/21
Animal Print Patterns
Even in the 80s wearing natural animal skin was drawn upon.
However, that didn't deter celebrities from wearing over-the-top animal prints on every imaginable outfit and style.
From leggings to handbags, skirts, and sunglasses, bold prints of leopard, zebra, tiger, giraffe, and python were the rage.
---
SHOP THE LOOK
---
10
/21
Oversized Eyewear
Most fashionable sunglasses in the 1980s had giant frames and sported colored or mirror lenses.
Some of the most popular 80s sunglasses frames were oversized Wayfarers and Aviators by Rayban.
Yet, depending on your social circle, you could spot Gucci, Cartier, and Vuarnet in large frames.
---
SHOP THE LOOK
---
11
/21
Asymmetric Silhouettes
Thierry Mugler's spring 1983 ready-to-wear show is the best example of clothes in which one side is different.
The asymmetric style was best exemplified by Molly Ringwald, a famous Hollywood actor of the 80s.
Some key characteristics of asymmetrical style and design feature a one-shoulder bodice, slanted hemlines, or necklines, often seen nowadays in the streetwear pieces of Japanese fashion.
---
SHOP THE LOOK
---
12
/21
Leotards and Bodysuits
After the influence of drugs and freedom of "flower power" of the 70s fashion wore off, the 80s started as a self-conscious decade.
Jane Fonda took advantage of women's obsession with dance and exercise with fitness videos showcasing an extensive collection of brightly colored bodysuits.
With the help of music divas like Cher, promoting and selling sportswear apparel in bold colors became an 80s thing.
What we nowadays call athleisure once started as leotards and bodysuits, a functional form of fashion.
---
SHOP THE LOOK
---
13
/21
Double Denim Style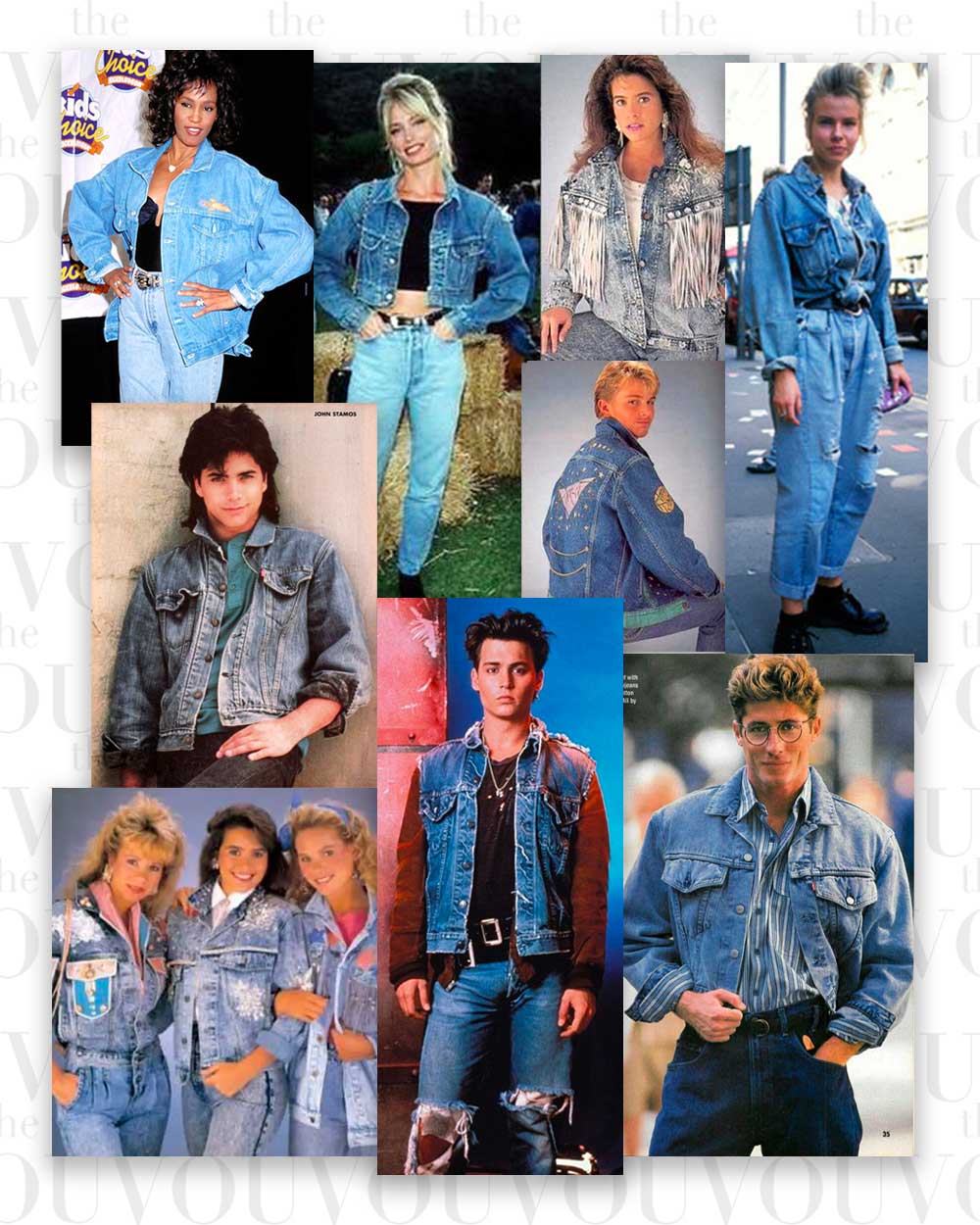 The 80s double denim style craze is the best example of celebrity power shaping and still shapes the current fashion trends.
Levi's 501 jeans campaign involved top celebs of those times, such as Nick Kamen, who had a top 5 hit single in 1986, written and produced by Madonna and Stephen Bray.
The trend of pairing double denim jackets with high-waisted jeans continue until the end of the 80s, thanks to Sam Cooke, Marvin Gaye, Ben E. King, and Percy Sledge boosting Levi's sales and vinyl records.
---
SHOP THE LOOK
---
14
/21
High-Top Trainers With Thick Socks
In a trend started by fitness celebrities that moved from gyms to 80s catwalks, thick socks, layered socks, and even socks with lace edging were an 80's fashion statement for the girls.
Neon socks worn over another pair and matched with trainers were popular in various contexts, at the gym, meeting with friends, and even at the office.
And as the idea of wearing socks everywhere became popular, ankle socks worn with heels started to emerge, from movie clips on MTV to movies and the catwalks.
---
SHOP THE LOOK
---
15
/21
Sheer Tights
In the 80s, wearing short skirts to show off your legs was very cool – see Debbie Harry's chic little black dresses accessorized with striking hosiery.
Initially, sheer tights had neutral colors – like brown during the day and black in the evening for a more natural look.
Influenced by the growing fitness craze, sheer colored tights became a thing in the mid-eighties, with many top fashion brands creating colored stockings.
The colored sheer tights trend continued into the 90s fashion, worn at the office and dinner events.
---
SHOP THE LOOK
---
16
/21
Stirrup Pants & Leggings Look
Stirrups are light metallic frames hanging on each side of a saddle, used to support mounting or riding.
Stirrup pants borrow the concept by having a material strap at the end of the foot to hold the pants in place.
Given their construct, stirrup pants were trendy in the 80s in sporting activities such as aerobics, ballet, and dancing, eventually permeating daily fashion looks.
Towards the end of the eighties, women of all ages could be seen wearing leggings and stirrup pants matched with large t-shirts or comfortable oversized sweaters.
---
SHOP THE LOOK
---
17
/21
Lace Clothing with Accessories
After Madonna launched her global hit "Like a Virgin" on MTV in 1984, lace dresses and gloves became an instant fashion statement throughout the 80s.
The trend can be seen everywhere, even in movies, and one of the most popular characters spring the style was Alexis Carrington in Dynasty, played by Joan Collins.
---
SHOP THE LOOK
---
18
/21
Harem Pants Style
Originally known as a harem skirt, these pants were introduced to western fashion circles in 1910 by the Parisian designer Paul Poiret.
Long, baggy, with a very low drop-crotch and fitted at the ankle, harem pants were also known as the MC Hammer pants.
In psychedelic colors and dizzying patterns, harem pants are another look that makes 80s fashion unforgettable and unique.
---
SHOP THE LOOK
---
19
/21
High-cut Swimsuits
Some of the most popular swimsuits of the 80s had a high-cut one-piece, like the babes on the original Baywatch series used to wear.
The high cut was designed to elongate the legs while the waist tucked everything into a slimmer silhouette, whether there's a bit of weight on the hips or tummy.
---
SHOP THE LOOK
---
20
/21
British Punk Style
Inspired by London's skinhead culture that took the 60s fashion by storm, the 80s punk fashion style had a milder, more enigmatic look.
The softer variations of post-punk 80s fashion were influenced by a blend of skinhead culture with other cultures and musical trends, from goth rock to glam and psychedelic rock.
---
SHOP THE LOOK
---
21
/21
Acid Washed Denim
Very popular in the 80s rock fashion, distressed, acid-wash jeans were everywhere in the mid to late 80s and early 90s.
Invented by the Rifle Jeans company in Italy, washing denim with chlorine and using a pumice stone to distress the material.
Loved by heavy metal and rock bands, 80s acid-washed jeans were matched with biker jackets or fringe jackets (cowboy/country music style leather jackets with lots of tassels).
The acid-washed denim was so popular that even non-rock acts such as Bros and Salt N' Pepa jumped on it, triggering brands like Jordache, Guess, Wrangler, Levi's, and Gitano to create limited collections and collab pieces.
---
SHOP THE LOOK
---
80s Fashion FAQs
What clothes were popular in the 80s?
Women's most popular 80s clothes were power suits, legwarmers, dresses with padded shoulders, and spandex and Lycra tights.
For men, some of the most popular clothes in the 80s were leather jackets, polo shirts, Oxford shirts, and turtlenecks.
However, both genders wore linen, velour, corduroy suits, high-waisted acid-wash jeans, and animal prints.
What to wear at an 80s party?
The best 80s theme party outfit depends on the style you want to recreate.
In the eighties, there were several fashion styles, but some of the most popular were power office, street casual, punk, and athletic, each with its own shoes and accessories.
Some of the most popular 80s accessories are:
scrunchies;
leg warmers;
fingerless gloves;
plastic bangles;
large earrings in neon shades;
mesh accents;
and pearl necklaces.
How to dress like in the 80s?
Dressing a perfect 80s fashion look is simple, as long as you combine some of the most representative clothes of that decade with the relevant accessories to the 80s style you choose to showcase.
For example, if you want to recreate a stylish 80s post-punk look, all you need is a biker-style leather jacket, acid-washed jeans, a loud logo t-shirt with an 80s famous slogan, and a pair of black leather boots.
Then, finish this classic 80s look with relevant punk accessories, such as metallic bracelets, studs, spikes, laces, and chains.
1980s Fashion – Takeaway
The eighties were a decade of fashion trends for people 'loved to hate,' as you saw in our gallery of iconic '80s outfits.
Hair was teased and permed to the limits, voluminously styled, and sometimes crimped; make-up was bold with clashing colors, almost like face paint.
1980s fashion styles were also about flaunting money – wearing top designer brands, preppy style outfits, and loud logos to showcase one's wealth and status.
Nevertheless, the 80s influence has shaped not only that decade's culture and fashion looks but also the styles we wear today.
Many of the 80s fashion styles are back in 2023, such as power dressing, denim overalls, and leather jackets.
The music television channels (MTV launched in 1981) and the first generation of personal computers (1st Apple Computer launched in 1984) significantly influenced the looks of 80s fashion.
Music clips particularly influenced 80s fashion and American TV shows such as Dynasty and Dallas – think power suits, shoulder pads, and fine jewelry worn by Alexis and Krystle Carrington.
Madonna, Joan Jett, and Cher's video clips inspired teenagers to wear biker leather jackets and ripped tights assorted with punk-styled bracelets, studs, spikes, and chains.
Similarly, Cyndi Lauper and Tina Turner's polished looks left marks on 80s women's fashion with asymmetric aesthetics, oversized blazers, and poof skirts.
And let's not forget the influence that Jane Fonda and Olivia Newton-John's fitness clips had on teen girls, even wearing sheer tights and legwarmers everywhere, with anything.
Weekly Newsletter
Keep up with the latest in fashion, beauty and style!
Now it's your turn…
Are you interested in this eighties fashion article as a source of style inspiration, or are you looking for 1980s designers and brands?
Which one of these 80s fashion trends is your favorite and why?
Are there any other 80s fashion trends, styles, looks, or brands missing from this list that you'd like to add? Let us know.
Comments below, please!



With a Bachelor of Science (B.S.) focused in Journalism with a Concentration in Marketing from the University of Florida, Ana Escalante is an award-winning journalist with powerful reporting in fashion, beauty, pop-culture, and the current editor-in-chief Rowdy Magazine. Ana's articles covering fashion, media, and digital culture, focusing on emerging communities, have been published on Glamour Magazine, The VOU, Harper's Bazaar, PAPER Magazine, StyleCaster, Teen Vogue, ELLE UK, CR Fashion Book, and more.