Androgynous fashion is the best way to express non-binary gender identity.
However, most people – even celebrities – get the style wrong, often with embarrassing consequences.
As an androgyne that has worked in fashion all my life, I'm here to help.
First, let's define 'androgynous fashion' and the term's origin.
Then, we'll look at the best androgynous style tips – for all body types, looks, and curves.
Finally, I'll share my top androgynous designers of 2023 and let you know where you can buy them from.
What is Androgynous Fashion?
Androgynous originates from the Latin word 'androgyne' and describes a mix of male and female physical characteristics.
In that sense, 'androgynous fashion' describes mixed-gender clothing and accessories.
The aim here, stylistically, is to avoid constructing a visual distinction between masculine and feminine physical characteristics and, therefore, express non-binary gender identity.
Therefore, androgynous fashion styles are neither feminine nor masculine but gender-inclusive and sexually neutral.
How To Look Androgynous
The following four tips apply to all body types, looks, and curves.
I've split the tips into four categories to make them easier to follow:
Clothing
Accessories
Makeup
Hairstyle
1. Androgynous Clothing

Choosing the right color is very important in androgynous clothing.
The classic androgynous look is built on neutral tones: black, white, and subtle shades of grey.
Yes, an occasional splash of color can amp up your look, especially if you're going for once-dedicated men's apparel, such as men's overalls.
Also, pairing your hair color with the right cut (or style) is equally essential.
Generally, if you have a female body type, it is best to wear loose bottoms.
That's because tight pants tend to show off curves, and that's the opposite of what the androgynous look is about.
Male jeans (boyfriend jeans) are a great option here.
For a streetwear effect, pair your oversized jeans with a vegan jacket or a cardigan.
Speaking of which, make sure you always pick an oversized top.
A loose top will hide your figure better than something super-fitted.
For a more office look, wear button-up shirts for men.
Wear the shirts under a cardigan and pair them with 'boyfriend jeans' and canvas sneakers.
The canvas sneaker will cool down a bit your office look and keep it a casual vibe.
If you have a male body type, wear feminine fabrics whenever you can.
Choose garments made from soft fabrics, such as lace, silk, satin, and velvet.
Also, when possible, wear tailored tops.
Cardigans or oversized jackets over t-shirts, paired with jeans and sneakers, create an excellent everyday androgynous look.
For a more powerful statement, you can wear a semi-transparent blouse.
Just make sure you pair it with vaporous trousers from the same material, of similar color, and short heel shoes.
2. Androgynous Accessories

Most hats and scarves are already perceived as gender-neutral, so these are the best accessories to amplify the androgynous look.
You can go for a fedora, newsboy cap, trapper, or even a baseball hat.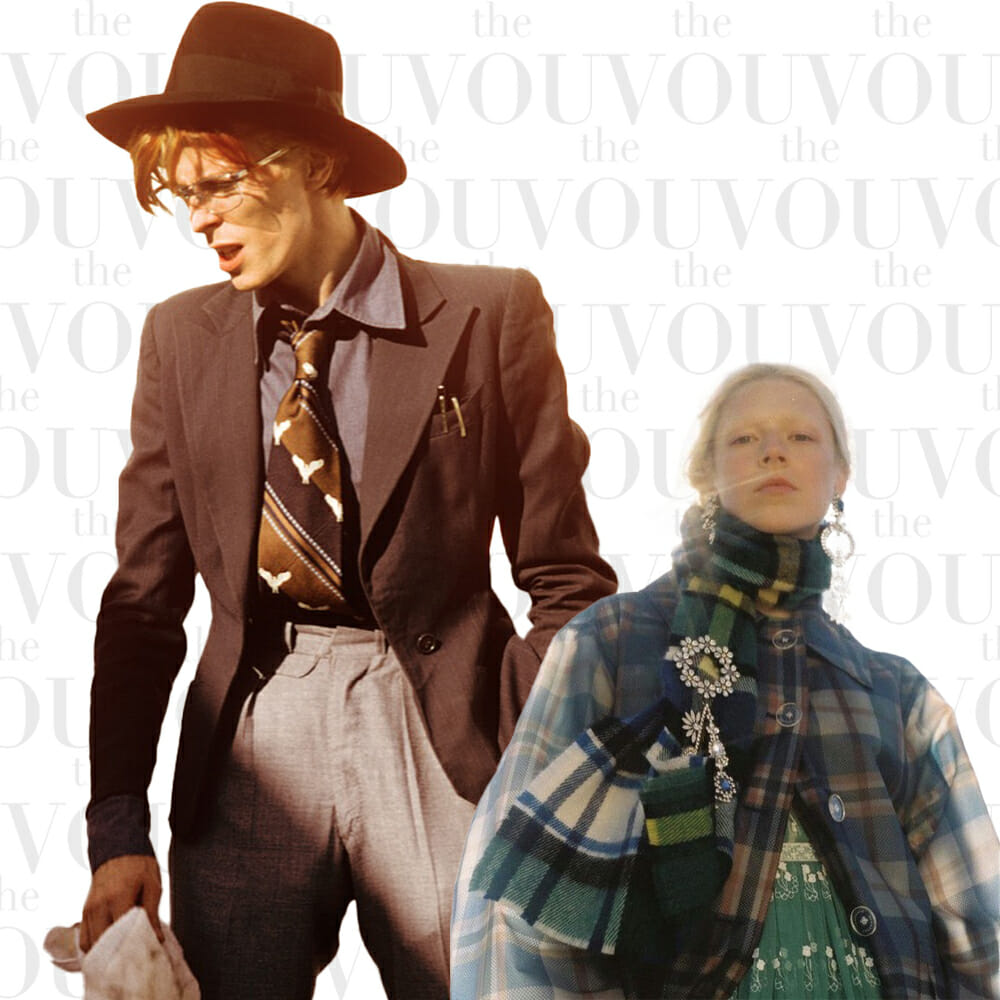 Regardless of your choice for a hat or scarf, wear them when you need to break down an overpowering, unified style.
3. Androgynous Makeup

As an androgyne, your makeup has to be a blend of subtle and bold elements.
Similar elements are also present in Korean beauty standards.
For example, you can use matte powder to create a natural look.
Then, go for a bold brow by accentuating length and thickness, but not too much.
Finally, to achieve that bold statement, go for intense red lipstick.
The red of your lips will create a beautiful contrast with your neutral apparel choices, turning people's heads in admiration.
4. Androgynous Hairstyle

Last but not least, androgynous hairstyle.
Short hair is recommended, especially for those with female features.
Some of the most suitable hairstyles are the pixie and the buzz cut.
You can also go for a side mohawk.
The side mohawk hairstyle adds an extra level of edginess to your overall look.
For those with more masculine features, longer haircuts would be preferred.
However, you do not have to have short or long hair to have an androgynous look.
It depends much more on the clothes you choose and where you get them from.
Best Androgynous Fashion Designers
The following androgynous clothing designers are currently rocking the unisex and gender-free apparel stage.
Without further ado, these are their stories and why customers love them so much.
1. Toogood
Toogood is a British androgynous label launched by two sisters, Faye and Erica.
The duo's creations are not only gender-neutral but also sustainably made.
Designed and made in Britain, Toogood's collections put emphasis on sustainability while leaving conformity and convention behind.
"Toogood embraces individuality, peace and love for others, as a modern and conscious gender-fluid fashion apparel,"
explain the brand founders.
I love the label and recommend it for its broad lines oozing a practical/functional look.
2. Wildfang
Described by its founders – Emma Mcilroy, Taralyn Thuot, and Julia Parsley – as a "tomboy-chic brand with a feminist ethos," Wildfang aims to end all gender stereotypes through fashion.
"Fashion is playing catch up with the society,"
explains McIlroy.
I love Wildfang Portland for its wide range of androgynous clothing and workwear.
Every piece is structurally made to look like it was designed for the men's section.
3. Telfar
Telfar was launched in 2005 under the motto: "Not for You, for Everyone."
Nowadays, Telfar has become a globally recognized androgynous label.
While the brand's exceptional collections still include some animal leather belts and hats, the brand is shifting fast towards a cruelty-free ethos.
I love this New York-based label for its cozy hoodies and vegan leather bags.
4. One DNA
Hailing from New York, a city that supports gender-fluid movements, 'One DNA' has become the front house of androgynous and gender-neutral fashion.
With an early focus on unisex clothing, One DNA came to the rescue of androgynes thanks to its gender barrier-breaking fashion styles.
In simple terms, the label fosters the idea that there's an androgynous side to each one of us.
I love One DNA for its gorgeous androgynous apparel, suitable for all types of body sizes and shapes.
5. Chelsea Bravo
Chelsea Bravo is an androgynous fashion designer based in London, UK.
Born in Brooklyn, New York, Chelsea's androgynous designs focus on the body's motions and its fluidity within the clothing.
Moreover, by using natural materials such as organic cotton and hemp, Chelsea Bravo creates elegant garments that blend style with sustainability for a more mindful fashion.
Whenever I need androgynous creations that are very elegant, and from sustainable materials, I go to Chelsea Bravo.
For more, check out the full list of our favorite androgynous clothing brands.
Weekly Newsletter
Keep up with the latest in fashion, beauty and style!
Now it's your turn…
I hope you got a lot of value from my article on androgynous fashion.
Yes, there's still a lot to cover, so I want to ask:
Which androgynous style have you tried and liked the most?
Which brands from this guide do you want to try first?
What are your favorite androgynous celebrities, and why?
Comments below, please!
A passionate advocate for inclusivity and diversity, Aidan is the driving force behind The VOU magazine as its Editorial Manager. With a unique blend of editorial acumen and project management prowess, Aidan's insightful articles have graced the pages of The Verge, WWD, Forbes, and WTVOX, reflecting his deep interest in the dynamic intersection of media and technology.