Time to look like an A-class celebrity with the help of over 200 haircuts for men curated by the world's best barbers and hairstylists.
With each haircut detailed in four pics, there's plenty of inspiration to find the perfect hairstyle for you.
You can also share this comprehensive article on the trendiest men's hairstyles in 2023 with your barber.
Designed to inspire you to create a personal and distinctive look, these are the hottest and most popular men's hair trends right now.
We'll start the article with the editor's choice regarding the most popular men's haircut pics by category.
Editor's Choice
11 Most Popular Haircuts and Hairstyles by Category
---
1. Fade Haircuts
The term "fade" first appeared in black-owned barbershops and described an aggressively tight taper in men's hair.
The hair on the sides and back is cut (tapered) as close as possible with a machine or clippers.
Then, it "fades" up to the top of the head.
The hair on top can be styled neatly or given a messy texture with gel, paste, or strong pomade.
Sometimes, the faded haircut is mistakenly called the 'military reg.' haircut.
However, this is incorrect because each military service branch has different hair length regulations that can't be generalized into one haircut for all.
Skin Fade Haircut (High Fade)
Very suitable for straight hair, the skin fade-high fade is a classic haircut that works independently or as a base for any edgy haircut.
The high fade follows a line that goes straight back from the corner of the forehead.
Tell your barber you want a skin fade, not a shadow fade.
The skin, or bald fade, tapers hair right down to the skin while the shadow fades and goes from short hair at the hairline to even shorter hair at the neckline.
Mid-Fade Haircut
A mid-fade haircut is a fade cut that starts at a level between the temples and the ears.
Starting the fade halfway down gives you the benefits of length and contrast simultaneously, allowing for the perfect balance in any cut.
This style works wonders with or without facial hair.
Bun Fade Haircut
A bun fade haircut is an edgy hairstyle that combines a fade haircut with a bun.
The bun fade haircut is a popular choice for men who want a stylish and contemporary hairstyle that is easy to maintain.
The hairstyle peaked in 2020 when famous figures like Christiano Ronaldo cut their hair in a bun fade style.
However, expert stylists foresee this men's haircut's massive comeback in 2023.
Taper Fade Haircut (Tapered)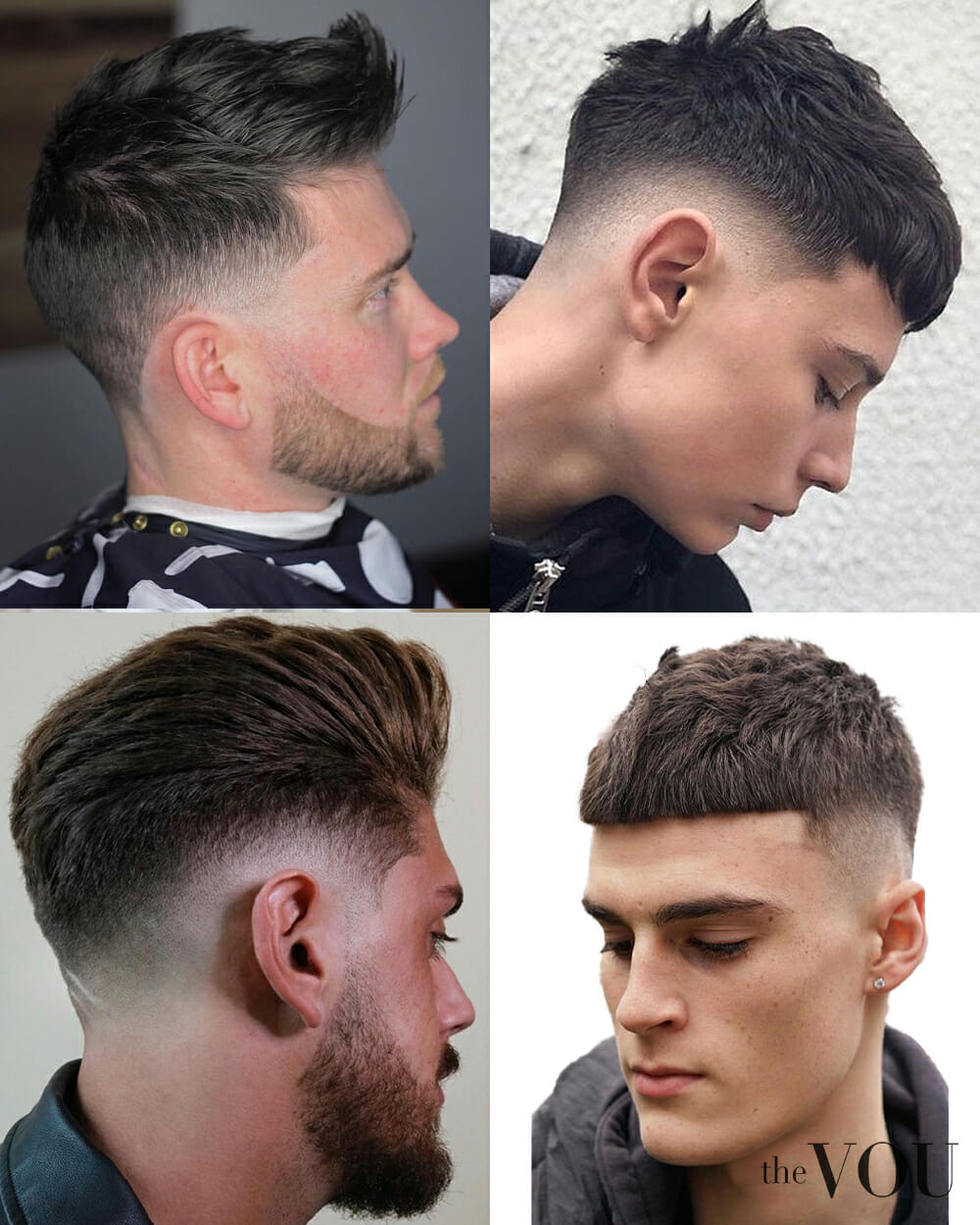 A tapered haircut is achieved by gradually changing your hair length.
It starts longer at the top of the head and gets shorter as you go down to the natural hairline on the nape of the neck and sides of the head.
Ask your hairstylist for a long taper – when you want to grow your hair long – or a short taper – in this case, the hair comes closer to the skin.
Close-Cropped Fade Haircut
The crop is a short textured haircut paired with a fade on the back and sides.
The haircut goes well with a trimmed beard and subtle men's makeup to hide acne or skin imperfection.
Often worn with a blunt fringe, the crop top haircut can also work with a short fringe cut towards the hairline or a long fringe down the forehead.
Comb Over Fade Haircut (Skin Fade Comb)
A comb-over fade, or skin-faded comb, mixes the fade length cut with a textured comb over and side part.
Apply some dry shampoo for volume and piece the ends of your hair with a matte pomade to finish the comb-over faded haircut.
Classic Fade Haircut
The most incredible fade haircut; remember, not all faded haircuts are cut super short on the back and sides.
The top hair is left longer and tapered down with clippers – on the sides and back – to blend into the skin at the nape.
Brush it with a slight part, like in the pics above, to give this 'longer fade' a polished final look.
Razor Fade Haircut
The razor fade haircut, sometimes called the straight razor fade, is a type of skin-tapered fade cut where the guy's hair is shaved on the sides and back.
Suitable base for slicked-back hair, taper fade haircut, comb-over hairstyle, and even a medium haircut – messy hairstyle cut with a razor blade fade.
Also, a base for sophisticated hairstyles such as under wavy locks, mohawk fade, or undercut textured spikes.
Curly Hair Fade Haircut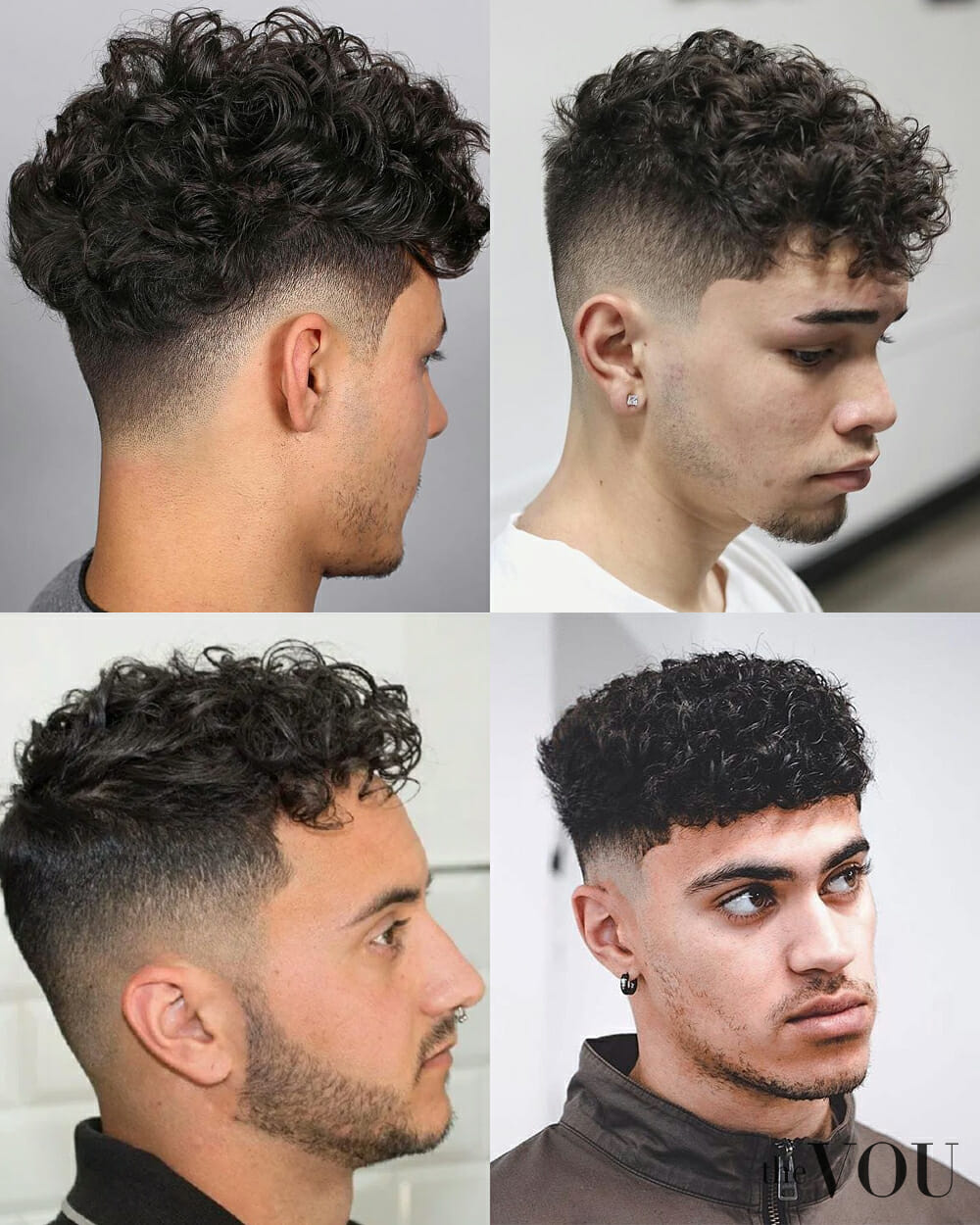 There are many curly hair fade variations, some longer, some shorter, some skinnier, some meatier, as the barbers trained and like to cut.
But, as a general rule, curly hair should be longer on top with nothing at the sides or shorter with faded edges.
The more curls you have, the lower the fade – the best example of this style is the British heavyweight boxing champion, Anthony Joshua.
Also, you can concentrate texture and length on the top of the head with a high fade.
If neither works, there are plenty of medium fade options somewhere in between.
Fade Buzz Haircut

The faded buzz haircut reflects the shaving of the back and the sides to one uniform length.
However, the hair on top of the head is trimmed to a slightly – just slightly – longer length.
Essentially, this forms the basis of a 'fade' as the shaved sides blend into the top hair.
Of all short haircuts for men, this style is the most popular choice in 2023, working great with a well-manicured beard.
---
2. Classic Haircuts
Hair trends may be suitable for a brief second in time, but no trends could rival the longevity of a classic hairstyle.
Designed for medium hair, thicker hair, and wavy hair, the following classic haircuts are anything but transient fads.
Perpetually stylish, these classic style staples include many timeless styles, from modern pompadour to textured and curly hairstyles.
French Crop Haircut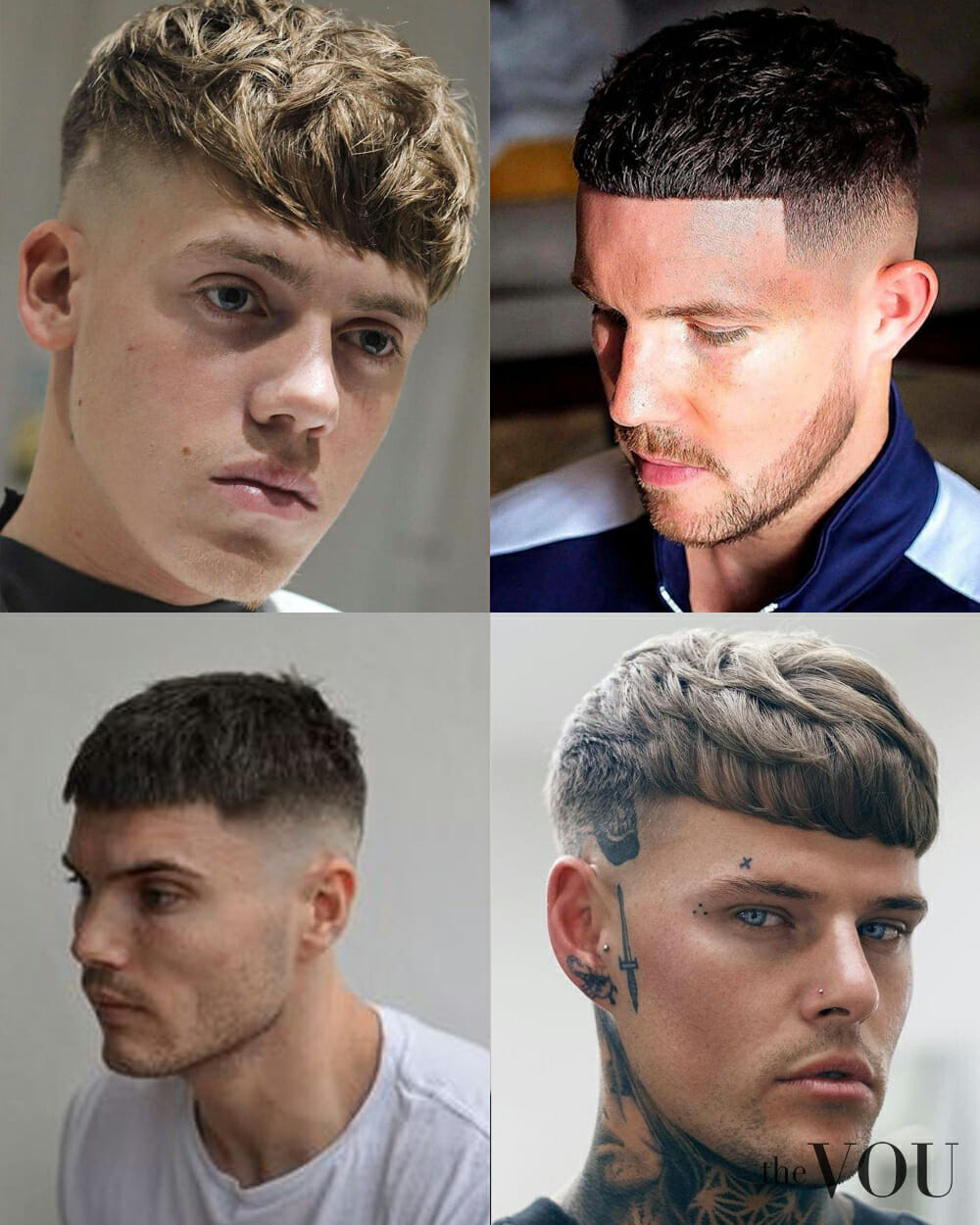 Similar to a Caesar cut but in Italian style, the French crop consists of hair cut short on the back and sides and kept slightly longer through the top.
Depending on the length, you can keep it combed forward over the forehead or pushed to the side.
Buzz Cut Hairstyle
Men's buzz cut was initially adopted and described as a traditional American military-style cut.
As the processing speed of hundreds of soldiers was vital, the classic buzz cut was done with machines, fast!
With one size on the sides and back of your head and one size up on the top, the buzz cut creates the illusion of height – even on short, buzzed hair.
However, the contemporary buzz cut features a slightly closer trimmed back and sides with a more extended patch of hair left on the top.
Slick Back Hairstyle
The classic slick back remains one of the most fabulous hairstyles around.
The slick back hairstyle confers a simple and sexy look at the same time and can make the wearer appear mature, sexy, and casual business-like.
Create your slick back style by brushing all your hair back and using some pomade on damp hair to preserve moisture and secure the final shape.
Men's Side Parting Hairstyle
Side part haircuts are regular, professional, standard, or businessman cuts.
To create a side part, hold the tip of a comb down towards the scalp.
The comb should be positioned a couple of inches to the left or right of the imaginary center line running down your head.
With the tip held down, draw the part in a straight line down the back of your head.
Ideally, you'll ask your barber to help with side parting; specify which side part style you want.
Men's Shoulder Length Hairstyle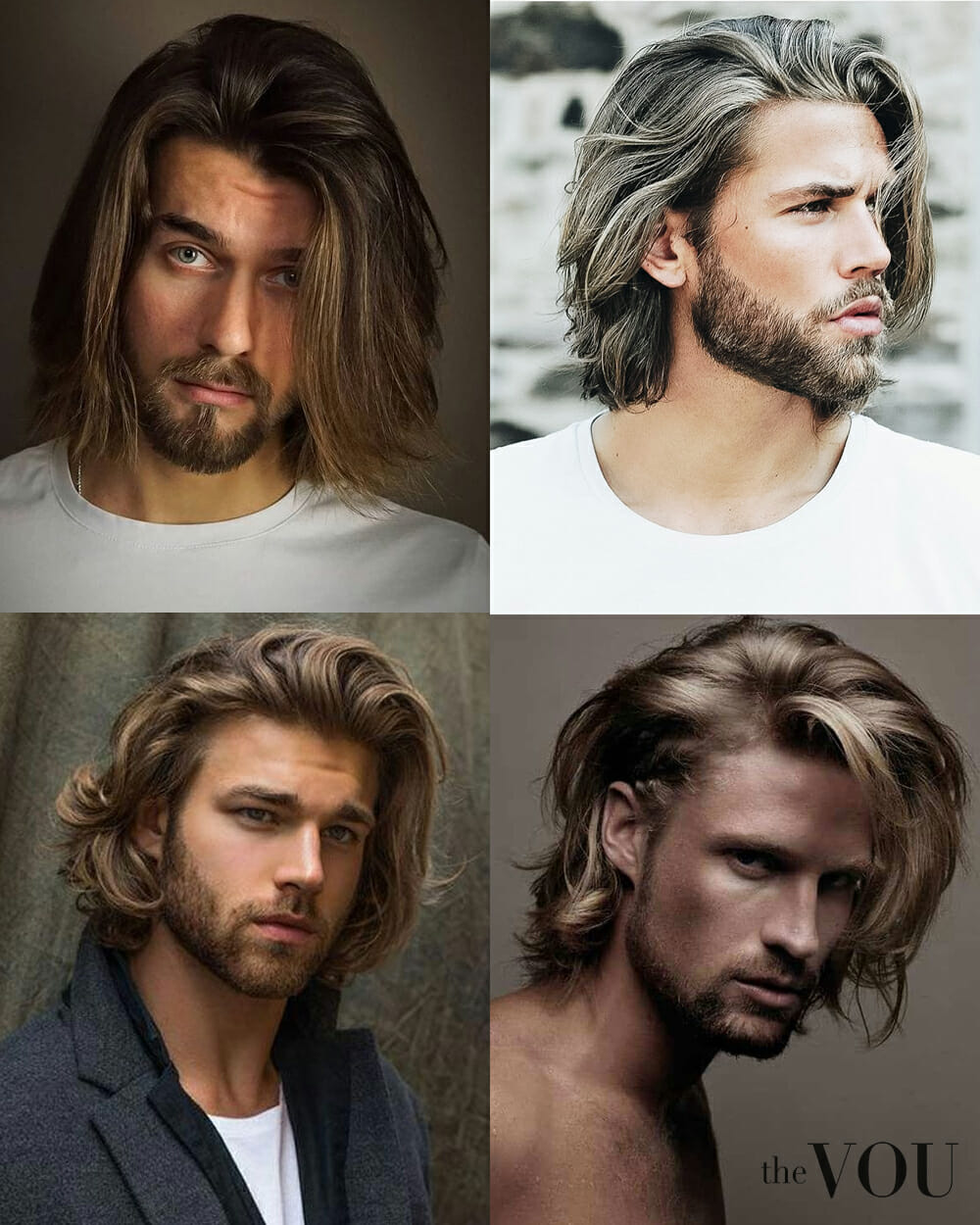 Shoulder-length hairstyles are for men who can flaunt a healthy, well-kept head of hair.
If you're well-endowed in the hair department, shoulder-length hairstyles are absolute head-turners.
Paving the way for quiffs, pompadours, and modern-style textured crops, shoulder-length men's haircuts open up a Pandora's Box of possibilities that short haircuts can't provide.
Hi-Top Fade Haircut for Men
The high-top fade haircut has reached peak popularity in the early 1990s fashion, re-trending in 2022, and is expected to reach new heights in 2023.
The cut has come a long way from Kid of Kid' n Play's unforgettable look, and regardless of how you wear it, the hi-top fade remains a very cool haircut for men.
Pompadour Hairstyle for Men
The pompadour hairstyle was named after Madame de Pompadour (1721–1764), a mistress of King Louis XV of France.
Although there are numerous variations of the style for men, women, and children, the main idea is to create a large volume of hair swept upwards from the face and worn high over the forehead.
A men's pompadour haircut features longer hair swept up and back at the top and flanked by slick sides or shorter sides.
The hair is the tallest and most voluminous at the front of the hairline, receding in size and scope as it flows back.
Quiff Cut Hairstyle
Quiff is a British term describing a prominent piece of hair brushed up and back from the forehead. A forelock is an excellent example of a quiff.
Start with a close buzz (about #1-1/2) at the neckline and a mid-level fade way up for a quiff cut.
The sides and top should be blended without a disconnect, while the hair at the top of your head should be around 3 inches long.
---
3. Men's Fringe Haircuts
A shorter section of hair cut straight across the forehead is called fringe in Britain.
In America, the correspondent of fringes is 'bangs.'
The word bangs first appeared in 1878 (in the context of hairstyles), and it derives from the adverbial use of bang to mean 'abruptly.'
In this case, a bang symbolizes a part of the hair cut 'bang off.'
Men's fringe (or men's bangs) is emerging as a fantastic hairstyle in 2023.
Whether you want a fringe that lays flat (flat-on bangs) or has a bit of volume is your choice; all fringe haircuts are in fashion right now, as you'll see below.
Men's Side Fringe Hairstyle
Above all fringes, the side fringe is making the biggest comeback.
Whether your hair is long, short, bobbed, or cropped, there's a side fringe to suit every type of hair!
Uhh… I guess apart from those of you with afro hair.
Men's Straight Fringe Hairstyle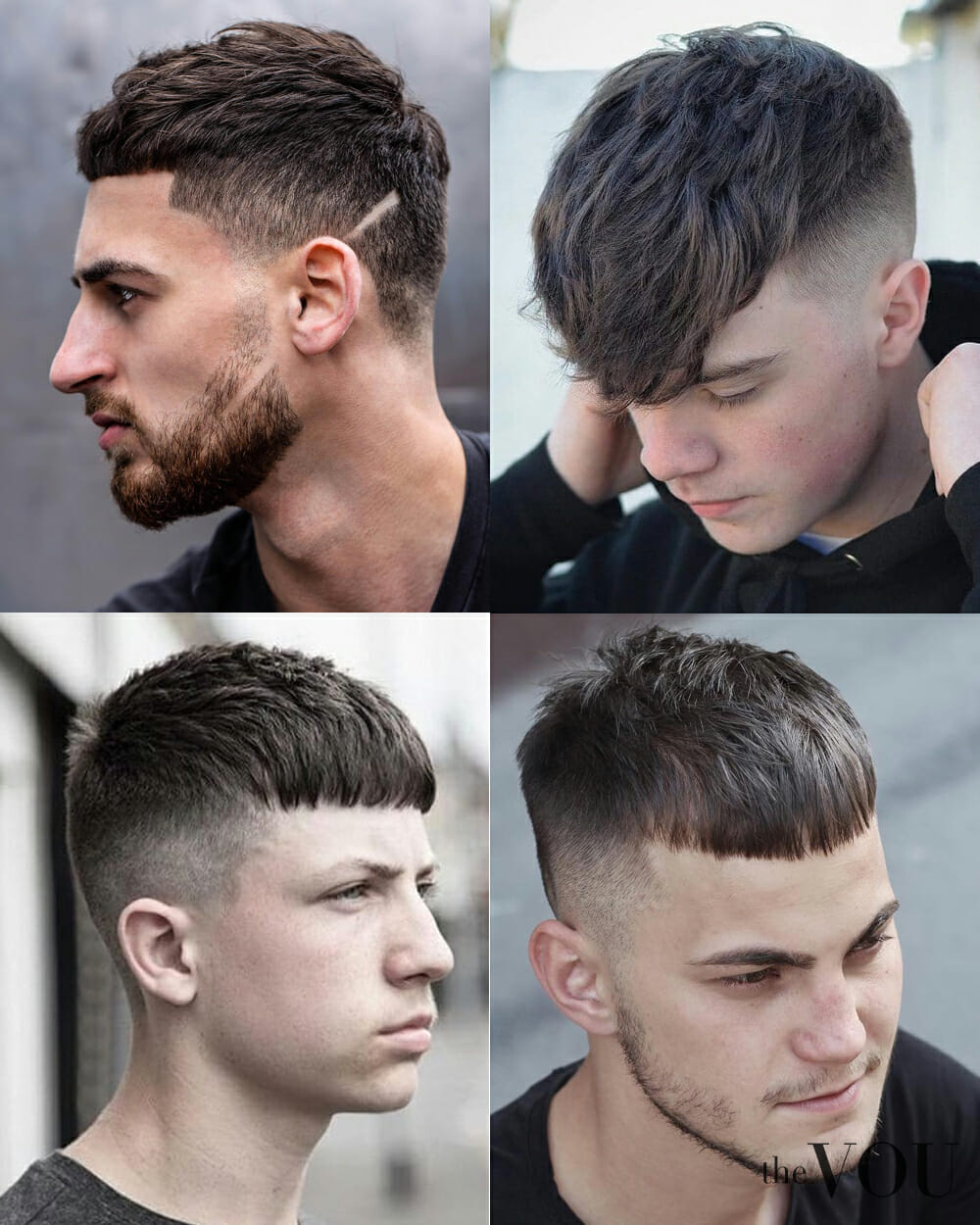 While pretty much everyone suits a fringe, it's all about where the edge ends', especially with a straight fringe.
If you go for a long straight fringe, know it will accentuate your cheekbones or brow skimming.
Ideally, a straight fringe hairstyle will fit the face shape and the jawline.
Angular Fringe Haircut
The angular fringe haircut is a style in which the sides are kept somewhat short, and the top is left relatively long.
The 'short on the sides, long on top' concept is the same one on which styles like the undercut and the pompadour are based.
The vital difference is that the fringe is left hanging over the forehead.
Textured Fringe Haircut
Textured fringe haircuts are just as the name says; fringe-style haircuts with some layering instead of classic fringe cuts or blunt bangs.
However, textured bags require more hair than other bang styles, often up to 2 inches back from your hairline.
Short Fringe Haircut
The short bang trend is also known as baby bangs, cropped bangs, or mini fringe and reflects a look that's grazing the forehead, in some sense.
These bangs are short, like really short.
Settling higher than the brow bone, this bang style makes long; curtained fringe look like a waterfall.
A great hairstyle for a rebellious look works wonders, especially when matched with tattoos and accessories.
Long Fringe Hairstyle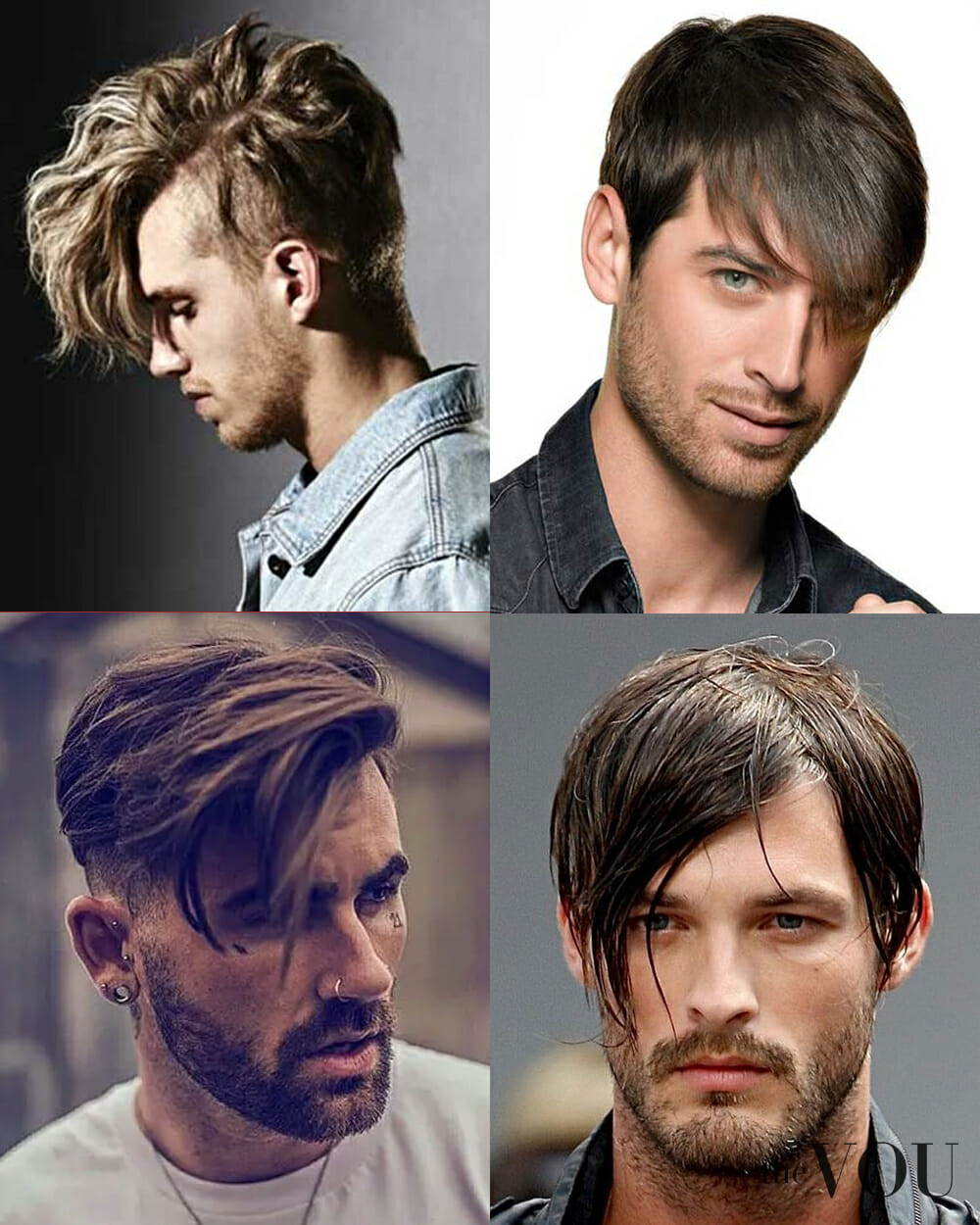 While long hair length varies from culture to culture, long bangs that cover your hairline or forehead are a cut every stylish individual should try once.
Curly Fringe Haircut
Curly bangs are a hairstyle where the fringe is curled by iron or left alone to grow if the hair has a naturally curly texture.
No matter your natural curl type, from 2c to 4c, every man can rock a curly fringe.
It's all about how you style and work with it; a thorough consultation with your hairstylist is needed.
French Crop Fringe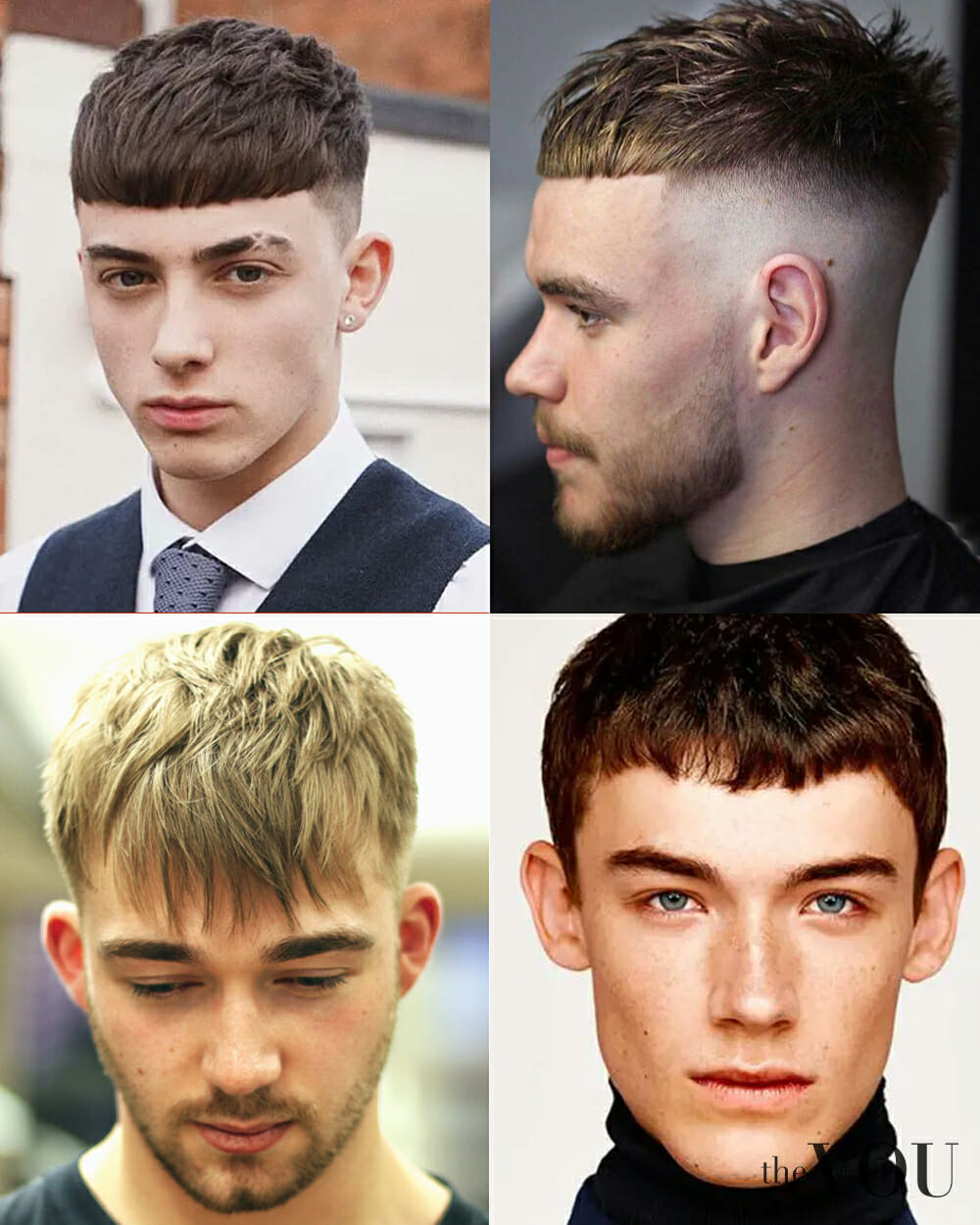 The French Crop fringe is a classic style that works with either skin fade around the head or a semi-cut style.
The key to a French crop lies in the fringe; high if you're going for a faded cut or a bit longer in case of a messier hairstyle.
Faux Hawk Fringe Hairstyle
The faux hawk hairstyle, also known as Fohawk, has been one of the trendiest haircuts over the last few years, and for a good reason.
This haircut mimics a mohawk — hence the name "faux hawk" or "fake hawk" — with the 'wave' riding through the top.
Yet, this modified style gives you much more freedom regarding what you do with the sides.
While the faux hawk hairstyle might give the impression of a simple to-achieve cut, this style requires the help of a specialist hairstylist.
---
4. Military Haircuts
A military haircut, or induction cut, is the shortest possible hairstyle without shaving the head with a razor.
The style is the first haircut given to new male recruits during initial entry into many of the world's armed forces.
A low guard clipper is used around the sides of the head, and the hair is left around 1 inch long on the top.
There is no gradual tamper between the sides and the top of the head.
Burr Cut Hairstyle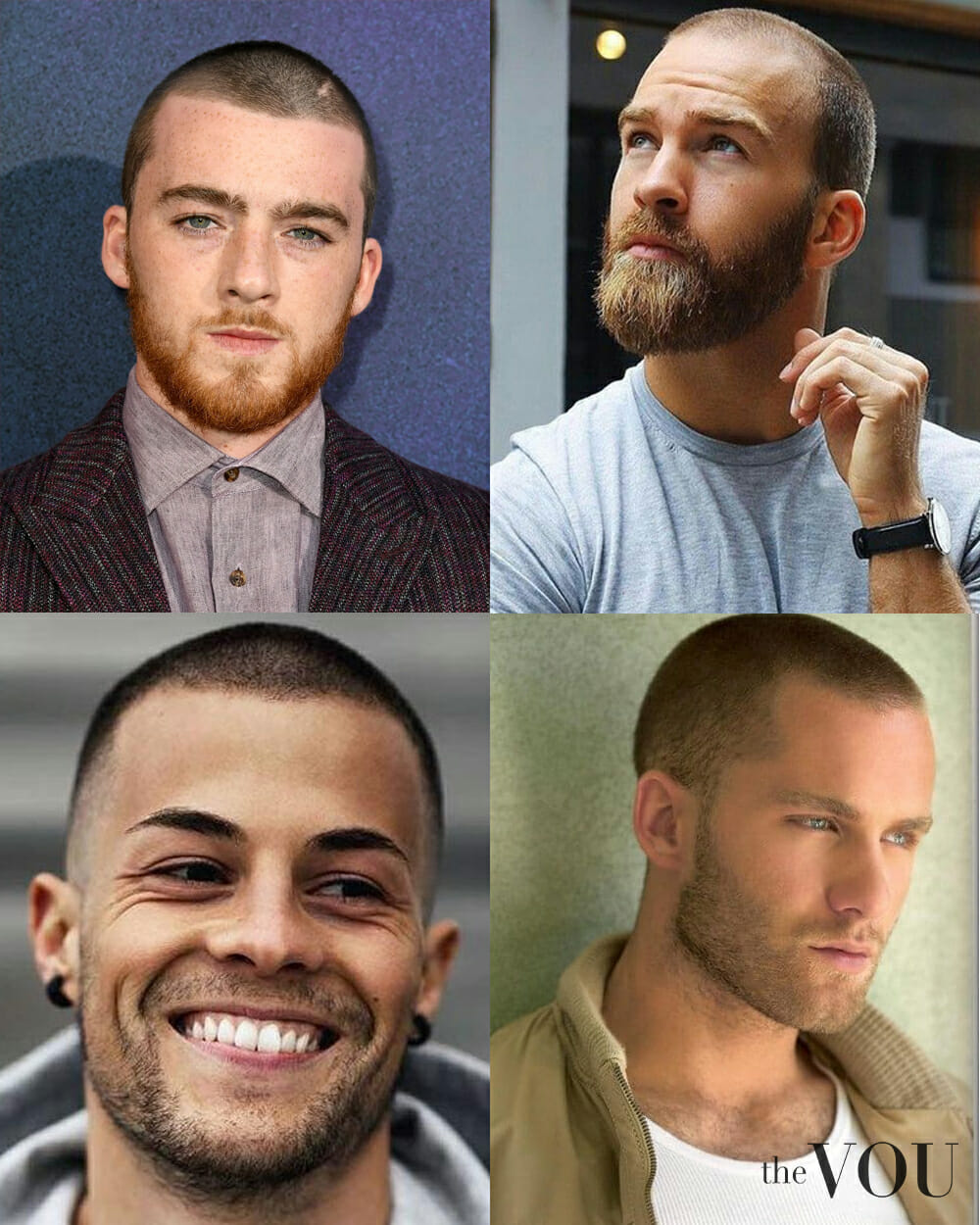 One of the most straightforward haircuts on this list, the Burr Cut, can be done by most of you at home.
Start at the sideburns and buzz upwards, keeping against the grain.
Once you get to the back of the head, work your way up through the crown.
Crew Cut Hairstyle
A crew cut is a haircut in which the hair on the top of the head is cut relatively short.
However, the style graduates in length, from the most extended hair that forms short pomp at the front hairline to the shortest at the back of the crown.
As such, in the side profile, the outline of the top hair approaches the horizontal.
Regulation Cut Hairstyle
The regulation cut is one of the longer army haircuts you might see – James Bond is the perfect candidate to exemplify this hairstyle.
This style is built according to army haircut regulations, which involves trimming the top down.
The sides are then tapered off completely, leaving it up to you to decide how much skin you want to be visible.
The cut has its perks: low maintenance, looks great, is practical, and works in almost every environment.
Flat Top Haircut
Very popular in the 1950s fashion era, the flat top is also a short military-inspired haircut.
The hi-top is also called a black hairstyle flat top or flattop, influenced by the unique hair texture of people with dark skin and dark hair.
It is a variation of the military cut but with short sides and long or very long hair on the top.
Induction Cut
The induction cut is the shortest possible hairstyle without shaving the head with a razor.
The style is so named as it is traditionally the first haircut given to new male recruits during initial entry into many of the world's armed forces – particularly in the United States.
Ivy League Hairstyle
Like the crew cut, the Ivy league or Princeton haircut leaves enough hair on the top of the head to be parted or combed aside.
The ivy league haircut defines the face, making it best for men with solid cheekbones or a prominent jawline.
Brad Pitt is an excellent inspiration for this cut, sporting a popular style induction cut in Inglourious Basterds movie.
Military Buzz Haircut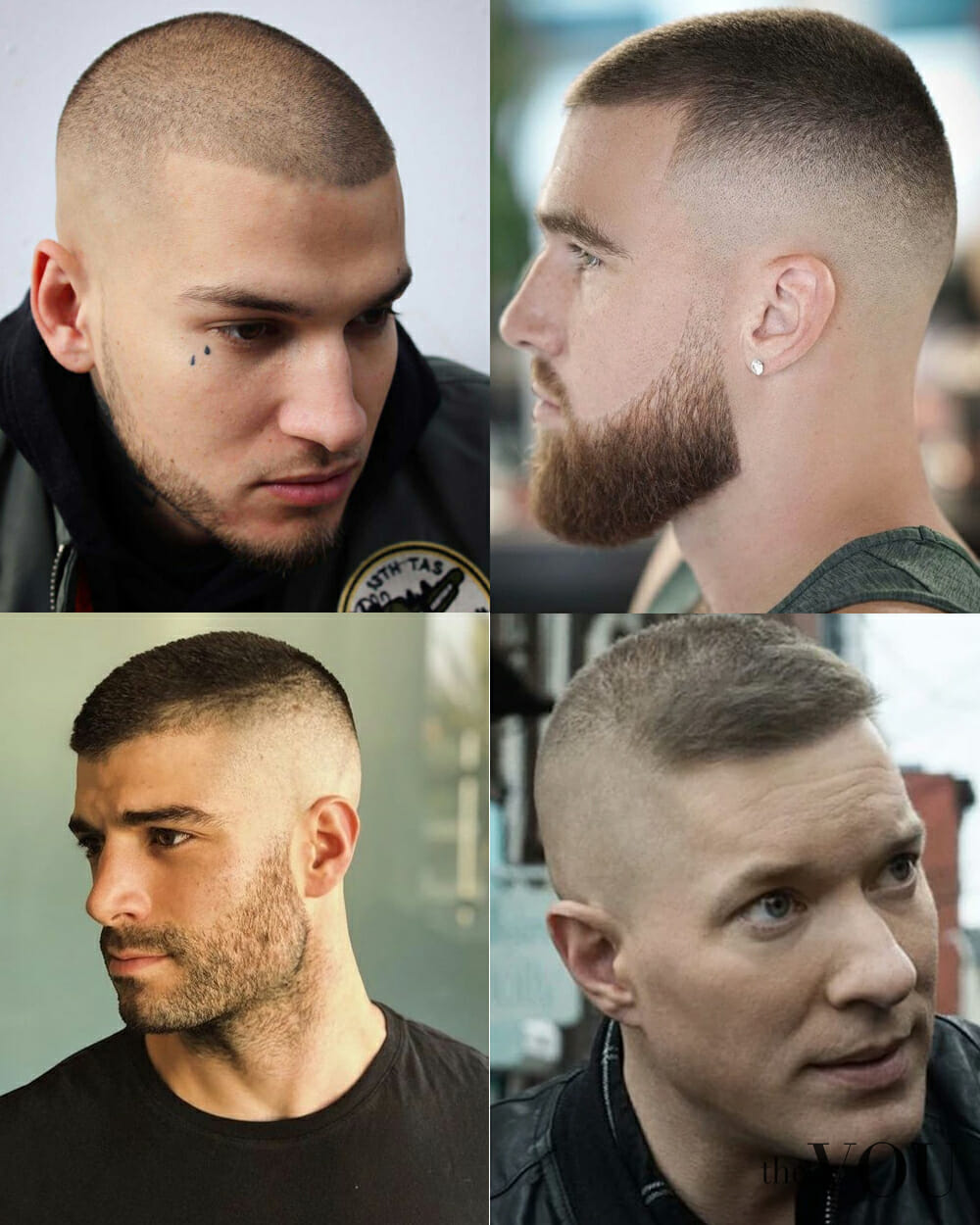 The typical buzz cut is buzzed to one length all over, with no transitions in length between the sides and back, and is used in the military because of its ease.
Initially, the Army used this hairstyle as 'field sanitation,' aiming to control body lice spread.
High and Tight Haircut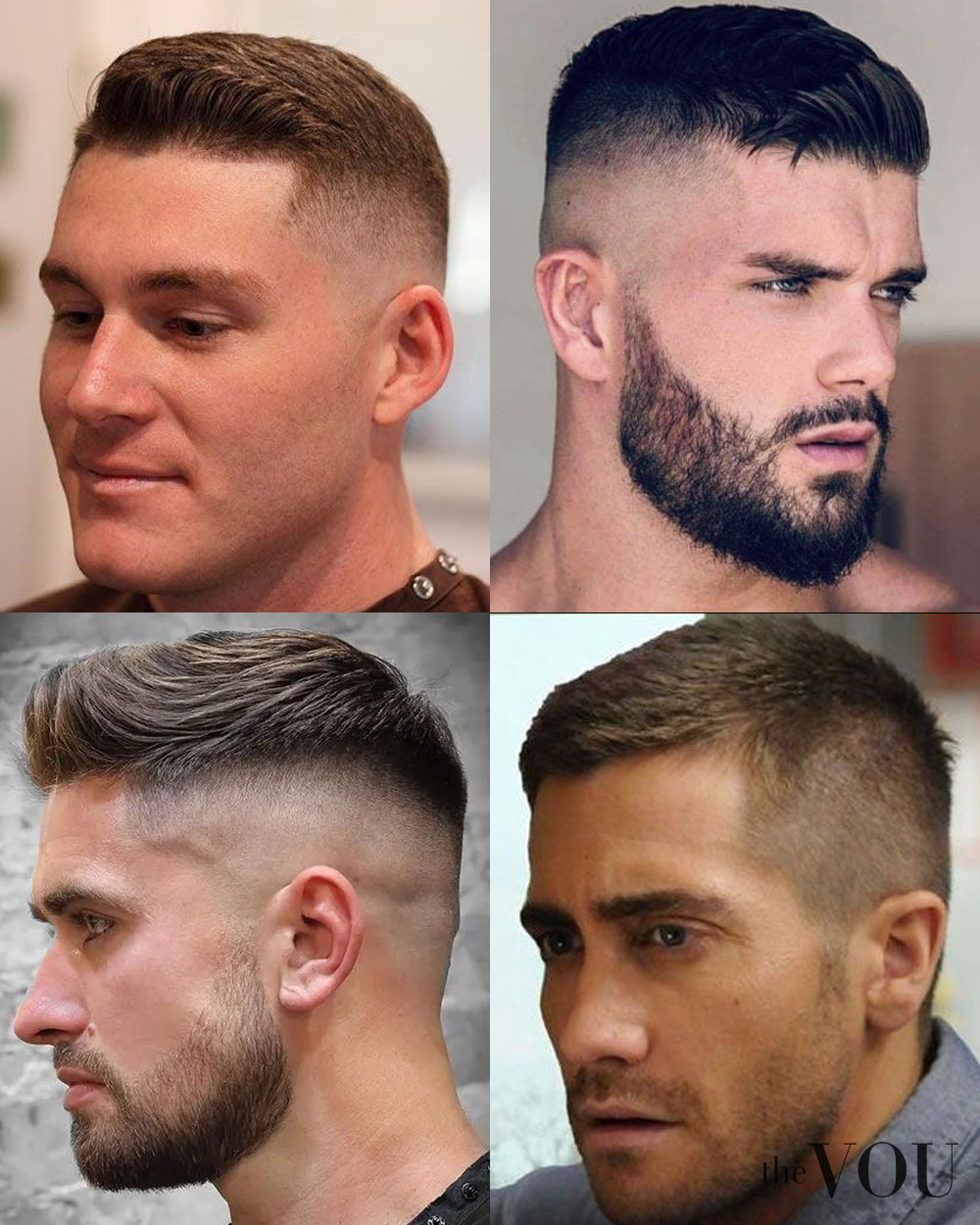 The high and tight is a military variant of the crew cut.
A very short hairstyle, the high and tight cut, is characterized by the back and sides of the head shaved to the skin.
Then, the slightly longer hair on the top is blended (faded) in.
---
5. Skater Haircuts
If you are into extreme biking or skating, you will find the classic skater haircut quintessential.
Generally, with a medium length, all skater hairstyles and haircuts feature swoopy front bangs, styled to avoid covering the eyes.
Skater haircuts' natural flow and shape allow men to wear helmets for a modern, edgy look.
Below are the most stylish and astonishing long, medium, and short skater haircuts trending in 2023.
Short Skater Hairstyle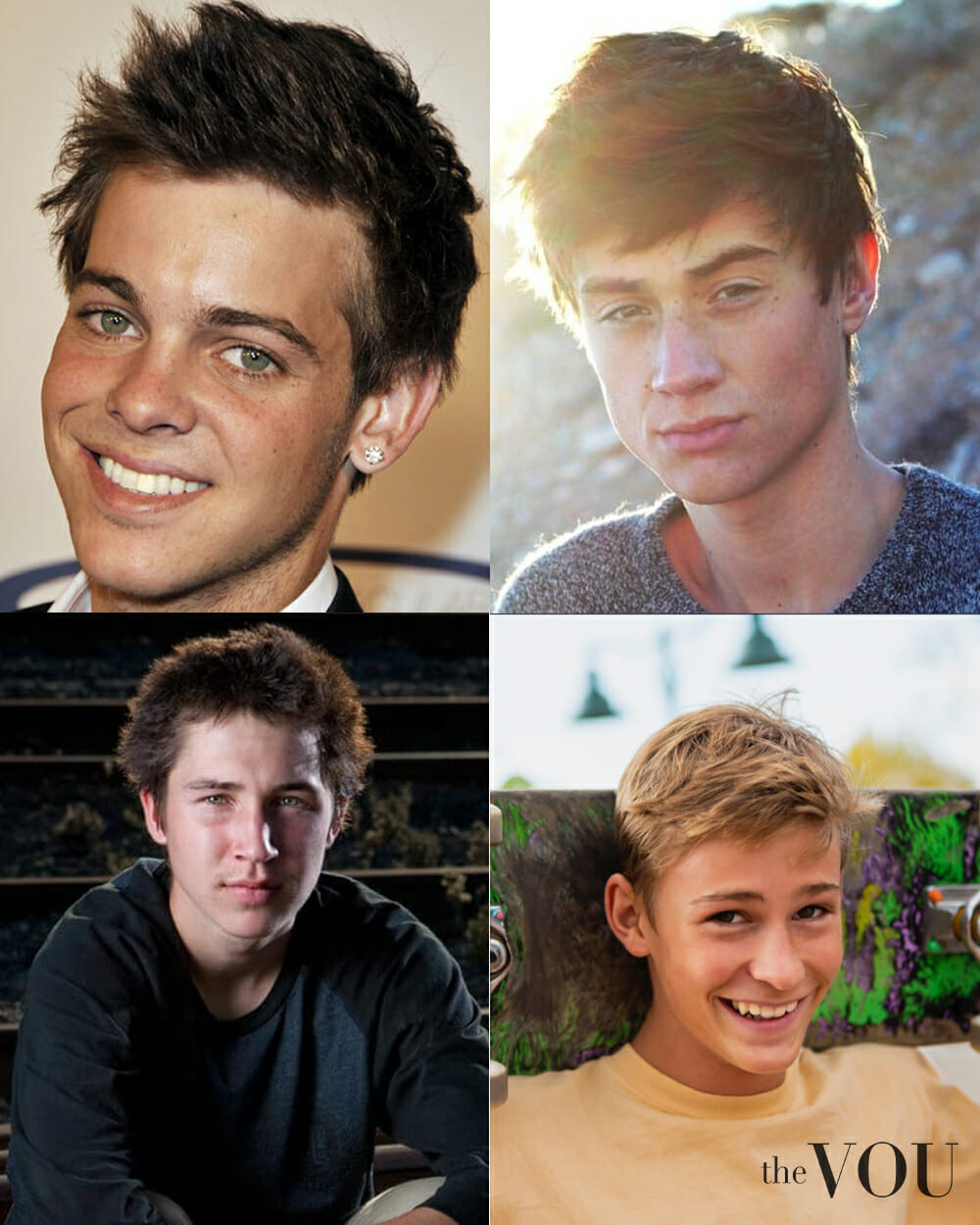 This skater haircut is perfect for those who don't want to stand out of the crowd but still wish to have a little zest in their style.
The zest is created by a short textured fringe, usually above the eyebrows.
Long Skater Hairstyle
An ideal haircut for thick and straight hair, this cut is often found in the surfing community.
The hair cascades down the neck and long hair strands are a must in this case.
Long Curl Skater Hairstyle
This haircut is equivalent to an extreme sports lifestyle.
Whether you are a skater, blander, or surfer, you know what it means to rock this messy, curly cut, potentially with a side part or back style.
Undercut Skater Hairstyle
This is a fantastic look without much styling.
It gets the side swept long, almost like a disconnected undercut.
The sides and back are cut short, up to the hairline, with much longer hair on top.
80s Skater Hairstyle
The neat part about the 80's skater haircut is a messy undercut designed to make you look young.
Try a clean shave and add some hair styling products, especially if you have medium-length hair.
Although unsuitable for business people, 80's skater haircuts work wonders for boys with straight, fine hair.
90s Skater Hairstyle
Ryan Sheckler was one of the most influential skaters of the late 90s, sponsored to perform – unique for those times.
Since then, Ryan's hairstyle has become a favorite among teenagers hoping to emulate his skills and success.
Dreadlocks for Men
A signature haircut, dreadlocks are a hairstyle that intrigues others thanks to their unique beauty.
Although around for decades, dreadlocks still garner loads of well-deserved attention.
From extra long to super short and everything in between, dreadlock styles for men run the gamut of styling possibilities.
Surfer Cut Hairstyle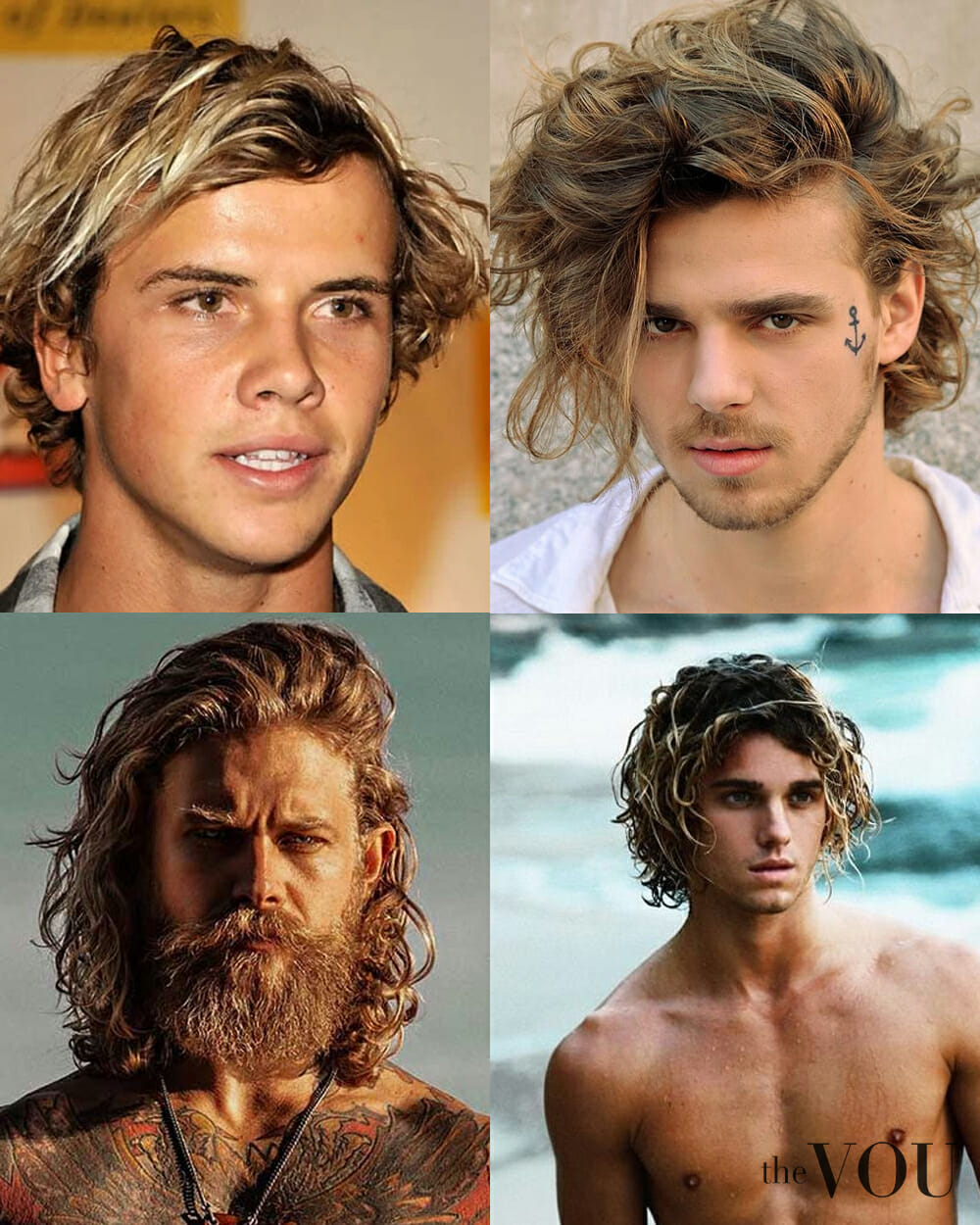 Surfer's hair falls into the category of 'tousled hairstyles.'
Purposefully messy, cluttered, and untidy, the surfer's cut isn't a style that looks the part.
The haircut takes its name from the stereotype of a hardcore surfer whose hair has been bleached by the sun, soaked in salty sea waters, and receives minimal care.
Mullet-Mohawk Haircut
A fantastic haircut in the 80s, the Mullet Mohawk has made waves around the punk rock era.
The style returned in the 90s with an athletic twist since many footballers sported out.
Some use medium-hold pomade, but I prefer shiny pomade (and a stubble beard) to create that bit of shine needed for this style.
Whether you hate or like it, you can't deny the iconic look of this style.
---
6. Spiky Haircuts
The spiky haircut has always conferred a youthful and energetic look.
Great if you don't have particular job requirements or strict school hairstyle codes.
It is a fun, carefree style with an attitude that works with most hair types since it relies heavily on hair products.
Spiky Fade Haircut
The spiky fade is a shorter haircut providing a fresher approach to the classic style.
The hair is spiked forward and upward to create motion, and the mid fade draws the eye up to the spikes.
Spiky Taper Hairstyle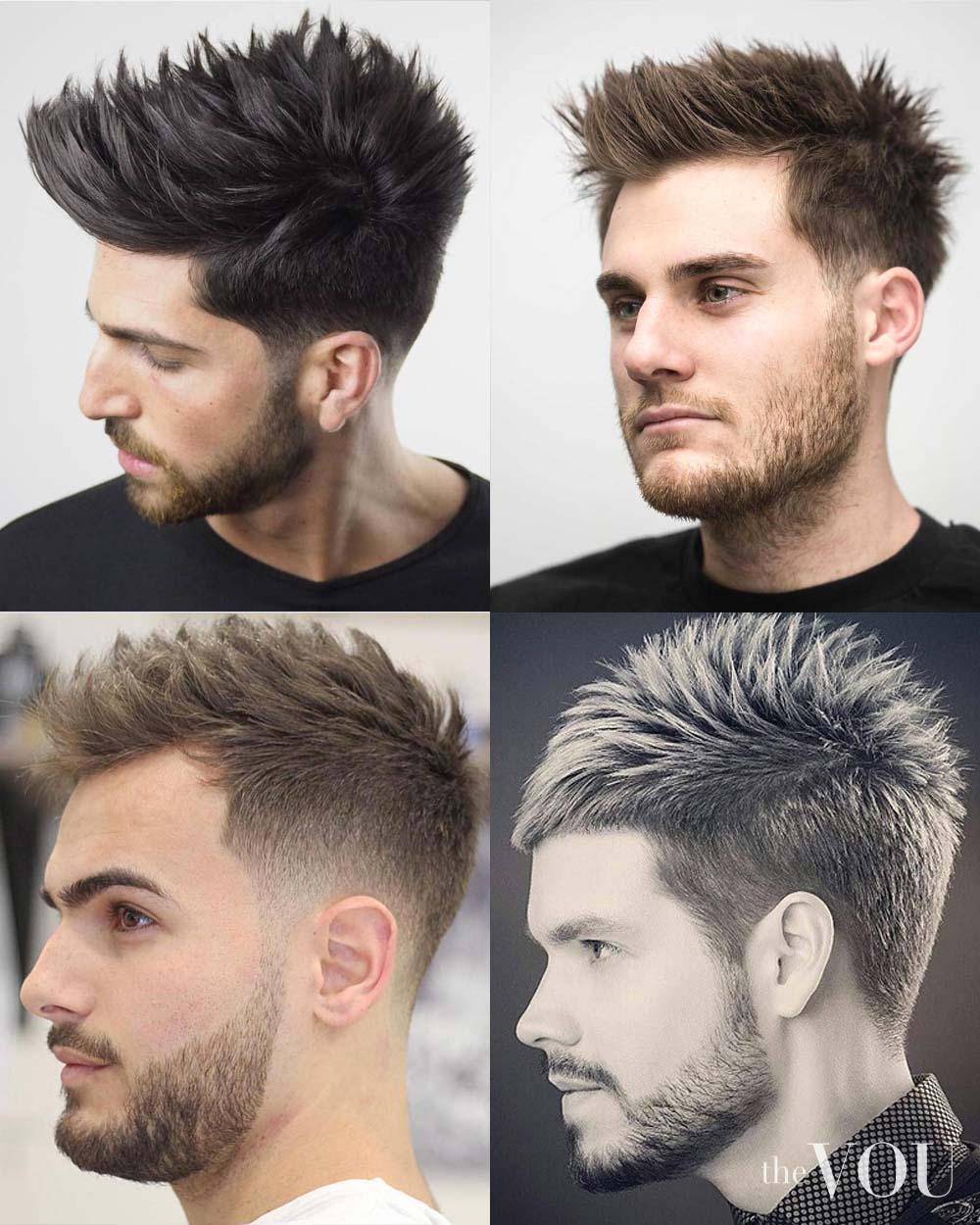 A sharper version of the classic spiky haircut, the classic spiky taper is longer on top and relatively simple to achieve.
Use quilty wax to pull the longer pieces upward and run the remainder through the shorter parts in an upwards motion.
I love how this haircut looks on dark hair styled with a matte hair product.
Long Spiky Cut Hairstyle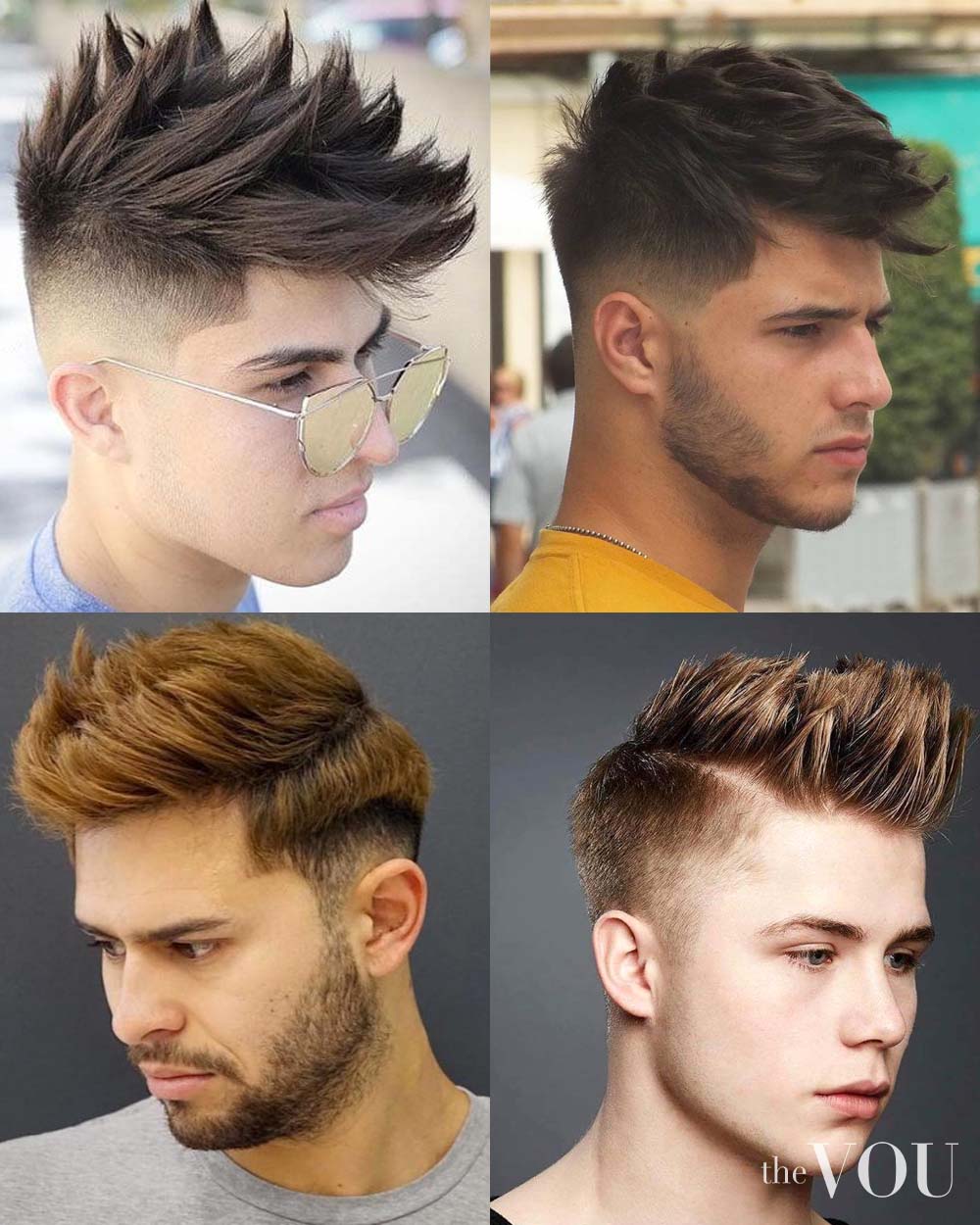 It's all about texture when creating spiked looks for long hair.
If you have thick locks, rock a messy style by creating spikes with pomade and your hands.
If your hair is thin, wash it with a volumizing shampoo before blow-drying to add height, and use a styling product to define your spikes.
Grey hair is excellent in the case of a textured crop, working wonders with various facial hairstyles.
Spiky Faux Hawk Hairstyle
You can always choose a spiky faux hawk if you don't want to go full mohawk.
Just comb down the sides of your hair and secure it with hairspray or gel before using wax to push the hair on top upwards to create your 'hawk.
Spiky Pompadour Hairstyle
This is the best way to give the classic, smooth pompadour style a spiky edge.
The look is easy to create if your hair features a substantial length.
To do so, use a comb and some pomade to create a usual pompadour.
But, before finishing and securing with hairspray, pull apart a few pieces and lightly twist them to form peaks.
Single-Length Hairstyle
Nowadays, every man and his dog has shorter hair on the sides and longer at the top.
Thus, to stand out from the crowd, consider a single-length style.
If correctly done, the hair on the sides creates a very rugged and manly look; easier said than achieved!
Wavy Spiky Cut Hairstyle
Because you have curly hair doesn't mean you can't still get in on the spiky trend.
Use some texturing powder in your roots, coat your fingertips in wax and spike only the top section of your hair.
As curly hair can be heavy, it's best to lightly cover your locks with a layer of stronghold hairspray to ensure it stays in place.
Spiky Windswept Haircut
Windswept spiky hair is easy to achieve and requires low maintenance.
All you need to do is create your spikes as usual, but sweep them all to one side rather than straight up or backward.
Doing so will leave you with an effortless yet sharp look.
---
7. Undercut Haircuts
An undercut hairstyle is traditionally known as one in which the back or sides are shaven underneath the longer hair on top.
Undercuts may seem intimidating and a little risky on the surface.
However, if the style is cut well, it's a real head turn-on.
Disconnected Undercut Hairstyle for Men
The disconnected undercut gets the side swept long, and the sides and back shaved up to the hairline.
Add a touch of product and pull hair to one side with a moveable pomade like wax or fiber for a loose look that keeps improving as fingers run through the hair.
Slick Back Undercut Hairstyle
The slicked-back undercut is a famous men's haircut like the disconnected undercut.
In this instance, the sides of the hair are shaved off while the top of the hair is kept longer and worn brushed back.
Brushing right-back is critical here, compared to the disconnected undercut that, in most cases, is parted to the side.
Side Part Undercut Hairstyle
The side part undercut is the disconnected undercut presented above; however, the top is short and easily managed.
Moreover, this style is often used in business, given its clean (but not too military) look.
Blowout Undercut Hairstyle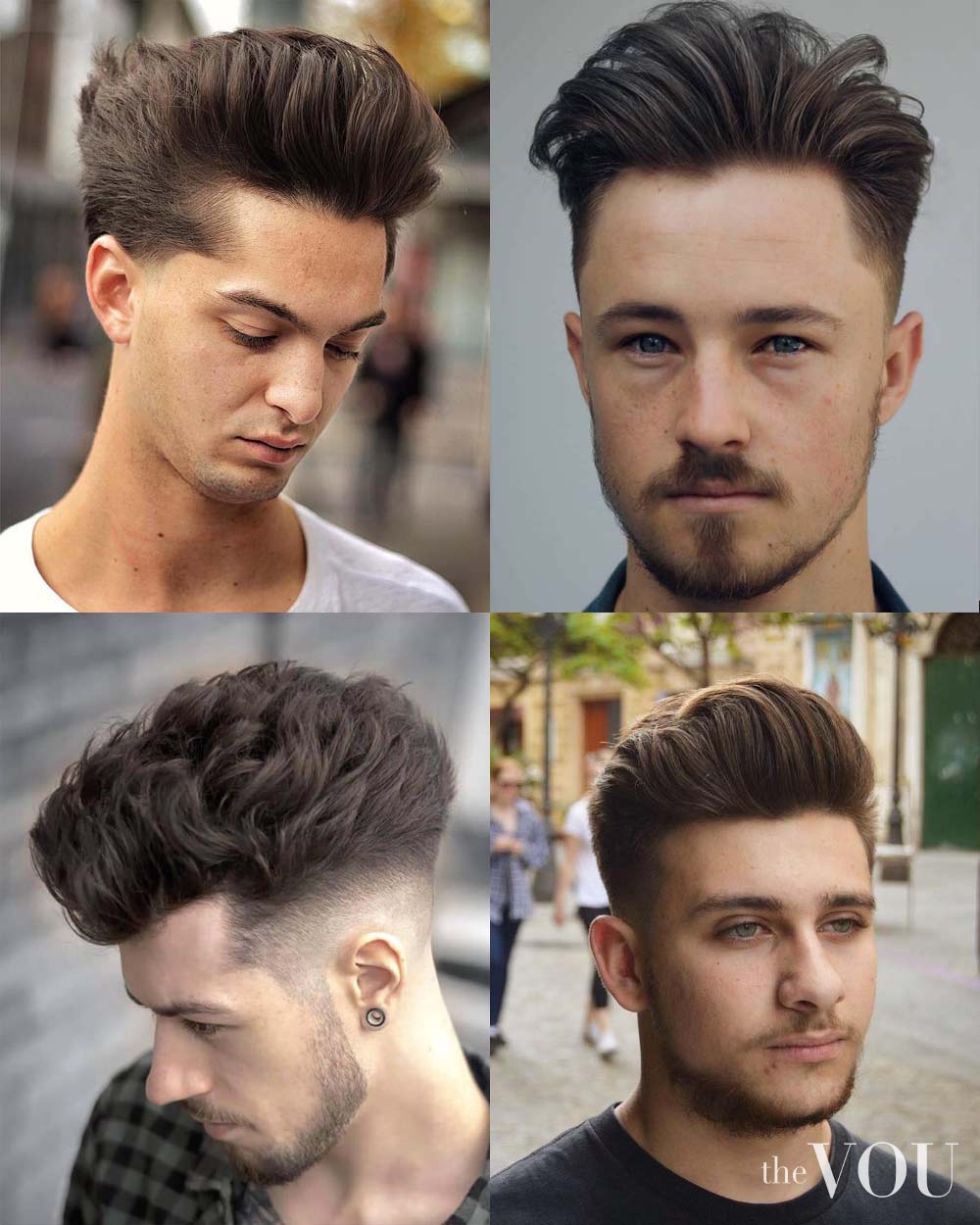 The blowout haircut can have any length on top, often styled back with sides kept short and slowly tapered off around the temple region.
The style can vary quite a bit, mainly because the fade below the forehead characterizes this cut, hence its other name, the 'temple fade.'
Temple Undercut Hairstyle
The temple undercut is more than a call to the early '90s fashion days.
This unique hairstyle's final look is an exercise of individuality by incorporating your temples' shapes.
No two temple undercut fades are created equal, and the only thing limiting the creativity of this cut is your imagination.
Fringe Undercut Hairstyle
There are many different types of fringes (bangs) out there.
It would help if you considered your hair type, texture, and style to choose the proper fringe undercut.
If you consider a side-swept bangs hairstyle, your hair should be between 2 and 4 inches long.
Curly guys seeking a fringe undercut should allow front bangs to fall freely.
Men's Curly Undercut Hairstyle
There's no better way to emphasize your curls than a dedicated curtly undercut.
The sides and the back are faded away while retaining your long (or short) curls on top.
A consideration of the face shape is required before taking this cut.
Short Undercut Hairstyle
This great haircut, re-made famous by Charlie Hunnam in his 2017 version of the Papillon movie, is also one of the easiest to achieve.
The only requirement is a strong jawline; otherwise, your face might look round.
Long Undercut Hairstyle
Vikings. That's what comes to mind when you talk about this hairstyle.
Most long undercut hairstyles for men marry together medium to long lengths with a type of buzzed haircut.
The buzzed cut ranges from a subtle taper fade to something more daring, such as a patterned hair design.
The type of long undercut you go for will depend on many factors, such as how you style your hair or whether it is straight or has any natural waves or curls.
Pompadour Undercut Hairstyle
The pompadour undercut is a men's haircut that combines the classic pompadour with a taper fade.
Pompadour undercuts have excellent short sides and long, high-volume hair on top.
A very versatile style, it looks excellent with beards for an extra crisp style.
---
8. Men's Butch Haircuts
Also known as brush cut, the butch cut is a short, uniform cut.
The hair is cut to the same length around the head using clippers. It's a part of the buzz cut family, along with cuts like the induction cut.
While the butch cut has gained popularity among athletes and the military, it works well for anyone who wants a no-fuss haircut.
This style might suit you if you like your hair short and want a clean look.
Short Butch Haircut
The simplest of all, the Short Butch haircut is supposed to be even around the head.
From this initial style, several variations are emerging, like the Fade Butch and the Shave Line Butch, further presented below.
Long Butch Haircut
This is about a level three butch cut.
The top is cut in layers and styled upwards in a disorderly fashion.
The sides have a skin fade that elongates the face.
Also, if the butch cut grows out a little, push it to the side and add a tight fade to make it look super fancy.
Fade Butch Haircut
A butch cut can look a little monotonous if it's the same all the time.
The fade butch cut adds a slight fade and some waves on the upper part.
Shaved Line Butch Haircut
This is the classic butch haircut with a shaved side-line.
Also, you can further upgrade this cut with a skin fade on the sides and a thick side part.
---
9. Edgar Haircuts
Also called the Takuache hairstyle – slang for people with a modern ranchera/o aesthetic – the Edgar consists of a top cropped like a bowl and a straight line around the head.
The sides are highly faded for contrast, and the top is textured or styled forward to create a wavy look.
Classic Edgar Haircut
Achieved by combining a short Caesar cut with a high skin fade, the classic Edgar haircut is ideal for guys with thick hair.
On the one hand, with an overall clean and neat look, the classic Edgar haircut delivers a unique attitude and an edgy appeal.
Ask your barber to trim the front in sharply-defined lines and add a straight line across your forehead for extra effect.
Wavy Edgar Haircut
While the classic Edgar works best on straight hair, a wavy Edgar allows you to show off your hair's natural texture and has a more unique and unusual look.
The barber will still skin fade your hair at the sides but leave the top section longer to create an undercut effect.
Like the classic Edgar, your hair will be brushed forward and trimmed to create a straight line across your forehead.
Spiky Edgar Haircut
To give your Edgar cut an edgy look, add a spiky texture to the top section of your hair with clay or pomade.
However, to maintain the Edgar cut's signature straight fringe, leave the front of your hair smooth and product-free.
Maximize the impact of the short spiky Edgar haircut by pairing it with a less blended fade, creating a bold undercut effect that draws more attention to your hair.
Fade Edgar Haircut
You can pair this cut with a mid fade for a sharper and more unique take on the Edgar haircut.
Doing so will create an interesting straight-line effect when viewed from the side.
Of all haircuts for men, this style is ideal for guys with medium-length straight hair that want to achieve an edgy and unusual look.
---
10. Curtain Haircuts
The curtain haircut is characterized by a long fringe parted in the middle or on the side.
Popularized in the '90s by grunge bands such as Nirvana and Hollywood heartthrobs like Brad Pitt and Leonardo Dicaprio, this hairstyle was everywhere in 2022.
The curtain haircut was also one of the most popular Asian haircuts for men, standardized by K-pop celebrities.
However, in contrast to the earlier iterations of the hairstyle, the 2023 versions of curtain haircuts for men are much more versatile, lending to customization and personalization.
Short Curtain Hairstyle
Popularized by young Brad Pitt and Leonardo di Caprio, the short curtain with a sharp part down the middle looks particularly striking.
The blend with an undercut lets this textured haircut for men sit flatter against the head.
Keep the ends sharp and straight for a modern take, and use some styling gel for a slick look.
Medium Curtain Hairstyle
Of all the famous people who sport a medium-length curly curtain hairstyle, Timothee Chalamet comes to mind.
The good thing about this look is that it doesn't need to be perfectly uniform.
Simply wash your hair and apply hair oil or a light gel to accentuate the curls.
Finish this medium-length hairstyle with some texturizing spray for a light hold for a stylish touch.
Long Curtain Hairstyle
If you're a gent with long, luscious, and even curly locks, there's no better style for showing it off than the center-parted curtain hairstyle.
Regularly use nourishing hair treatments to reinforce and repair any damage to the hair strands.
You can still create this look with a flat iron or curling wand if you have long, straight hair.
Black Curtain Hairstyle
The short black curtain haircut is a look reminiscent of some of the bad boys of the 90s.
Think Kevin from the Backstreet Boys, Skeet Ulrich, and Robert Downey Jr.
Keep the back and sides shorter to achieve this style, but let the top grow to the middle of your ear.
Next, use a wet-look gel for that Peter-Andre-emerging-from-the-ocean look.
Finally, practice your sultry 'blue steel' look; this curtain hairstyle is in the bag.
Messy Curtain Hairstyle
The messy curtain haircut is an excellent solution for guys who like a bit of adventure in life.
It shows off your rebellious side while still looking modern and attractive.
The location and precision of your part don't matter as much with this style.
Keep the length above the ear, so you don't accidentally look disheveled.
Wavy Curtain Hairstyle
A medium-length wavy curtain haircut adds an air of brooding mystery.
Channel your inner monster-hunting, demon-killing Sam Winchester from Supernatural for this look.
The key to pulling off this style is not to let your hair get too dirty and greasy, so wash those locks regularly.
You can add texture and movement with some sea salt spray.
Straight Curtain Hairstyle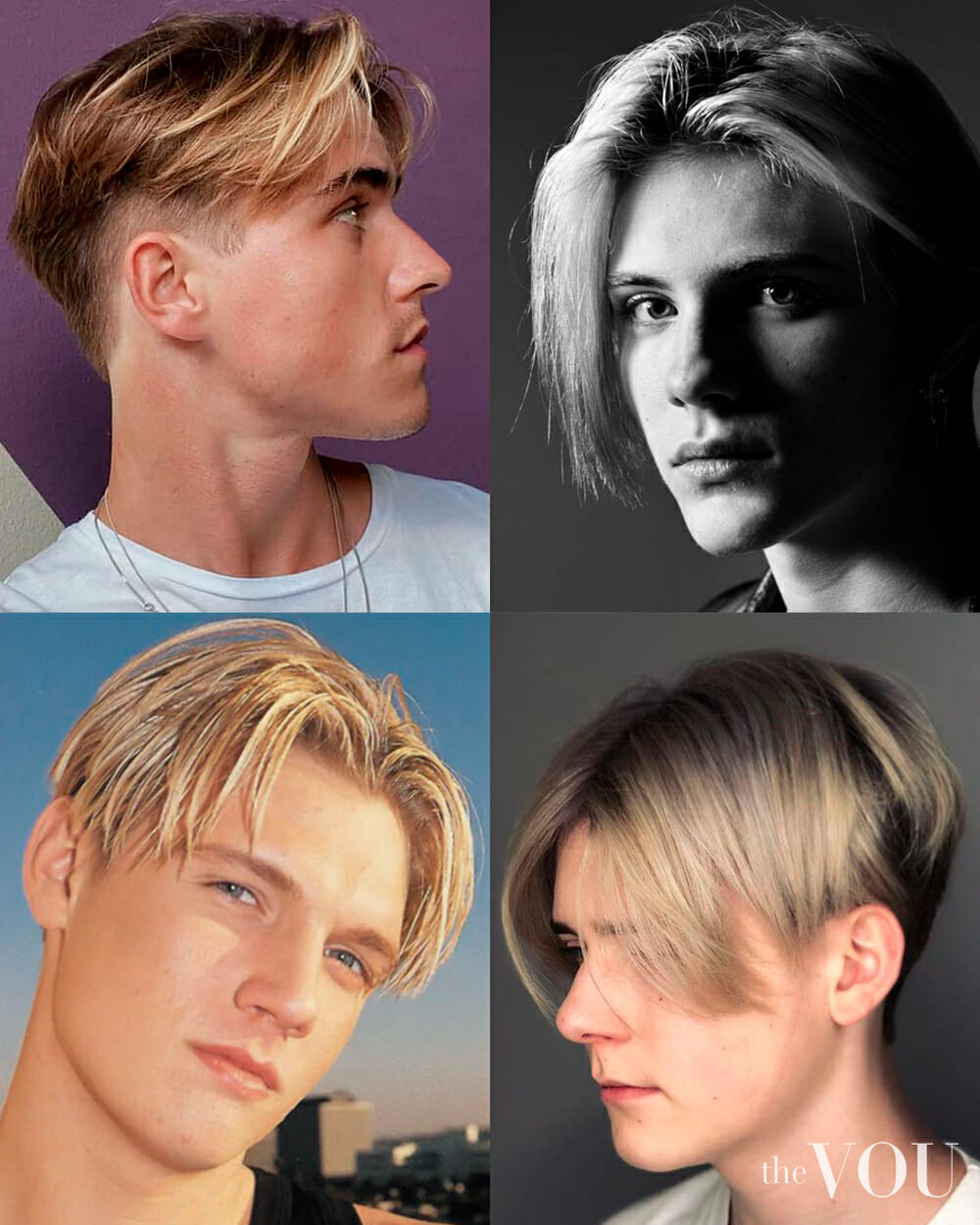 During the 1990s, the curtain haircut looked great on people with fine, straight hair.
This hair tone works well because it emphasizes the substantial part in the middle that defines the curtain hairstyle.
Nowadays, there's no need to have fine hair to wear this hairstyle, so you're welcome to give it a try.
---
11. Curly Haircuts
These haircuts for men with curly hair are some of the most modern in 2023.
However, curly haircuts require large volume, attention, and a daily styling routine.
And, compared to curly hairstyles of the past, this year, we see modern gents going for loose waves and asymmetrical cuts.
Curly Curtain Hairstyle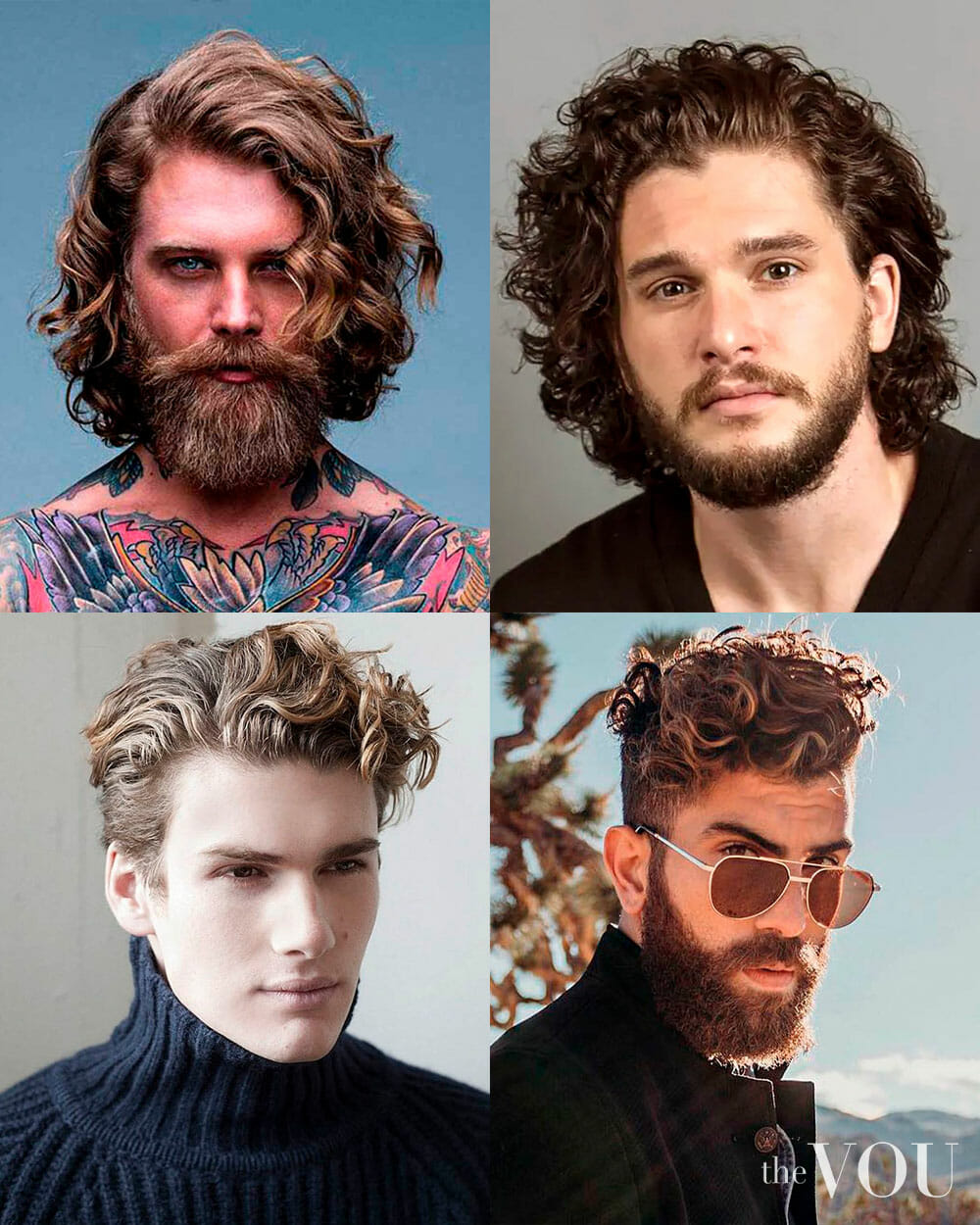 Gents with naturally curly hair must look after their curls to make this work.
If you curl your hair, use nourishing hair treatments to reinforce and repair any damage to the hair strands.
Short Curly Hairstyle
A great-looking hairstyle, when mixed with a well-groomed beard and a strong jawline, the short curly hairstyle for men is a must in 2023.
The style looks good even when you wear it messy and unkempt, as a reminder of the young teen in high school days when the girls were chasing after you.
Long Curly Hairstyle
This year we see two trends coming together nicely to celebrate long curly hairstyles for men.
It blends the taper fade executed on the sideburns with a fake mohawk constructed out of ringlets.
Men's Haircuts FAQs
What Hairstyle is Trendy for Men?
Although the 2023 men's hairstyles trend is leaning towards longer hair and medium-length men's haircuts, there are lots of popular short hairstyles rocking the stage this year.
Short men's haircuts will always be popular thanks to being easy to manage and looking clean-cut.
The latest men's hairstyles of 2023 point to natural-looking men's haircuts with lighter hold and matte finish pomades.
Nevertheless, whether you want a fade or undercut with short, medium, or long hair, there are several fantastic haircuts for men.
From the comb-over to the slicked back, quiff, pompadour, faux hawk, crop top, crew cut, and side part, these are the best men's hairstyles to try right now!
So, if you're looking for a new hairstyle or want a fabulous men's haircut to transform your style, you'll love this collection of the best haircuts for men.
What is the Best Hairstyle for You?
These are the most popular haircuts for men in 2023, but you do not have to copy them; this article aims to inspire so you can create your haircut style.
Ideally, you'll mix and match features from the men's hairstyles presented here; short vs. long hair length, hair part or no part, faded haircuts vs. tapered haircut looks.
If you have long hair or are thinking about growing your hair, check out the long hairstyles for men section above.
Compare trendy men's haircuts with longer hairstyles and see if you're more suited for a short or long hairstyle with movement and flow.
How to Style Your Haircut?
Use a good men's hair product like pomade, wax, or cream to maximize volume, movement, and flow on the top hairstyles.
Whether you have thick, thin, wavy, or curly hair, each hairstyle presented in this article is accompanied by the best products to maintain and keep your haircut longer.
See above the required hair styling products, in this latest roundup of the best men's hairstyles and haircuts, from short to long, ready for you to explore right now.
These are the freshest products for the latest men's haircut ideas, suitable for super cool fade haircuts, short hair looks, and the trendiest medium to extended hairstyle options.
How to Maintain Your Haircut?
If you have long or curly hair, use a blow dryer to add natural flow and extra volume to your hairstyle.
Some of the men's hairstyles in this guide showcase faded haircuts which means your barber uses clippers to shave the sides and back of the head in a particular style.
Other men's haircuts in this article are all scissor cut – like the layered haircut – including the sides and back.
In this article, you will also find some great men's haircuts for curly, wavy, or thick hair.
I've also covered curly hair in this article with the best men's haircuts and products for curly hair in 2023.
More recently, the cropped haircut makes a more attractive option for fashion-forward gents who want to stand out while looking sleek.
A new haircut can change two things. One, how people perceive you, and more importantly, how you feel about yourself.
Conclusion
I hope you've enjoyed my latest haircut for guys trends to find classic and modern styles to suit your hair type and length.
While undercut hairstyles and taper fade haircuts continue to be good ways to cut your hair on the sides and back, most guys are styling messy and textured styles on top.
Short men's hairstyles like the French crop, side part, high and tight, and fringe can be fashionable and low-maintenance, but medium-length to long styles are trending strong.
Nowadays, there's an abundance of on-trend hairstyles, from bold haircuts to the latest new looks and from short crew cuts to cool quiffs.
However, with so many choices, deciding which haircut or hairstyle for men suits you can be challenging.
If you can't try your favorite hairstyle because you have thin hair, you might as well buy a hair system and try it out.
Often chosen for practicality and smart look, short haircuts needn't be the safe choice.
Containing pics of the trendiest men's hairstyles received from the best barbershops worldwide, this article is the most comprehensive guide on the best men's haircuts in 2023.
Weekly Newsletter
Keep up with the latest in fashion, beauty and style!
Now it's your turn…
Which one of these fantastic men's haircuts is your favorite and why?
Are there any other haircuts for men you like and think I should add to this list? Send me the pics and details on how to achieve that cut!
Please comment below so others can benefit from your expertise in the best haircuts for men.



Hailing from Miami Beach, Sean Flynn is a NY-based celebrity pro-hairstylist specializing in fun, custom colors. Drawing on a lifetime of hair salon moments of combining fashion, art, and style, Sean is often featured in prestigious magazines, including GQ, Forbes, New York Times, and of course, The VOU magazine.