As a decade, the 'Roaring Twenties' was wild and extravagant (hence the name), and nothing showcases those days better than the 1920s fashion styles.
Drawing inspiration from the Edwardian period, fashion designers made the 1920s looks seem like they were created for special occasions rather than being designed for everyday fashion.
With evening dresses in bright colors, button-down shirts with detachable collars, and shorter skirts in collegiate style, the Roaring 20s have a special place in the books of fashion history.
Whether you are ready to attend a 1920's themed party or looking for ways to incorporate the glitz and glamour of the iconic 'Great Gatsby 1920s fashion look into your wardrobe, this article has it all.
From 20s men's fashion gangster looks to rich-in-color evening wear worn by the fashion icons of the twenties, these are the 15 best 1920s fashion clothes you must wear to showcase the zeitgeist of that decade.
---
1
/15
The 'La Garçonne' Style Flapper Dresses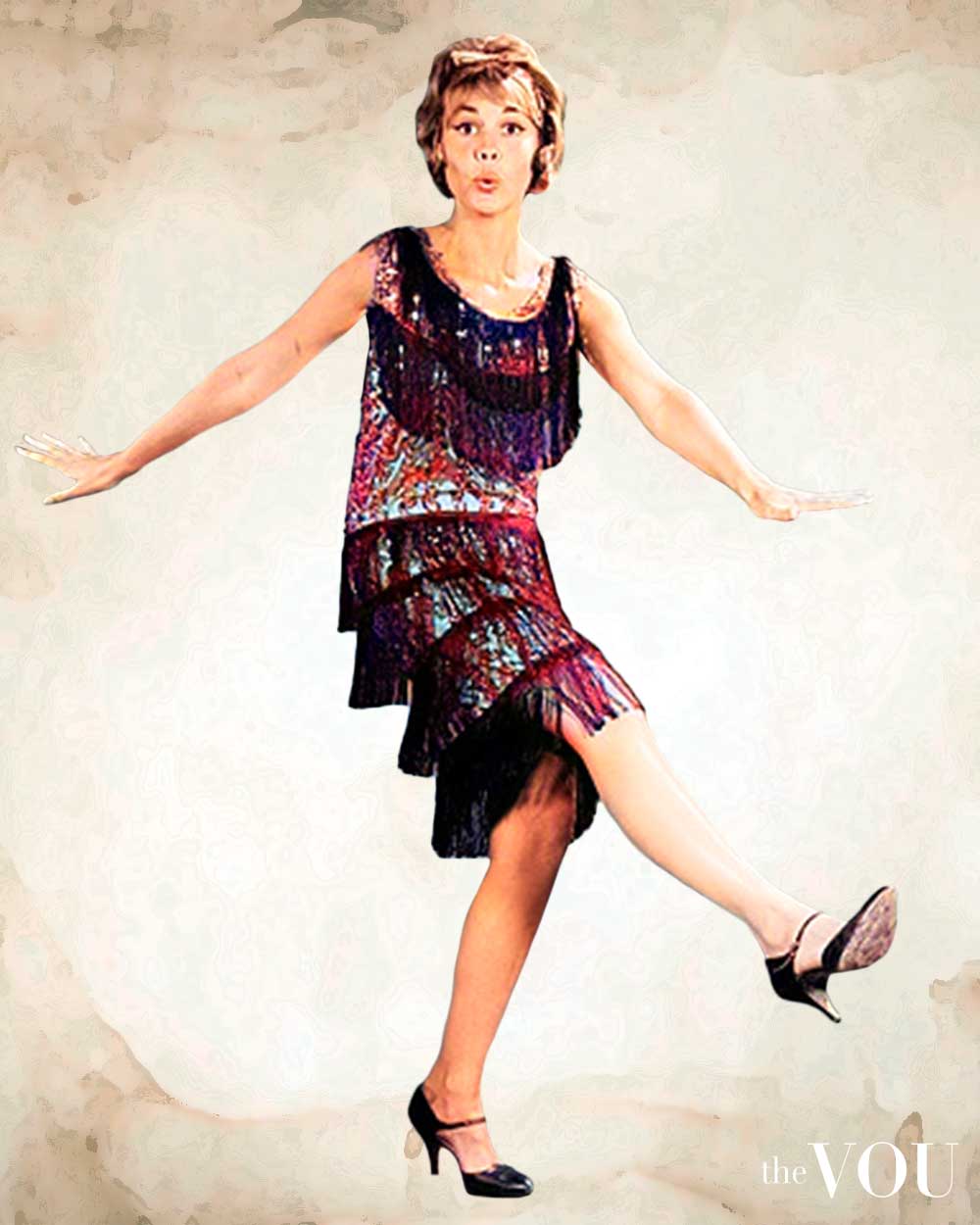 Named after flapper girls – the jazz-loving, unapologetic young Western women – the 1920s fashion flapper dress is one of the most recognizable silhouettes of that era.
Also known as garçonne ("boy" in French), the flapper dress features a straight and loose pattern, dropped waist that ends right below the knee, and creeping hemlines.
A super popular look for women in the 1920s fashion catalogs, this evening staple was crafted from chiffon, velvet, and taffeta, adorned with rhinestones, fringes, and intricate embroideries.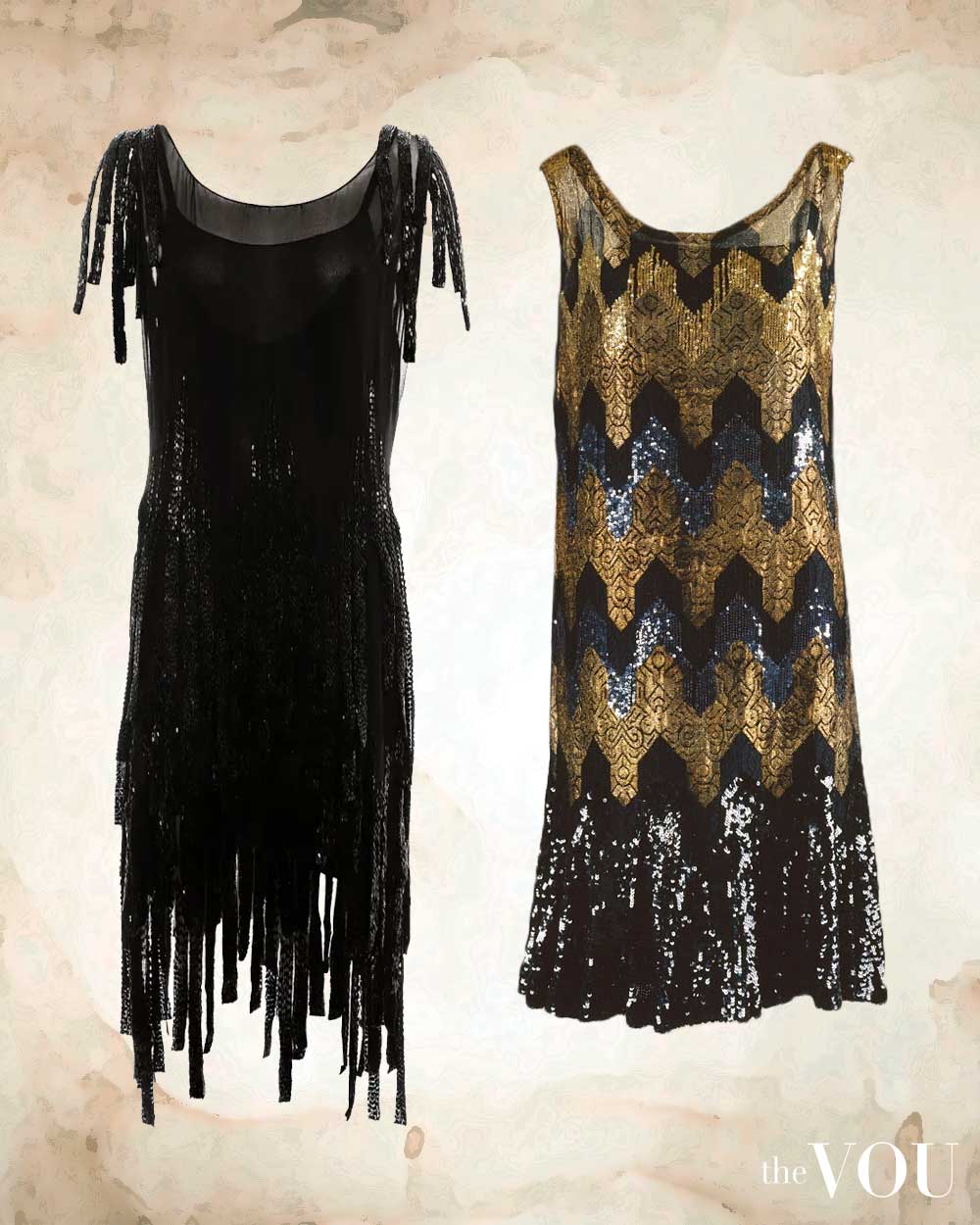 Through collections centered around the idea of mixing feminine and masculine elements, prominent fashion designers like Coco Chanel and Paul Poiret gave the flapper dress a new level of style and acceptance.
The ideal 1920 women's look included makeup of chic rouge and dark mascara and lots of accessories like bangles, bracelets, drop earrings, and necklaces in rows of pearls.
Oftentimes, flappers wore crystal beaded headbands for an extra touch of glamour, very relevant to the iconic Great Gatsby 1920s fashion looks.
---
2
/15
The Robe de Style Dresses
While the 1920s fashion flapper dress is synonymous with the twenties fashion decade, Jeanne Lanvin's introduction of Robe de Style Dresses took the couture world of those days by storm.
The dress had a drop waist and a slim and close-fitting top, representative of the 1920 silhouettes women used to covet so much.
It also featured a full, ankle-grazing skirt supported with petticoats, panniers, or hoops.
Inspired by eighteenth-century elegance, this feminine and romantic 1920s women's fashion look was a great alternative to the straight-cut chemise dress.
The opulence and richness of the embellished fabrics, styled with silver hairpins and Cloche hats with eye-shading brims, were a match made in heaven.
Similar to many other 1920 fashion women's styles, the dress was made from silk taffeta, velvet, satin, and sheer, lightweight fabric.
Overall, ruffles and pleats were added to the hips to create the illusion of a fuller silhouette.
---
3
/15
Brimless Cloche Hats
Designed in 1908 by milliner Caroline Reboux, the Brimless Choche hat style became a big part of the 1920s fashion flapper ensemble.
Combined with a boyish hairstyle, the cloche hat in a tight-fitting bell-shaped chapeau was the ideal accessory to enhance and complete one's looks.
Most 1920s Cloche hats were crafted from felt, but straw variations that ended right above the eyes were also very popular.
A key 1920s women's fashion accessory, the Cloche hats were all about glamour, especially when sparkly brooches were added to augment the charm.
---
4
/15
Knee-length Tennis Dress With Bandeau
With tennis being the most popular sport of the 20s era, knee-length tennis dresses in simple lines became the look of choice for high society women, especially as daywear apparel.
White sleeveless vests and knee-grazing pleated skirts in geometric patterns were at the top of 1920 fashion looks for women.
Popular 1920s athletes like Suzanne Lenglen were wearing Jean Patou's creations – the first fashion designer to create a tennis skirt – in bolder colors, off and on the court.
This 1920s popular style ensemble included a white slip-over dress styled with cardigan sweaters, canvas shoes, and stockings.
Thanks to Lenglen's approach of wearing scarves tied bandeau-style during tennis matches, the look became popular with American women.
---
5
/15
The 20s Bob Cut
In the twenties, the hairstyle of choice for most women was the "Shingles", a v-shaped bob haircut that covered the ears and ended at the nape of the neck.
The look first became popular when ballroom dancer Irene Castle cut her hair in that style for convenience.
Shortly after, the bob cut turned into a 1920s symbol of independence for free-spirited women.
Many examples of the 1920s Western fashion looks showcase women wearing cocktail dresses and flaunting finger waves with pride.
Bobby pins were also used to keep the chin-length bob in place, while some women would pin their long hair up, to mimic a bob-cut style.
---
6
/15
Silk Chemise Undergarment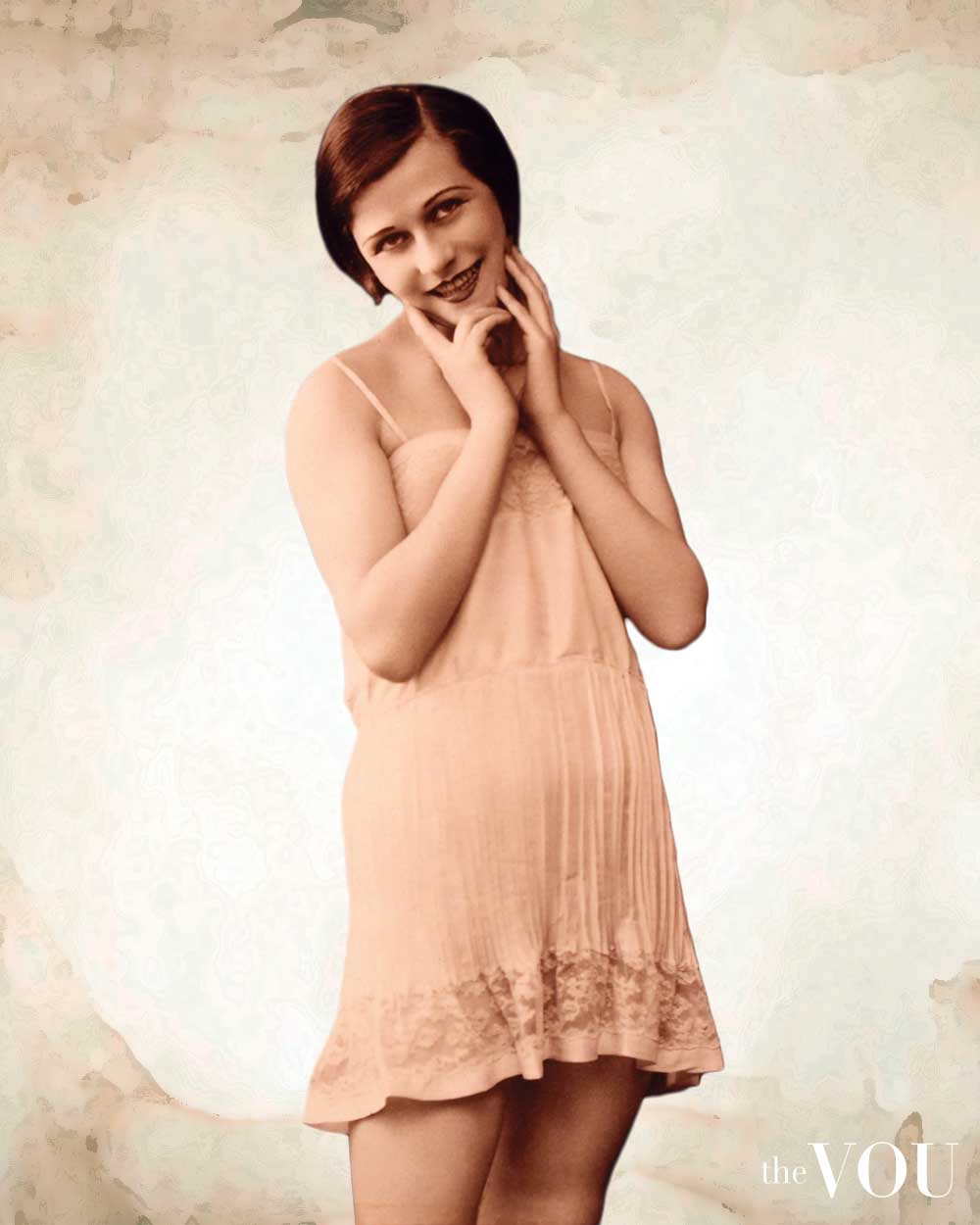 Inspired by the loose silhouettes worn by wealthy women of those times, 1920s fashion designers began creating comfortable day dresses previously classed as casual alternative undergarments.
In the 20s, silk chemise undergarments in popular colors featuring laces, floral embroidery, tulle, and ribbons, replaced pleated skirts, corsets, and petticoats.
Also called "teddy," the silk chemise lingerie featured a drawstring at the top and delicate crotch lace-edged hems that added to the chic vibe.
---
7
/15
Wool Cardigan & Sweaters
Thanks to Coco Chanel's unique styling ideas, wool cardigans and sweaters became, in the 20s, part of women's daywear fashion.
Taking inspiration from the knitted waistcoat worn by aristocratic men, the designer introduced relaxed-vibe knitwear named after James Thomas.
On the other hand, men's 1920s fashion looks included sporty tennis sweaters, colorful fair isle sweaters, and stiff and sturdy cardigans.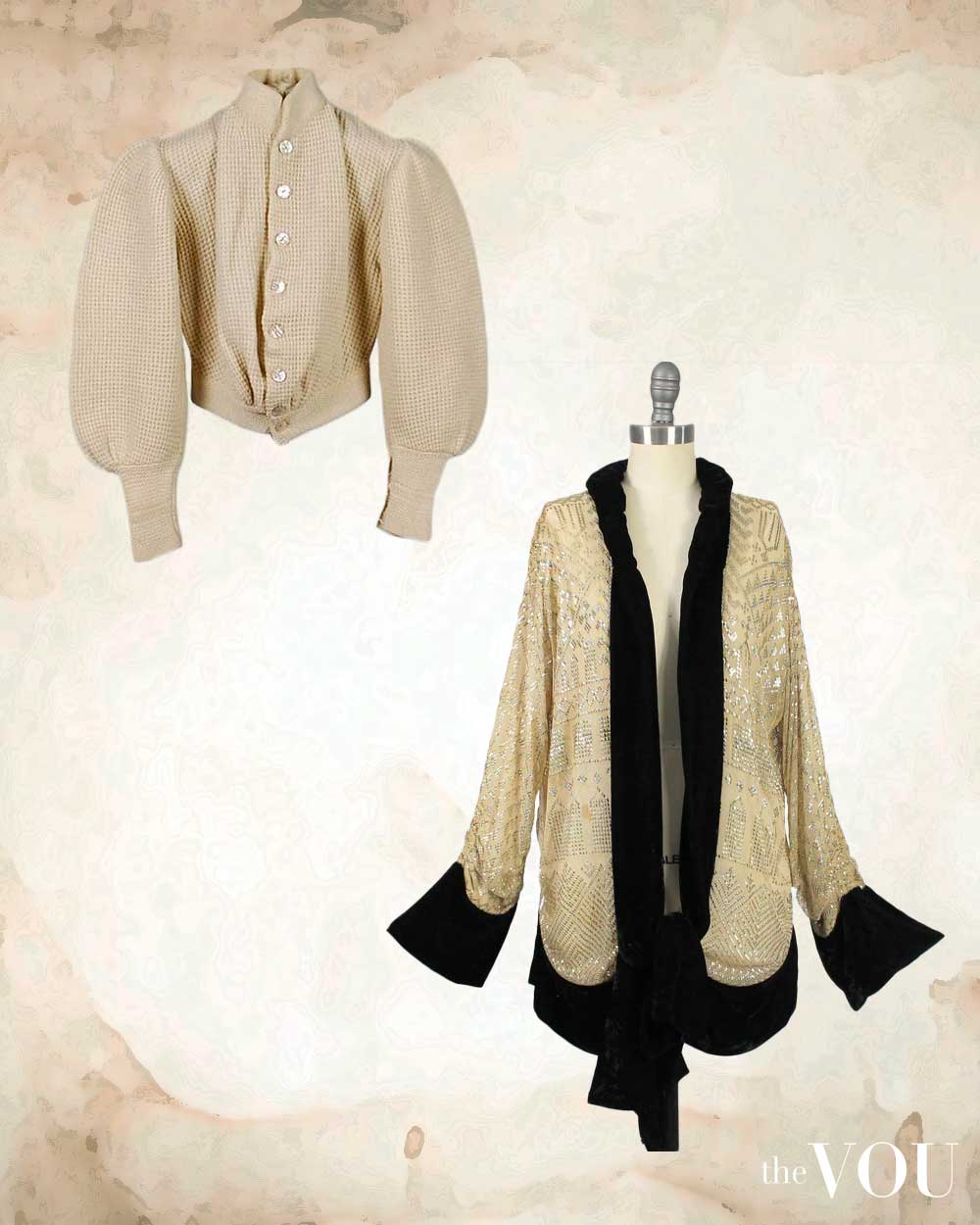 Featuring a double-knit shawl collar and often buttoned-up bust-high, wool sweaters were the most comfortable piece of 1920 fashion women loved to wear.
Cardigans and sweaters came in a huge range of colors, and by the second half of the decade, the V-neck style gained popularity.
Pleated skirts, sweaters, and cardigans with intricate embroidery were the outfit of choice for most high-society women.
---
8
/15
Long Pearl Necklace
It is hard to imagine a Great Gatsby 1920s fashion look without multiple pearl necklaces in many lengths, from 60 inches up.
In the 20s, rare and precious pearl necklaces were expensive and available to the rich ones only.
As an alternative, the fashion designers of those days began creating artificial pearls to satisfy consumers on a budget as well.
Coco Chanel was spotted wearing artificial pearl necklaces (made of glass) on several occasions.
Taking an example from the 1920s, aristocrats and royals wore pearls as a sign of high class and nobility, and every woman started wearing them.
From High society to flapper girls, everybody adored and paired necklaces with pearl bracelets and drop earrings for their formal looks.
---
9
/15
Wrap Fur Coat
Wrap fur coats in tan, brown, blue, black, and hue variations dominated the 1920s women's fashion decade.
Powerful symbols of class and opulence, fur coats were very long and opulent, reaching well below the knee.
However, there were shorter versions available as well but in the same cocoon-like, cozy, and embracing long hair.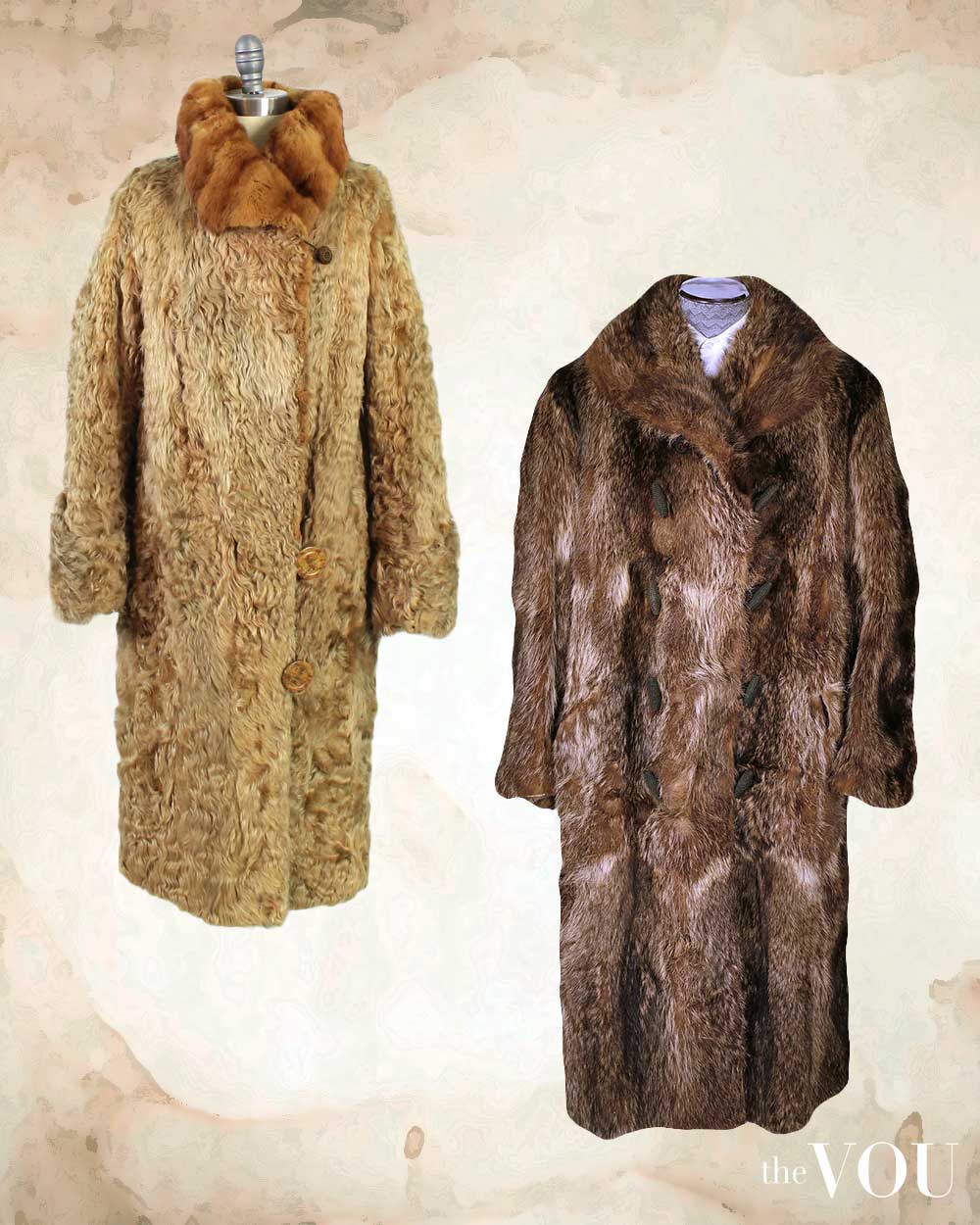 Some 1920s fur coats had large and broad shoulders, while other coats didn't have a shape or defined silhouette.
The most popular fur coats of the 20s (also the most expensive) were crafted from sable, mink, caracal, beaver, and seal.
In comparison, the middle class had to stick with weasel, squirrel, skunk, and chinchilla fur.
---
10
/15
Oxford Shoes & Newsboy Hat
A characteristic fashion element of the 1920s (for men's fashion) was the sturdy but comfortable Oxford shoes.
Ideal as a smart casual attire for formal occasions, the most popular styles were classic Oxfords and Wingtip Oxfords – especially in dark brown.
The 'newsboy cap' was another wardrobe staple of 1920 men's fashion men but for the working class.
The most common daywear look for men comprised: trousers, a blazer layered under a waistcoat, a classic black tie, and a matching newsboy cap.
The gangster fashion style, popularized by Al Capone – a famous American mafioso – was another popular 1920s look for men.
The look was characterized by matching suits with Oxford shoes in different colors and caps in different patterns and fabrics.
---
11
/15
Mary Jane Pump Shoes
While the closed-toe leather shoe was initially designed for kids, it became an iconic piece of 1920 fashion for women.
The classic kid's version got a revamp with the addition of a higher heel and a few more straps required for dancing.
Some Great Gatsby 1920s fashion-style evening shoes featured a rhinestone buckle enclosed in statement silver.
On the other hand, Mary Jane's pumps were made from plain black patent leather, making them perfect for dancing and city strolls – an activity characteristic of the 1920s fashion flapper girls.
---
12
/15
The Oxford Bags Pants
Made from flannel or similar lightweight fabrics, Oxford bag pants took over the men's 1920s fashion sphere.
The style became popular when Oxford University undergraduates began wearing their 22 inches wide-leg trousers pleated at the waist.
The reason for wearing the trousers this way was functional, as in Ivy League schools, knickers were banned from classrooms.
As such, students were constantly looking for comfortable styles and new dressing ways in line with academic rigor.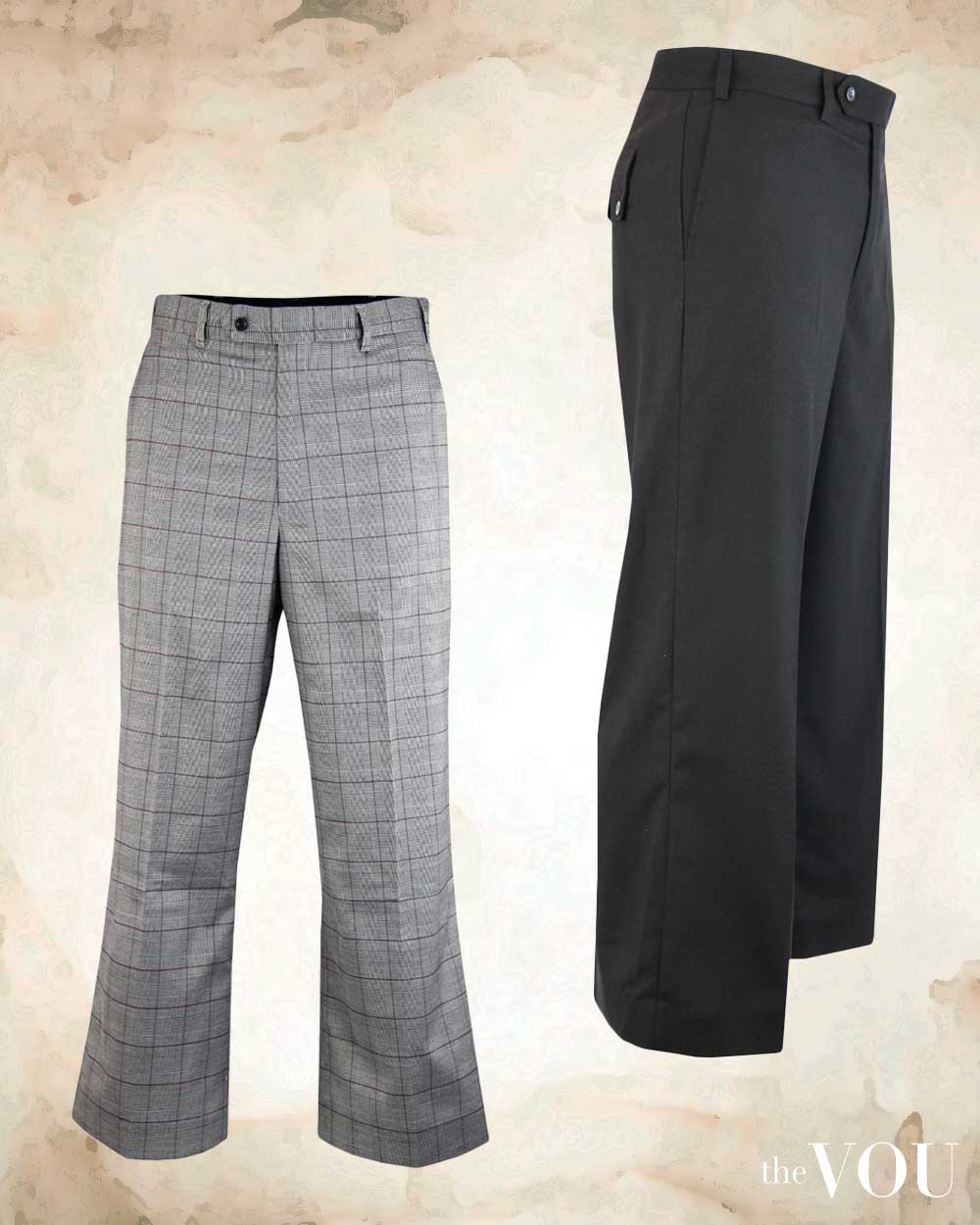 Often paired with turtlenecks, cardigans, and sweaters, the wide-cut trousers became a beloved fashion staple amongst English aristocrats, singers, and dancers.
In time, different color variations (and plaid patterns) started to appear, such as pale pink, light blue, gray, and black.
---
13
/15
1920s Felt Hats & Bonnets
Along with the aforementioned brimless cloche hats, felt hats and bonnets were also at the forefront of the fashion stage as accessories of 1920 fashion women adored to wear.
In the 20s, women included wide-brimmed hats with round crowns and drooped downsides, often decorated with ribbons.
Broad straw hats trimmed with a sash of silk were the accessory of choice for yard work and casual strolls in the city on sunny days.
The hat was secured around the head, featuring a brim that extended extending over the face.
---
14
/15
Plus-fours Pants With High Socks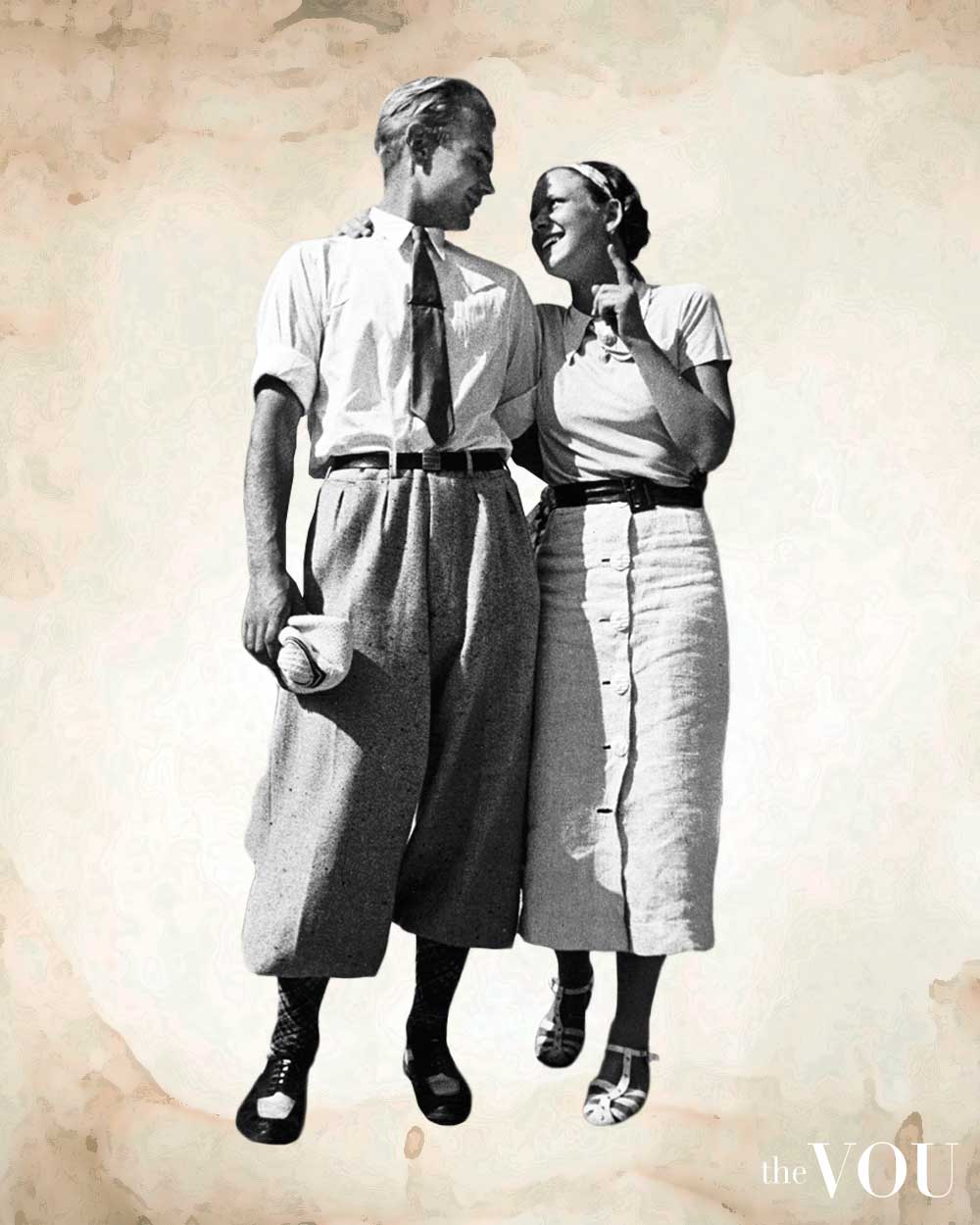 Plus-fours pants with high socks that extend 10cm (4 inches) below the knee were a huge part of men's fashion in the 1920s.
The relaxed, baggy look caught the attention of the Prince of Wales, Edward VIII, who brought the trend to the US during his travels.
Loved by golfers and sportsmen, this 1920s men's fashion staple allowed for more freedom of movement than the traditional knee pants called knickers.
Shortly after, plus-fours pants with high-knee argyle socks became part of the 20s golfer ensemble, often paired with pullover sweaters.
---
15
/15
Bold Jewelry
The 1920s women's fashion decade is also synonymous with bold, unapologetic jewelry, including faux pearls and long beaded necklaces.
At the end of the day, there's a reason the 1920s were called "the roaring twenties."
Art Deco-style geometric jewelry was the new craze, with Jacques Cartier and Alfred Van Cleef leading the sartorial movement.
The flapper girls of the 20s and high-society women alike loved wearing gold and platinum settings adorned with diamonds and precious stones.
Ornate gem brooches and filigree rings, and earrings with long sparkling drops were present in every Great Gatsby 1920s fashion outfit.
Equally, flapper dancers showcase exotic fashion tastes by wearing motifs of Egyptian jewelry like ringed bib necklaces featuring bells and snake bracelets.
Headbands and hair clips with rhinestones enhanced the bob cuts, giving women a fashionable, trendy vibe.
---
1920s Fashion FAQs
What fashion was popular in the 1920s?
The 1920s fashion flapper girl style with low-waisted dresses that ended right below the knee was the biggest trend of the era.
Bob cuts styled with brimless choche hats, multiple rows of pearls, and Art Deco jewelry were dominating 1920s women's fashion.
Mary Jane shoes were the footwear of choice for Great Gatsby 1920s fashion ensembles.
What do I wear to a 1920s party?
Tap into the Great Gatsby 1920s fashion trend with a flapper dress with embellishments or fringes, or opt for long pearl necklaces, heels, and an extravagant headpiece to finish the look.
Try to incorporate all the main elements of 1920s women's fashion, like fringe, beading, gemstones, and feathers.
What did females wear in the 1920s?
20's fashion revolved around drop-waist dresses with a loose fit that ended below the knee, embellished eveningwear, Mary Jane heels, fur coats, and cloche hats.
Sporty tennis sweaters and cardigans were loved by high-society women.
1920s men's fashion included Oxford shoes, newsboy hats, Oxford bags, and plus-fours pants.
How was fashion different in the 1920s?
1920s women's fashion was all about functionality and freedom of movement.
The over-the-top looks of the Edwardian era got replaced with comfortable dresses and loose-fitted lingerie.
Corsets were a thing of the past, and women adopted a free-spirited, fun-loving "anything goes" attitude with the rise of 1920s fashion flappers.
Conclusion
1920s women's fashion was all about freedom of expression, glamour, and confidence.
After years of restrictive dressing, lower necklines, and higher skirts were the new norms of the Great Gatsby 1920s fashion trend.
'Bobbed' hairstyles, bold jewelry, and jazz dominated the era, with Art Deco being the main inspiration.
Comfort and functionality were the core elements of every piece of 1920 fashion women wore all day long, with the 1920s fashion flapper girls leading the way.
1920s men's fashion was all about three-piece suits with wide lapels, with Oxford Shoes & Newsboy Hats taking over every 1920s men's fashion gangster look.
Just like women, men's 1920s fashion was centered around comfort, which was evident by choice of Oxford bag pants and plus-fours pants.
Weekly Newsletter
Keep up with the latest in fashion, beauty and style!
Now it's your turn…
Which one of these 1920s fashion trends is your favorite and why?
Are there any other 20s fashion outfits you've tried and want to add to this list?
Comments below, please!