Thanks to TikTok, the 2000s fashion days are back, delighting those who seek some of the best styles and looks of the 00s decade.
The 2000s was an era of first-taste reality shows, TV stars, the start of influencer culture, and the birth of fashion aesthetics – from hip-hop fashion to emo, streetwear, scene, and athleisure.
The 2000s fashion had no shortage of style muses, from Paris Hilton to Britney Spears and Lindsey Lohan to the Olsen twins, the American fashion designers and former actresses that ruled the millennium decade.
Perhaps the 2000s fashion era is most known for the 'Gossip Girl,' an American teen drama TV series revolving around the lives of privileged upper-class adolescents living in Manhattan's Upper East Side.
Fast fashion also originates in the 2000s, with most department stores recreating Blair Waldorf's outfits (the main character in the Gossip Girl) after each TV show.
In this article, I'll introduce you to the best of the 2000s fashion, from some of the best 200s hip-hop fashion looks to logomania Y2K fashion styles and Olsen-sisters' worthy jumpers.
Without further delay, let's deep dive into the world of 2000s fashion for men and women by looking at the 25 most impressive outfit ideas of that decade.
---
1
/25
Pocketless Low-Rise Jeans
The pocketless jeans trend came around when low-rise jeans for women were the decade's must-have denim style.
Without pockets, you could achieve the illusion of a butt lift and draw even more attention to your derriere.
Moreover, with flip phones being one of the 2000s most significant fashion accessories, pocketless jeans were ideal for showcasing your smartphone.
Would you be daring enough to style it like Christina Milian with a visible white thong on the show?
---
2
/25
Juicy Couture Tracksuits
If you're an athleisure fan, you should thank the early Juicy Couture tracksuits for making the athleisure clothing movement successful today.
With their Juicy Couture tracksuits and oversized Louis Vuitton bags, Paris Hilton and Kim Kardashian stand out as two of the most representative celebrities of the 2000s fashion.
The style was so iconic that the pair were commissioned to recreate it for a recent SKIMS shapewear campaign.
And now, with 2000s fashion looks back in vogue, Juicy Couture is also returning as a fashion and pop culture icon.
---
3
/25
Wedge Mules & Platform Sandals
In the 2000s, most footwear was designed to add an extra few inches to one's height.
Designer brands like Christian Louboutin and Yves Saint Laurent had us falling head over heels for wedges and platforms.
Wedge mules and platform sandals, in that characteristic 2000s style, are ideal if you're looking to "tower over" your friends.
Above all, as the 2000s platform sandals can be used from spring to late into autumn, wear them for extra height and a lovely summer chic look.
---
4/25
Skinny Jeans In Bright Colors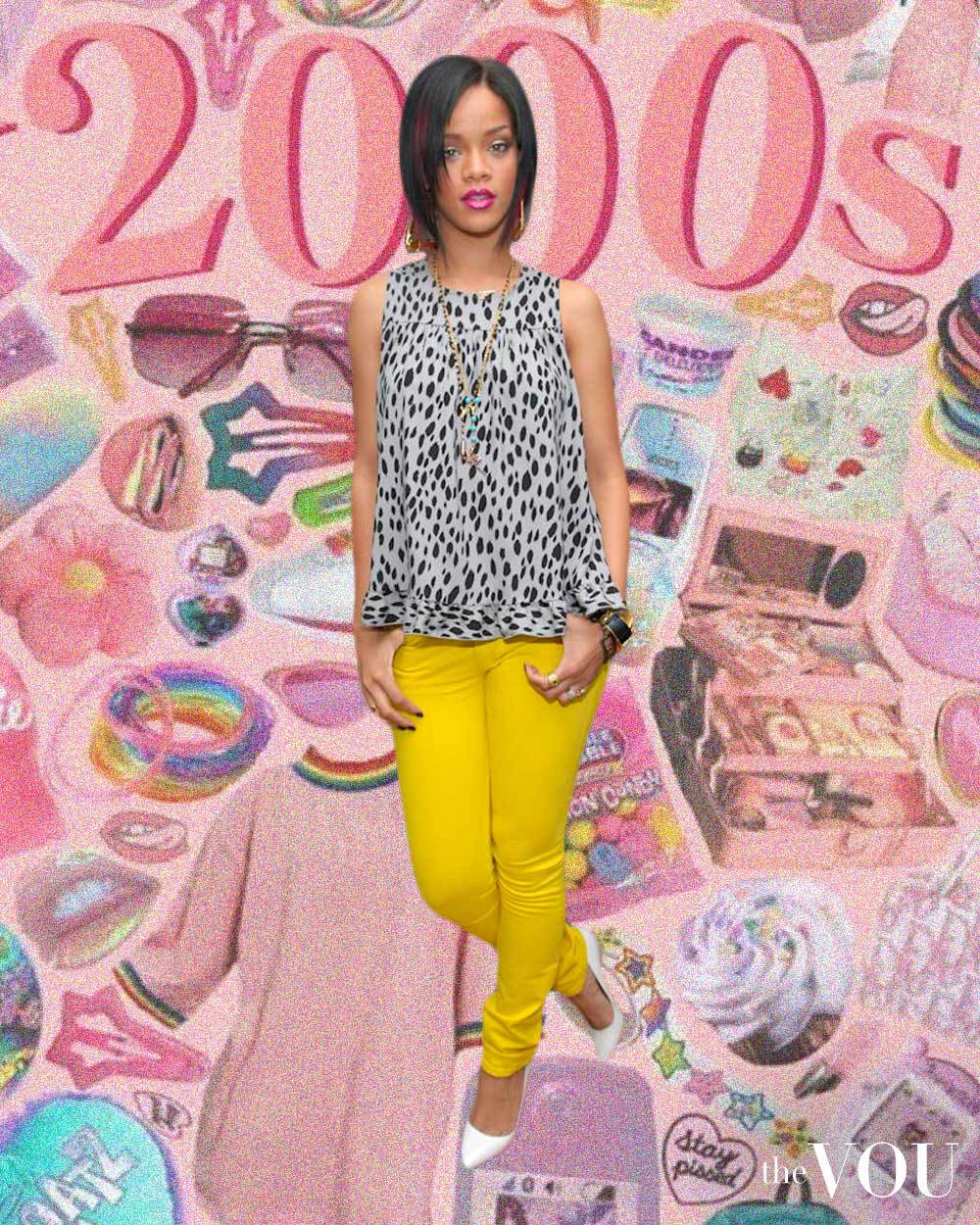 With denim being the staple of that era, it is no surprise that skinny jeans became available in every color under the sun.
Whether you were a fan of True Religion, Diesel, or Sevens, in the 2000s, you must have owned at least one pair of brightly colored skinny jeans.
Few fashion trends united the menswear and womenswear in 2000s fashion more than the brightly colored skinny jeans, but designers focused more on jewel-tone colors instead of pastel colors.
---
5/25
Baguette Shoulder Bags
The 2000s baguette shoulder bags had the perfect size to fit a lip gloss, mirror, keys, and flip phone.
The 2000s fashion years are also the origin of logomania in designer handbags, as no outfit was complete without a logo bag on your arm.
The baguette shoulder bag rose in popularity as a mini-bag style with an entry-level designer price tag.
While shoulder bags like Louis Vuitton's Pochette were a celebrity must-have, brands like Coach and Dooney & Bourke became famous for launching baguette bags at far more attainable price points.
---
6/25
Baby T-shirts & Tank Tops
One stylistic aspect that united most 2000s hip-hop fashion looks was the figure-hugging silhouettes.
As athleisure wear became one of the prominent 2000s fashion trends, it's no surprise that these closet staples appeared everywhere, from the red carpet to coming-of-age movies.
Often seen in the Friends TV series or worn by the 2000s Disney stars like Alyson Michalka, Ashley Tisdale, and Hilary Duff, baby t-shirts and tank tops were also excellent for showing off your fresh spray tan and midriff.
Those who wanted to showcase a more modest look would wear baby t-shirts under their tank tops.
---
7/25
True Religion Bootcut Jeans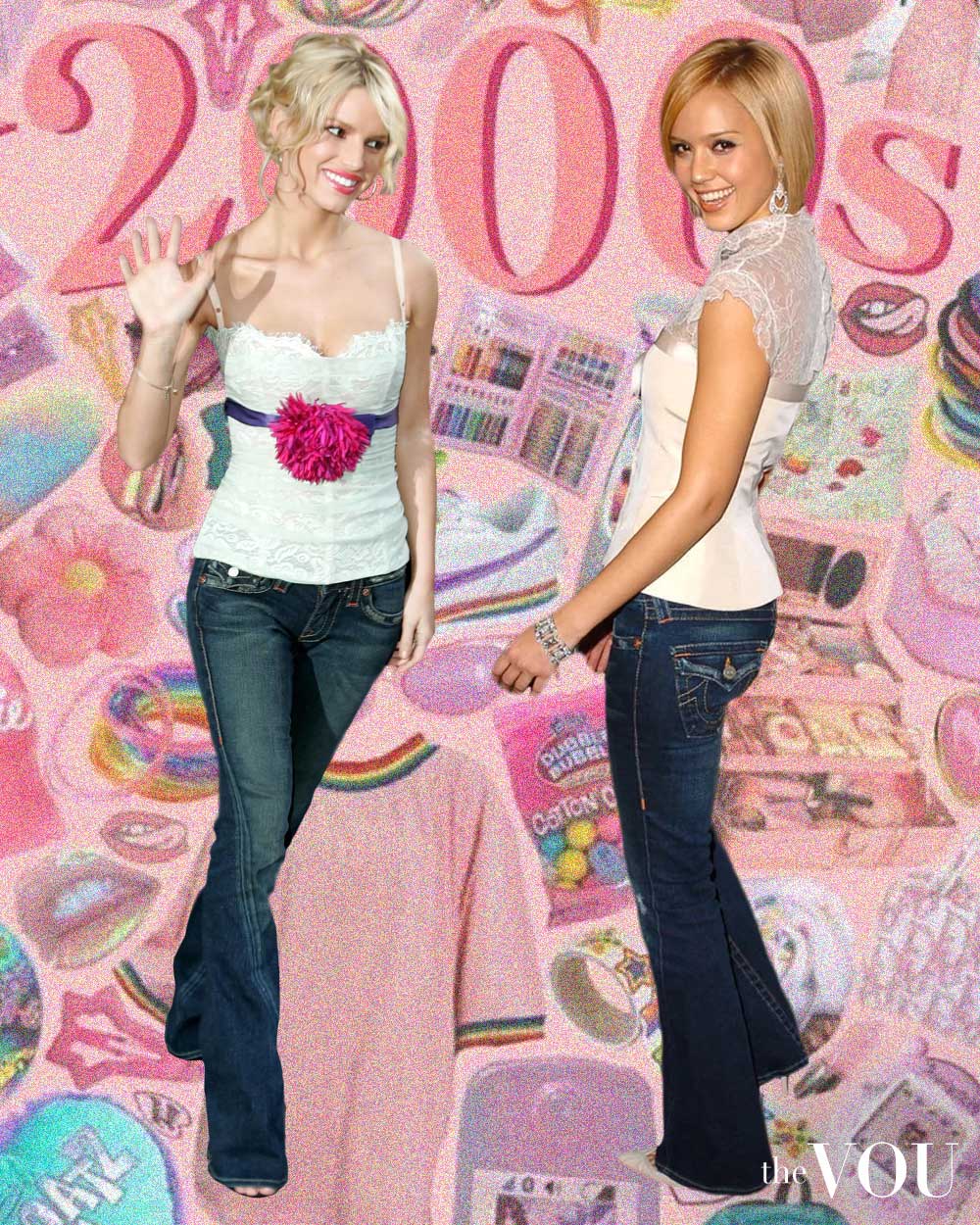 True Religion was one of the biggest clothing brands of that decade, often regarded as an icon of the 2000s fashion.
In the words of The Black Eyed Peas:
"they say they love mah ass in Seven Jeans, True Religion…".
The classic True Religion bootcut jeans became popular in the 2000s to the point where the trousers were considered a status symbol, along with Juicy Couture's velour tracksuits.
Wore by Destiny's Child, Jessica Simpson, and Kanye West, True Religion's horseshoe stitching acted as a 'coolest people club' membership card anywhere you went.
---
8/25
2000s Capris Pants
Leighton Meester got her 'big break' in the 2000s by playing Gossip Girl's Blair Waldorf.
Nowadays, while Blair's looks are all over Pinterest boards, not many people know that Leighton is a 2000s fashion icon and influencer in her own right.
Leighton's choice of capris pants and crop tops with wedge heels inspired red-carpet celebrities such as Fergie, Alicia Keys, Rihanna, and Jennifer Lopez.
---
9/25
Peep-Toe Pumps With Ripped Jeans
There's no faster way to step back into 2008 than a pair of peep-toe pumps.
One of the most unforgettable looks of 2000s fashion, Christian Louboutin's peep-toe pumps with ripped jeans made it to the history books.
Eventually, the peep-toe pumps with ripped jeans became a signature look that made it to hip-hop fashion on and off the red carpet.
---
10/25
Wide Stud Belts With Double (Or Triple!) Grommet

There's no better match to a pair of low-rise jeans than the wide stud belt.
Another 2000s fashion invention, the wide stud belt with double grommet, conferred the wearer with a rockstar chic twist.
Nowadays, nothing screams "2000s celebrity" more than styling your colored skinny jeans with a triple grommet studded belt.
---
11/25
Dresses Over Jeans
One 2000s fashion trend that continues to influence streetwear is wearing dresses over jeans, a style inspired by the 'dresses over leggings' looks of the same era.
Popularized by younger celebrities like Kelly Clarkson, dresses over jeans became a 2000s fashion trend, allowing stars to look dressy without being too formal.
Also, the dresses over jeans 2000s style signaled the start of first looks that began to blur gender lines with a rebellious feel.
---
12/25
Trucker Hats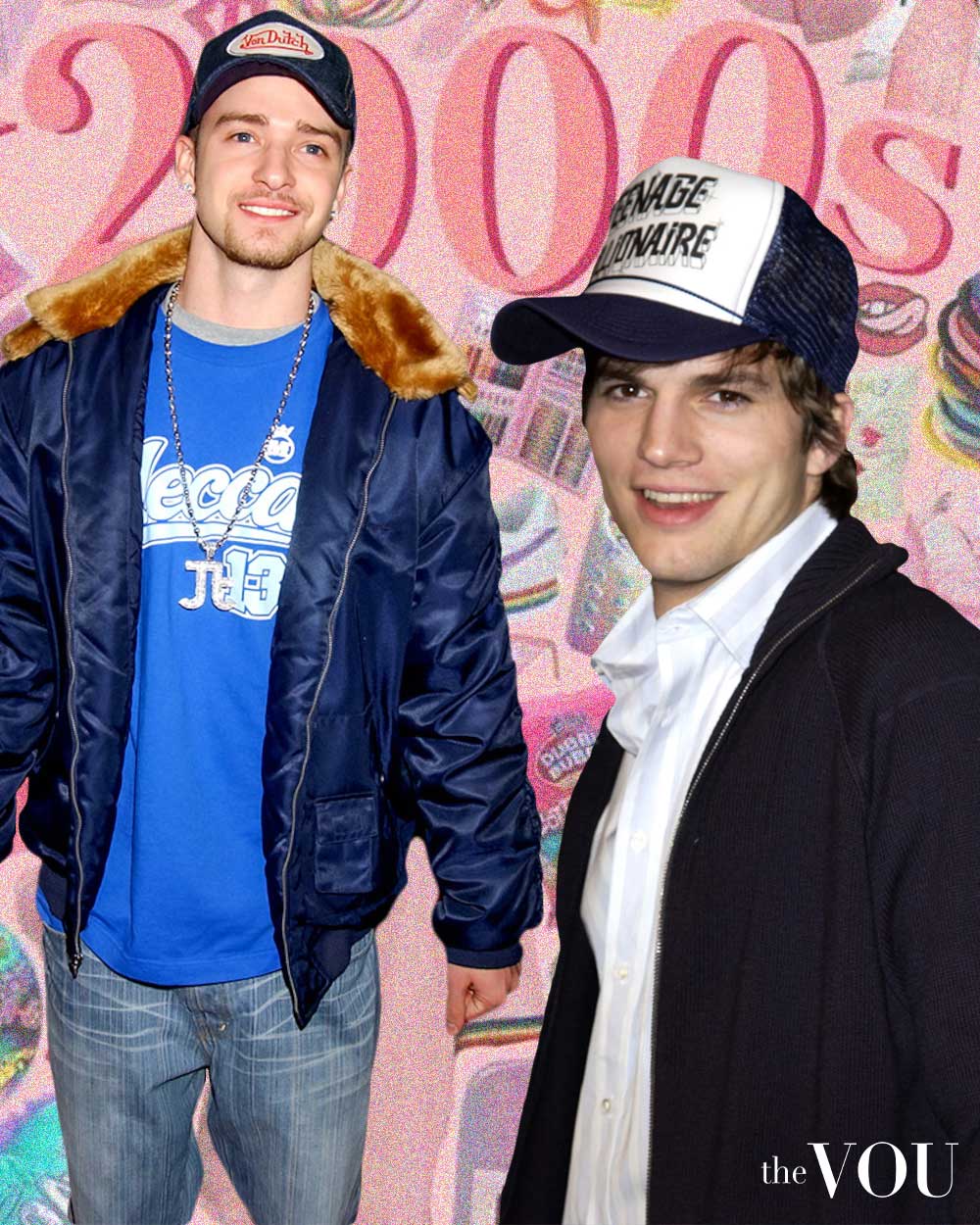 As another 2000s fashion look, we can thank Paris Hilton for leaving behind; trucker hats were quickly adopted by hip hop fashion lovers, appealing to all, women, men, and genderless.
Ed Hardy and Von Dutch launched some of the most popular 2000s trucker hats, fast becoming 'going out' staple for all.
Trucker hats were considered one of the chicest accessories of the 2000s and, in their simplicity, worked wonders with t-shirts, jeans, or mini skirts.
---
13/25
Name Belts
One of the most unique 2000s fashion looks was Carrie Bradshaw's iconic name necklace.
Played by Sarah Jessica Parker, Caroline Bradshaw, the fictional character in HBO's Sex and the City franchise, wore a necklace with the name "Carrie" everywhere.
Emotionally attached, Sarah Jessica Parker wore the "Carrie" necklace for years, like a thread line through the series.
However, it wasn't just necklaces that people branded names on, but belts, in a trend that took monogramming to the next level.
Made famous by Mariah Carey, the most popular 2000s belts had a large silver buckle with Swarovski crystals if you wanted to channel your inner A-lister.
---
14/25
2000s Hip-hop Baggy Jeans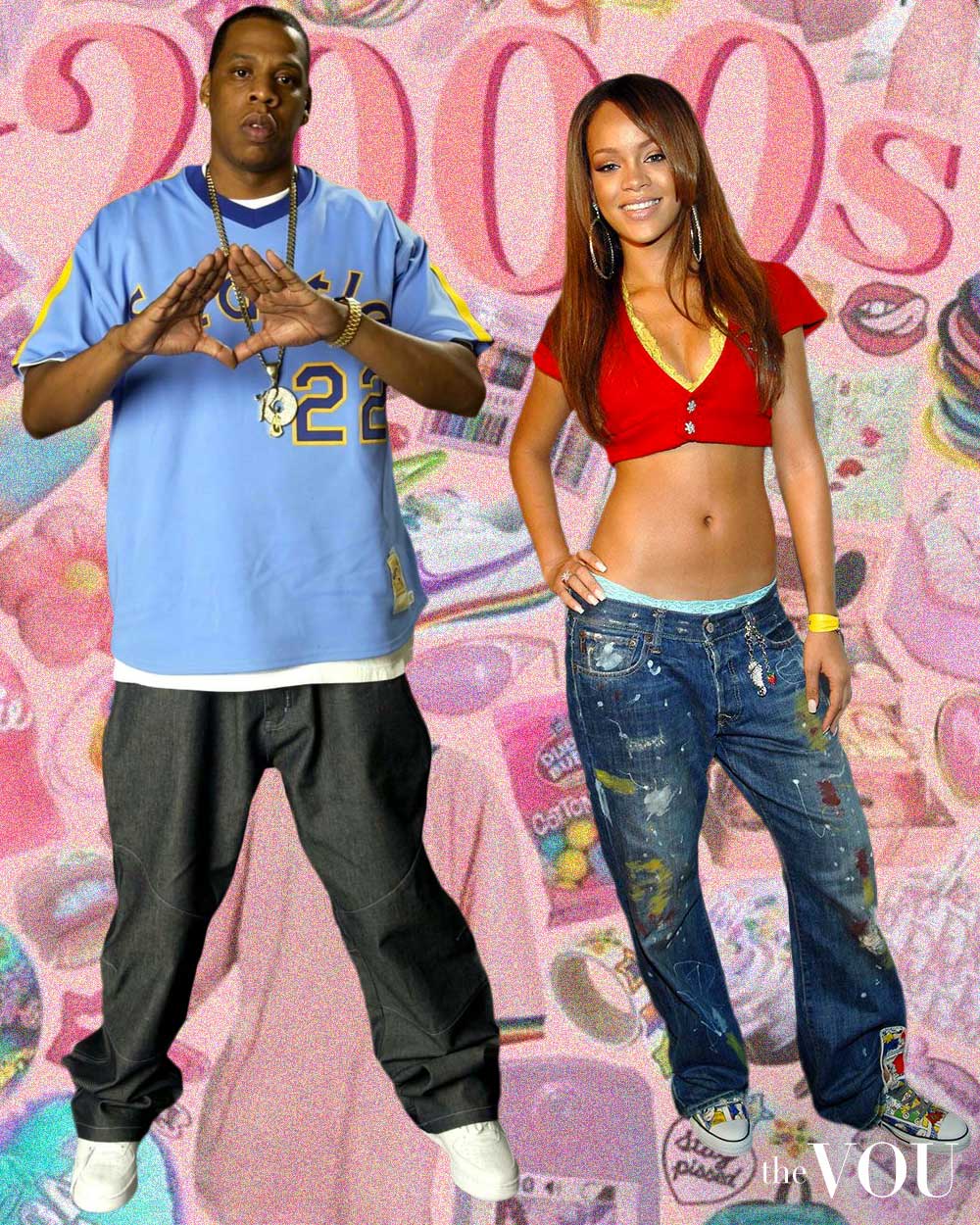 While skinny jeans are synonymous with the 2000s fashion decade, baggy jeans were the signature style in rap music, worn by hip-hoppers and rappers everywhere.
While you could argue that the American comedian and actor Pete Davidson is working hard to bring back this trend, baggy jeans were the go-to look of the 2000s most famous rappers.
Some of the best looks were sported by Jay Z, Kanye West, and LL Cool J., who styled baggy jeans with oversized jerseys and Air Jordan sneakers.
---
15/25
Flashy Hip-Hop Accessories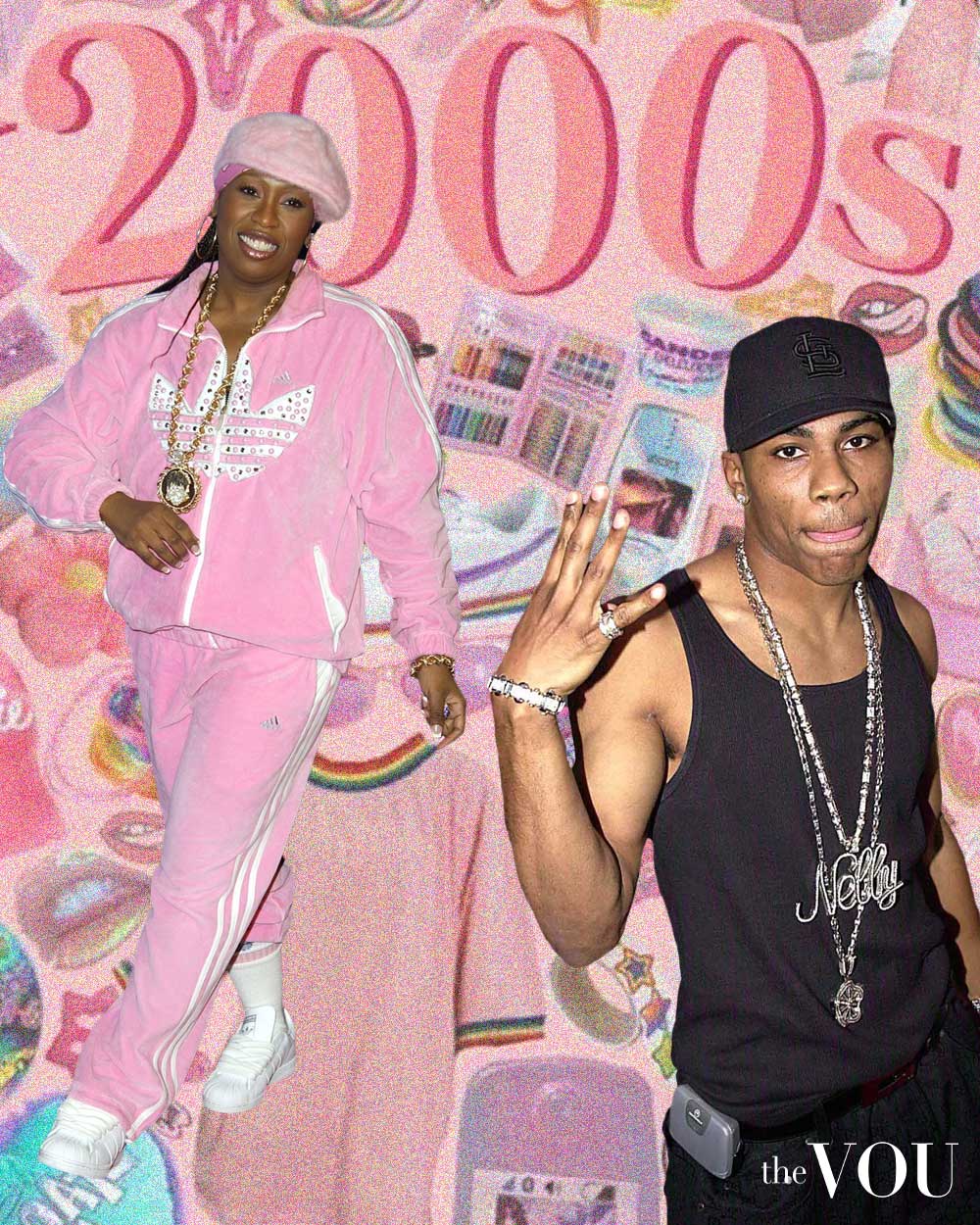 We can't talk about 2000s fashion without spotlighting those days' unique hip-hop accessories.
In the 2000s, fashion started to discover the power of status symbols, and designer brands began battling it out to be featured in the latest Black Eyed Peas or 50 Cent music videos.
As such, flashy hip-hop accessories emerged as oversized gold statement jewelry, bold sunglasses, and lots of baseball caps.
Let's not forget the blinged-out arm candy and oversized watches incrusted with precious stones throughout the whole face and sides.
---
16/25
White Man Tanks
While tank tops were a staple of 2000s womenswear fashion, a similar closet essential appeared in menswear.
After being popular throughout most of the 50s fashion and 60s fashion, the so-called 'wife beater' tank top was resented in the 2000s.
The classic white tank top was essential for men's streetwear, often styled with True Religion jeans and the latest must-have Von Dutch trucker hats.
---
17/25
2000s Hip Hop Turtlenecks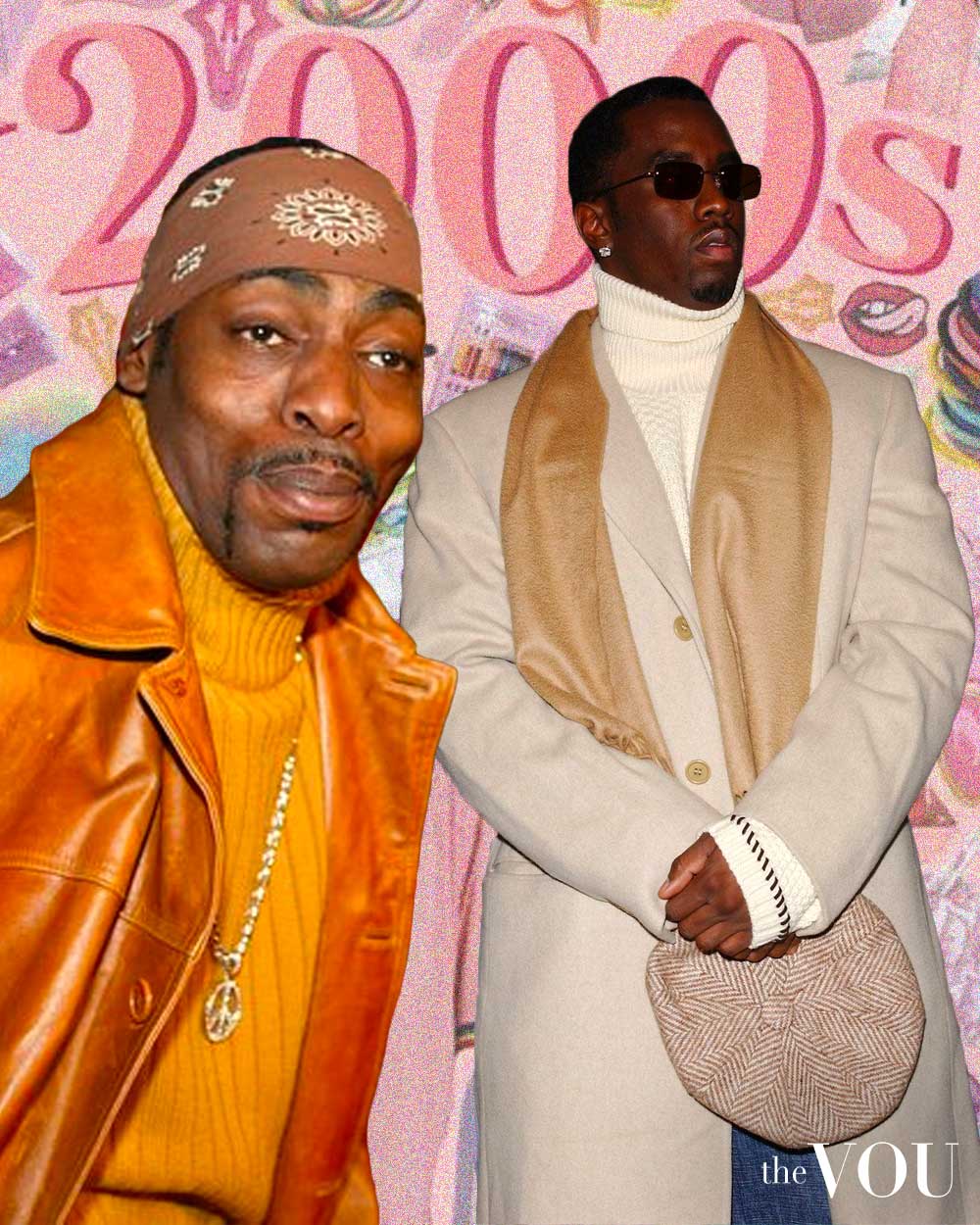 The best years of 2000s fashion also gave us a modern icon – the turtlenecks.
The last part of the 2000s decade became a love affair between rappers and turtlenecks, who loved pairing them with layers of chunky gold necklaces.
Turtlenecks were also paired with coordinating jackets as an easy way to elevate the outfit while still staying casual.
---
18/25
Cargo Pants
Avril Lavigne called; she wants her cargo pants back.
In the 2000s, military-inspired cargo pants became synonymous with girl bands and punk rock singers.
Everyone from Girls Aloud to Gwen Stefani and Christina Aguilera claimed the trend as their own.
The style remained popular until now, but if you want to style it in the 2000s, pair it with a graphic t-shirt, coordinating tank top, or tube top.
---
19/25
Handkerchief As Top
2000s fashion was also about showing off your legs and midriff.
However, not everyone had Beyonce's custom-made designer clothes, so people began improvising.
Using 'what your mama gave you,' handkerchiefs became tops, eventually turning into a fashion statement that needed just a pair of low-rise jeans and wedge mules to turn you into the fourth member of Destiny's Child.
---
20/25
Tube Tops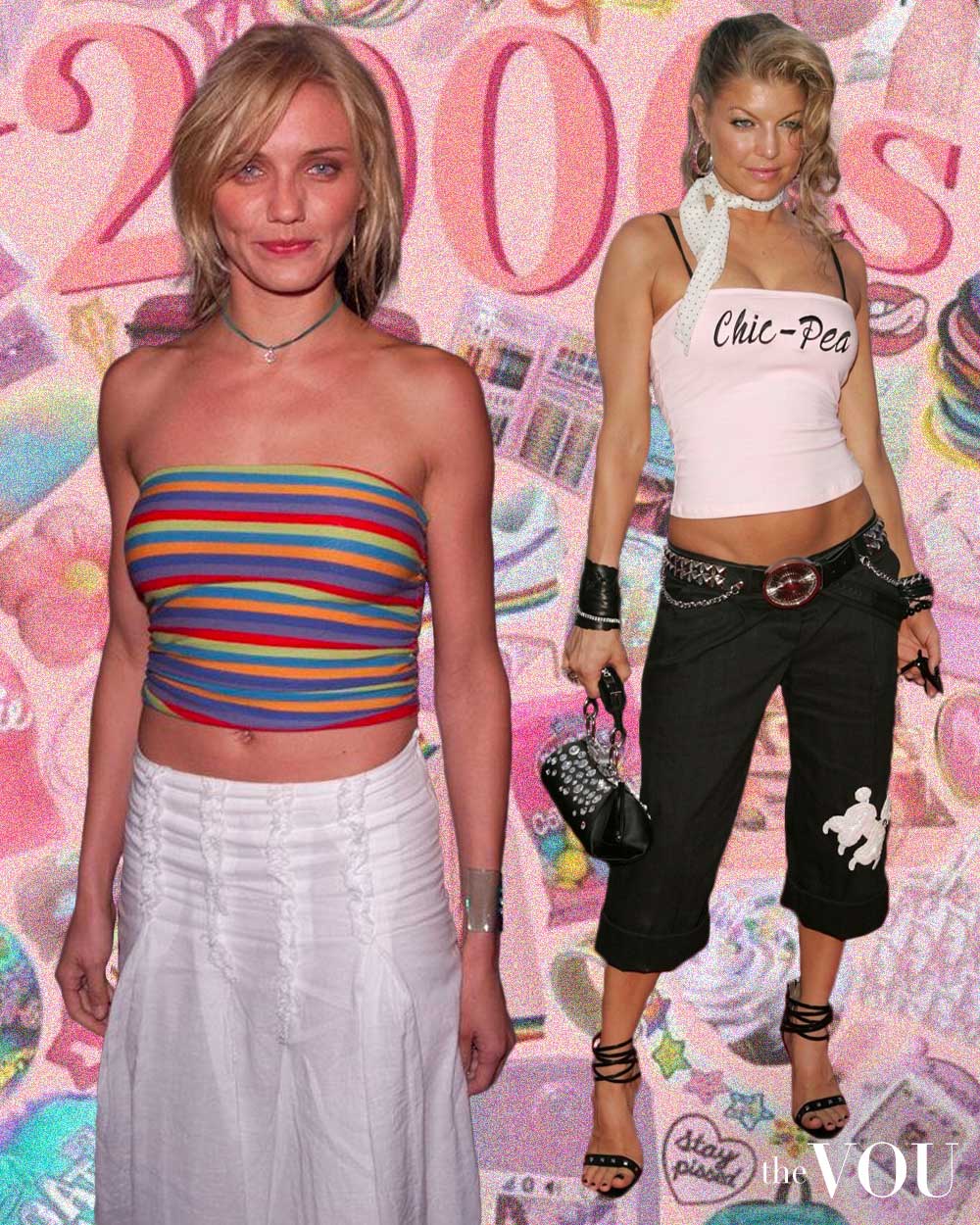 Tube tops were another closet essential in the 2000s, visible everywhere, from the red carpet to the beach.
The versatility of the barely-there style allowed easy pairing with boho-style maxi dresses, cargo pants, and skinny jeans.
---
21/25
Bandage Dresses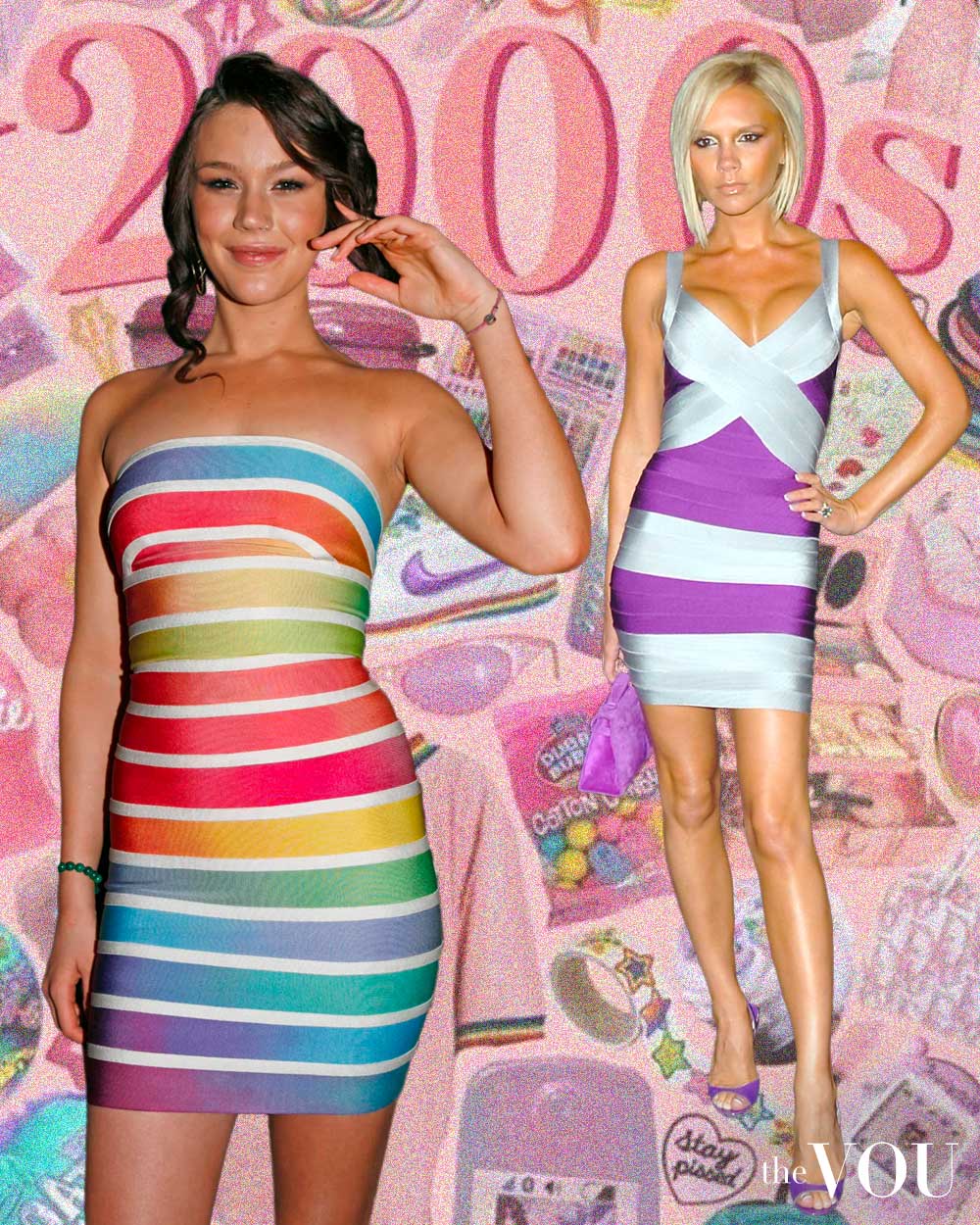 Few outfits scream '2000s fashion' more than a Herve Leger's bandage dress – a French fashion house founded in 1985 – as everyone from Kim Kardashian to Lou Doillon wore one in the mid-'00s.
The bandage dress was such a famous outfit that you would find it on every red carpet, worn by the most recognizable celebrities.
While Hérve Léger may no longer be a powerhouse brand, the classic bandage dress silhouette still reigns supreme.
As one of the most figure-hugging silhouettes of the 2000s, the bandage dress's sexy silhouette became the number one choice for celebrities like Kim Kardashian, Kate Winslet, and Victoria Beckham.
---
22/25
Pirate-Inspired Hemlines
Handkerchief silhouettes are another niche trend that bloomed in the early '00s fashion.
While I've already covered handkerchiefs as a top, it's worth looking at the trend's impact on hemlines.
With Pirates of the Caribbean standing as one of the greatest films of the 2000s, people took fashion inspiration from Captain Jack Sparrow and his crew.
---
23/25
Painted Jeans
Driven by the 90s fashion trends, denim became the incontestable king of the '00s fashion.
However, not everyone wanted to step out in neon skinny jeans, so more understated color alternatives, such as painted jeans, started to gain ground.
Painted jeans became one of the most popular (and unforgettable) 00s outfits, whether stars, butterflies, flowers, lines, or squares.
---
24/25
Baker Boy Caps
Trucker caps weren't the only headgear that ruled 2000s fashion.
Styled with a sweeping side fringe, knitted beanie caps became an equally powerful style for autumn and winter.
Popularized by 2000s punk stars and hip-hop celebs like Rihanna, slouchy beanies became a hipster staple.
---
25/25
Oversized 'It' Bags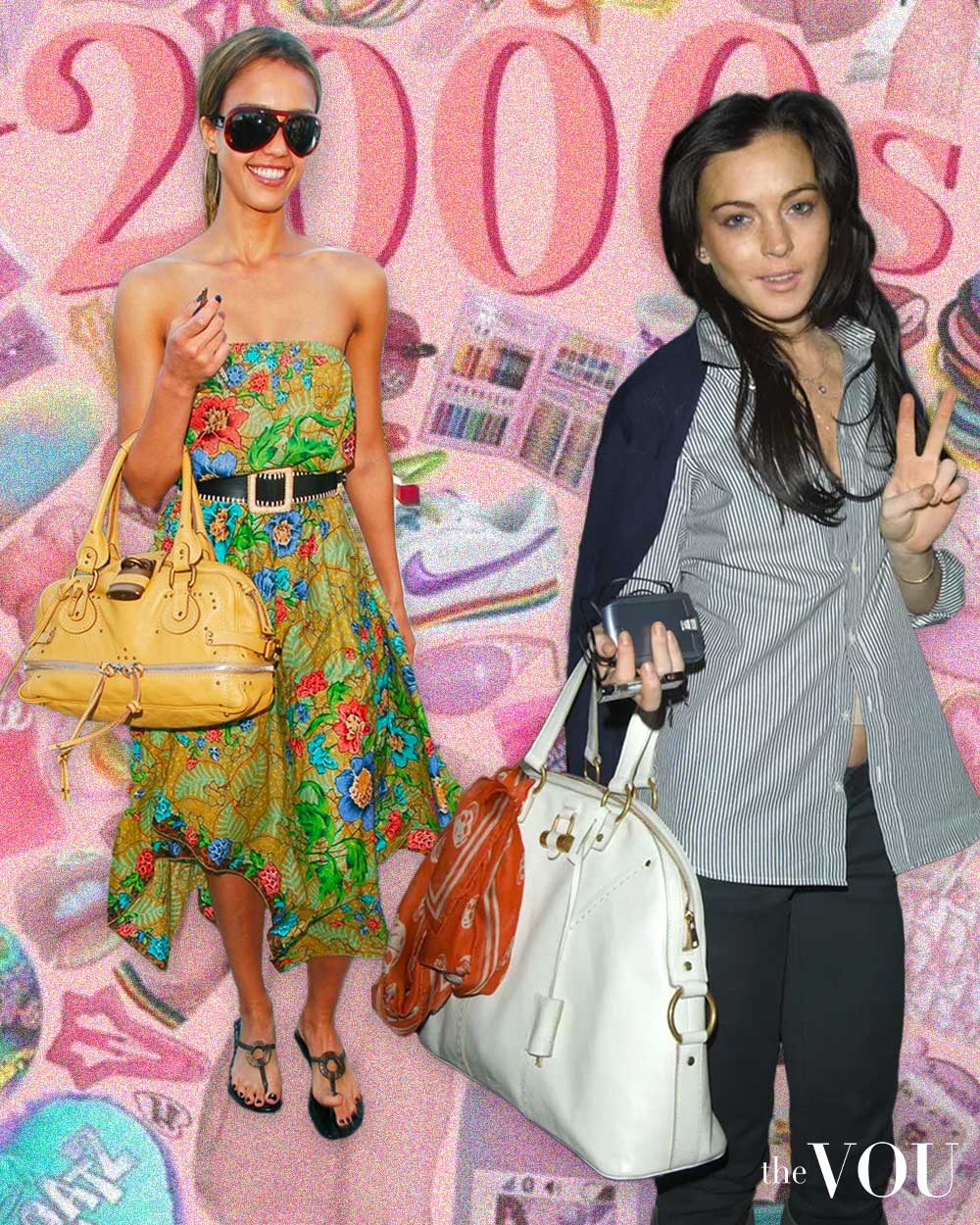 2000s fashion is also at the core of the 'It' bags, such as Chloe's Paddington, at times when the influencer culture started to take hold.
In 2004, Chloe's creative director Phoebe Philo debuted a millennial classic, the heavy, top-handle Paddington bag.
Instantly recognizable for its logo padlock, the back claimed cult status at no time, and every one of the 8,000 pieces created sold out before arriving in stores.
Chloe's Paddington was on the arm of every A-class celeb, from Nicky Hilton to Michelle Trachtenberg.
Building on the oversized bag trend – that could hold everything but the kitchen sink – Balenciaga's city bag became another memorable IT bag in the 00s.
While the Olsen twins may have moved on to Hermes bags, they're primarily responsible for making the Balenciaga City bag one of the hottest trends of the 2000s.
---
2000s Fashion FAQs
What was Fashion in the 2000s?
Fashion styles in the early 2000s (Y2K fashion) included polo shirts with popped collars, light wash bootcut jeans, cargo shorts, classic rock t-shirts, henleys, and fitted cowboy shirts. Towards the middle of the 2000s, we saw the appearance of Juicy Couture tracksuits, Von Dutch trucker hats, assorted with designer bags from Louis Vuitton and Gucci.
Is Early 2000s Fashion Coming Back?
2000s fashion trends (Y2K styles) are making a massive comeback. The most popular outfits coming back from the Y2K decade are polo shirts, light wash bootcut jeans, cargo shorts, classic rock t-shirts, henleys, Juicy Couture tracksuits, and Von Dutch trucker hats.
Where to Buy 2000s Fashion?
According to The VOU magazine, these are the five most representative online stores of the 2000s fashion style right now:
Baby Phat
Juicy Couture
TRUE RELIGION
ED HARDY
KANGOL
Conclusion
Reviewing the most popular looks of the 2000s fashion, it becomes evident that people took more risks with their outfits and stylistic choices back then.
The influence of TV shows like Gossip Girl and The Simple Life, showcasing the lifestyle of the upper class, introduced a new world of fashion and dressing styles.
Most of the 2000s outfit ideas have evolved from everyday outfits to become trends that we see nowadays reinvented in capsule collections appealing to Millenials and GenZ shoppers.
Whether you embrace the Olsen twins or Paris Hilton 2000s fashion looks, I hope you discovered a few ideas on how to recreate the most representative looks of the 2000s.
Weekly Newsletter
Keep up with the latest in fashion, beauty and style!
Now it's your turn…
Which one of these 2000s fashion trends is your favorite and why?
Which of these 2000s fashion outfits will you be recreating?
Are there any other 2000s fashion ideas you'd like to add?
Let us know in the comments below!



After years of managing hundreds of fashion brands from London's office of a global retailer, Mandy has ventured into freelancing. Connected with several fashion retailers and media platforms in the US, Australia, and the UK, Mandy uses her expertise to consult for emerging fashion brands create top-notch content as an editorial strategist for several online publications.