The 70s fashion decade was high-profile, high-octane, glamorous, and…unforgettable.
Inspired by the flower-power movement and retro-futurist nerdish aesthetics, 70s fashion looks are a world apart.
The seventies meant hippies, disco queens, rockers, punks, and retro nerds, beautifully captured by Yves Saint Laurent, Emilio Pucci, Stephen Burrows, and Halston in styles that continue to shape the industry.
70s clothing styles, showcased by Bianca Jagger, Diana Ross, Cher, Debbie Harry, Farrah Fawcett, Grace Jones, Jane Birkin, Ali MacGraw, and Diane Keaton, continue to sweep the world runways.
In this article, we'll explore the best 70s fashion looks and styles still spotted on the streets of London, Paris, and New York.
---
1
/25
Maxi Boho Dresses With Bright Patterns
A big inspiration to the early 1970s fashion styles were the freedom-fighting hippies and flower-power movement shapers like Ali MacGraw.
Porter's seminal dresses of the 70s are adored by current celebrities who dress in boho styles, like Kate Moss, Zoe Kravitz, Beyoncé, and June Ambrose.
The look is seen at brands like Free People or stores like Anthropologie.
---
2
/25
The Hippie Look
One of the most recognizable 1970s decade looks, the hippie fashion was, above all, a form of protest.
Some of the most popular hippies looks of the seventies had a lot of assorted jewelry.
The accessories depended on the outfit, from oversized neck ornaments to bright-colored bracelets and, in some cases, mood and anxiety rings.
---
3
/25
Knee Boots With Rounded Toes
Continuing onward from mid 60s fashion trends, boots reached peak popularity in the early 1970s.
Sold in every store at super affordable prices, there were boots for every occasion and every outfit, from flare pants to business suits, and even boots for boho dresses.
Some of the most popular 70s boots were knee-high boots with rounded toes, Go-go boots, crinkle boots (boots with a shiny wet wrinkled look), Dingo boots, and Frye boots.
Another popular 70s type of boot was the granny boot, a 1920s fashion style lace-up boot that ended just below the knee.
---
4
/25
The Pantsuit
Wearing a pantsuit in the 60s was more of a political statement than a fashion one, signaling one's alignment with the growing feminist politics.
One that stands out is Bianca Jagger – a Nicaraguan actress turned social and human rights advocate, thanks to her trouser suits and neck-ties.
By the end of the 1970s, the pantsuit had become the ideal business wear for executive women, as a new power symbol to prove they were as serious and powerful as the men they shared the office with.
---
5
/25
The Denim Suit
Informal suits made from materials in various colors, washes, and shades began to appear in the late 1960s, marketed as summer-casual wear for the wealthy.
From all, it was the 'leisure suit style,' consisting of a denim jacket and matching trousers for informal wear, that began to gain popularity in the mid-70s, in particular the blue wash denim leisure suits.
Comprised of a matching jacket and pants, the front of the jacket had traditional denim topstitching and was adorned with pockets.
---
6
/25
Bell-bottoms & Flared Pants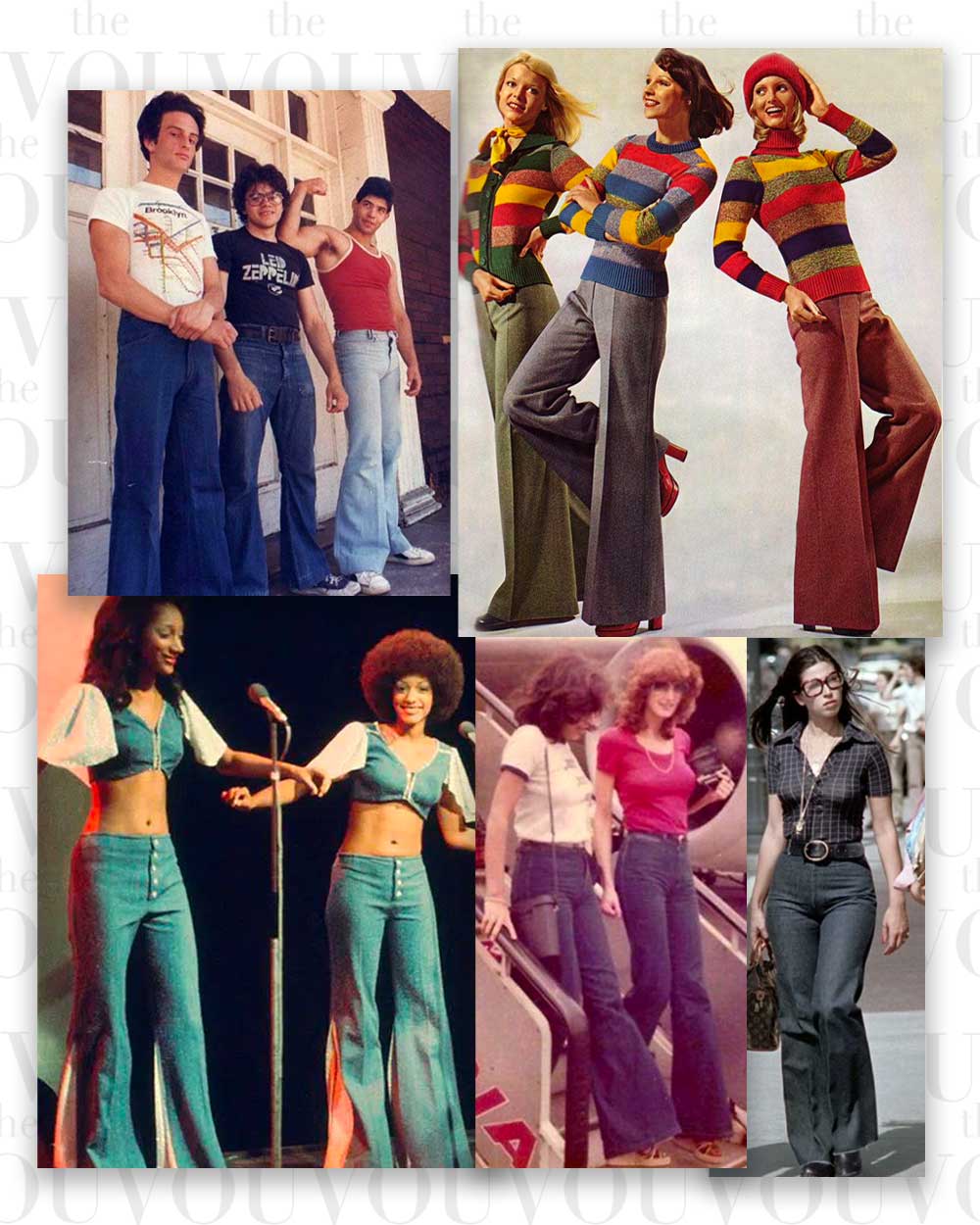 Originating from sailor uniforms to mainstream fashion in the 1960s, the style peaked in popularity in the 1970s.
Similar to loon pants but made of denim, Bellbottoms (also called Elephant bells) reached icon fashion status after Sonny and Cher showcased them in "The Sonny and Cher Comedy Hour."
The most popular bell trousers of the 70s had a wide flare below the knee, in a style that was often covering the wearer's shoes.
---
7
/25
Sweater Vests & Crochets
In the early 1970s, sweater vests could make or break an entire outfit.
Some of the most common 70s sweater vest patterns were the argyle, but the variations were famous, such as stripes in V-neck or crew neck shapes.
The trend translated into sweater coats, sweater dresses, floor-length sweaters, and even sweater suits, many trimmed with faux fur.
---
8
/25
Turbans & Headscarves
If the 1970s fashion had to be summed up in one accessory, it would be the scarf.
From the paisley-print pretties of the peace-out era to the sparkling turbans of the Studio 54 scene, the 1970s were ruled by headscarves.
Wrapped around the head and adorned with rare brooches and exquisite jewelry pieces, turbans were the ultimate fashion statement of those days, in bold colors and smoky eye makeup.
---
9
/25
Flared Leg Jumpsuits
Easy to wear, the clean-cut, all-American activewear outfits for women began to gain popularity from 1975 onwards.
The most popular garment styles of this mid-70s fashion phenomenon were the jumpsuits.
Most 70s jumpsuits were flared in the legs with various sleeve styles, from sleeveless to long bell sleeves.
---
10
/25
The Hot Pants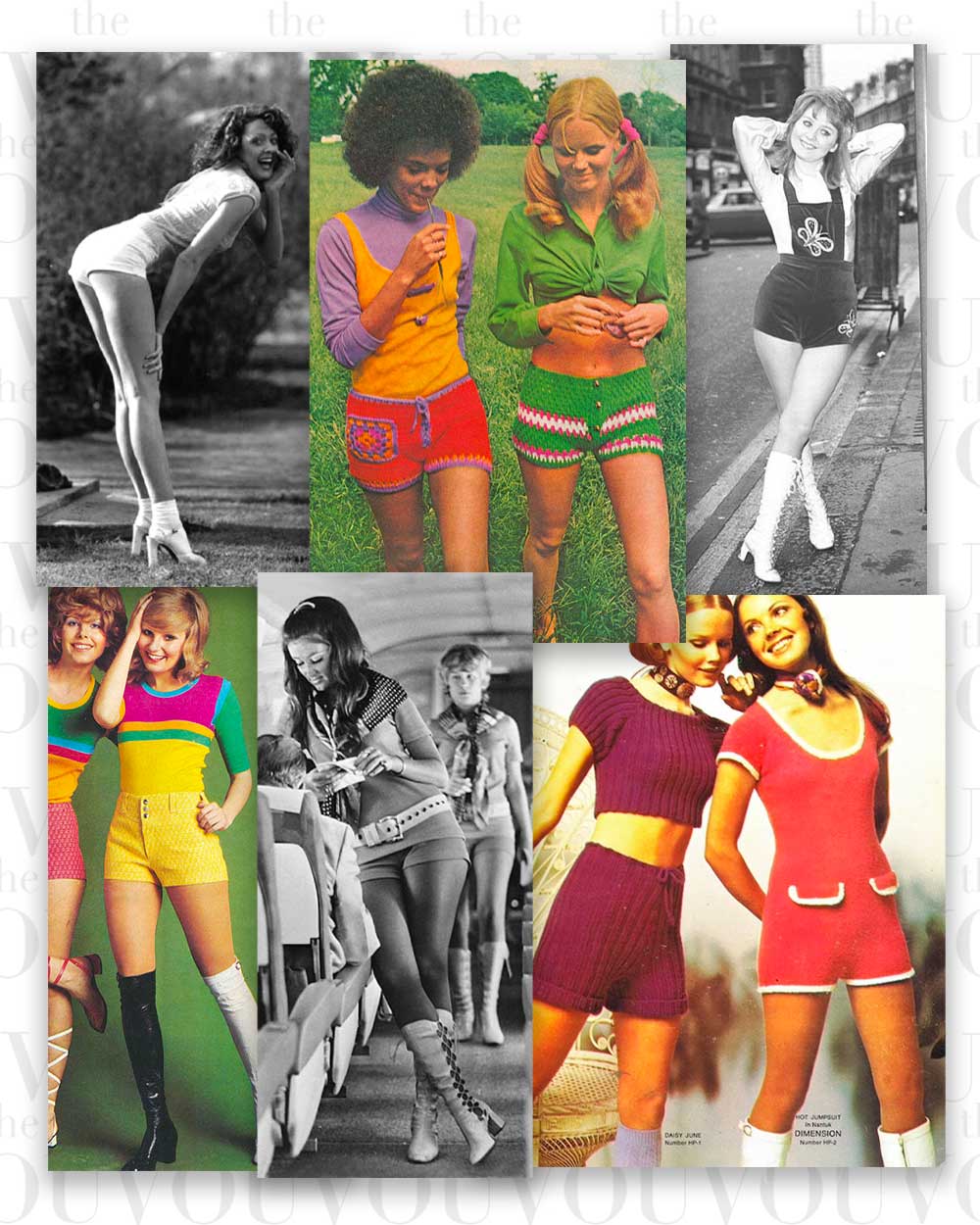 'Women's Wear Daily first used Hotpants' term in 1970 to describe shorts made in luxury fabrics such as velvet and satin for fashionable wear.
Hotpants or hot pants were "extremely short" pants (at least for the 70s fashion understanding).
In the early 70s, women wore hot pants as a new way to express freedom.
However, in the second half of the 1970s, hot pants became linked to prostitution, plagued by the social stigma that eventually made them fall out of fashion.
Yet, hot pants remained acceptable in nightclubs, among cheerleaders, and pop stars.
---
11
/25
Folk Dresses & Peasant Looks
While fashions drawn from peasant costumes were nothing new, 'folklore look' or 'folklore fashion' was first used around 1970.
The term was used to describe a style of dresses inspired by the classic village outfits and peasant dresses.
Adherents of the look wore simple garments based on European peasant costume, American pioneer clothing, and ethnic styles.
1970s peasant shirts and dresses were loose, soft, and easy to sew, worn with sandals, clogs, or boots.
---
12
/25
Flower Power Tie Dye
Tie-dye and crochet were all the rage in the '70s, and many dresses and clothes of those days featured both trends in one.
From dresses to bags and tops, the crochet trend was insanely popular, seen as a romantic and feminine look with a summery feel.
At the same time, the rock and heavy metal subculture favored tie-dye shirts in earthy tones, as worn on stage by Jethro Tull or Led Zeppelin.
---
13
/25
The Wrap Dress
The disco music genre emerged in the mid-70s spawned a unique fashion craze that reverberates to modern days.
Young people gathered in nightclubs dressed in disco clothes and styles designed to shine on the dancefloor lights while showing off their bodies.
70s disco fashion style comprises fancy clothes made from synthetic materials, such as jersey wrap dresses and knee-length dresses with a cinched waist.
Moreover, cinched waist dresses were fabulous for all body shapes and sizes and could be worn by day at the office and to nightclubs and discos by night.
---
14
/25
Wedges & Platform Shoes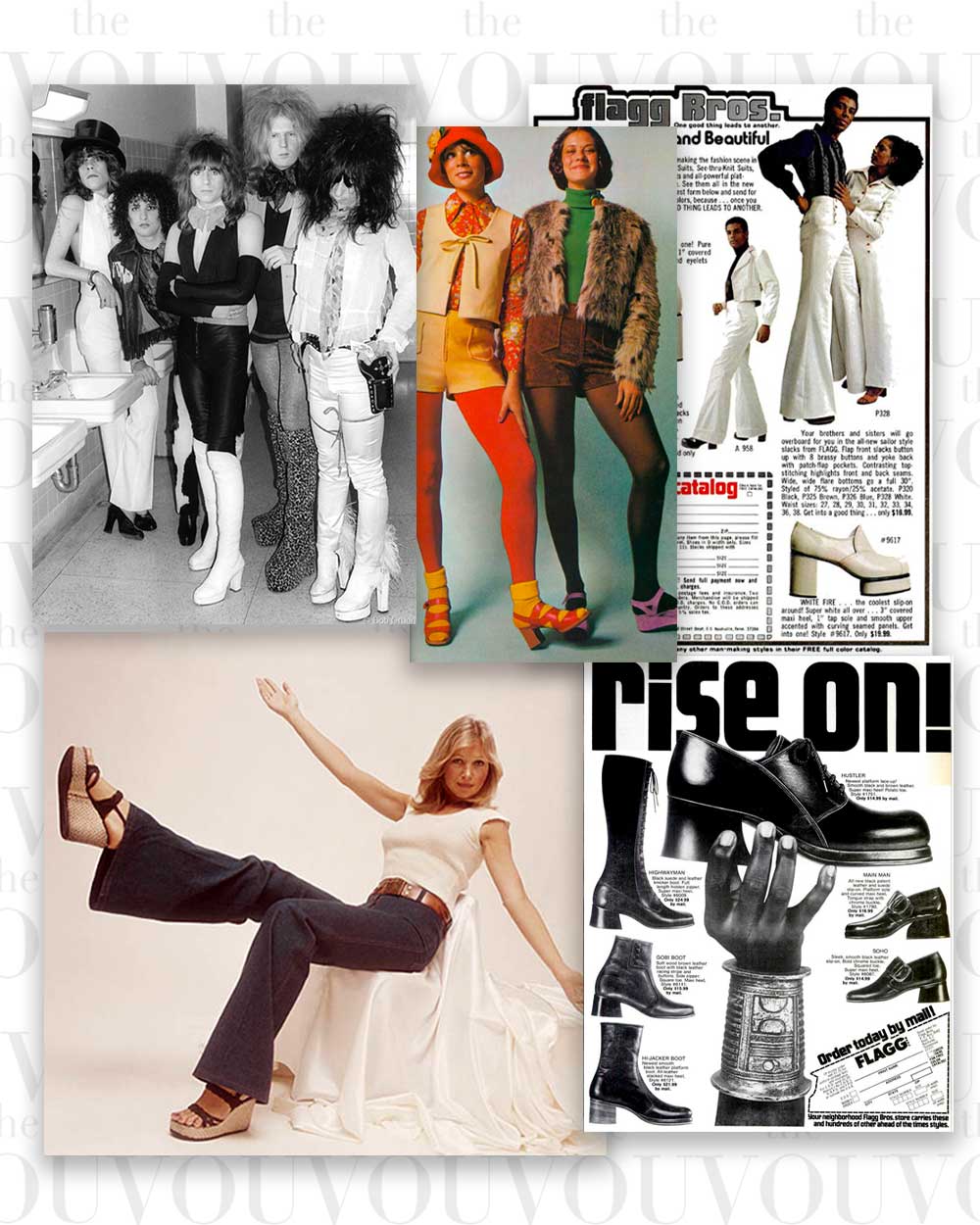 In the 70s, the platform shoe, introduced by music stars, was another way to showcase style and good taste.
The stacked footwear dominated the 70s fashion decade with several variations, from glam-rock in metallic leather to clog-like shapes and the simplest sandal form with wide straps.
70s teenagers paired platform shoes with colorful, often brightly striped knee-socks, some with separate toes like gloves for the feet, called toe socks.
---
15
/25
 The Knit Dress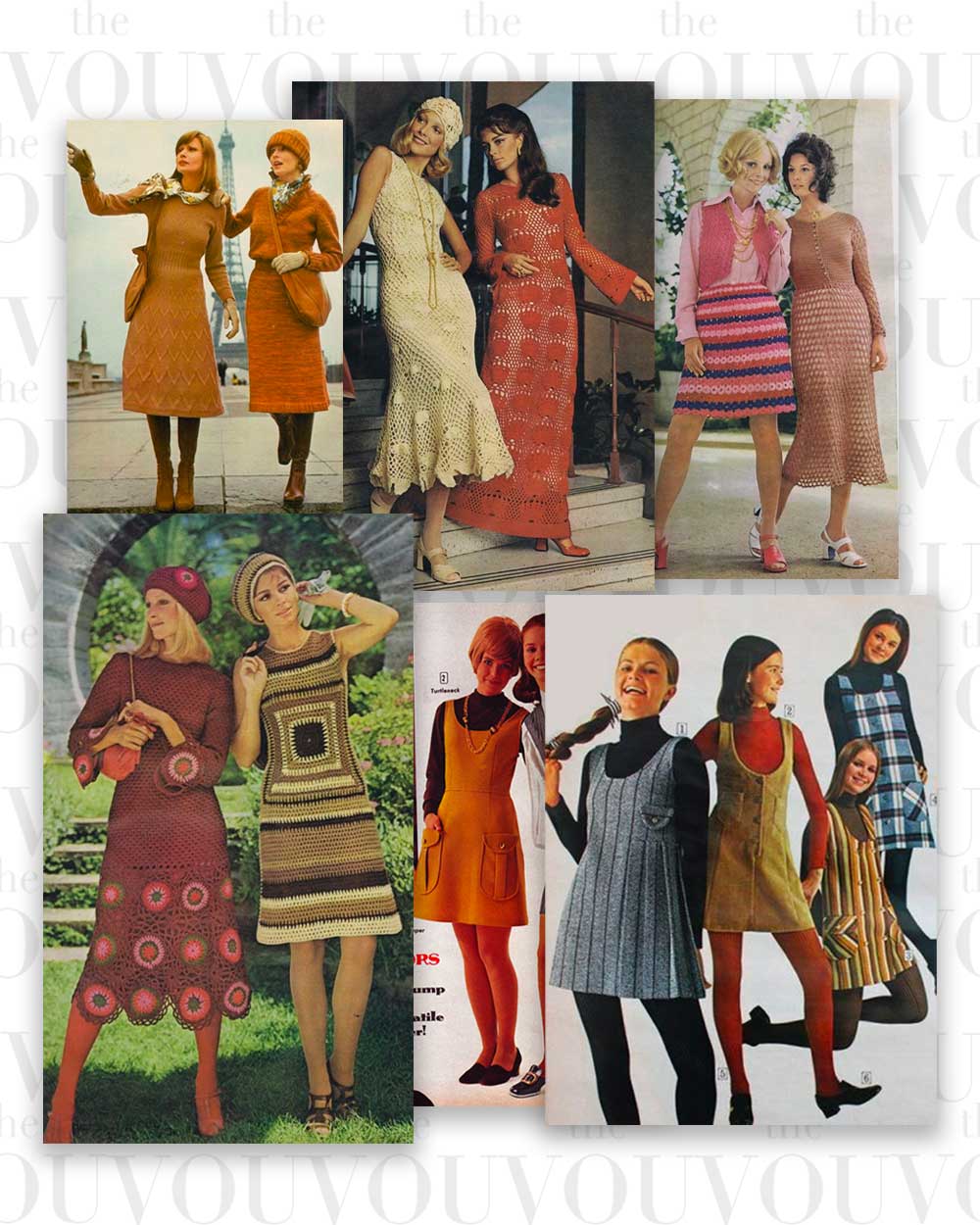 After denim jackets and sweater vests, collared knit dresses were the preferred alternative to the more formal styles.
In bold colors and patterns, the 70s knit dresses were still present in the later years but in slightly more muted looks, perhaps shifting towards the preppy looks of the 1980s fashion.
---
16
/25
Pearl Jewelry
Pearls became fashionable in the early twenties; however, the difficulty of obtaining and the prohibitive prices made it so that very few women could afford them.
With the advent of mass-produced fake pearls during the 70s, every woman could buy pearls as earrings, necklaces, or bracelets.
Some of the most popular 70s pearls were in light pastel colors instead of plain white, assorted with shiny satin dresses in the evening, à la Raquel Welch.
---
17
/25
Decorative Feathers
A feather boa is a fashion accessory worn wrapped around the neck like a scarf.
While in the 70s, there were some exclusive boas made of fur, most were made of feathers, such as ostrich, marabou, chandelle, and turkey.
Formerly a symbol of wealth, the feather boa adopted a theatrical, campy aesthetic in the 70s, often showcased by Aretha Franklin, Janis Joplin, and Elton John.
---
18
/25
His & Hers Matching Outfits
While gender-neutral clothes were loved and celebrated in the 1970s, the trend gave birth to an unexpected phenomenon outside unisex fashion.
It was the time of matching clothing frenzy, where the same outfits and separates were worn by both men and women (as couples).
True, some couples coordinated for special events such as Valentine's Day, but most were style mirroring.
The full-on mirroring matching style resulted from aggressive marketing as the ultimate display of romantic affection.
---
19
/25
The Safari Suit
With a military history – worn as a lighter uniform for warmer climates – the Safari Suit was designed for African safaris and similar adventures for wealthy people.
Popularized by Ernest Hemingway in the 1950s fashion, the Safari Suit was adopted by 70s celebs, movie-makers, camera-men, writers, and journalists, for its casual but rugged look showcasing one's pursuit of creative outdoor events.
Made of a cotton blend, the safari-style look, also called the 'bush jacket' and 'field suit,' was very comfortable in humid and hot conditions.
---
20
/25
The Glam Rock Look
Glam rock, also known as glitter rock, was a musical movement that started in Britain in the early 1970s.
The movement translated into fashion as an androgynous clothing style suitable for both sexes.
The 70s glam-rock androgynous fashion comprised embroidered shirts, velvet sports coats, tartans, colored shawls worn as collars over tuxedo jackets, frilly shirts, high necked jackets, satin shirts with oversized collars, and drainpipe trousers.
---
21
/25
The Gypsy Haircut
One of the most popular hairstyles of the 1970s was the wavy "gypsy" cut.
Styled in a layered shag, flicked style – also referred to as "wings" the hair was flicked into what resembled a small wing at the temples, Charlie's Angels TV series stars popularised the gypsy haircut of the 70s.
In 1977, punk singer Debbie Harry of Blondie sparked a new trend with her shoulder-length, dyed platinum blonde hair worn with a long fringe.
Another 70s iconic women's hairstyle was the look introduced by Farrah Fawcett in 1976.
The hairstyle incorporated waves, curls, and layers and was imitated by many American women and girls.
---
22
/25
Satin Galore
Initially, slips were introduced as a piece worn to prevent the show-through of intimate undergarments such as panties or a brassiere.
But, in the 70s, thanks to Diana Ross, the boudoir-inspired satin slip became part of the underwear-as-outerwear trend, worn at parties and social events.
Made from layered chiffon, polyester satins, and charmeuse – often trimmed with lace – the satin slip dress defined the sartorial pragmatism of the 70s.
---
23
/25
Oversized Glasses
Pre-70s, sunglasses had a more functional than stylish use.
However, that changed at the beginning of the seventies, when sunglasses started to have fun shapes.
With large geometric shapes and bold colors, the 70s sunglasses and glasses sported supersized frames.
The trend gained popularity again in the 90s fashion and can still be seen echoed in today's fashion trends.
---
24
/25
Flayed & Flared Jeans
The 1970s styles are easy to recognize nowadays thanks to the high-ish waist and full cut through the hips and thighs jeans styles.
Popular at the start of the 70s, the flared jeans were tapered to a narrow but not tight hem, hitting at the ankle or just above, also called 'baggies.'
In the late 1970s, jeans became more slim-fitting, with straighter legs rather than flares.
It was the time when Levi's 505 jeans became popular, especially in the music scene, a trend that the brand managed to push into the 80s fashion and 90s fashion decades.
---
25
/25
Basket Shopping Bags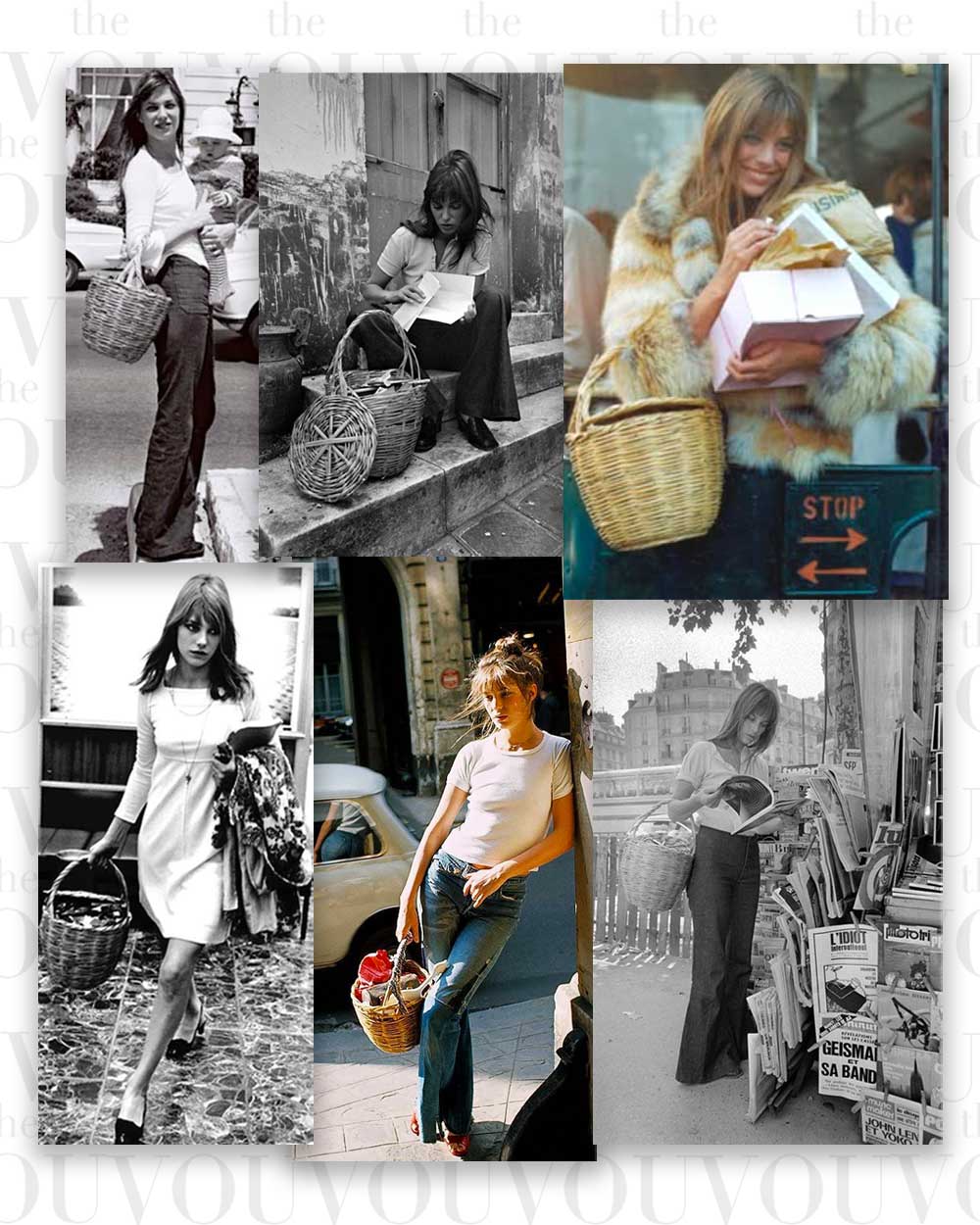 Popularized by Jane Birkin in the 1970s – a true icon of style that cultivated a unique Parisian fashion look – the straw basket is a representative piece of the seventies fashion times.
Jane Birkin's signature piece was the wicker basket, carried everywhere, slung over one arm, bargain hunting, going to the market, or wearing like a handbag with vintage accents.
Jane Birkin's Haute-Hippie style and free spirit, evident in her musical and acting performances, were ideally suited to the straw basket, which she used instead of a regular handbag.
---
70s Fashion FAQs
What Clothing Was Popular in the 70s?
At the start of the 70s, the influence of the hippie culture was evident; women wore flamboyant styles in bright colors and long, flowing skirts, and men in flared pants and tight t-shirts.
With every year into the seventies, pants were flaring wider, to the point, the flared style shifted into bell bottoms and couldn't go anywhere but smaller from there.
Suits were also popular in the 70s; executive women wore business suits with pants, while flared jeans at home were the norm.
Mid-to-late 1970s fashion was dominated by suits: leisure suits, pantsuits, jumpsuits, and even tracksuits (also known as warm-up suits).
How Do You Dress Like in the '70s?
The best 70s clothes to wear at a 70s party are:
Tie-dyed shirts or jackets.
Peasant blouses or skirts.
Bell-bottom jeans.
Polyester leisure suits.
Army jackets with wide lapels.
Ponchos or halter-tops.
How Do You Dress Like a 70s Hippie?
To dress like a 70s hippie, wear vintage tie-dye shirts or Hawaiian-style shirts with flared jeans – bell bottoms – available at online thrift stores or garage sales.
Match with loose and comfortable tops or vintage jackets and lots of relevant accessories such as oversized necklaces and bracelets.
What Was the Most Iconic Style in the 70s?
Peasant blouses, tie-dye, bell sleeves, crochet dresses, and bell bottoms were all staples of the 70s fashion.
Worn by cinema icons such as Jane Birkin and Twiggy, the shorter hem skirts and taller boots also peaked as a must-wear seventies combo outfit.
Conclusion
Overall, the 70s fashion is the source of many current fashion trends, such as bright over-the-knee boots, folk-inspired printed dresses, velvet and corduroy jackets, boho blouses, and midi skirts.
But most importantly, the progressive addition of women to the workforce in the 70s altered shopping styles and fashion.
Working women shopped on weekends and in the evenings, and tailored men's business suits and jackets, midi-skirts, and fitted blouses were their go-to choice to "dress for success."
In the '70s, semi-formal wear became more tailored and sharp, with lots of layering.
Wearing two blouses at once, multiple sweaters, pants underneath tunic dresses, and jumpers worn over long and boho dresses was the way forward.
Other clothes worn in the 70s include suede coats, peacoats, blazers, cowl-neck sweaters, pencil skirts, backless dresses, extremely low-cut dresses, palazzo pants, tube dresses, jacket dresses, pinstriped pantsuits, and evening gowns.
Weekly Newsletter
Keep up with the latest in fashion, beauty and style!
Now it's your turn…
Which one of these 1970s fashion trends is your favorite and why?
Are there any other 70s fashion ideas you've tried and want to add to this list?
Comments below, please!