Characterized by a romanticized version of a pastoral lifestyle, the Cottagecore aesthetic has taken the fashion and lifestyle world by storm since 2021.
With a deep focus on vintage-inspired clothing, natural fibers, and a connection to nature, it's no wonder that people are drawn to Cottagecore.
In this article, we'll see if the Cottagecore trend is still relevant in 2023 or has reached its peak.
We'll take a deep dive into the world of Cottagecore, exploring the aesthetic's origins, current popularity, and whether or not it's here to stay.
From Cottagecore fashion to home decor and lifestyle, we'll explore all related aesthetics and see whether it's worth investing in this aesthetic trend.
Time to start exploring the Cottagecore aesthetic and discover if it is still a thing in 2023.
IN THS ARTICLE
Cottagecore Complete Guide
What Does Define Cottagecore in 2023?
Why is Cottagecore So Popular?
Cottagecore Aesthetics Explained
Cottagecore Aesthetic Subgenre
Similar Aesthetics to Cottagecore
Opposite Aesthetics to Cottagecore
How to Live a Cottagecore Life
What EXACTLY is Cottagecore?
Cottagecore (also known as Farmcore and Countrycore) is a social media movement fostering the idea of living a simple rural lifestyle; local food, artisans, animals, forests, gardens, flowers, and no technology.
The meaning of Cottagecore is extracted from the two words composing the term: cottage and core.
The prefix cottage describes a country house or a small village house.
The word core relates to the 80s hardcore punk music scene and delineates a new category or genre.
The Cottagecore movement was started in early 2017 when users began to mention the term on Instagram and Tumblr.
Eventually, thanks to influencers promoting the Cottagecore lifestyle on TikTok, the term reached global recognition in 2019.
As such, the bucolic scenery of the rural, countryside, and real country life that had proliferated social media platforms over the last five years were christened with a name.
Nowadays, Cottagecore is everywhere, online and offline, from social media to design, fashion, outfits, and even politics, as you'll see below.
According to the Urban Dictionary, Cottagecore is an aesthetic and fashion style inspired by romanticized rural and farm lifestyle interpretations.
Think rare countryside scenery, nostalgic peasant dresses, rustic handmade crafts, and artisanal creations in fashion and homeware.
By wearing dresses with ruffles and floral prints or finding refuge in a rural setting occasionally, most of us partake in Cottagecore activities without even realizing it.
However, there's so much more to Cottagecore than just rare countryside scenery and nostalgic peasant clothing.
1. Cottagecore Symbolism
Beyond interpretations of romanticized rural and farm lifestyles, Cottagecore aesthetics tap into many rustic and rural concepts.
Cottagecore also explores and draws inspiration from the existence of witches, gnomes, or fairies.
As such, the concept of Cottagecore is centered around ideas of a simple life in harmony with nature.
"Cottagecore embodies the idea of a sustainable lifestyle, in harmony with nature. Aesthetically, it's a nod to the traditional, romantic, and nostalgic English countryside," – Ramona Jones, social media influencer and author of the book 'Escape into Cottagecore'
Covering everything from gardening to cooking, frolicking, and clothing making, the Cottagecore lifestyle encapsulates wide-ranging and complex elements.
And, as expected, so are the origins of the Cottagecore aesthetic and fashion styles – but more on that later.
2. Cottagecore Movement
To Cottagecore supporters, the movement is a reaction against the capitalist-consumerist society and the increasing time spent in front of computer screens.
As such, the Cottagecore movement has one's wellness and sustainability at its core.
Fundamentally, Cottagecore attempts to assuage burnout by passively enjoying life's mundane tasks.
In the Cottagecore universe, there's peace without smartphones pinging messages and online updates.
As such, there are no urgent work emails and evenings wasted responding to the demands of a 'tyrannical' boss.
There is no labor beyond the requirements of a domestic village lifestyle.
Just the daily, simple tasks of rural life, completed with a sense of fulfillment.
As such, the overall concept of Cottagecore reflects a desire to live a quiet and straightforward life.
A life away from technology, smartphones, big city streets, and other contemporary stress-inducing activities.
---
What Does Define Cottagecore in 2023?
Nowadays, most people experience the Cottagecore movement through images and videos on computers and smartphones rather than IRL.
Called 'Digital Cottagecore,' this aspect reveals a potential crack in the construct (and purpose) of the social-media-driven contemporary Cottagecore movement:
"The modern cottagecore perception is less about living a rural lifestyle and more about longing for it or pretending you live it," – Ellen Tyn – a popular Instagram Cottagecore proponent and designer from Russia.
The modern idea of Cottagecore is about a yearning that 'maybe things would be and feel different if we went back to our roots, and looked a little bit like in our parents' times.'
"Those idyllic images of english countryside is what makes so many people dreaming to buy homes there,"
explains Paul Quinn, the Director of the Chichester Centre for Fairy Tales, Fantasy, and Speculative Fiction, based at the University of Chichester.
However, Cottagecore becomes less dreamy when considering the realities of living alone in the woods.
Mesmerized by Cottagecore images, people ignore that rural areas have plenty of problems, such as no internet, roads, electricity, and floods.
"Seeing Taylor Swift wearing a chunky Irish knit on the cover of her album made people dream about living on the remote parts of the island,"
explains Quinn.
"But, while these rural settings make you want to live there, once you get there and the reality of no electricity, no water, And no internet kicks in, you want to leave fast."
concludes the Director of the Chichester Centre for Fairy Tales, Fantasy, and Speculative Fiction.
The current Cottagecore movement deals with a complex, dual concept.
On the one hand, Cottagecore is some people's unattainable desire to live a pastoral life.
On the other hand, Cottagecore is others' inescapable reality, a life of isolation.
Nevertheless, some proponents of the Cottagecore digital subculture find this duality even more attractive:
"ABOVE ALL, Cottagecore is A CONCEPT Symbolizing coziness at home,"
says Rebecca, a popular photographer of 'Folklore & Fashion' on Instagram.
---
Why is Cottagecore SO Popular?
Seen through the modern, digital lens, Cottagecore seems just one of the dozens of iterations of movements fetishizing the countryside and coziness over the past few hundred years.
The modern form of Cottagecore describes a world that exists almost exclusively online, on smartphones, constructed from cluttered apartments or suburban bedrooms.
Yet, that does not remove the fact that Cottagecore aesthetics are still everywhere, on Instagram, TikTok, Tumblr, and beyond.
Cottagecore fashion, aesthetics, styles, and even Cottagecore aesthetic bedroom themes exist.
Even Cottagecore appeared in the New York Times.
At the beginning of 2021, the NYT published a great piece about Cottagecore, calling it "a budding aesthetic movement."
Yet, it seems other forces have made Cottagecore popular.
1. The Lockdowns
When the pandemic hit and quarantine became commonplace globally, people turned to find fulfillment and purpose outside the monetary and economic drive.
People started to look at how the world would be without technology, big cities, pollution, and wasteful fast fashion giants.
It is how Cottagecore, Dark Academia, Light Academia, and other online movements started to gain traction as perfect vehicles for a simpler agricultural life.
With so much free time at home, people began baking, gardening, and dressing simply once again.
To Cottagecore proponents, that meant focaccia laced with herbs, and colorful vegetables, planning summer gardens in the backyard.
It also meant engaging in grandma-inspired fashion projects like knitting and embroidery.
At the top of the COVID-19 pandemic, idle homemaking became less escapism and more like an inescapable reality.
Under lockdown, Cottagecore became a way to ignore reality and escape into something adorable, far away from the outside world.
In no time at all, Cottagecore became the standout aesthetic of 2021.
"Every time there IS a spike in COVID cases, there's ALSO a spike in Cottagecore AESTHETICS,"
says Amanda Brennan, a Tumblr trend expert.
From early March to the end of April, the Cottagecore hashtag jumped 167 percent, while likes on Cottagecore posts increased by 573 percent!
As seasons changed, so did the Cottagecore aesthetics and social media posts:
In April, simple at-home or farm-like activities such as cooking and embroidery were the most popular posts on social media.
In June and July, it was all about sunny wildflower fields, twee picnics, and lily pads.
End of August and throughout September, it was all about fruit picking, winemaking, and celebrating the beauty of autumn in the countryside.
"True, most Cottagecore sentiments are 'wishful and longing,'" says Brennan, commenting on the top Cottagecore posts on Tumblr.
There's a constant feeling of "Oh, if only I could be there…" she added.
However, regardless of where it is, the Cottagecore aesthetic is loved and celebrated worldwide.
2. Sustainability Movement
There's a sustainable facet to the digital Cottagecore movement as well.
Most online Cottagecore adherents praise the virtues of second-hand shopping, thrifting, growing vegetables, and cooking food at home.
They're also proponents of the sustainable fashion movement, ethical manufacturing, and all cute and handmade clothing.
Through that lens, Cottagecore is a subculture devoted to a simpler and more considerate lifestyle.
In times of anxiety, people seek self-soothing products such as weighted blankets, ASMR, slime, organic skincare, fancy mattresses, food-making videos, and more.
For example, after Taylor Swift released the 'Folklore' record, whose official merchandise includes a rustic cardigan, the #cottagecore hashtag spiked on social media the same day.
With eco-friendly blankets, vegan leather handbags, billowy dresses, and boho-chic outfits, Cottagecore fashion completes the idea of a thoughtful, 'in sync with nature' lifestyle.
"Right now, the biggest trend in interior design is bringing the outdoors indoors. In these times of lockdown, people want to feel closer to nature,"
shares Kai Chow, Creative Director at the Doneger Group, a consulting agency in New York City.
3. LGBTQ+ and Justice Movements
While representing a nostalgia-based subculture, the Cottagecore movement is often associated with queer people and progressive politics.
Online, all over the internet, there are signifiers of these apparently unrelated connections.
"Cottagecore lesbian," for example, is a popular identifier online right now.
Goblincore, another favorite among nonbinary people, describes a world where frogs are also, canonically, lesbians.
Then, there's the clothing aspect of Cottagecore, which is vital to those who do not conform to gender stereotypes in fashion.
Evienne Yanney, a 16-year-old in California, says that she discovered Cottagecore on Instagram when she wasn't sure if she liked how she dressed.
As a lesbian who felt the world was not accepting her for who she was, Yanney thought the idea of running away to a cottage was "soothing."
Another politically infused aspect influencing the current Cottagecore aesthetic comes from social media accounts that fight for 'Black Lives Matter' and similar social justice events.
Like it or not, politics shape societies and societies construct and wear aesthetics.
To that, the Cottagecore aesthetic is no exception at all:
"Unlike other reactionary movements such as 'Trad Wives' — a right-wing mommy bloggers subculture who advocates a return to regressive gender roles — Cottagecore offers a vision of domestic bliss without servitude in the traditional binary framework," – Isabel Slone, the New York Times
Many Cottagecore followers express dissatisfaction with the gender roles and expectations that exist in a heteronormative society.
As such, the current, digital-based Cottagecore community rejects heteronormative gender roles.
Above all, it seeks to remove traditional life stigma and stereotypes from the aesthetics' cultural past.
For this reason, Cottagecore enjoys niche popularity within the LGBTQ+ community, particularly among lesbian and bisexual women.
In their views, Cottagecore is a movement where people are free to express queerness in a rural space, contrasting the homo/transphobia faced by those living in small towns.
4. Political Debates
Despite the Cottagecore proponents seeking (and having) a more equalitarian outlook on life, the movement is criticized for what it stands for.
For example, the Cottagecore aesthetic is not an organized political movement with stated goals or leaders.
Yet, almost all conversations around Cottagecore have a political nuance.
The opposition to modern life – shared among Cottagecore adherents, regardless of their political spectrum, is seen as an ideology that advocates for the restructuring of society.
As such, the Cottagecore movement is associated with two directly opposed political groups.
And, despite a shared frustration with modernity, these groups have radically different outlooks on life and directions.
On the one hand, the LGBTQ+ community sees Cottagecore as a movement that lets people express queerness in a rural space, contrasting the homo/transphobia faced by those residing in villages and small towns.
At the opposite pole is the progressive Cottagecore community proclaiming opposition to modernity based on losing conservative values and fondness for a pre-capitalist economic system.
For example, TradWife subculture members often recourse to Cottagecore imagery, fashion, memes, and similar aesthetics to promote their views.
The group supports revitalizing traditional heteronormative gender roles, a popular aspect of the right ideology.
Cottagecore imagery is also used by the Eco-Fascist and Eco-Nationalist circles that uphold western colonialist and eurocentric views.
As such, Cottagecore gets a lot of heat for promoting and romanticizing farming life to celebrate colonial aesthetics, especially in the context of North American and Australian social constructs.
---
Cottagecore Aesthetics
But, above all political influences, Cottagecore remains an aesthetic based on certain visual elements.
Early Cottagecore analysts assumed that the aesthetic was inspired by fairy tales, cute fantasy stories, speculative fiction, and fascination with tiny animals.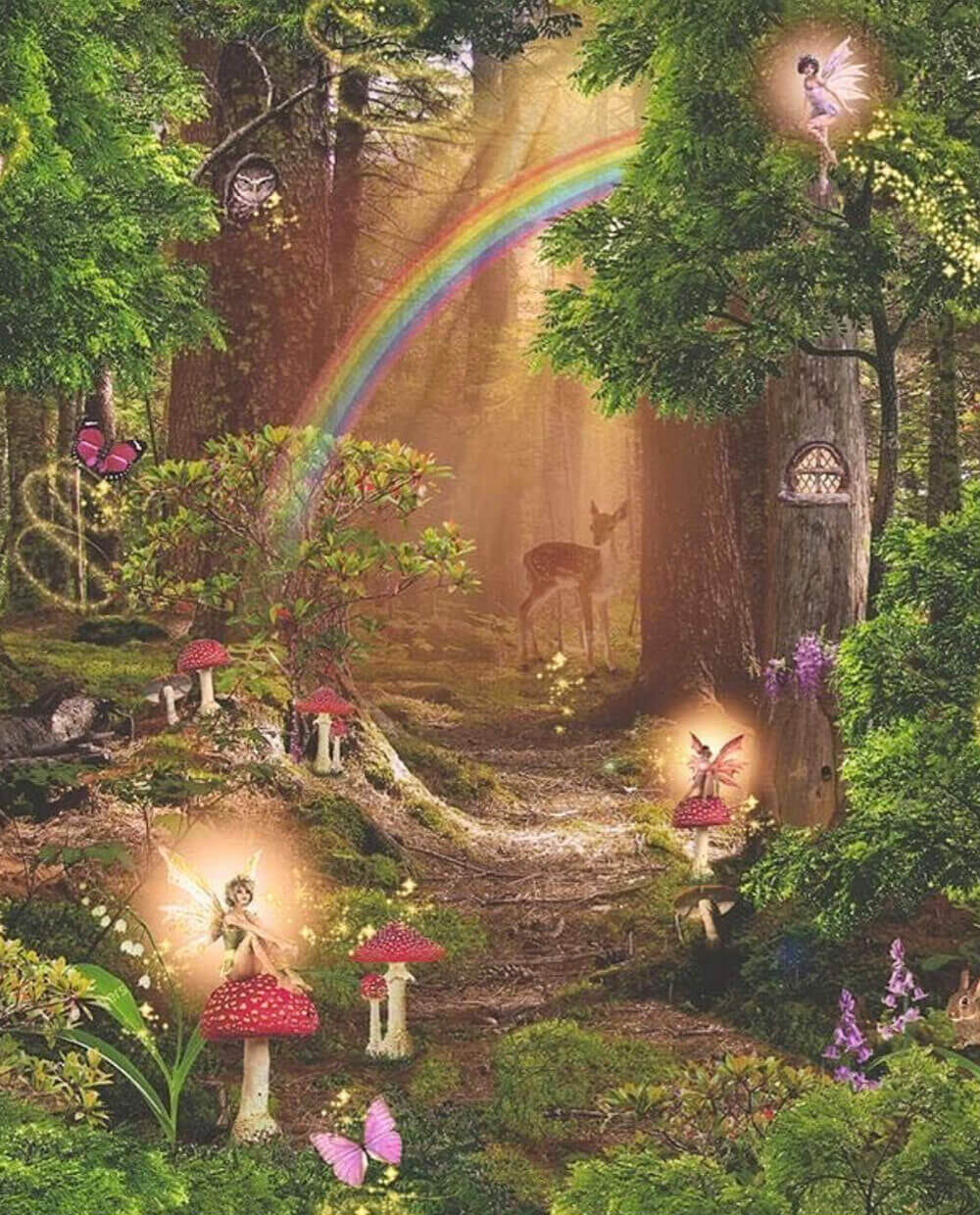 However, a deep look at the early 19th century stories such as Beauty and the Beast, Little Red Riding Hood, or Cinderella, reveals an equal amount of grotesquery, horror, rape, and cannibalism scenes.
Most of these stories often occurred in scary forests and cottages that were death traps.
It wasn't until later in the century that these stories were modified to appeal to children.
Thus, Cottagecore is a re-shaping concept building on a blend of nature idealization and profound nostalgia for a medieval past.
Add a healthy dose of historical inspiration from old-time farming (think Laura Ingalls Wilder books) and some of your grandma's vintage dishware; you've got the picture.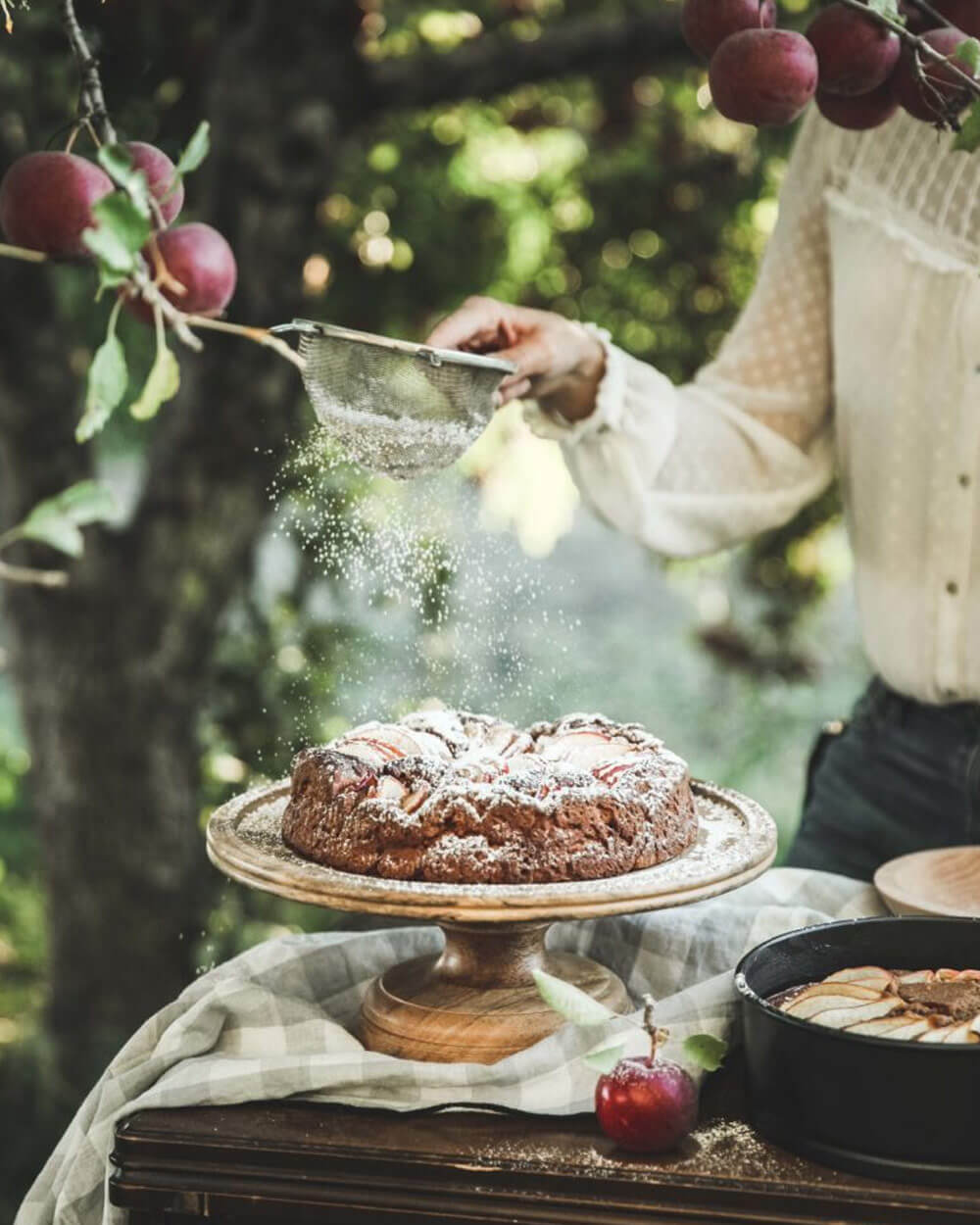 There are also traditional Cottagecore aesthetics that refer to a white colonial era and old European village looks.
The aesthetic uses images of slim white women holding wicker baskets filled with apples, farm eggs, and linen towels wrapped around freshly baked bread.
Overall, the Cottagecore aesthetic triggers a nostalgic yearning for times of simplicity, free from technology and stress.
Some of the most used visuals and aesthetics in Cottagecore include natural elements such as:
outdoor visuals, open fields, forests, wildflowers;
pics of farms, farmhouses, cottages, gardens, and animals;
handwritten letters, handwritten poetry, prints of fairies, and old books;
cross-stitch embroideries, vintage pottery, and tea sets.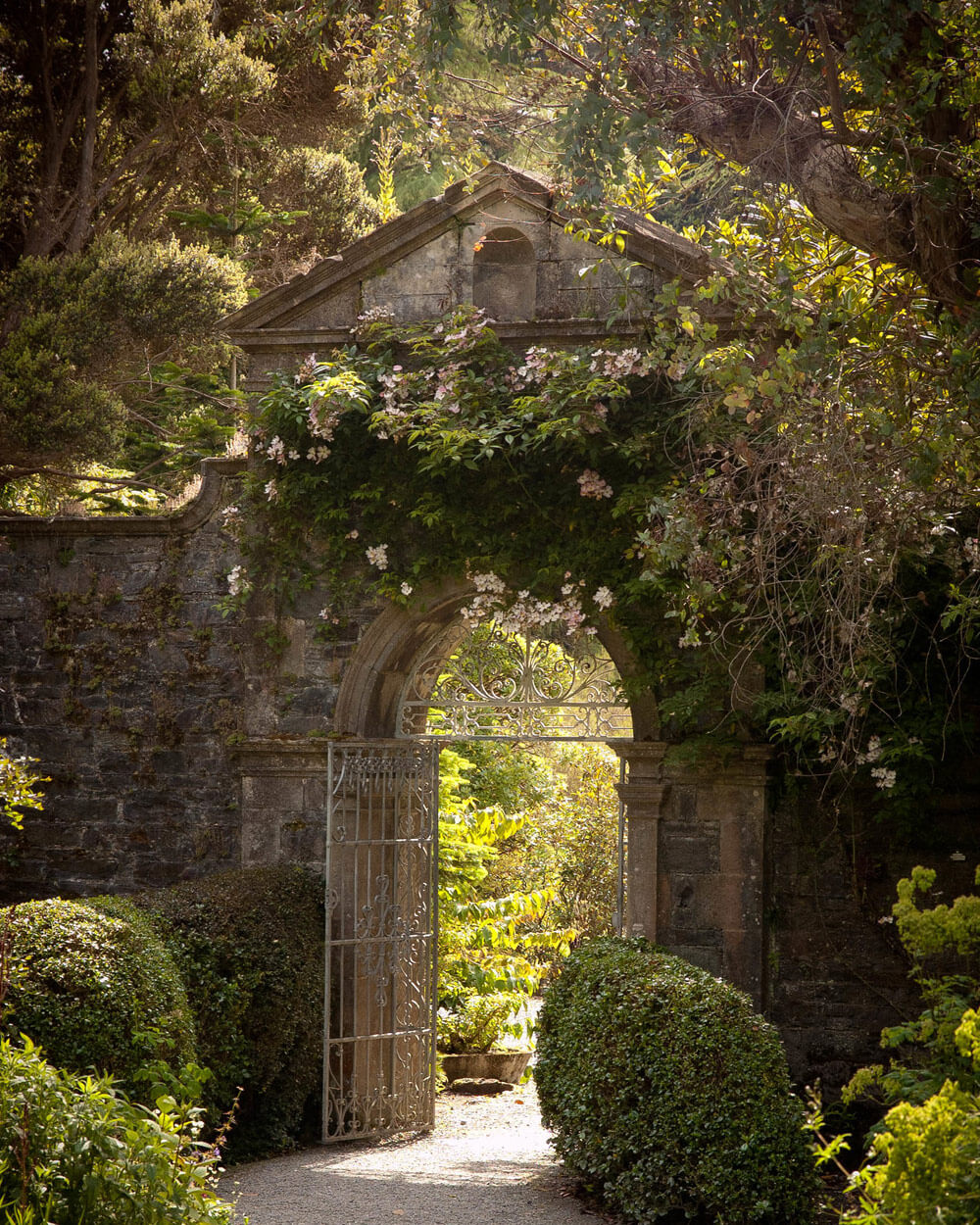 Other stylistic components of the Cottagecore aesthetic are decorative elements such as …
fresh or dried flowers
houseplants, handmade crafts
freshly picked fruits
homemade bread
traditional outfits
… all in natural colors or palettes of neutrals and warm tones.
Cottagecore aesthetic also contains elements of Light Academia and Mori Fashion.
Imagine doilies, DIY fairy spoons crafted from seashells, eyelet blouses, soft cardigans, hair ribbons, illustrations from Frog and Toad, and stills from Miyazaki movies.
Nevertheless, it is pretty challenging to point to someone on the street and label them as wearing 'Cottagecore', as you'd be able to do with grunge, fairy grunge, or cyberpunk-style followers.
---
Cottagecore Aesthetic Subgenres
Cottagecore's subgenres differentiate by focusing on a specific theme.
Cottagecore has many subgenres; however, here are the four most popular ones in 2023.
1. Bloomcore
Bloomcore is a subgenre part of the Cottagecore aesthetic but with a focus on flowers, gardens, and village greenery.
Bloomcore life emphasizes gardening in a small, quaint village and generally a quiet lifestyle.
2. Honeycore
Honeycore is an aesthetic based around the rural production and consumption of honey, bread, and waffles.
It is similar to Cottagecore in that agricultural imagery and values are emphasized.
However, the Honeycore visuals are streamlined to create a color palette of primarily pale yellows and browns.
In fashion, the Honeycore aesthetic sports bees, honey, and summer field flowers that emphasize organic agriculture and the conservation of bees.
3. Vaporcottage
Often associated with Cottagecore, Vaporcottage is a made-up aesthetic promoted on the Aesthetics Wiki Fandom.
Vapporcottage was started as a joke by mixing the grounded and realistic escapism of Cottagecore with surrealist, sarcastic, and even dystopian nightmare imagery belonging to the Vaporwave culture.
The aim was to prove that any aesthetics can be blended in an exercise later described as:
"mixing these styles is WHAT you see after ingesting soup laced with psychedelics,"
said a comment on the Fandom website.
4. Southwest Cottagecore
Southwest Cottagecore aesthetic moves away from the village, foresty, and green color palette of Cottagecore.
The main aspects are identical, but you'll find houses framed by yuccas instead of stone cottages.
Similarly, the Southwest Cottagecore fashion is more suited for warm weather, paired with warm colors and the occasional beachy, whimsical look.
Imagine run-down shacks by the beachside, beachgrass, coast lizards, rabbits, snakes, and even hawks.
---
Similar Aesthetics to Cottagecore
Given their nostalgia-ridden constructs, the most similar aesthetics to Cottagecore are Grandparentcore and Grandmacore.
Other similar aesthetics to Cottagecore are Light Academia, Naturecore, and Warmcore.
Given the ever-expanding universe of hyper-specific aesthetics, daily 'related cores' are proliferating online.
Such aesthetics act as sources of inspiration and a common desire to live in a world outside the one currently inhabited.
Some of these aesthetics related to Cottagecore are:
Faeriecore (aesthetic surrounding the theme of nature, soft pastels, butterflies, magic, and flowers)
Farmcore (romanticized interpretation of western agricultural life)
Meadowcore (cottagecore but just the meadows)
Frogcore (cottagecore but just the frogs)
Goblincore (cottagecore but with mud and foraged mushrooms and gender-neutral clothing)
… and there are dozens of other aesthetics most people have probably never heard of.
What's the Opposite of Cottagecore?
At the opposite pole of Cottagecore (from an aesthetic perspective) is Cottagegore.
Also known as Goth Cottagecore or Dark Cottagecore, the Cottagegore aesthetic is very similar to Cottagecore in the sense of sharing the focus on country life, baking, and vintage items.
However, Cottagecore's primary focus is on the negative and dark aspects of the cottage lifestyle.
Cottagegore, Goth Cottagecore, or Dark Cottagecore
As the name suggests, Dark Cottagecore uses the negative aspects of the cottage lifestyle – that the Cottagecore proponents often try to veer away from – to create its aesthetic.
Often infused with Dark Academia and gothic elements, the style includes darker aspects of nature (including decomposing mushrooms, forest cryptids, spirits, ghosts, and bones found in nature).
The most extreme form of Cottagegore aesthetic includes blood and gore, crossing over with other dark aesthetics such as Crowcore and Vulture Culture.
How to Become a Cottagecore Girl
You do not need a cottage in the heart of England to live a Cottagecore life.
You can live a perfect Cottagecore lifestyle from the comfort of the sofa in your apartment in the heart of London or New York.
Start by inviting some friends for a proper cup of English tea and discuss the best Cottageocre pictures of meadows, castles, and windmills.
Dress up Cottagecore whenever you can; occasionally, mail a handwritten letter to a friend.
Start a smartphone detox, tend the plants in your balcony or garden, and even get a pet to recreate a bit of that village lifestyle.
Finally, with the holidays coming up, decorate your house with a warm, traditional, 'Cottagecore-like' vibe.
Conclusion
Beyond the political debates, Cottagecore is an aesthetic based on rural countryside scenery and natural life.
Starting on social media platforms a few years ago, Cottagecore is everywhere now: in media, design, fashion, outfits, and, yes, politics.
Moreover, like any impactful aesthetic, Cottagecore is also evolving and changing fast.
Only time will tell if the Cottagecore aesthetic catches ground in fashion to the point of being recognized and appreciated like dark academia or streetwear.
Weekly Newsletter. Sign Up Now!
Celebrities, designers, and latest news in sustainable fashion.
Weekly Newsletter
Keep up with the latest in fashion, beauty and style!
Now it's your turn…
What is your take on the Cottagecore movement?
Do you feel influenced by the Cottagecore culture?
Which aspect of Cottagecore do you like the most?
Is there anything about Cottagecore that you dislike? If so, what?
Do you know any other subcultures similar to Cottagecore?
Please comment below so others can benefit from your experience and knowledge.



A University of Oxford graduate in Design History, Katherine Saxon is researching arising TikTok cultures from a consumer psychology perspective while covering emerging aesthetics in fashion and beauty for TheVOU, Forbes, Business Insider, and more.