Not all glasses frames are a one-size-fits-all buy, and finding the best pair of frames for your face shape can be quite the task.
The most stylish glasses frames for women in 2023 have several things in common: a contemporary design, features, and frame elements that complement you best.
In this article, I've curated 20 stylish prescription glasses frames for women in 2023.
Each frame was hand-picked for its signature aesthetics, affordable price, and ability to improve your style.
Time to discover the most stylish – and splurge-worthy – glasses frames for women in 2023.
EDITOR'S CHOICE
Top 5 Glasses Frames for Women
---
1
/20
Ray-Ban Clubmaster Glasses Frames
Best Half Glasses Frame
from $121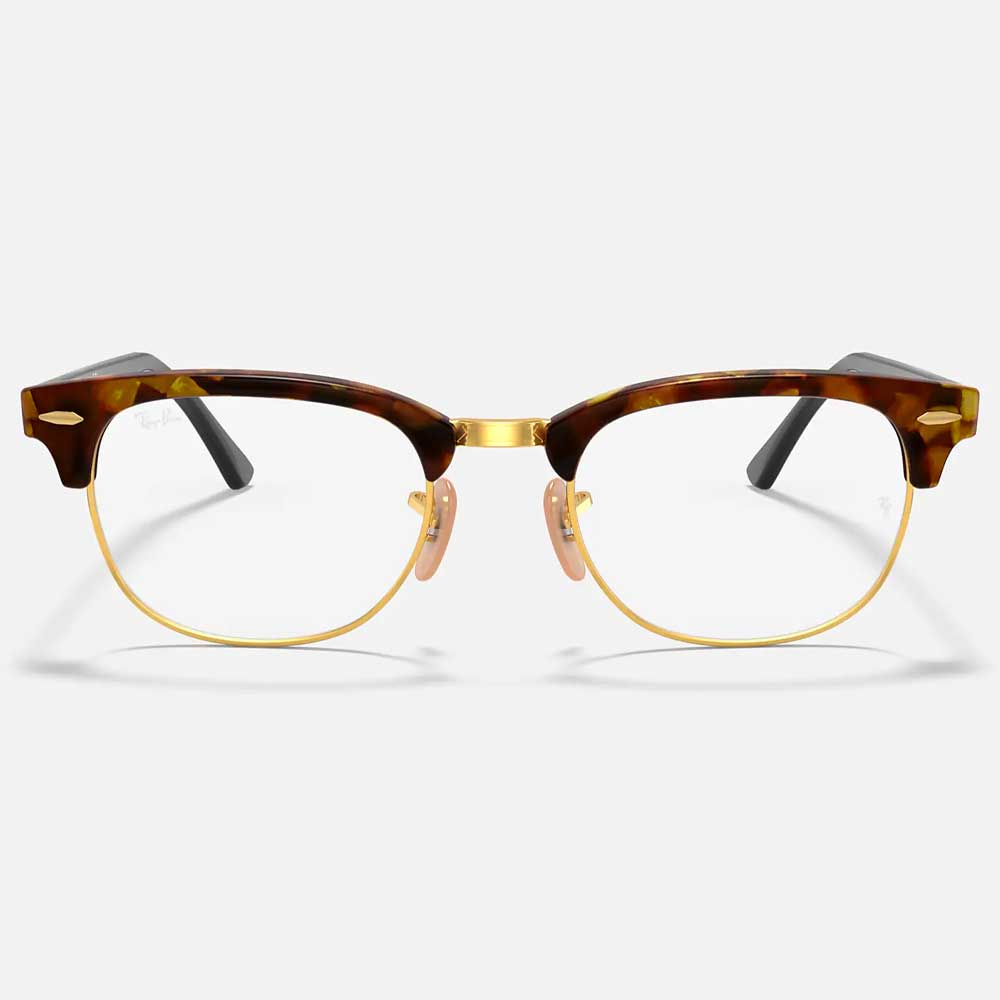 EDITOR'S NOTE
"Designed in a classic rectangular browline frame, this semi-rimless glasses frame silhouette from RayBan is fresh, office-ready, and extremely well suited for smart casual outfits."
If traditional prescription glasses with wireframes aren't for you, but you still want the signature aesthetic of Ray-Ban frames, the Clubmaster is ideal.
Ideal for casual and smart occasions, the classic rectangle browline frame and the semi-rimless silhouette suit most face shapes.
Whether for blue light glasses, prescription lenses, or sunglasses, Ray-Ban Clubmaster is a history-making pair of eyeglasses frames.
No wonder why fashion enthusiasts have been buying Ray-Ban glasses frames on repeat since 1937.
---
2
/20
Mouqy Oscar Glasses Frames
Best Classic Square Glasses Frame
from $20
EDITOR'S NOTE
"Refresh your wardrobe with these chic crystalline frames from Mouqy. Designed in a striking square silhouette, these oversized, clear frames ooze power, and exquisite style."
If you're looking for a striking frame that won't steal the spotlight from your face, I highly recommend clear frames in bold silhouettes.
With an effortless and versatile aura suitable for work and play, this stunning pair of glasses from Mouqy ticks all boxes.
The frame is the perfect blend of modern and classic – combining a sheer frame material with tortoise temple arms for that perfect vintage touch.
The frame's classic square design is flattering on most face shapes, while the sheer material makes sure not to overwhelm your face features.
Don them for brunch, business meetings, fancy nights out, and anywhere between!
---
3
/20
Amelia E. Veronique Round Glasses Frames
Best Round Glasses Frame
$104

$52
EDITOR'S NOTE
"Amelia's round glasses frames – with a subtle hint of cat-eye shape – have a superbly dipping browline and sleek arms, making them the ideal eyeglasses frames to construct a sharp but quirky office look."
Amelia's stylish glasses frames for women have a whimsical preppy feel that can transform even the most boring clothing ensembles into catwalk-ready styles.
While marketed as round, these glasses frames have a twisted cat-eye shape 'soaked' in sunny-weather pastel tones that work wonders with preppy outfits.
And while the candy-like cotton color is a bonus, the authentic chic vibe comes from the dipping browline and the super sleek arms.
---
4
/20
Persol Yellow Glasses Frames
Best Thin Glasses Frame
$265 

$185.50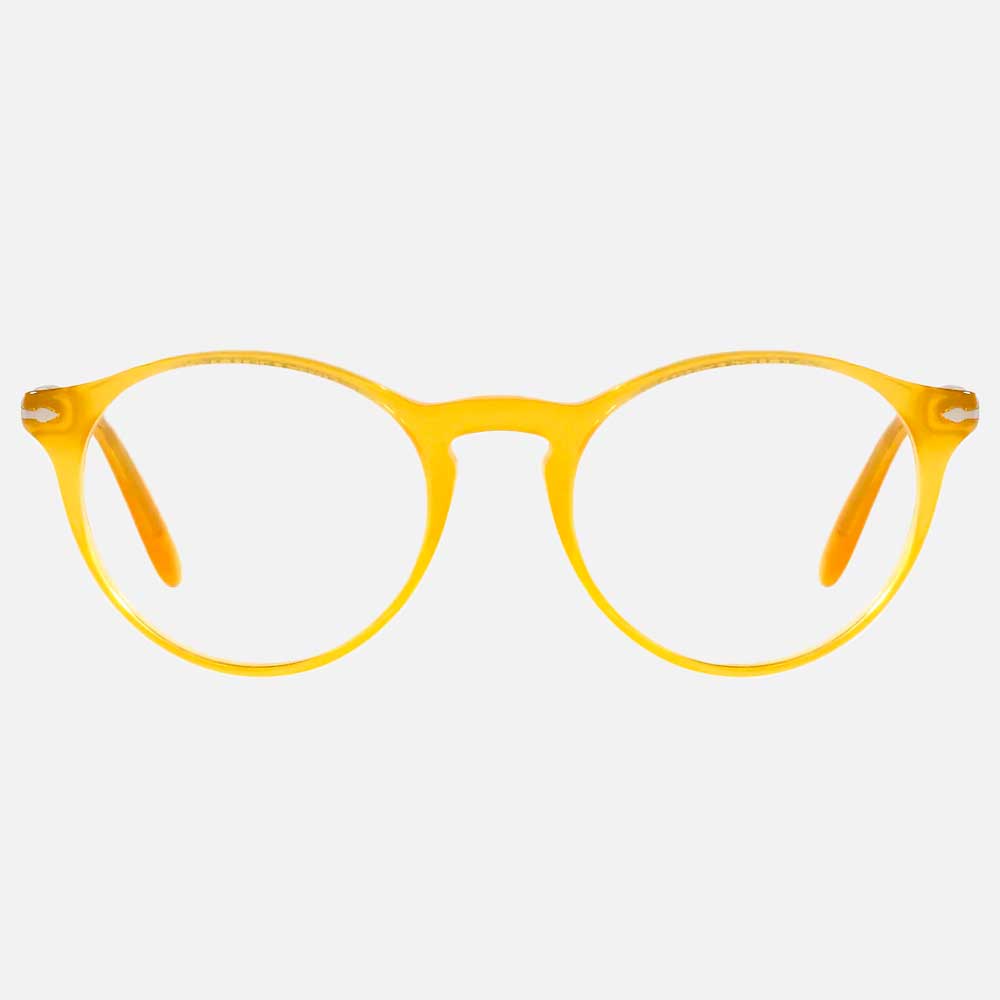 EDITOR'S NOTE
"With a sleek contemporary contour in sun-basking bright yellows, this minimalist glasses frame for women from Persol was designed to turn even the most common face shapes into instant TikTok celebs."
With stylish dopamine-inducing colors, Persol's eyewear frames for women are some of the most desired.
Backed up by excellent built quality, these designer glasses frames for women will infuse your cocktail attire with 'sunshine' regardless of season or weather.
---
5
/20
Armani Exchange Purple Glasses Frames
Best Designer Glasses Frame
from $119
EDITOR'S NOTE
"Armani's cat-eye-shaped designer glasses frames in royal purple are a rare combination of style and versatility, making them ideal for business meetings, social events, and even dinner dates."
Always at the forefront of modern eyewear styles, Armani's latest glasses frame for women impresses through excellent design and color choice.
Armani's choice of cat-eye-shaped frames delivers a fresh twist to the classic style we all know and love.
Given that 'Armani Exchange is the company's most accessible and affordable line of glasses frames, scoring these beauties for under $120 is an absolute bargain.
---
6
/20
Warby Parker Hatcher Glasses Frames
Best Vintage Look Glasses Frame
from $95
EDITOR'S NOTE
"Warby Parker's frames constructed in statement angles and with a double brow bar – in tortoise-shell color – are ideal for creating a unique vintage feel that expresses expertise, tradition, and social power."
Warby Parker's tortoise-shell glasses frames are a must for women seeking to create a polished vintage look without breaking the bank.
'Aviators' shapes have smitten the fashion crowd since the 1930s, and this pair of glasses frames are no exception.
Moreover, stately angles and double brow bar riffs are very trendy in 2023; hence why these glasses frames for ladies are so beloved.
Sporting a universally flattering shape, these glasses frames for women will never go out of style.
---
7
/20
Gucci Red Cat Eye Glasses Frames
Best Red Glasses Frame
from $164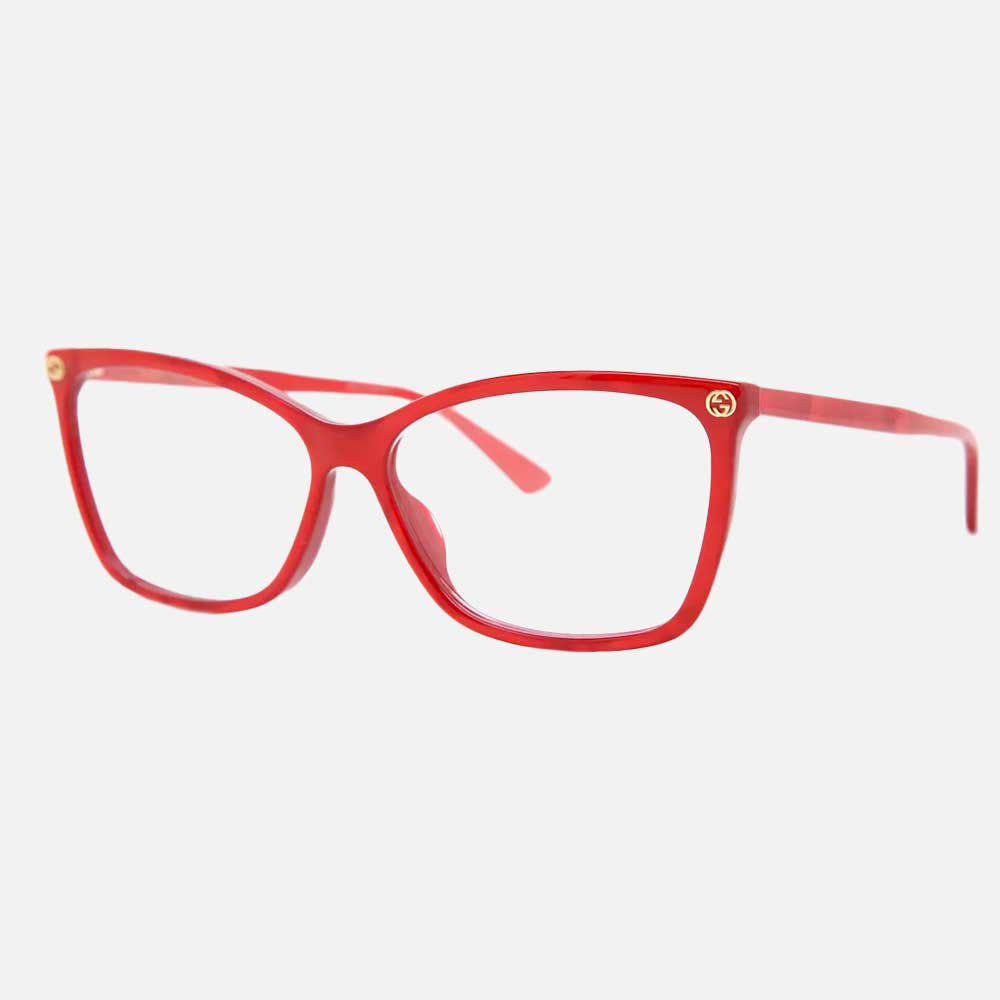 EDITOR'S NOTE
"Gucci's 2023 most stylish glasses frames for women come in a bold cat-eye design with a chunky front and an oversized logo. And, to top it up, the superb orange-red shade works wonders with extravagant hairstyles and outfits."
As one of the most prestigious fashion houses, Cucci's glasses frames will bestow you with 2023's trendiest shapes and colors.
Synonymous with luxury, Gucci's designer glasses frames for women are drenched in look-at-me-now bright red and deep orange tones.
With a subtle touch of vintage and elegant brand detailing, Gucci's Red Cat Eye glasses frames for women have an ICONIC all-over feel.
---
8
/20
Versace Clear Glasses Frames
Best Transparent Glasses Frame
from $251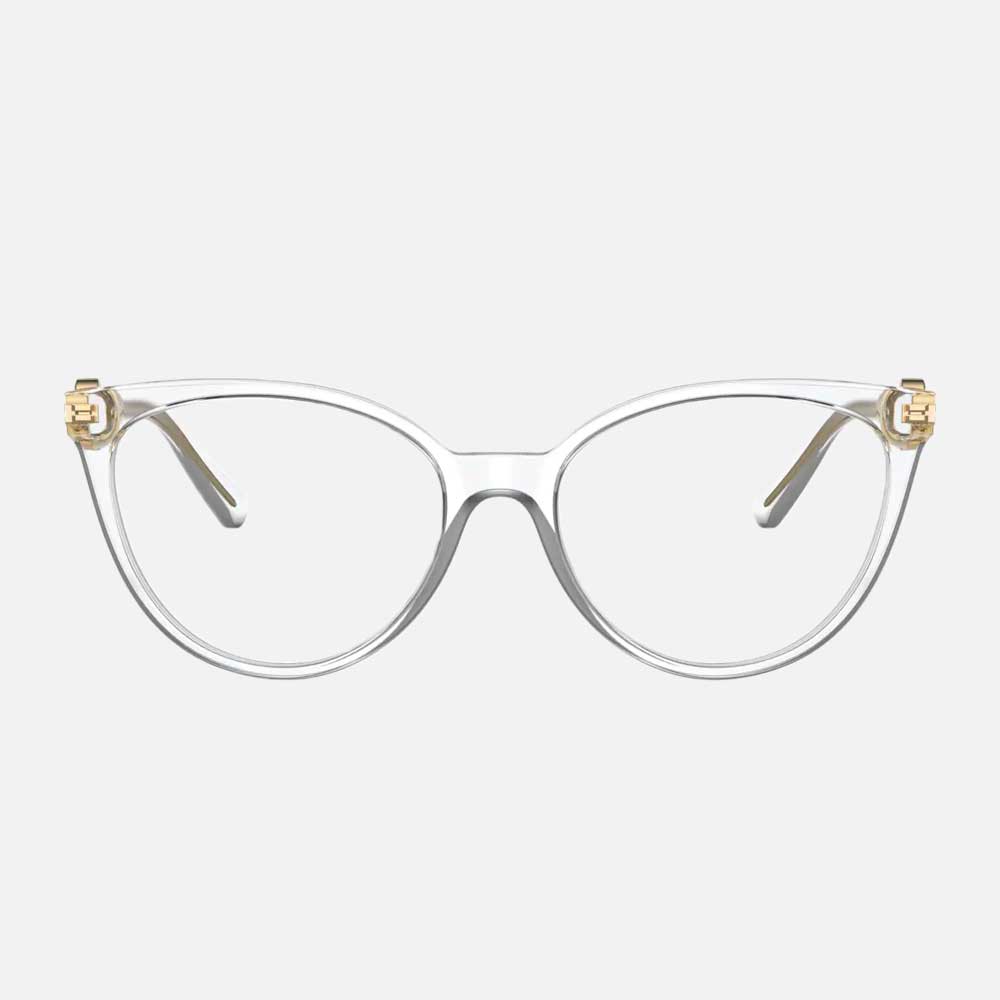 EDITOR'S NOTE
"Hailed by eyewear experts as a statement-making frame for women, Verace's transparent creation delivers a powerful vintage style that suits elegant cocktail dresses and black-tie event outfits to perfection."

Created to impress every moving soul, Versace's transparent glasses frames for women are out of this world.
The frame's bold cat-eye design and chunky front are meant to make an instant statement – and expand your accessory horizon.
The color (or lack of it), the style, and the branding make this piece the most outrageous glasses frame for women in 2023 and the season's top attention grabbers.
---
9
/20
Michael Kors Black Rectangle Glasses Frames
Best Black Glasses Frame
from $91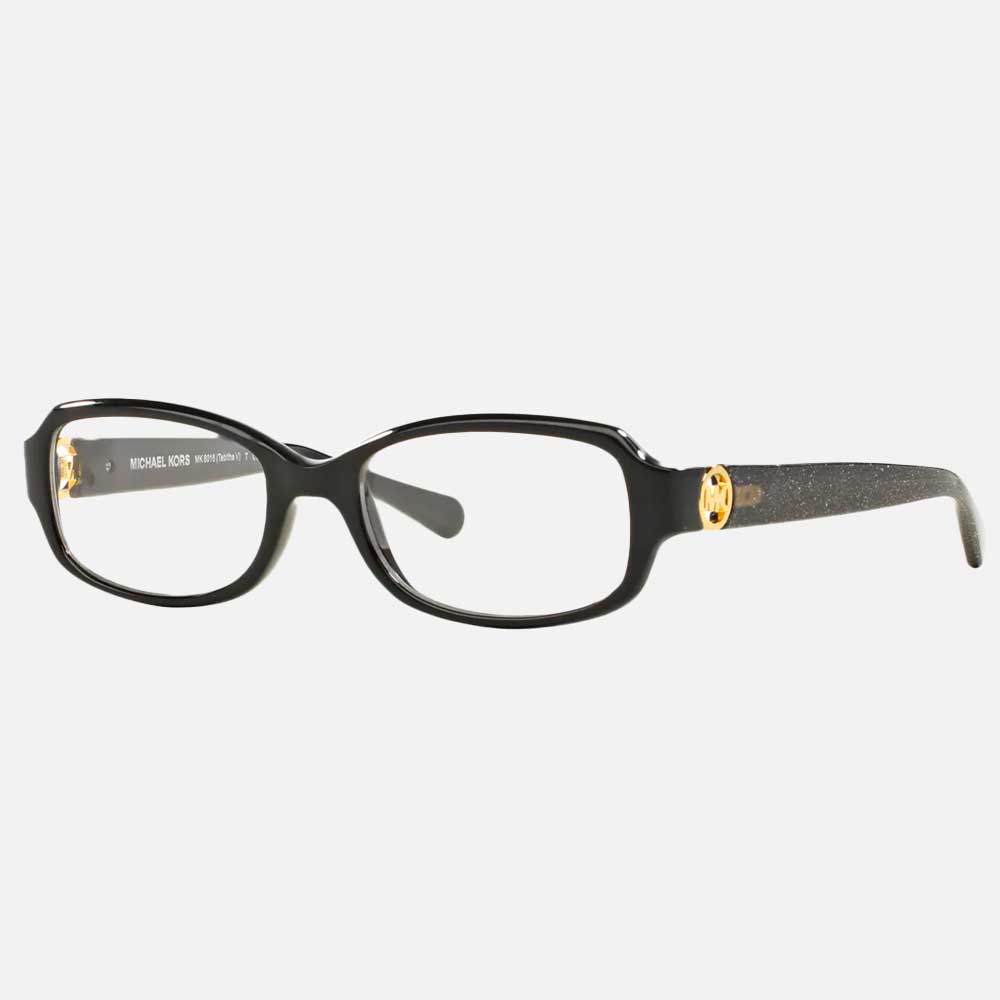 EDITOR'S NOTE
"Michael Kors' roundish-rectangular glasses frames with dipping browline and imposing arms are a perfect companion to business meetings and similar events."
True to the classics, Michael Kors' rectangular shape glasses frame for women come in dark colors with golden details.
Easy to match with daily office ensembles, the frame's dipping browline and sleek arms make it a fantastic option for women and girls alike.
---
10
/20
Coach Rectangular Glasses Frames
Best Rectangular Glasses Frame
from $95
EDITOR'S NOTE
"Designed to emphasize cheekbones, Coach's rectangular frame design in warm notes of light brown and purple is ideal for women seeking to put together the impressive 'sexy librarian' look."
Here's another super stylish pair of rectangular glasses frame for women, this time from Coach.
Since 1941, Coach has been delivering some of the most opulent daily and nightly glasses frames, and this design does a great job of emphasizing cheekbones and lips.
Moreover, as rectangular frame shapes suit most faces, these glasses are also suitable for all ages.
---
11
/20
Kate Spade New York Cat Eye Glasses Frames
Best Cat Eye Glasses Frame
from $112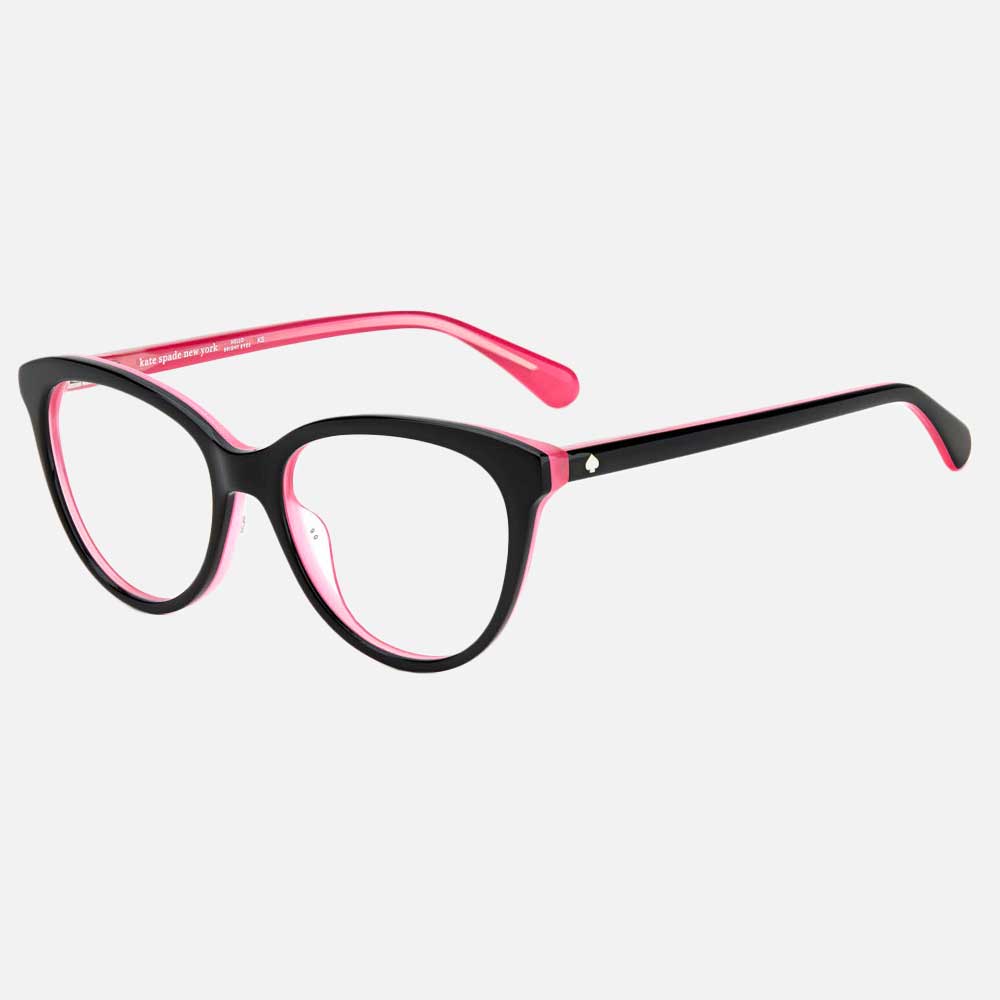 EDITOR'S NOTE
"In colors and shapes that shout sensuality, Kate Spade's NY Cat Eye frame is considered the sexiest of 2023; the look works wonders with posh dinner dresses that let the crowd 'guess' a bit of pink-ish lingerie underneath."
Kate Spade's NY Cat Eye glasses frames are a must for women who want to convey a unique fashion aesthetic.
The frames come in 3 different styles and colors, including pink, dark Havana, and black, with pink being the most celebrated.
Spade's beautiful take on these frames for women grants the wearer a sexy touch, regardless of the event type or time of the day.
---
12
/20
Diff XS Thick Rimmed Frames
Best Small Glasses Frame
from $42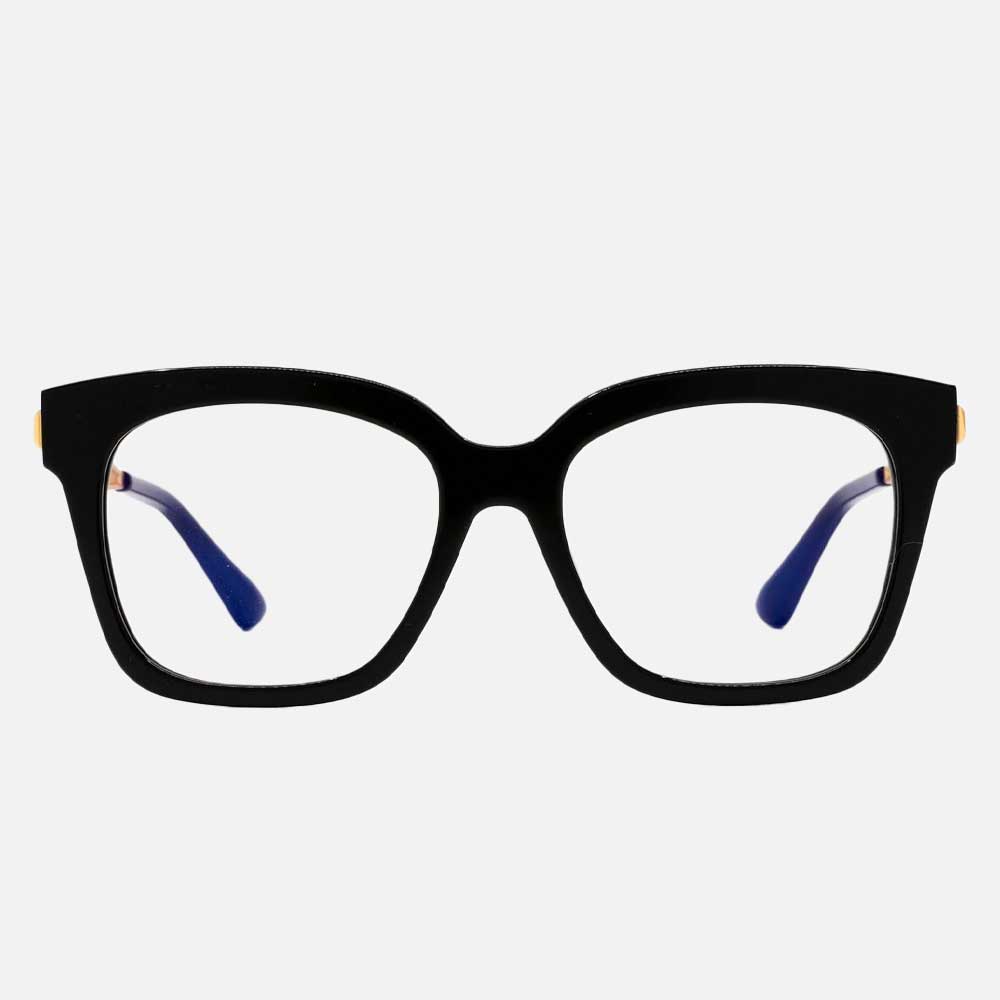 EDITOR'S NOTE
"Built around a powerful saddle bridge and hockey-end temples, Diff Bella XS Thick Ridded frames are great at conveying a geek-chic vibe."
Diff XS glasses frames for women are a modern take on the classic British frame styles popular during the 60s fashion days.
The frame creates an instant nerd feel thanks to the saddle bridge and hockey end temples, which are very popular with glasses frames connoisseurs.
Available in 10+ colors, Diff's glasses frames for women have a flawless tailored look that matches well with smart-casual ensembles.
---
13
/20
Kuboraum Square Acetate Glasses Frames
Most Stylish Glasses Frame
from $284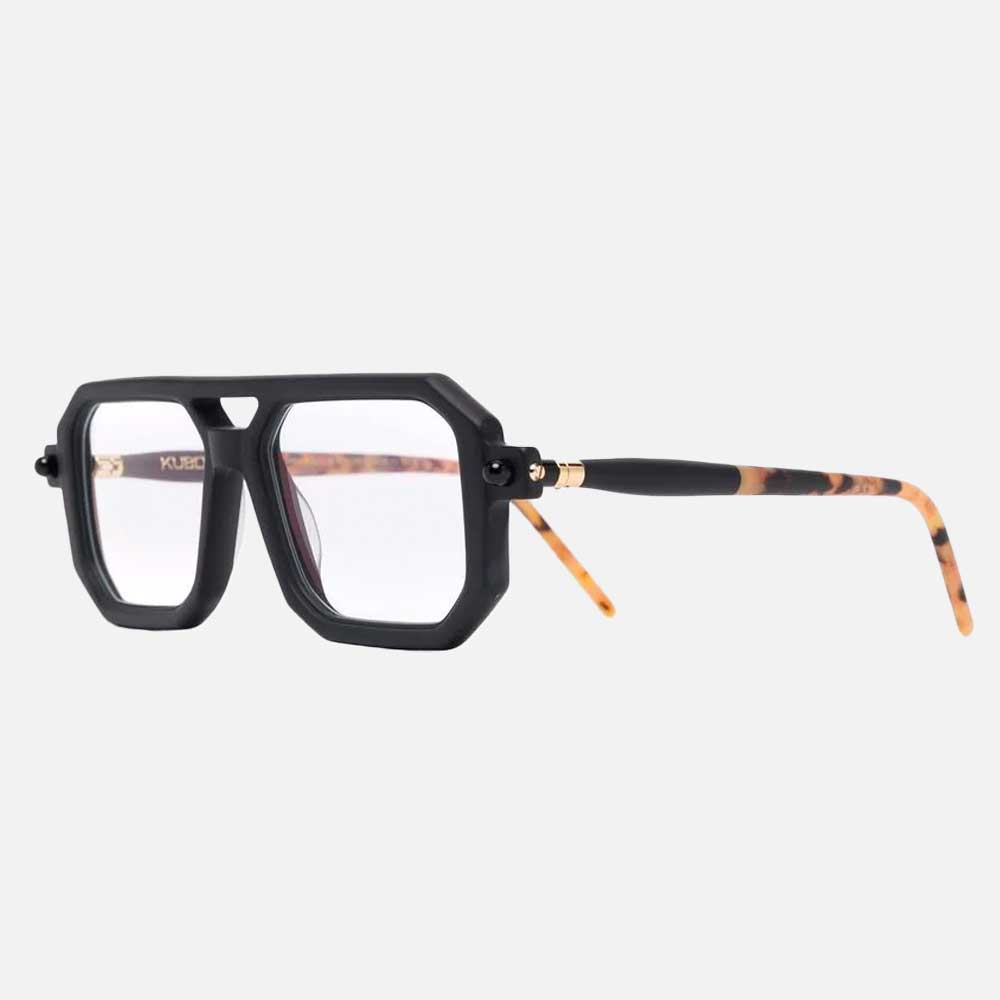 EDITOR'S NOTE
"Dreamed in Berlin and handmade in Italy, Kuboraum's glasses frames have characteristic ultra-thick frames, straight arms, and curved tips, making them the focal point of any outfit, from casual to clubbing and streetwear."
For women that want to find the most statement-making frames online – without veering into the "too-the-nose" territory – Kuboraum is the brand you need.
With ultra-thick frames, pencil-like arms, and curved tips, KUboraum's Square Acetate design is suitable for the most extravagant occasions you have in mind.
The brand's 2023 edition of acetates for women come in more than five colors, so plenty of shades match your fashion style.
---
14
/20
Prada Enamel Framed Glasses Frames
Best Metal Glasses Frame
from $168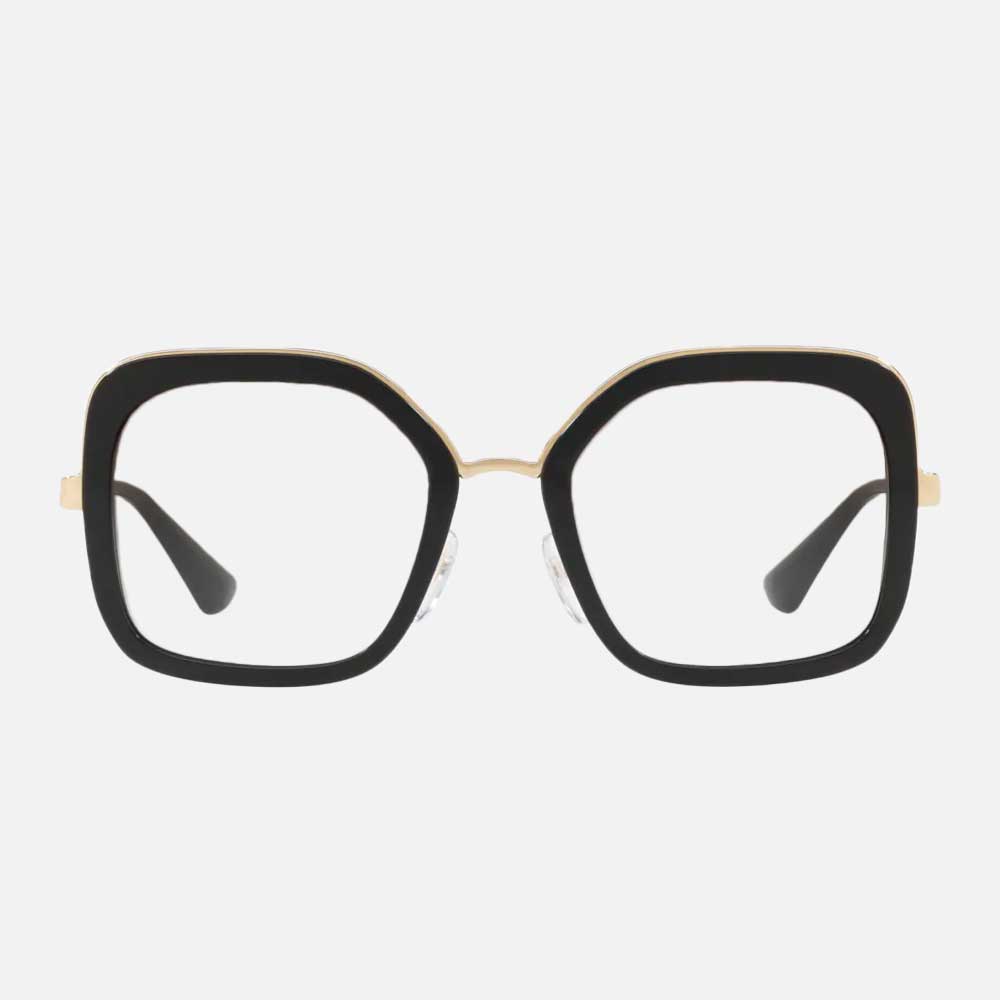 EDITOR'S NOTE
"Prada's Enamel Framed metallic glasses frame has a unique (and superb) hexagonal silhouette that works wonders for those who want to create 'wild and rebellious looks."
Metallic eyewear frames for women dominate 2023, and Prada's enamel frame is at the top of the list.
Structured around a simplistic, industrial design, Prada's latest generation of glasses frames for women flies off the shelves (online or physical) in 2023.
The 'barely-there metal' and elegant hexagonal silhouette are a must-have stylistic accessory to any lady's visual arsenal.
---
15
/20
Chloe Octagonal Gold Glasses Frames
Best Gold Glasses Frame
from $80
EDITOR'S NOTE
"Designed in a warm gold-tone metal and adorned with artistic finishes, Chloe's glasses frames for women will bestow you with a majestic bohemian vibe."
Choe's gold wireframe and tortoiseshell-tipped arms, inspired by the iconic 70s fashion days, are some of the most wanted frames for women right now.
Polished, chic, and all-year-appropriate, the gold-tone metal and artful finishes make the frame suitable for all ages and styles.
---
16
/20
Celine D-Frame Acetate Glasses Frames
Best Oversized Glasses Frame
from $320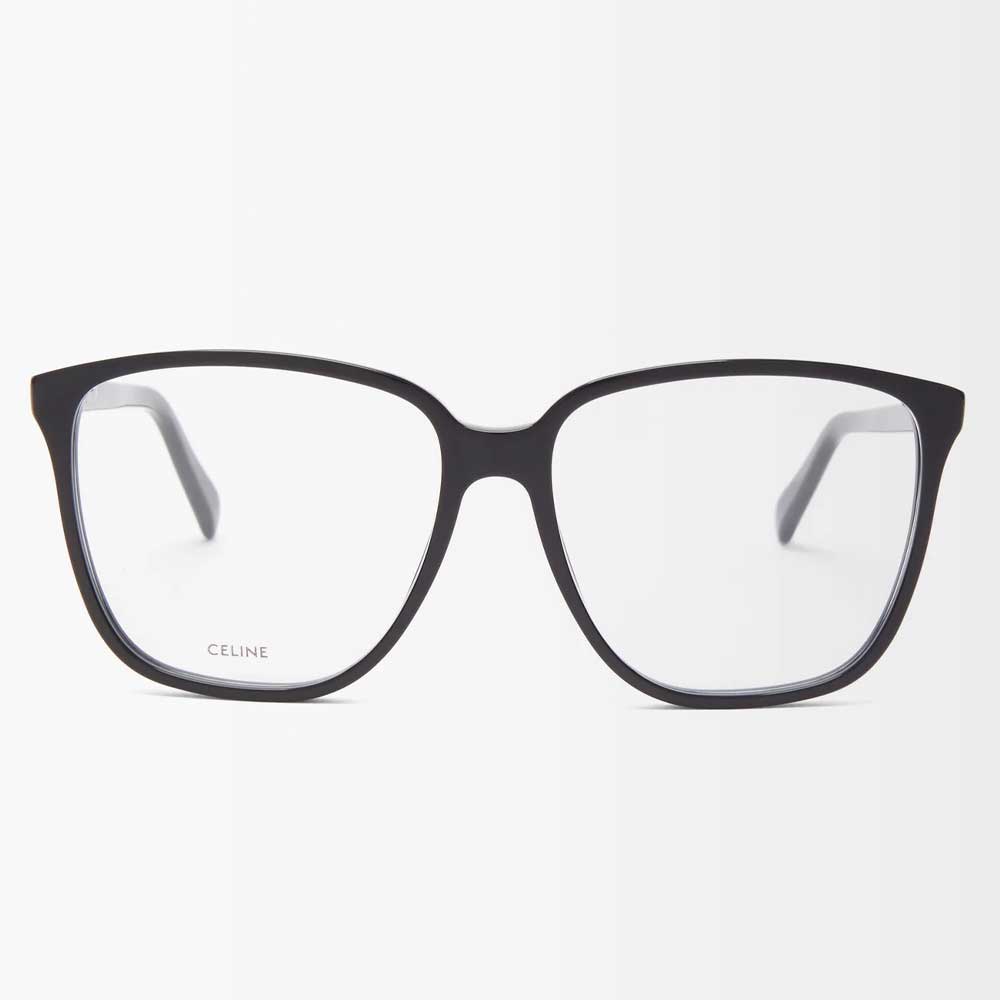 EDITOR'S NOTE
"One of the least excentric frames on this list, Celine's D acetate frames are the dark horse of the list; yet, these glasses frames for women are ideal for creating a polished, androgynous look."
Celine's angular glasses frames for women have an inherently relaxed feel that makes them ideal for street-ready, aesthetic clothing.
The brand's three-dot motif looks gorgeous against the frame's beige color, giving these frames a subtle masculine feel – hence the androgyne suitability.
The frames come in black color variations and are suitable for women seeking to convey a hint of androgynous fashion.
---
17
/20
Tom Ford Classic Tortoiseshell Glasses Frames
Best Glasses With Thick Frame
from $194
EDITOR'S NOTE
"Tom Ford's Classic Tortoiseshell glasses frame delivers one of the most powerful looks a woman can wish for. Suitable with androgynous outfits, these frames will turn any woman into a media mogul, fast."
Tom Ford's designer glasses frame for women is a must-have for those thirsty for power.
Following an all-time classic square design and tortoise shell coloring, these frames scream, "I'm in charge!"
---
18
/20
RFLKT Blue Square Glasses Frames
Best Square Glasses Frame
from $70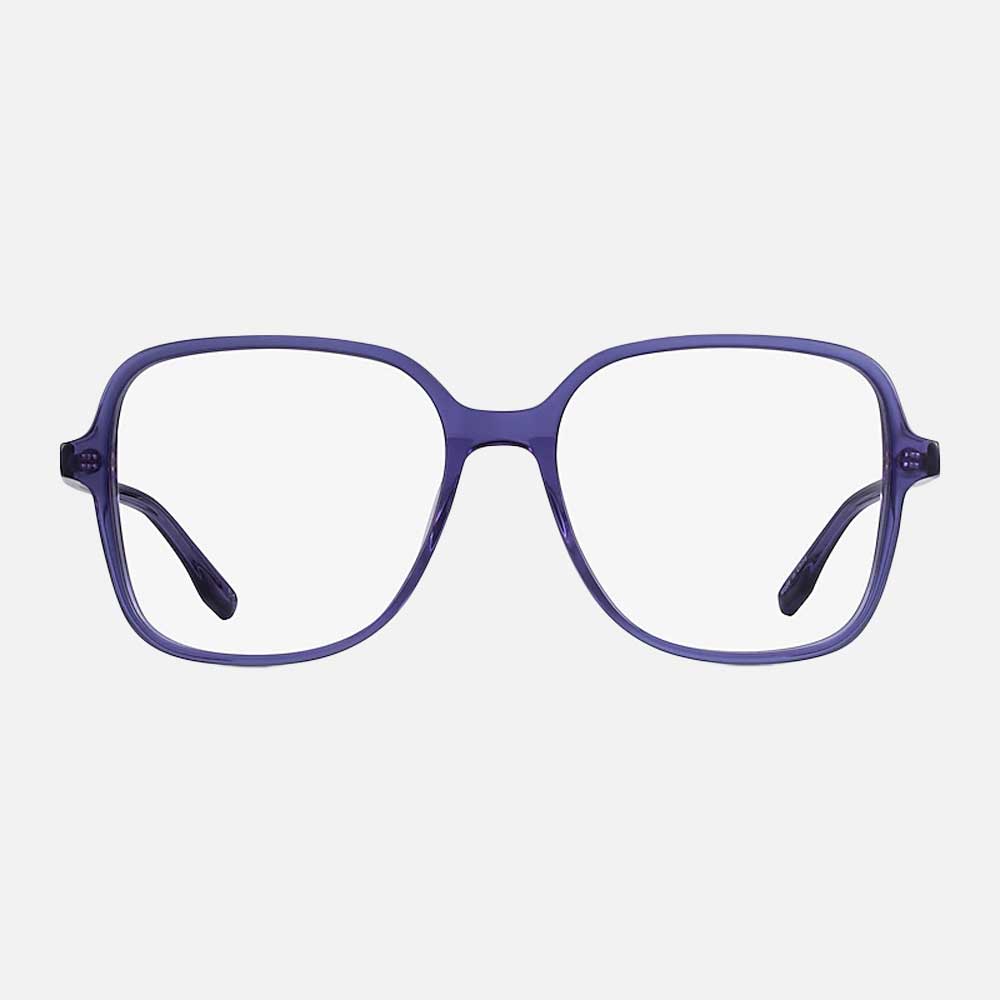 EDITOR'S NOTE
"Made from blue acetate and augmented with shimmering accents, RFLKT's frames are ideal for women who want to convey a professional look and a geeky touch."
It is almost impossible to find gorgeous glasses frames for women, from quality materials, at under $90.
Yet, RFLKT makes it possible with one of the best glasses frames for ladies you can buy right now.
The blue acetate color is trendy in 2023, and RFLKT's rectangular glasses frames are affordable and deliver a substantial professional feel.
---
19
/20
EyeBuyDirect Oval Wood Eyeglasses
Best Wooden Glasses Frame
from $59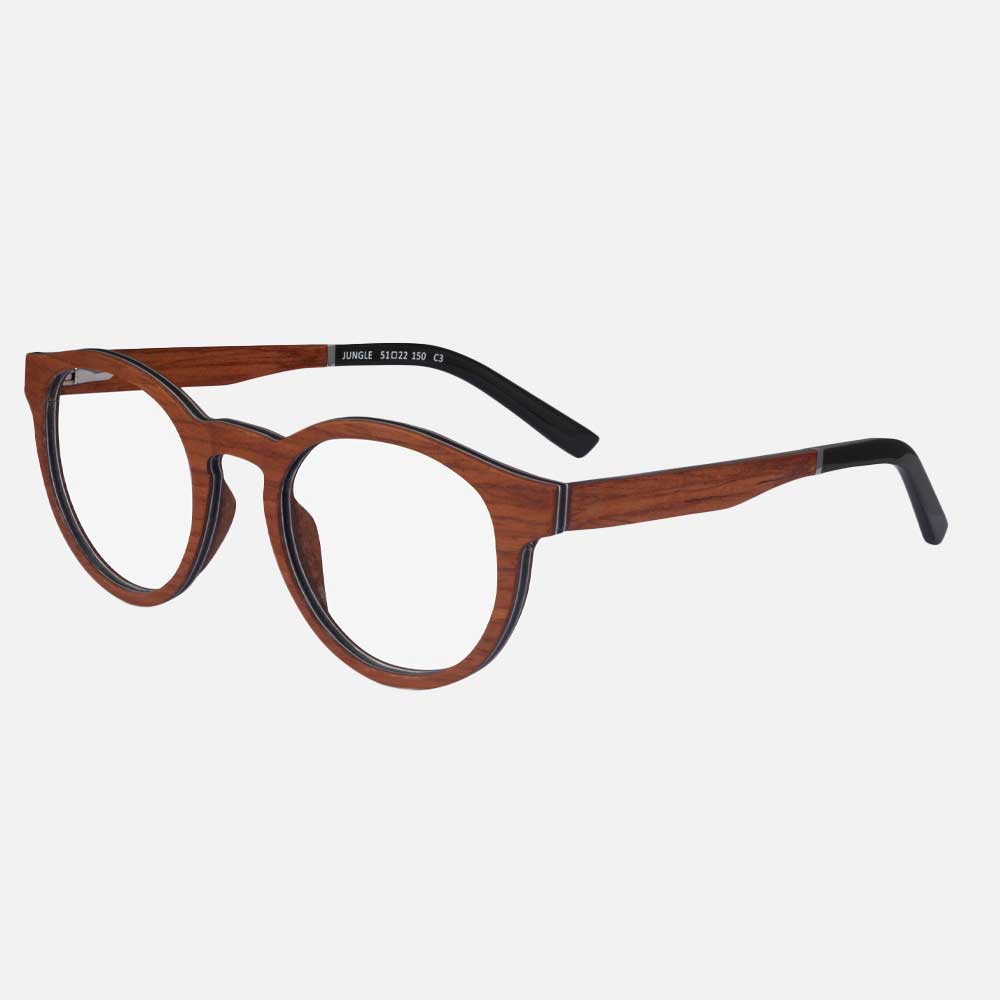 EDITOR'S NOTE
"Made from high-quality upcycled wood, EyeBuyDirect Oval frames exude layers of distinctive style and character and are perfect with denim outfits."
EyeBuyDirect's wooden glasses frames are the ultimate accessory for women wearing sustainable fashion.
The brand's choice of wood as the raw material makes the EyeBuyDirect glasses frame for women trendy and unique.
Each frame boasts twelve layers of wood, resulting in a one-of-a-kind creation of rare style and character.
---
20
/20
Zenni Circular Eyeglasses Frames
Best Cheap Glasses Frame
from $9.95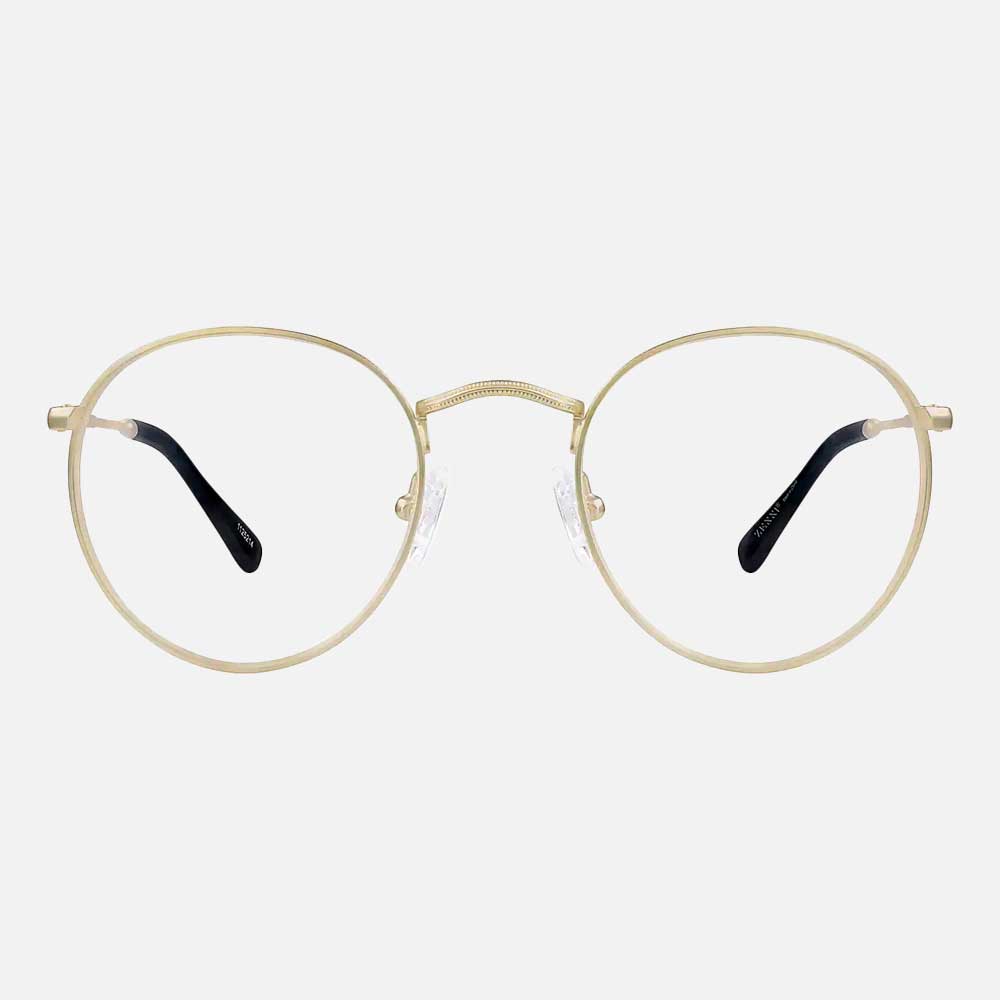 EDITOR'S NOTE
"Designed to resemble a classic celebrity Hollywood look and geared to confer a balanced and refined style, Zenni's Round Eyeglasses Frame is an excellent accessory to smart-casual outfits."
Inspired by the glasses worn in the 1959' Hollywood classic "North By Northwest" – an American spy thriller film by Alfred Hitchcock – Zenni's frames for women will channel the diva in you.
The bold acetate frame will recall Hollywood's golden days and reflect on your daily looks, conferring a balanced and refined style.
Zenni has a wide selection of frames for women to choose from, suitable for prescription lenses, more special cases such as adaptive lenses, transition lenses, and even unusually thinner lenses.
---
Eyeglasses Frames FAQs
What are the Different Types of Glasses?
There are six different types of glasses (according to the lenses):
Single-vision glasses (monovision)
Progressive glasses
Bifocal glasses
Trifocal glasses
Toric lens glasses
High-index glasses
Prism lens glasses
What are the Different Shapes of Eyeglasses?
There are over 2000 different shapes of eyeglasses to choose from.
Yet, most eyeglasses are variations of 9 main shapes; rectangular, square, round, cat-eye, aviator, oval, browline, and geometric.
What is the Average Price of Glasses?
According to a market study by LARA MG, the average cost of a pair of glasses is $150.
The price is for frames only, without lenses or insurance. Depending on the lens type and prescription, the average eyeglasses price can go up to $400.
What are Good Glasses Brands?
The best eyewear brands specializing in eyeglasses and sunglasses in 2023 are RayBan, Gucci, Dolce & Gabbana, Persol, Burberry, Versace, Prada, and Tom Ford.
Conclusion
Choosing the best glasses frames for you is a personal task considering several factors, from face shape to your wardrobe and fashion style.
Yet, this article curates the best glasses frames for ladies in 2023 and will make your choice faster and easier.
Coming in several styles, materials, and color preferences, these are the most popular and stylish glasses frames for women in 2023.
With so many fantastic glasses frames by designer brands for women, you can look chic while sitting at your desk, strolling around the city, or chilling at home.
Sported by celebrities worldwide, all 20 best eyeglasses frames in this article come with a 30-day exchange and return policy.
Weekly Newsletter
Keep up with the latest in fashion, beauty and style!
Now it's your turn…
Which one of these glasses frame styles (brands) for women is your favorite and why?
Which glasses frames for women do you think we should include in our next article update?
What are the most important factors you consider when buying eyeglasses frames?
Please leave your comments below; we use them to learn, improve, and update the articles.
After years of managing hundreds of fashion brands from London's office of a global retailer, Mandy has ventured into freelancing. Connected with several fashion retailers and media platforms in the US, Australia, and the UK, Mandy uses her expertise to consult for emerging fashion brands create top-notch content as an editorial strategist for several online publications.