What is Steampunk Fashion?
Steampunk fashion is a distinctive style of clothing that combines retro-futuristic 19th-century steam-powered technology aesthetics with Punk, Goth, and other 70s and 80s alternative fashion styles.
The fashion style draws inspiration from the Industrial and Victorian era and originated from the Steampunk SCI-FI fiction subgenre of the late 70s and early 80s.
The Origin of Steampunk Fashion
The aesthetic of Steampunk fashion is inspired by the Industrial Era (1760-1840), when the steam engine came to life.
Just as a steam engine is more complex, large, and loud, steampunk fashion is also a statement look with extravagant details and unique accessories.
Steampunk fashion also draws from the Victorian Era (1837-1901), during which steam-based technology was booming in Europe and the united states.
However, the most important aspect of Steampunk fashion is its retrofuturistic aesthetic.
Steampunk fashion is inspired by how Victorians imagined a future based on the steam-technology and its possible implications in their lives, including clothing.
The dream never came true due to the industrial production of electricity at the end of the 19th century and its vast adoption as the main power source.
Yet Steampunk remains one of the most popular retro-futuristic aesthetics and a main theme of many successful SCI-FI fictions.
One of those fictions is Morlock Night, an SCI-FI novel by K.W. Jeter in 1979, which popularized the idea of Steampunk.
Officially recognized as a style of its own in the late 80s fashion, steampunk became a hot topic in the cinema and the fashion industry.
The first steampunk convention, called SalonCon, took place in 2006 and has seen steampunk enthusiasts dressed in costumes depicting a blend of Victorian romance and retro-futurism.
Nowadays, with an eclectic style that's blending old and new, steampunk fashion thrives in the world of Cosplay.
However, many people wear steampunk outfits as their daily fashion style.
Steampunk Fashion in Books, Movies, and TV Series
The steampunk genre and aesthetics are found in past works such as The Brother's Grimm, The League Of Extraordinary Gentlemen, and Sucker Punch, depicting explorers, soldiers, countesses, harlots, and lords.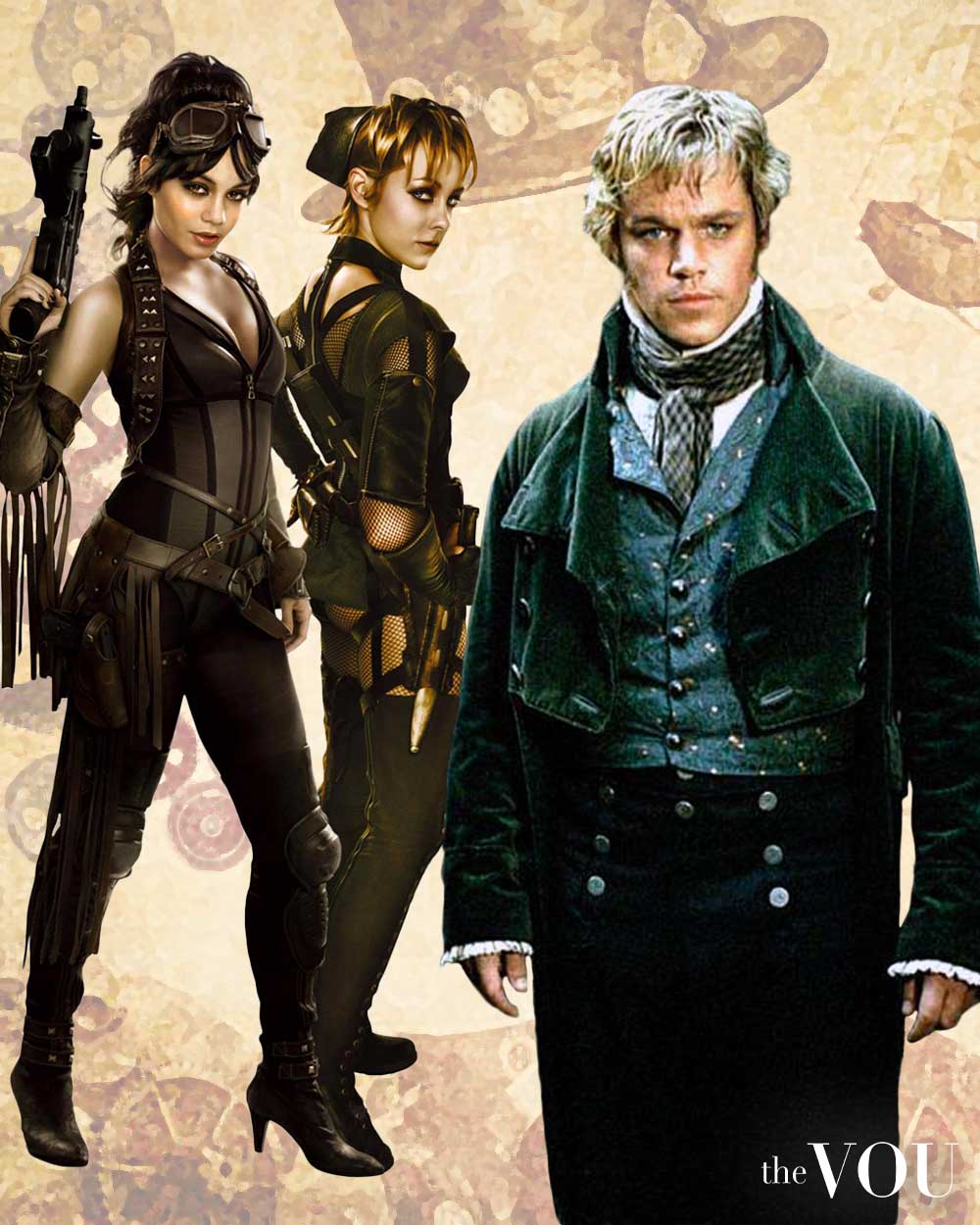 Alan Moore's comic book series The League of Extraordinary Gentlemen also represents steampunk aesthetics.
The story occurs in an imaginary Victorian age and features famous 19th-century characters like Dr. Jekyll, Mr. Hyde, and the invisible man.
Hollywood also depicted several facets of steampunk fashion in world-famous movies like Sherlock Holmes, Van Helsing, Mad Max, and Wild Wild West.
Another source of great steampunk outfits and steampunk type of society is the crime show Castle, with an entire episode dedicated to steampunk fashion.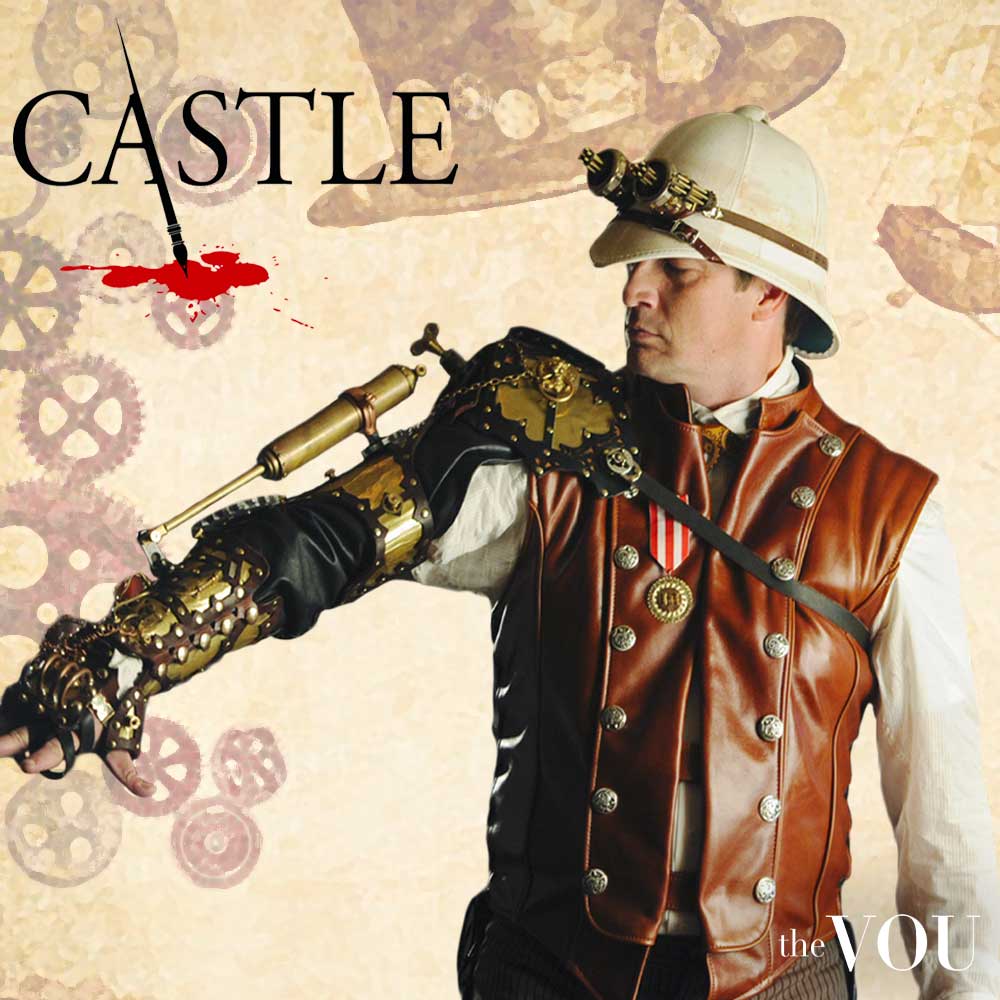 American reality television series America's Next Top Model is also a great source of steampunk dresses, notably a 2013 episode where models competed in a steampunk-themed photoshoot.
Steampunk Fashion Style on the Runway
During the 20th century, steampunk fashion grew alongside the punk movement and the Goth fashion style.
Nowadays, there's an overlap between Punk, Goth, and Steampunk aesthetics, with the genres often interlinked.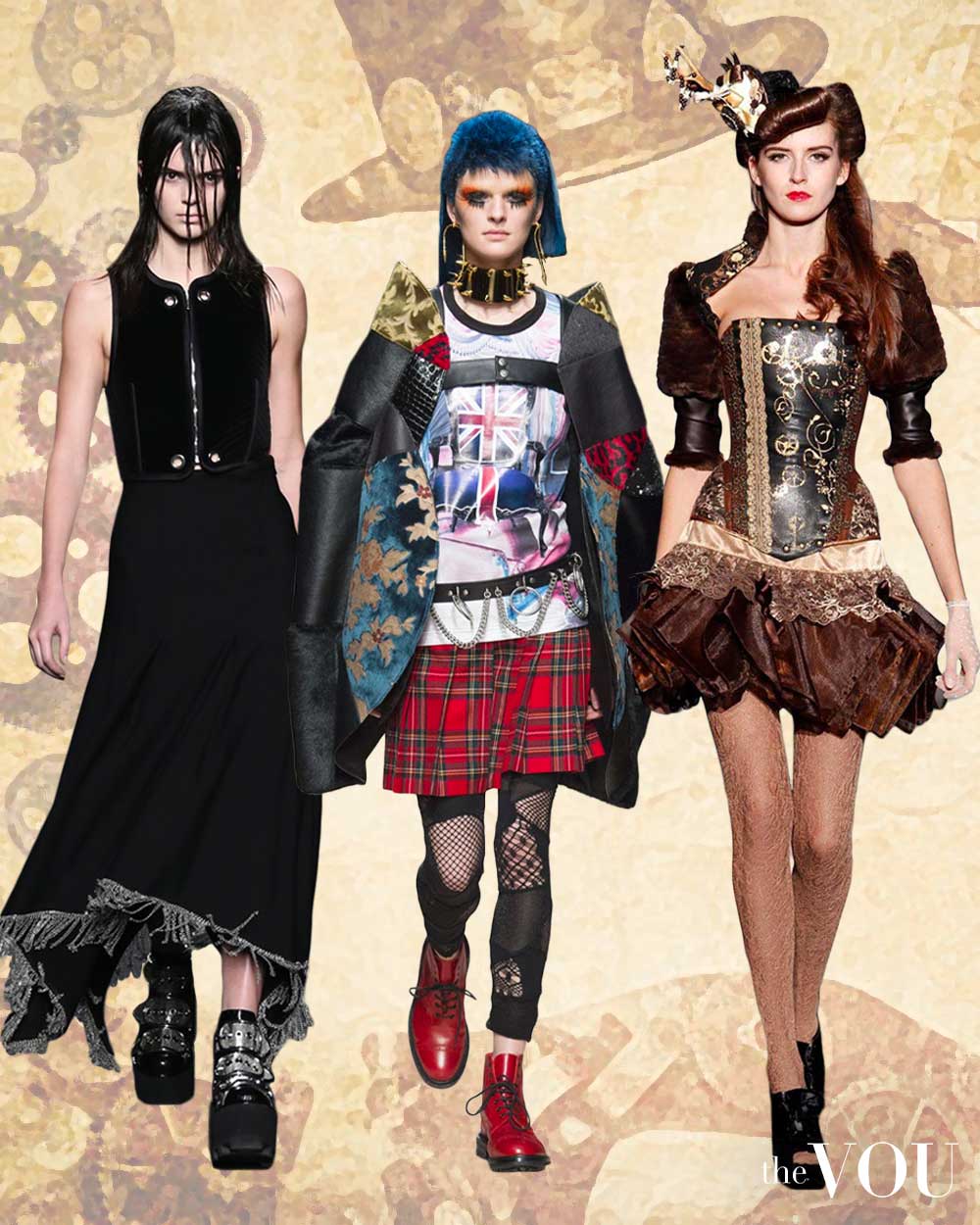 However, while all three genres include bustiers, bodices, jackets, hats, and handmade leather items, Punk, Goth, and Steampunk fashion looks are pretty different and easy to recognize.
In 2010, designer brands like Prada, Versace, Chanel, and Christian Dior started introducing neo-Victorian-inspired steampunk fashion on their runways.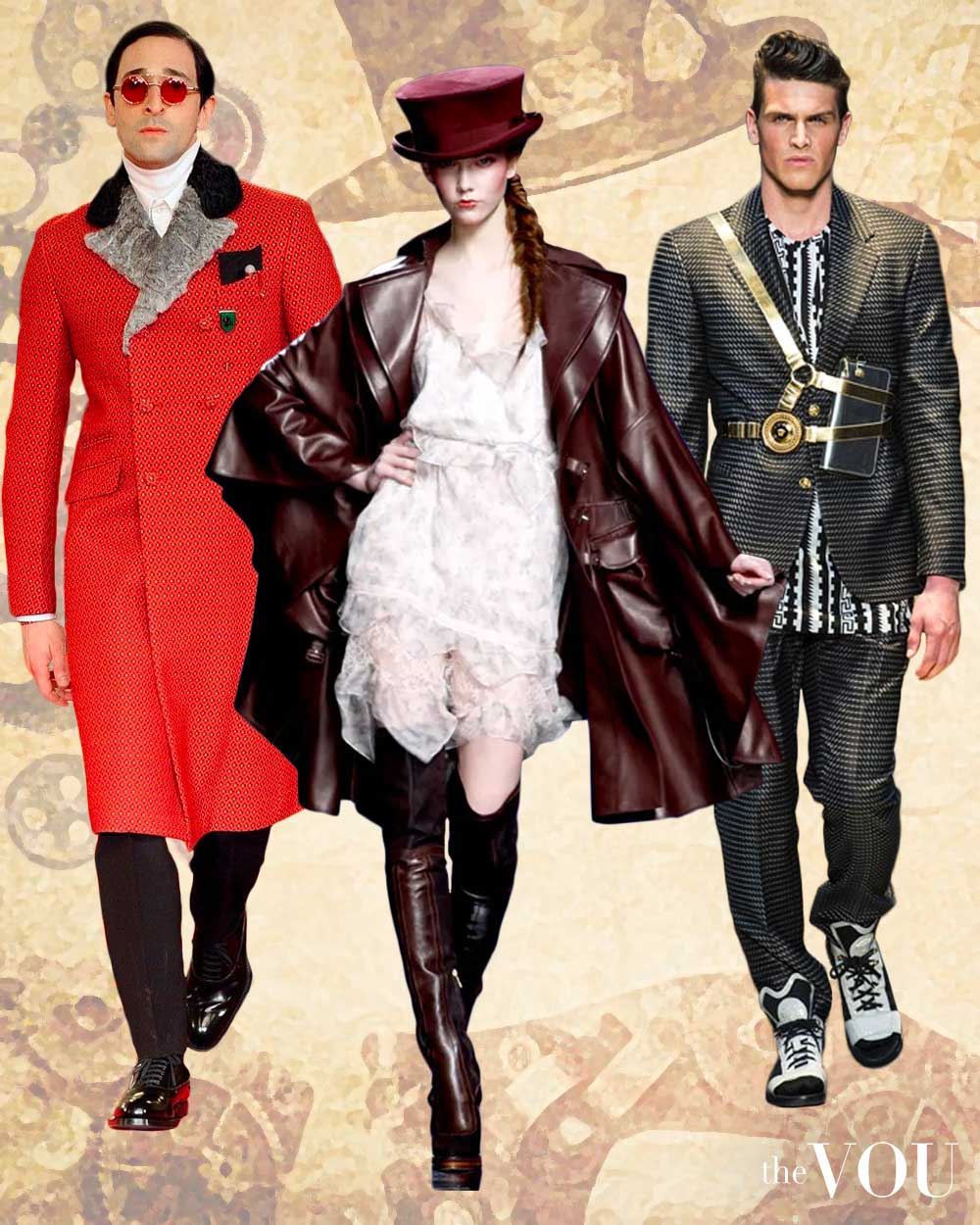 Over the last decade, steampunk fashion grew to accommodate gadgets and accouterments, costumes and hairstyles became more detailed, and make-up and jewelry closer to the depicted historical era.
How to Dress in Steampunk Fashion Style
The 'steam' element is the essence that gives the steampunk attire a Victorian style – a steampunk style with a retro look.
Also, a Steampunk-style outfit has to give a vibe and feel of posy, apocalyptic aesthetics and romantic allusions.
Steampunk Clothing Style for Women
For women, steampunk fashion styles are dominated by long, flowing dresses and regal jacket bodices.
Skirt hoops had an elliptical shape with a fuller back and a narrower silhouette at the front.
In the 20th century, flared skirts and oversized dresses made to look 'intimidating' became quite popular.
Also part of a steampunk dress, corsets acted as a statement piece instead of a functional undergarment.
Victorian-era steampunk corsets came in brocade or leather with steel and metal details such as brass beads.
Over time, the embroidery and the details became more elusive, and the dresses featured sparkling beads, bangles, and other elaborate embroideries.
Modern steampunk outfits combine streetwear fashion, Goth clothing, burlesque, and fetishistic details.
Steampunk Clothing Style for Men
Men's steampunk outfits include Victorian-style clothing, punk combat boots, and steam-tech accessories.
Sturdy Victorian tweed and cotton fabrics in muted earth tones, with silk, wool, velvet copper embroidery, golden details, and leather accessories, are the main components of a classic Steampunk look for men.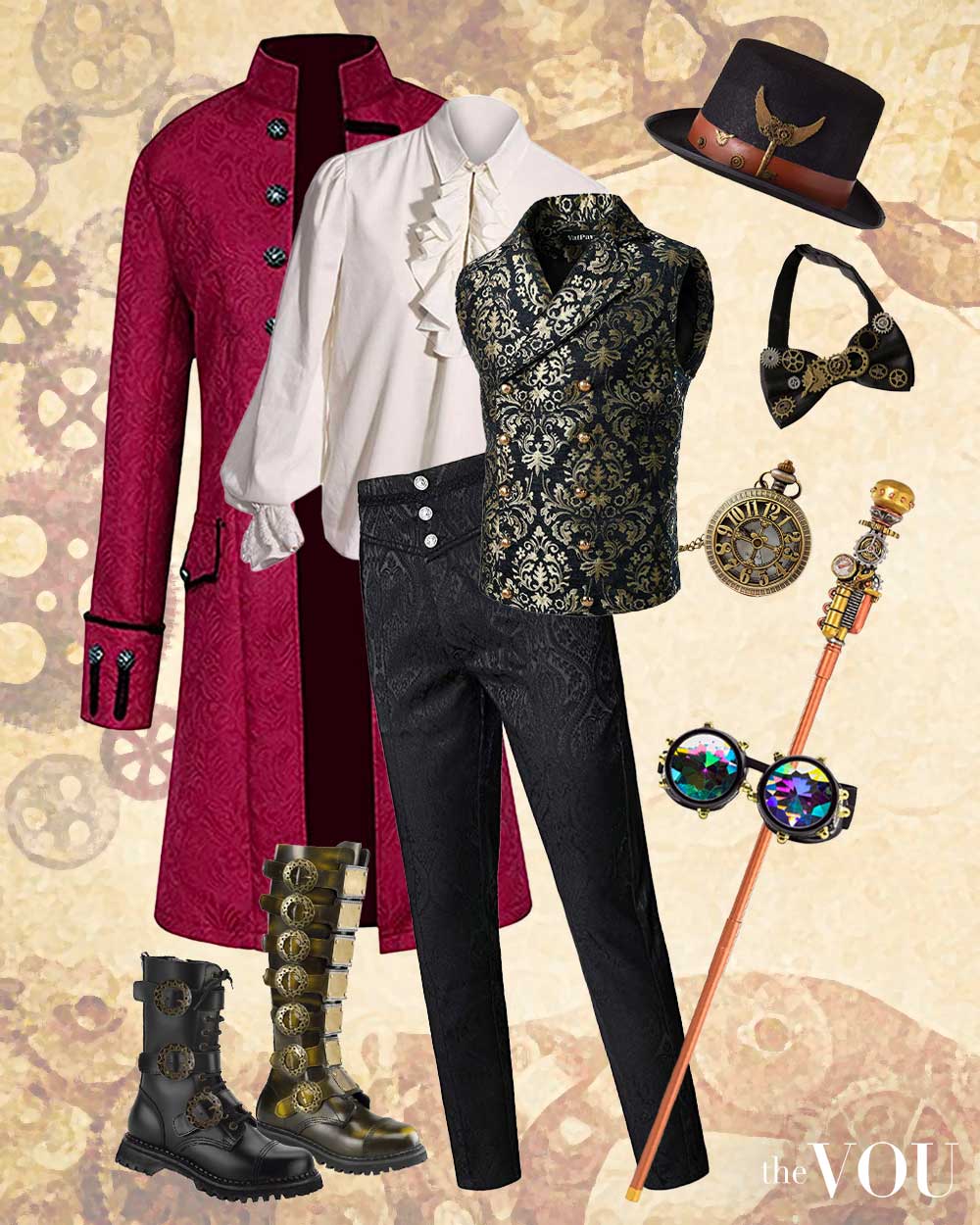 Avoid modern elements, such as synthetic fabrics and bright colors.
Another important Steampunk fashion item for men is a vintage Victorian-style waistcoat that goes over a white shirt.
It was extremely rare to see men in public without a waistcoat during the Victorian Era. The man's shirt was considered the equivalent of an undergarment and was expected to be covered by a vest and coat.
Conclusion
You may not be familiar with the term steampunk fashion and the design elements of steampunk.
However, chances are you've seen and experienced steampunk styles and aesthetics many times before without even realize.
Moreover, in the 21st century, steampunk elements are increasingly found in dedicated steampunk fiction books, movies, computer games, and fashion lines.
Weekly Newsletter
Keep up with the latest in fashion, beauty and style!
Now it's your turn…
Which steampunk fashion style or aesthetic do you think we've missed and should include in our next article update?
Please leave your comments below; we always appreciate your comments and use them to learn, improve, and update these articles.
Holding a Bachelor of Science in Technical Communication & Film Media from Arizona State University and having worked in the past for NBC, MGM, and NETFLIX, Steffanie Moyers is a prolific writer (four novels on Amazon, working on the fifth one) with editorial pieces published in Sotheby's, Power X, JAL Organics, and of course, The VOU.