From hundreds of millions of active fashion brands worldwide, these are the world's TOP Fashion Brands in 2023 – Top 100
The Top 100 Fashion Brands was curated and compiled in collaboration with Statista, Mintel, and CB Insights.
The top 100 fashion labels in the world include the most popular, trendiest, fashionable, and best-selling fashion names right now.
100 Best Fashion Brands of 2023
The top was created according to the brand's last year's market valuation.
| | | |
| --- | --- | --- |
| | Brand | 2022 Value |
| 1 | Nike | $33.1 B |
| 2 | Gucci | $18.1 B |
| 3 | Louis Vuitton | $15.1 B |
| 4 | Adidas | $14.3 B |
| 5 | Lululemon | $14.1 B |
| 6 | Zara | $13.5 B |
| 7 | Chanel | $13.2 B |
| 8 | UNIQLO | $13.1 B |
| 9 | H&M | $12.4 B |
| 10 | Cartier | $12.4 B |
| 11 | Hermès | $11.6 B |
| 12 | Zalando | $11.3 B |
| 13 | Tiffany & Co. | $10.5 B |
| 14 | Moncler | $9.3 B |
| 15 | Rolex | $9.3 B |
| 16 | Prada | $9.1 B |
| 17 | Patek Philippe | $8.8 B |
| 18 | Burberry | $7.4 B |
| 19 | Chow Tai Fook | $7.4 B |
| 20 | Swarovski | $7.2 B |
| 21 | New Balance | $6.8 B |
| 22 | Tom Ford | $6.2 B |
| 23 | The North Face | $6.1 B |
| 24 | Polo Ralph Lauren | $5.8 B |
| 25 | Levi's | $5.8 B |
| 26 | Michael Kors | $5.5 B |
| 27 | ASOS | $5.3 B |
| 28 | Victoria's Secret | $5.3 B |
| 29 | Under Armour | $5.1 B |
| 30 | Skechers | $4.7 B |
| 31 | Next | $4.6 B |
| 32 | Coach | $4.2 B |
| 33 | Nordstrom | $4.0 B |
| 34 | Chopard | $3.8 B |
| 35 | Macy's | $3.8 B |
| 36 | Dolce & Gabbana | $3.5 B |
| 37 | Omega | $3.4 B |
| 38 | Christian Louboutin | $3.3 B |
| 39 | C&A | $3.1 B |
| 40 | Foot Locker Inc. | $3.0 B |
| 41 | Dior | $3.0 B |
| 42 | Ray-Ban | $2.9 B |
| 43 | Puma | $2.7 B |
| 44 | Asics | $2.7 B |
| 45 | Vera Wang | $2.6 B |
| 46 | American Eagle Outfitters | $2.4 B |
| 47 | Armani | $2.4 B |
| 48 | Steve Madden | $2.2 B |
| 49 | Brunello Cucinelli | $2.1 B |
| 50 | Fendi | $2.0 B |
| 51 | Salvatore Ferragamo | $2.0 B |
| 52 | Nine West | $1.9 B |
| 53 | Urban Outfitters | $1.9 B |
| 54 | Hugo Boss | $1.9 B |
| 55 | Old Navy | $1.8 B |
| 56 | TJ Maxx | $1.8 B |
| 57 | Primark | $1.8 B |
| 58 | Max Mara | $1.7 B |
| 59 | Audemars Piguet | $1.7 B |
| 60 | IWC Schaffhausen | $1.6 B |
| 61 | Diesel | $1.6 B |
| 62 | Manolo Blahnik | $1.5 B |
| 63 | Calvin Klein | $1.5 B |
| 64 | GAP | $1.5 B |
| 65 | Forever 21 | $1.5 B |
| 66 | Net-a-Porter | $1.4 B |
| 67 | Longchamp | $1.4 B |
| 68 | TOD's | $1.3 B |
| 69 | Furla | $1.3 B |
| 70 | Longines | $1.3 B |
| 71 | Sisley | $1.2 B |
| 72 | Stuart Weitzman | $1.2 B |
| 73 | Lao Feng Xiang | $1.2 B |
| 74 | Tommy Hilfiger | $1.2 B |
| 75 | Tory Burch | $1.1 B |
| 76 | Tissot | $1.1 B |
| 77 | Lacoste | $1.1 B |
| 78 | Oakley | $1.0 B |
| 79 | Jimmy Choo | $1.0 B |
| 80 | Valentino | $998 M |
| 81 | Patagonia | $985 M |
| 82 | New Look | $970 M |
| 83 | Tag Heuer | $934 M |
| 84 | Cole Haan | $885 M |
| 85 | Topshop | $865 M |
| 86 | Aldo | $850 M |
| 87 | G-star | $842 M |
| 88 | Elie Tahari | $830 M |
| 89 | Jaeger-Le Coultre | $792 M |
| 90 | Fossil | $770 M |
| 91 | Elie Saab | $756 M |
| 92 | Vacheron Constantin | $722 M |
| 93 | Bogner | $705 M |
| 94 | ESCADA | $690 M |
| 95 | Off White | $658 M |
| 96 | Banana Republic | $632 M |
| 97 | Breguet | $620 M |
| 98 | Swatch | $605 M |
| 99 | Ted Baker | $598 M |
| 100 | Desigual | $506 M |
Top 30 MOST POPULAR Fashion Brands Of 2023
Aside from the Top 100 most VALUABLE fashion brands worldwide, there's also the Top 30 most POPULAR fashion brands of 2023.
The top 30 most POPULAR fashion brands of 2023 blend the top 100 most valuable fashion brands with Lyst's fashion brands' popularity index.
Lyst's Index measures fashion brands' popularity via social media conversations, customer reviews, and influencer feedback.
See the end of the article for more details on how the Lyst Index algorithm works.
These are the TOP 30 most POPULAR Fashion brands in descending order in 2023.
---
30
/30
ARMANI
Italy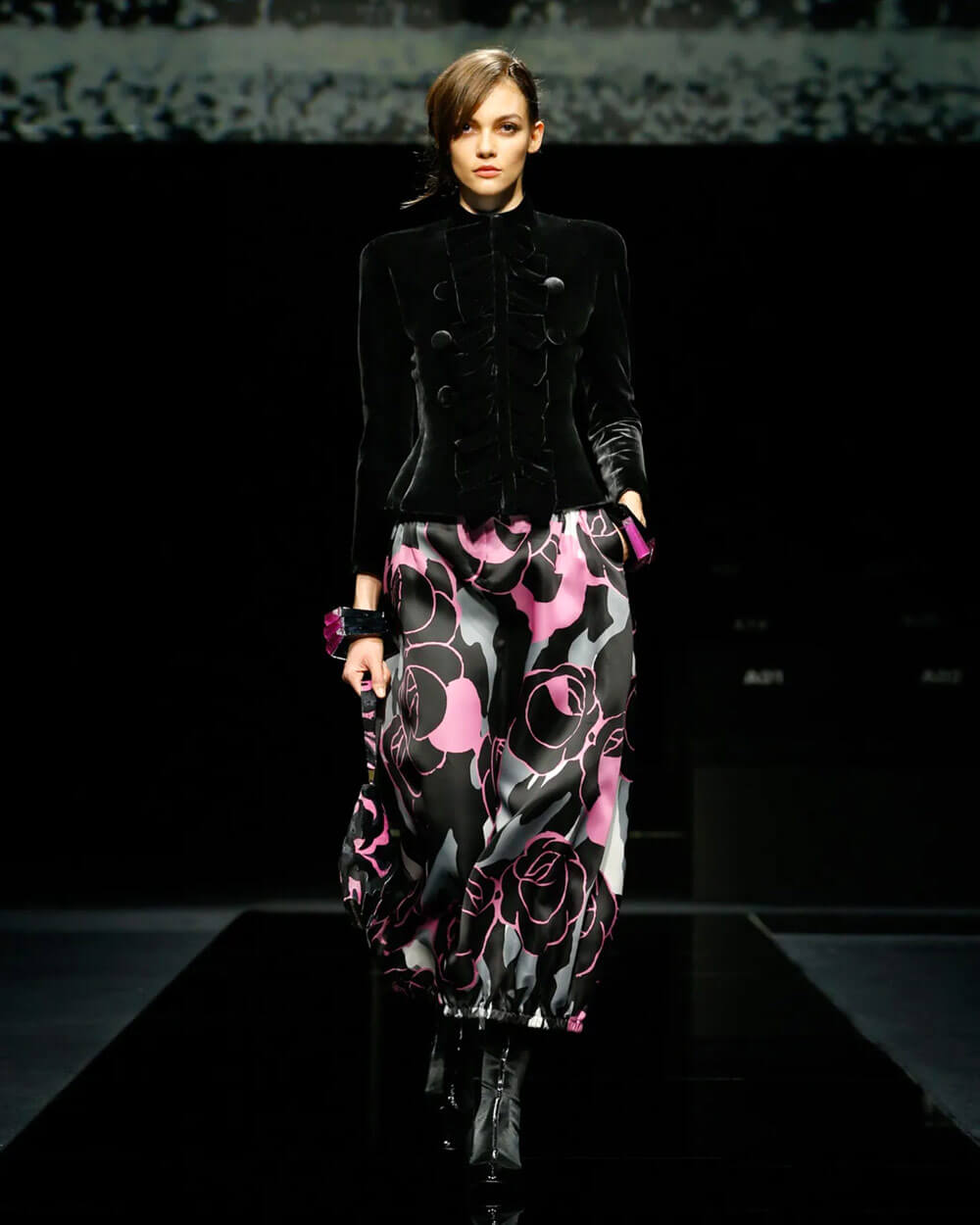 EDITOR'S NOTE
"Elegant and refined, Armani is all about luxurious touches that create timeless looks and enhance one's natural beauty."
Giorgio Armani S.p.A., more commonly known as Armani, is an Italian luxury fashion house founded by Giorgio Armani.
The Italian fashion house designs haute couture, ready-to-wear, leather goods, shoes, watches, jewelry, accessories, eyewear, cosmetics, and home interiors.
The brand markets these products under several labels: Giorgio Armani Privé, Giorgio Armani, Armani Collezioni, Emporio Armani (including EA7), Armani Jeans, Armani Junior, and Armani Exchange.
Rank at 30 in the top fashion brands list of 2023, Armani is one of the best designer brands right now thanks to:
The brand has conveyed timeless sophistication and prestige in the fashion industry via the Armani name.
In 2022, the company's estimated annual revenue (sales) was around $2.99 billion.
Armani Beauty collection is leading the luxury beauty brands in Asia and the Middle East – in terms of sales and customer demand.
---
29
/30
HERMES
France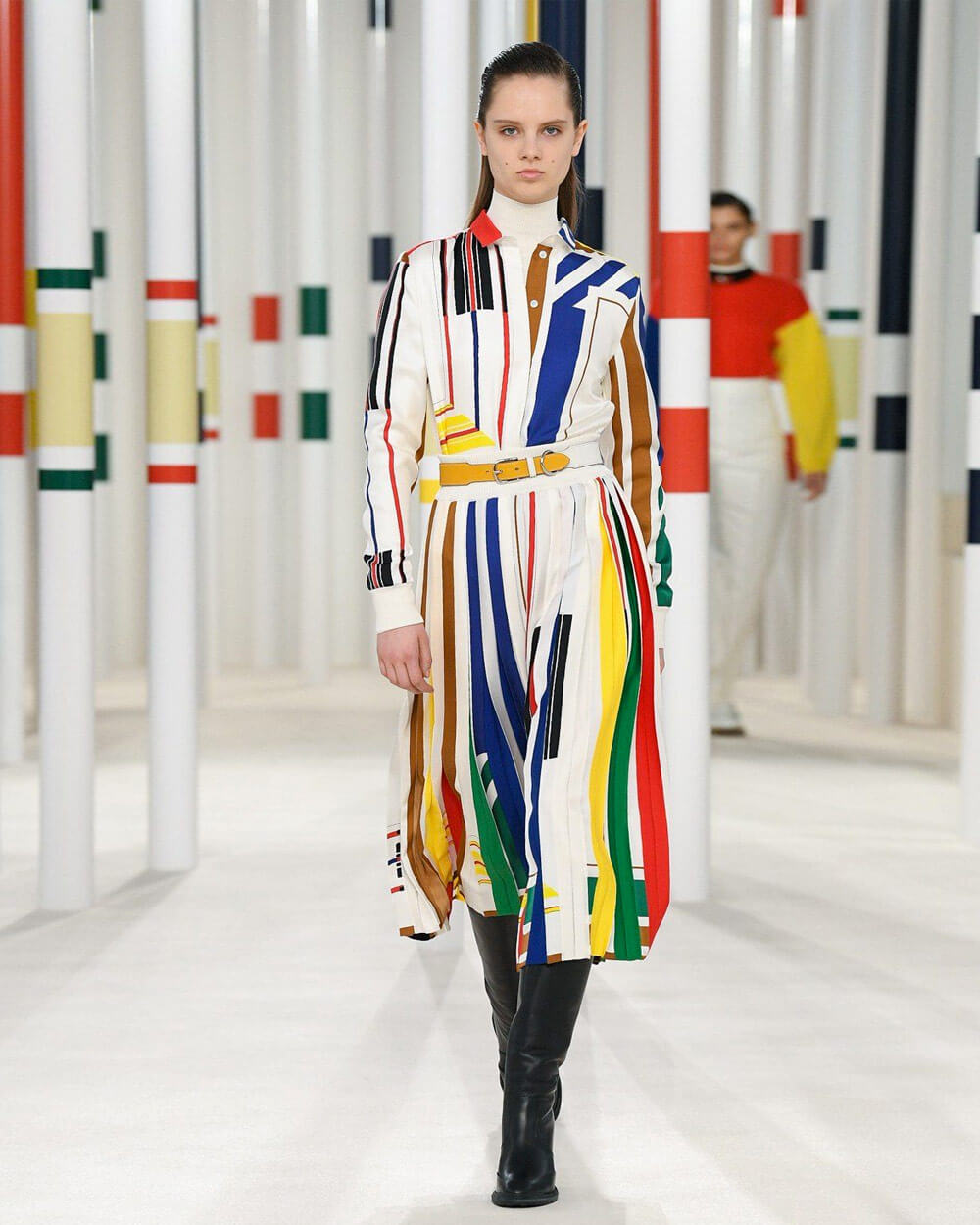 EDITOR'S NOTE
"Exquisite fashion, superb beauty, and unique accessories from a heritage label hailing from the country of haute couture."
Hermès International S.A., or simply Hermès, is a French luxury goods manufacturer established in 1837.
The French fashion house specializes in leather goods, lifestyle accessories, home furnishings, perfumery, jewelry, watches, and ready-to-wear.
Since the 1950s, the brand's logo has been a Duc carriage with a horse.
The brand's Birkin bag is topping the list of designer bags as the most iconic product from the French Maison.
First released in 1984, the Birkin bag has been made in different kinds of leather and released in a rainbow of colors throughout the years.
In 2015, Hermès partnered with Apple Inc. to produce the Apple Watch Hermès.
The luxury smartwatch combined Apple's technology with Hermès's specially crafted single tour, double tour, and cuff watch bands.
Hermes reaches the top 30 BEST fashion brands thanks to Nadège Vanhee-Cybulski, the brand's current creative director.
Available in most high-end women's clothing stores and a leader of global luxury brands, Hermes' success in 2023 is thanks to:
Birkin bag – a cultural icon thanks to the many prominent women who have carried it, the number of times it's been featured in mainstream media, and its price tag.
In 2018, a matte white Niloticus Crocodile Himalaya Birkin became the most expensive handbag ever sold – auctioned for nearly $250.000 at Christie's.
Hermes is the home of the world's most recognizable bags for women, such as the Birkin, Kelly, and Constance bags.
---
28
/30
ROLEX
Switzerland
EDITOR'S NOTE
"There's no proper designer outfit without a well-assorted Rolex luxury watch."
Rolex SA is a Swiss luxury watch manufacturer based in Geneva, Switzerland, making the top 30 thanks to the many fashion collaborations over the last five years.
Founded initially as Wilsdorf and Davis by Hans Wilsdorf and Alfred Davis in London, England, in 1905, Rolex is not a fashion house (not yet).
As of June 2019, three Rolex watches were among the world's top ten most expensive pieces sold at auctions.
In particular, Paul Newman's Rolex Daytona currently holds the title of the second most expensive wristwatch and the third most expensive watch ever sold at auction, fetching 17.75 million US dollars in New York on October 26, 2017.
Rolex is one of the world's most loved high-end brands in the world thanks to:
Rolex is the largest manufacturer of Swiss-made certified chronometers.
More than half the annual production of watches certified by Contrôle Officiel Suisse des Chronomètres (COSC) were Rolexes in 2005.
Rolex still holds the record for the most certified chronometer movements in the category of wristwatches.
---
27
/30
CARTIER
France
EDITOR'S NOTE
"Cartier is a statement of opulence and power, instantly recognized by fashionistas worldwide."
Cartier International SNC, or simply Cartier, is a French luxury goods conglomerate that designs, manufactures, distributes, and sells jewelry and watches.
The company was founded by Louis-François Cartier in Paris in 1847 and remained under family control until 1964.
The company maintains its headquarters in Paris, although it is a wholly-owned subsidiary of the Swiss Richemont Group.
You might not be Princess Grace, who received numerous jewelry gifts from Cartier, including her engagement ring, set with a 12-carat (2.4 g) emerald-cut diamond, or Kate Middleton, the Duchess of Cambridge, who keeps showing off her Cartier Ballon Bleu watch.
Yet, a watch or jewelry from Cartier is a statement of luxury and power instantly recognized worldwide.
Cartier is one of the most expensive luxury brands in the world thanks to the following:
Cartier operates over 200 stores in 127 countries, with three Temples (Historical Maison) in London, New York, and Paris.
Cartier is regarded as one of the most prestigious jewelry manufacturers globally and has a long history of selling to royalty.
King Edward VII of Great Britain referred to Cartier as "the jeweler of kings and the king of jewelers."
---
26
/30
THOM BROWNE
United Kingdom
EDITOR'S NOTE
"Hailing from Mayfair, London's center of royalty and creativity, Tom Browne is a fresh statement of current fashion trends and high-quality craftsmanship."
Considered a visionary in suiting and tailoring, Thom Browne has grown from a small "by appointment" store to a globally admired lifestyle label.
Questioning standards and proportions, Thom Browne's clothing put a fresh spin on heritage-inspired style, skinny silhouettes, and playful androgyny.
Thom Browne's ranking in the top 30 most popular clothing brands of 2023 is based on the following:
Launched sports-inspired collections for Nordstrom's New Concepts pop-up program.
Co-branded Galaxy Z flip phone with Samsung.
Exquisite women's and men's collections for Fall/Winter '21.
---
25
/30
VETEMENTS
Switzerland
EDITOR'S NOTE
"With a strong presence on social media, the brand's superb clothes and accessories appeal greatly to the younger segment."
Vetements was founded by two Georgian fashion designers and brothers, Demna Gvasalia and Guram.
The designer label is one of the most talked-about labels in fashion now in 2023.
The brand name means "garments" in the French language.
Based in Zurich, Switzerland, Vetements creates menswear and womenswear inspired by "regular people wearing ordinary fashion."
Vetements' inclusion in the top 30 most popular fashion labels in 2023 (position 25) is based on the following:
Sent celebrity lookalikes down the runway for Fall/Winter '20, causing a storm of interactions on social media.
A powerful collaboration of special edition bottles with Evian.
Launched the popular Spike Runner 200 sneakers in collaboration with Reebok.
---
24
/30
RAF SIMONS
Belgium
EDITOR'S NOTE
"Equally acclaimed by media, influencers, and consumers, Raf's unmatched attention to details and colors translate into creations that make headlines worldwide, from Spain to Japan and from Switzerland to China."
Raf Simons launched his menswear label in 1995.
Since then, the Belgian fashion designer has taken the fashion world by storm.
Ex-creative director of Jil Sander, Christian Dior, and Calvin Klein, as of April 2020 – together with Miuccia Prada – Simons is the co-creative director of Prada.
Raf Simon's inclusion in the top 30 fashion labels in the world rank is based on the following:
Launched a successful line of sportswear-influenced footwear.
Collaborated with Dr. Martens on a new boot, celebrating the company's 60th anniversary.
Released another collaboration collection with Fred Perry.
---
23
/30
FEAR OF GOD
USA
EDITOR'S NOTE
"FoG pays homage to its unique heritage via sophisticated apparel of fusion couture with streetwear, augmented by high-grade materials and fine craftsmanship."
Fear of God is an independent American luxury fashion label founded in 2013 in Los Angeles by Jerry Lorenzo.
Crafting timeless, wearable garments, the brand's distinct interpretation of the American expression has become an emblem of contemporary culture.
Fear of God's inclusion in the top 30 fashion labels in the world rank is based on the following:
Secured a basketball apparel partnership in collab with Adidas.
Supported Kamala Harris' Black Futures Lab via dedicated apparel pieces.
Completed a 7-day digital experience with SSENSE.
---
22
/30
DOLCE & GABBANA
Italy
EDITOR'S NOTE
"A super-stylish luxury clothing brand and favorite brand among Hollywood celebrities, Dolce and Gabbana deliver an indisputable mix of classic and contemporary, modern style."
Dolce & Gabbana is an Italian luxury fashion house founded in 1985 by designers Domenico Dolce and Stefano Gabbana.
The duo initially launched a design consultancy that eventually became "Dolce and Gabbana," following the brand's runway debut in 1985 at Milan Fashion Week.
The brand became famous after Madonna selected D&G to craft her costume for the "Girlie" world tour and some jewel-encrusted corsets for the Cannes Film Festival.
Although the designers' relationship ended in 2005, as The New Yorker puts it, "Gabbana is the eyes for Dolce's hands," they still collaborate.
D&G's inclusion in the top 30 BEST fashion labels at position 22 is based on the following:
Celebrity endorsements and Jennifer Lopez's presence at the Alta Sartoria show in Venice.
Held a massive S/S '22 show celebrating the brand's success over the past decade.
Organizes fashion workshops for students in collab with Istituto Marangoni.
---
21
/30
STONE ISLAND
Italy
EDITOR'S NOTE
"Creators of powerful activewear lines, athleisure outfits, and smart casual suits, Stone Island has become a key source of inspiration for Millennials from all over the world."
Launched in 1982 as a 'design lab' by Massimo Osti, Stone Island is an Italian label with solid roots in industrial design.
Stone Island is a leading streetwear brand recognized for its stripped-back aesthetics and iconic compass logo patch.
Stone Island's inclusion in the top 30 BEST fashion brands in 2023 is based on the following:
Moncler acquired 30% of the firm.
Announced a multi-year partnership with New Balance.
Partnered with Turin's C2C festival on the Stone Island Sound project.
---
20
/30
RICK OWENS
USA
EDITOR'S NOTE
"A visionary designer label that enchants with unique, minimalistic styles, style-breaking designs, and out-of-this-world streetwear shoes."
Rick Owens is a super clothing American label founded in 1994 by a designer named Rick Owens.
Often riffing on and reinterpreting, Rick Owens is the ultimate way for fashionistas seeking to experience unique aesthetic concepts.
Rick Owens' presence in the top 30 MOST POPULAR fashion brands in 2023 is attributed to the following achievements:
Launched a top-of-the-range upcycled collection with Swampgod.
Revealed a collaboration with Birkenstock.
Dropped three new styles in collab with Dr. Martens.
---
19
/30
JACQUEMUS
France
EDITOR'S NOTE
"Not keen on the classic idea of fashion weeks, this French fashion house stands out through limited-edition collections and ready-to-wear lines made from sustainable materials."
Jacquemus was launched by Simon Porte Jacquemus when the designer was only 19 years old.
Credited with bringing 'freshness' to the French fashion scene, Simon's collections are deconstructed, surrealist, and often 'NSFW.'
Also, with the boom of stores like Anthropologie and brands like Free People, Jacquemus' Spring/Summer 2022 collections draw inspiration from the classic bohemian style.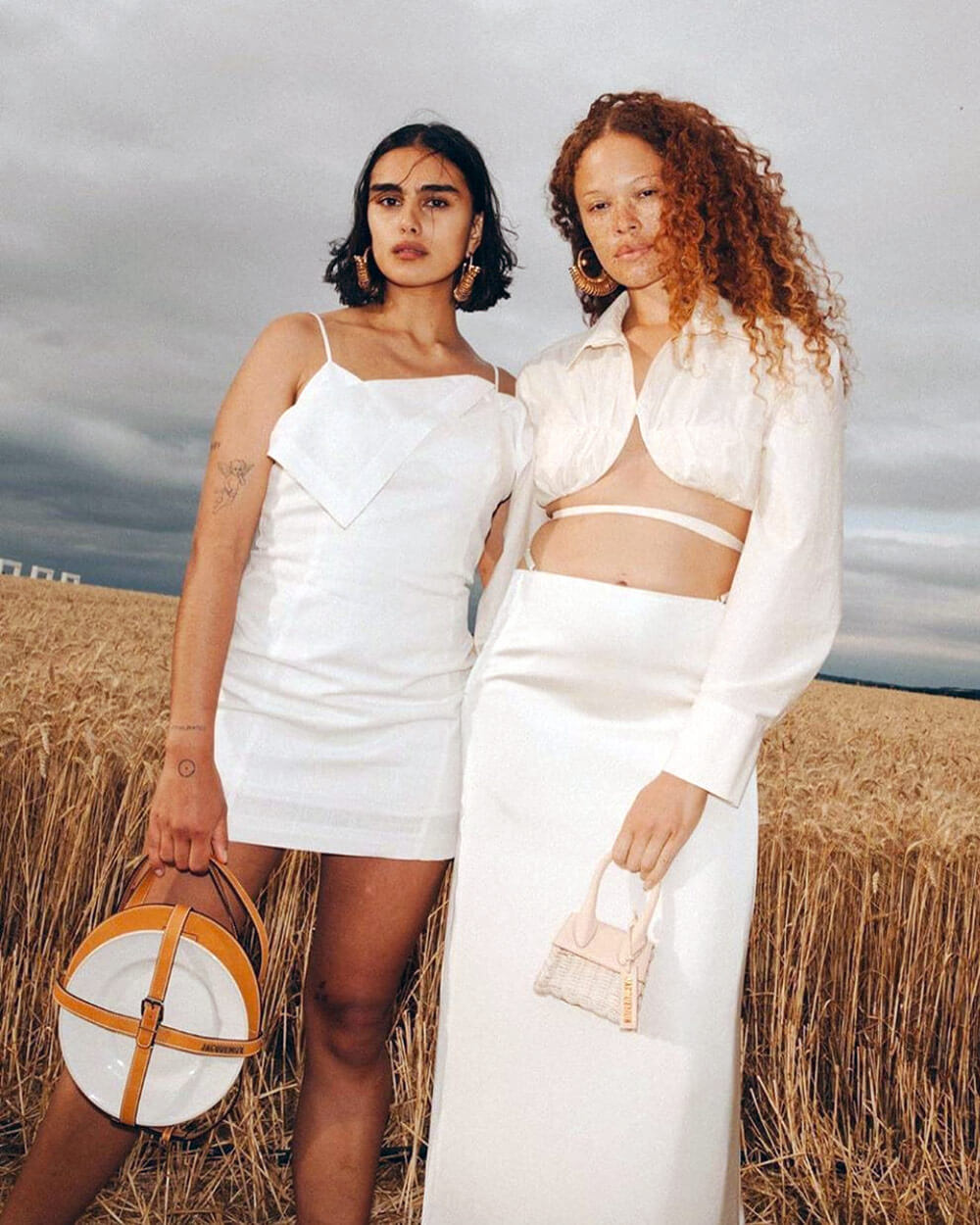 The label was included in the top 30 fashion brands and designers of 2023 thanks to the following:
Launched Le Ciuciu bag and revealed Kendall Jenner as the face of the F/W '21 campaign.
Launched the in-season La Montagne collection and the summer capsule with MyTheresa.
Held La Montagne runway show in Paris featuring Bella Hadid.
---
18
/30
BALMAIN
France
EDITOR'S NOTE
"Adored in Asia right now, thanks to Rousteing's genius vision and fruitful collaborations, Belmain's luxury couture is a level up from its competition."
Founded by Pierre Balmain in 1945, Balmain is a French luxury fashion house that operates 16 mono-brand stores in New York City, London, Los Angeles, Las Vegas, Miami, and Milan.
Olivier Rousteing has been the creative director of Balmain since 2011, after attending a prestigious French fashion school and working under Roberto Cavalli.
Rousteing is also credited with adding an Asian influence to Balmain's clothing, as Asia comprises many of the brand's buyers.
Balmain is one of the most famous clothing brands in 2023 thanks to the following:
Balmain capsule makeup collection KYLIE X BALMAIN collaborates with cosmetics entrepreneur Kylie Jenner. The makeup received lots of positive reviews and is advertised as a must-have makeup set, part of a healthy skincare routine.
Appointing Jenner as the Artistic Director for the brand's makeup for the Spring-Summer 2020 Runway Collection and collaborating with Maluma on a 2022 capsule collection.
Launched Balmain Sneaker Hub and a Netflix documentary where Wonder Boy follows the life of the brand's creative director, Olivier Rousteing.
---
17
/30
GIVENCHY
France
EDITOR'S NOTE
"While owned by LVMH, the company has maintained its stylistic independence. With a powerful online presence, Givenchy's dream luxury couture hails right from the heart of France."
Leaders of contemporary fashion trends, the Parisian luxury fashion house of Givenchy was founded in 1952 by Hubert de Givenchy and Jaani Robert Duffy.
Givenchy is worn by the world's celebs such as Beyoncé, Lady Gaga, Kim Kardashian, Emma Stone, Julia Roberts, Rooney Mara, and Meghan Markle.
The French luxury conglomerate LVMH owns the couture, fragrance, jewelry, and cosmetics empire.
Givenchy's presence in the top 30 fashion brands of 2023 is thanks to the following:
Dressed The Weeknd for his Superbowl performance and was worn by Elon Musk on Saturday Night Live.
Announced eyewear partnership with Thélios and had Kendall Jenner and Bella Hadid featured in S/S '21 campaign.
Dressed Beyoncé and Jay Z for their About Love Tiffany & Co campaign.
---
16
/30
LOEWE
Spain
EDITOR'S NOTE
"Stunning garments of classic style and fragrances that amaze shoppers from all over the world."
Founded in 1846, Loewe is one of the world's oldest major luxury Houses and an incontestable market leader.
The Spanish luxury fashion house specializes in leather goods, clothing, perfumes, and unique high-end accessories.
Loewe's inclusion in the top-ranking fashion brands is based on the following:
Announced Loewe Foundation / Studio Voltaire award for under-represented artists.
Announced 2021 Loewe Foundation Craft Prize.
Kicked off the fifth edition of the Loewe Foundation Craft Prize and announced musician Kim Hyun-ah as ambassador.
---
15
/30
VALENTINO
Italy
EDITOR'S NOTE
"A fashion label of classic style and heritage, loved by contemporary celebrities such as Gwyneth Paltrow, Cate Blanchett, Penelope Cruz, and Keira Knightley."
Of all the fashion companies on this top, Valentino is a case apart.
The story of Valentino began in 1959 in the heart of Rome, the Eternal City.
Founded by Valentino Garavani, the House is known for its trademark fabric shade known as "Valentino red."
Meghan Markle wore a red Valentino dress for an official engagement during Morocco's February 2019 royal tour.
Valentino designed custom wedding dresses for icons such as Elizabeth Taylor, Jennifer Lopez, Anne Hathaway, and Julia Roberts.
In 2016 under the sole creative direction of Pierpaolo Piccioli, a new chapter began for the brand when a new set of values, contemporary but faithful to the brand's heritage, were created.
Valentino is one of the best clothing brands right now in 2023, thanks to:
Presented S/S '21 haute-couture virtually at Rome's Galleria Colonna, and Lady Gaga wore one of the brand's haute couture looks in NYC.
Launched editorial partnership with comedian Elsa Majimbo and partnered with Startupbootcamp on fashion tech.
Dressed Zendaya for the Oscars, held an haute couture show in Venice – in partnership with 17 artists – and pledged to go fur-free.
Created a hoodie in support of UNICEF's vaccine delivery efforts.
---
14
/30
ALEXANDER MCQUEEN
United Kingdom
EDITOR'S NOTE
"The House of Alexander McQueen remains one of the most distinctive and innovative labels, unmatched in its uncompromising expressions of unbridled creativity."
Founded by Lee Alexander McQueen in 1992, the House joined the Kering Group in 2001.
Sarah Burton was appointed Head of Design for womenswear in 2000 and named Creative Director in 2010, and under her leadership, the House produces critically acclaimed collections.
Nodaway, the House is synonymous with modern British couture, driven by a highly personal vision and respect for experimentation and time-honored craftsmanship.
Integral to the Alexander McQueen culture is the juxtaposition between the feminine and the masculine.
Between fragility and strength, romance and rebellion, man and machine.
An equal love of nature and an understanding of British history are vital inspirations for the House.
Alexander McQueen is in the top 30 BEST fashion brands of 2023, thanks to Burton's constant exploration of the natural world and celebrations of the values of English rural traditions in fashion.
Unveiled F/W '21 collection, Anemones, and announced a resale collaboration with Vestiaire Collective.
Unveiled men's S/S '22 collection inspired by poet William Blake and dressed Viola Davis for the Oscars.
Launched a new McQueen Roses installation at Bond Street flagship and the House's fresh graphics, the McQueen Graffiti.
---
13
/30
OFF-WHITE
Italy
EDITOR'S NOTE
"Trendy, fresh, on high demand right now, Off-White is a streetwear label adored by old and young customers alike."
The winner of top fashion brands in 2021, Off-White remains one of the hottest brands in the world for the third successive quarter.
The designer label builds on younger buyers and celebs who champion the label's anti-establishment take on luxury, and it is hailed as one of the best streetwear fashion brands of 2023.
With a digital-native approach, Off-White (which surpassed 10M Instagram followers this quarter) and founder Virgil Abloh (7.1M followers) have a substantial social media following.
While very unfortunate, the passing of Virgil Abloh in November last year created an extra layer of mystery and scarcity around the brand.
Off-White makes it the top 30 best designers brands in the world right now, thanks to rare collabs and limited edition collections:
Launched the 'I Support Black Women' campaign with activist Trinice McNally and introduced the 'Imaginary TV' video platform.
Announced seven new sneakers in collab with Nike – e.g., Nike Dunk collaboration.
LVMH acquired a 60% stake in the brand, and Kid Cudi wore an Off-White dress on Saturday Night Live.
---
12
/30
BURBERRY
United Kingdom
EDITOR'S NOTE
"A British label that needs no introduction and hated in the past for its lack of sustainability, Burberry is now at the forefront of innovation with exclusive garments made from recycled materials."
Established in 1856 by Thomas Burberry, Burberry is a British luxury fashion house headquartered in London, England.
The total brand value of Burberry was about $6.5 billion in 2021, making Burberry one of the top British fashion brands.
While initially focused on outdoor attire, the label has moved into high-fashion couture and accessories in recent years.
For her, him, the children, and the entire family, Burberry has them all, from trousers and shoes to accessories and sunglasses.
Burberry is also famous for its trench coats, leather goods, footwear, fashion accessories, eyewear, fragrances, and cosmetics.
Burberry is one of the top clothing brands right now thanks to the following:
Launched a virtual store with Elle Digital Japan and was recognized in the Bloomberg Gender-Equality Index for the first time.
Burberry was the first luxury brand to pledge to become Climate Positive by 2040.
Announced partnership with Blankos Block Party game, Olympia bag campaign featured FKA twigs, and Naomi Campbell was featured in TB Summer Monogram campaign.
Opened a new flagship store at No.1 Sloane Street, London, and reported a 98% retail revenue increase for Q1.
---
11
/30
FENDI
Italy
EDITOR'S NOTE
"Not just another Italian brand owned by the Parisian fashion house (better-said conglomerate), LVMH, Fendi's position is unique in its category of couture, renowned for elegance, craftsmanship, innovation, and style."
Established by Adele and Edoardo Fendi in Rome in 1925, the House of Fendi has emerged as a fashion house renowned for its elegance, craftsmanship, innovation, and style.
Karl Lagerfeld joined Fendi in 1965, giving the label a real design boost.
The LVMH group acquired Fendi in 2001 and helped finance its global expansion.
Since shifting to LVMH, the Italian luxury fashion house has become synonymous with quality, tradition, experimentation, and creativity.
High celebrity adoption and growing social media interest driving the brand's popularity.
Fendi is one of the most popular clothing brands right now and has been placed in the top 30 fashion brands thanks to the following:
Debuted collections designed by Kim Jones and had Demi Moore, Kate Moss, and Naomi Campbell featured in the brand's S/S '21 haute-couture show.
Appointed actress Song Hye-Kyo as an ambassador and debuted the Fendi Summer Vertigo line with artist Sarah Coleman.
Teamed up with Donatella Versace on a unique collection, announced eyewear partnership with Thélios, and opened pop-up Fendi Caffès in Milan and Miami.
---
10
/30
VERSACE
Italy
EDITOR'S NOTE
"Loved for its belts, cotton scarves, and loungewear pieces designed with absolute comfort in mind, Versace is your quick gateway to Italian fashion and style."
Versace is an Italian luxury fashion company founded by Gianni Versace in 1978.
The brand's logo is the head of Medusa, a Greek mythological figure.
Gianni Versace chose Medusa as the logo because she made people fall in love with her, and they had no way back.
The designer hoped his company would have the same effect on those who wore Versace's clothes and shoes.
Thanks to Donatella Versace's leadership and iconic supermodels like Kate Moss and Naomi Campbell, the luxury house became one of the most popular labels of 90s fashion.
Launched as a high-end couture house, Versace is shifting to ready-to-wear apparel and mass leather accessories.
As one of the most inclusive clothing brands, Versace reaches the top 30 BEST fashion brands of 2023 thanks to the following:
Launched Medusa Power Talks on Clubhouse, introduced a new monogram for F/W '21, and founded the Pride Collection to support the 'Born This Way Foundation.'
The brand's S/S '21 campaign featured Kendall Jenner, Precious Lee, and Hailey Bieber, and the S/S '22 show featured Dua Lipa, Gigi Hadid, and Naomi Campbell.
Unveiled surprise 'Fendace' collection with Fendi, dressed Lil Nas X for the Met Gala, and Ariana Grande on The Late Late Show.
---
9
/30
SAINT LAURENT
France
EDITOR'S NOTE
"YSL has superb beauty products, makeup, perfumes, and skincare, not just fashion and clothing products. Check them out."
More recently known as 'Saint Laurent,' Yves Saint Laurent is a French luxury fashion house founded by Yves Saint Laurent and his partner, Pierre Bergé.
Founded in 1961, Yves Saint Laurent was the first couture house to introduce, in 1966, the concept of luxury prêt-à-porter with a collection called "Saint Laurent Rive Gauche," synonymous with youth and freedom.
Part of the Kering Group and under the creative direction of Anthony Vaccarello, appointed in April 2016, Saint Laurent kept true to its identity of absolute modernity and fashion authority.
YSL is one of the best high-end designer brands in 2023 thanks to the following:
The brand's S/S '21 campaign film was directed by Gaspar Noé and featured Catherine Deneuve and Kate Moss.
Had Romeo Beckham featured in F/W '21 campaign, opened flagship stores in Seoul and Frankfurt, and reported 19% revenue growth.
Held S/S '22 show in Paris, inspired by Paloma Picasso, showed men's S/S '22 collection in Venice and reported a 119% revenue increase for Q2.
---
8
/30
BOTTEGA VENETA
Italy
EDITOR'S NOTE
"While still reluctant to internet advertising, digital commerce, and influencer media, Bottega Veneta has evolved from a local producer for family and friends into one of the most coveted Italian luxury houses."
Founded in 1966 in Vicenza, Veneto, Bottega Veneta is an Italian label specializing in luxury goods and high fashion apparel.
The label started to gain popularity when its previous creative director, Tomas Maier, returned the brand to its original identity.
Maier removed visible logos from the brand's products, highlighted the signature 'intrecciato' (intertwined) weave, and put the accent back on artisanal production.
Vogue described Maier's changes as "stealth wealth."
However, the brand's recognition as a top fashion brand is attributed to Daniel Lee, the brand's new Creative Director.
Bottega Veneta has earned its placement in the top 30 fashion brands of 2023, thanks to the following:
Debuted quarterly digital journal, Issued by Bottega and featured Missy Elliott in the first edition.
Reported 20% positive revenue growth in 2020 despite Covid-19 and a 69% revenue increase for Q2.
S/S '22 viral celebrity dressing moments, including Hailey Bieber, Kendall Jenner, and rappers Skepta, Slowthai, and Little Simz.
---
7
/30
MONCLER
Italy
EDITOR'S NOTE
"Launched as a brand designed to cover travel and holiday time, Monclair is – in 2023 – one of the most coveted streetwear names, easily recognized and adored worldwide."
Founded in 1952 by René Ramillon, Moncler takes its name from the French Alpine town of Monestier-de-Clermont.
With a firm grip on its mountaineering heritage and a perfect fusion of street style and alpine sensibility, Moncler has gained cult status across men's, women's, and children's styles.
Alongside its main lines, the collaborative Genius Project eschews bi-annual runway shows in favor of original capsules with a contemporary touch.
Moncler reaches the top fashion brands of 2023 thanks to:
Acquired 30% off Stone Island, introduced Born to Protect jackets made from recycled materials and announced a 21% increase in revenue for its e-commerce arm.
Appointed Gino Fisanotti as the brand's Chief Brand Officer, launched the latest Craig Green Genius collection based on contrasts, and had Alicia Keys hosting the Mondogenius 2021 show.
Opened the second Milan flagship store in Galleria Vittorio Emanuele II and reported a 118% revenue increase for Q2.
---
6
/30
BALENCIAGA
Spain
EDITOR'S NOTE
"Balenciaga's stunning cuts continue redefining athletic minimalism and oversized apparel in high fashion."
Balenciaga is a luxury fashion house of Spanish heritage  – founded in 1917 by Spanish designer Cristóbal Balenciaga – and currently based in Paris, France.
Christian Dior referred to Balenciaga as a couturier of uncompromising standards and "The master of us all."
Thanks to Demna Gvasalia, the brand's designer, Balenciaga is back to its creative roots.
Gvasalia explored the house archives to reimagine the work of Cristóbal Balenciaga — from a fresh perspective.
Now a global fashion brand, Balenciaga hits the ground running regarding streetwear.
Balenciaga takes the 6th spot in this year's best 30 fashion brands thanks to:
Unveiled a new Crocs collaboration, launched a glow-in-the-dark capsule collection and opened a new store in Barcelona.
Released Pride Collection to support The Trevor Project and launched a dedicated podcast on the brand's official Spotify account.
Teamed up with Kanye West for his Donda album launch and doubled down on the metaverse with a Fortnite collaboration.
---
5
/30
PRADA
Italy
EDITOR'S NOTE
"One of the world's most iconic fashion houses, Prada benefits greatly from Simon's input of fresh styles and cuts that bring the label back to the public's attention."
Started as a small leather goods store 100 years ago by Mario Prada, the label with the same name is now one of the world's most iconic fashion houses.
Prada combines distinctive elements of artisanal know-how heritage with modern principles of environmental protection, cultural support, and ethical manufacturing.
Nowadays, Prada is conducted by a revolutionary duo of designers: Miuccia Prada and Raf Simons, nailing a sweet spot between classic and fun.
Prada is one of the most popular clothing brands in 2023 thanks to the following:
Presented a second women's collection by Miuccia Prada and Raf Simons and reported online sales up by 200% in FY20.
Held the 2nd edition of 'Sea Beyond Ocean' preservation awards with UNESCO and opened over 30 Prada Outdoor pop-ups.
Formed 'Aura Blockchain Consortium' with LVMH and Cartier and presented the S/S '22 collection live from Milan and Shanghai.
---
4
/30
LOUIS VUITTON
France
EDITOR'S NOTE
"Founded in Paris in 1854, at the dawn of the modern travel era, LV is propelled by an innovative spirit, boundless creativity, and unparalleled savoir-faire."
More commonly known as Louis Vuitton or by its initials LV, Louis Vuitton Malletier is a French fashion house and luxury goods company founded in 1854 by Georges Louis Vuitton.
Trained as a box maker for packing everyday objects and voluminous wardrobes, Louis Vuitton and his successors introduced numerous innovations, such as the flat-top trunk, lightweight canvas, signature patterns, and the tumbler lock.
Nowadays, Louis Vuitton's legacy is expressed through its rigorous spirit of innovation, the boldness of its creations, and an uncompromising demand for excellence.
Named the world's most valuable luxury brand for six consecutive years (2006–2012) and with over 460 stores in 50 countries, the brand continues its mission to explore new stylistic horizons.
The brand's LV monogram appears on anything, from luxury trunks and leather goods to ready-to-wear shoes, watches, jewelry, accessories, sunglasses, and even books.
LV grabs 4th place in the top fashion brands of 2023 thanks to the following:
Showed the F/W '21 collection virtually in Paris' Louvre museum.
Opened a new flagship store in Ginza, Tokyo, and appointed BTS and Naomi Osaka as brand ambassadors.
Showed Cruise 2023 at Axe Majeure near Paris and appeared on Vogue US cover as worn by Amanda Gorman.
Collaborated with Fornasetti on a capsule collection and released a mobile game to celebrate the founder's 200th birthday.
---
3
/30
NIKE
USA
EDITOR'S NOTE
"'Nike is a clothing and apparel brand we must learn from,' said Apple's Steve Jobs referring to Nike's marketing approach. The American clothing giant accentuates people, athletes, and celebrities rather than products."
Nike is an American multinational corporation designing, manufacturing, and marketing footwear, apparel, and accessories.
Nike's presence among the top fashion brands of 2023 is justified by its revenue, celebrity collaborations, and above all, the growing customer love and demand.
Launched first hands-free sneakers for adaptive athletes and reported a 59% increase in digital sales.
Launched Naomi Osaka's second collection and debuted Air VaporMax 2021 with 40% recycled content.
Expanded Rise retail concept with a new flagship in Seoul, announced the debut of Serena Williams Design Crew collection, and reported a 16% revenue increase at the end of 2021.
---
2
/30
DIOR
France
EDITOR'S NOTE
"Dior, oh, Dior! The French luxury house continues to assert its vision through timeless sculptures of elegant, structured, and infinitely feminine collections."
More commonly known as Dior, Christian Dior SE is a French luxury fashion house controlled and chaired by the French businessman Bernard Arnault, who heads LVMH, the world's largest luxury group.
Dior was founded in 1946 by French fashion designer Christian Dior; the House is directed by Pietro Beccari, the CEO of Christian Dior Couture since 2018.
This brand sells shoes and clothing, while haute couture is under the Christian Dior Couture division.
Dior takes 2nd place in the top fashion brands of 2023 thanks to the following:
Appointed Blackpink's Kim Ji-soo as a global ambassador and launched a dedicated Snapchat lens for trying sneakers in AR.
Showed Cruise 2022 collection in Athens, unveiled menswear collection with Sacai, and had the transgender personality Jin Xing featured in the brand's fragrance campaign.
Held fashion shows for haute couture and S/S '22 and announced a new partnership with the Paris Saint-Germain football club.
---
1
/30
GUCCI
Italy
EDITOR'S NOTE
"With unique prints and embroidery (even on sneakers), Gucci is the reference luxury brand of the young generation, taking the world by storm in 2023."
Gucci is an Italian luxury fashion and leather goods brand founded by Guccio Gucci in Florence, Tuscany, in 1921.
Nowadays, under the romantic and eclectic direction of Alessandro Michele, Gucci's bags are redefining the designer market for the 21st century.
Hailed as the best fashion brand of 2023, Gucci represents the pinnacle of Italian craftsmanship – maybe that's why Gucci is SO expensive!
From 'Horsebit' loafers and 'Dionysus' bags to exquisite hand-finished dresses, these collections include some of fashion's most sought-after pieces.
Also, Gucci is the highest-selling Italian fashion brand in the world.
Gucci is the most popular clothing brand in the world in 2023 thanks to the following:
Dressed Billie Eilish and Harry Styles for the Grammys, launched a new North Face collaboration, and started selling digital sneakers with Wanna.
Joined with Balenciaga in the Aria collection, launched the #GucciBeloved campaign with James Corden, and introduced a new Gucci Décor homeware line.
Launched Vault digital store, based on the House's past, present, and future, and reported an 86% revenue increase for Q2 of 2021.
The Making of Top 30 Fashion Brands In 2023
Compared to the top 100 fashion brands of 2022, there are a lot of changes in 2023.
The year 2019 ended on a note of optimism for the coming decade in fashion, showcasing growing interest in innovative fashion designers from fashion capitals of the world.
Asia was booming again, luxury was rising, and a new wave of sustainable clothing brands was emerging fast.
2020 put a further damper on the optimism, as few in the fashion industry imagined what would come next: wildfires ravaged Australia, geopolitical tensions escalated, and then COVID-19 put the world on lockdown, changing life beyond recognition.
In response to the virus, retailers lost hope, fashion buyers were confined to their homes, and Asia was grounded to a halt, resulting in a sharp drop in fashion demand.
There were no longer glamorous events, concerts, social occasions, and holidays; fashion purchases slowly started to dry up.
Above all, the COVID-19 lockdown disrupted most fashion brands' sourcing of raw materials, manufacturing, logistics, and retail operations.
Compared to the previous year, the Top 100 fashion brands – presented at the top of the article – show a revenue drop in 2021-2022.
It is also interesting to see some of the largest fashion brands, such as Adidas, Levi's, ZARA, and Uniqlo, missing the top 30 POPULAR fashion brands of 2023.
However, just like many luxury clothing brands missing the top – Salvatore Ferragamo, Christian Louboutin, Vera Wang, Jimmy Choo, Christian Audigier, and Ralph Lauren – these brands are expected to influence the ranks in 2023.
Other high-end designers that missed the top just a bit and are worth mentioning are Michael Kors, Hugo Boss, Tory Burch, Phoebe Philo, Marc Jacobs, and Paul Smith.
Lyst Index Brand Popularity Ranking
Lyst's algorithm analyses e-commerce websites, online fashion shops, social media platforms, and online reviews for terms such as hottest, popular, recognized, best, and loved regarding clothing brands and companies.
These terms are then used as additional judging criteria components in their 'Top Fashion Brands' ranking index system together.
Last but not least, the ranking algorithm considers the shopping behavior of over 150 million online buyers, sales figures from over 18,000 designers and clothing stores, Google analytics, and other worldwide statistics.
Weekly Newsletter
Keep up with the latest in fashion, beauty and style!
Now it's your turn…
From all 100 top fashion brands here, which one is your favorite and why?
How do you see the top worldwide fashion brands changing in 2024?
Share your thought on the top 100 fashion brands of 2023.
After years of managing hundreds of fashion brands from London's office of a global retailer, Mandy has ventured into freelancing. Connected with several fashion retailers and media platforms in the US, Australia, and the UK, Mandy uses her expertise to consult for emerging fashion brands create top-notch content as an editorial strategist for several online publications.