So you're going to a 90s Party and want to steal the show. EASY!
In this article, I'll show you the best clothing combos to create a perfect 90s party theme for couples, female and male.
Each 90s party style curated below is effortless, highly relevant, easy to put together, and affordable.
Affordable because most thrift stores stock great 90s party clothes.
Easy because all you need before shopping is to find the trends of the 90s fashion and the ideal style.
Without further ado, here's what to wear to a 90s party – the most suitable clothes of the nineties decade – and look the best.
What to Wear to a 90s Party for Female
Below are the top 5 most popular 90s party outfits for females that you can wear at a nineties themed-event.
---
OUTFIT 1
90s Plaid Sets (with Thigh-High Socks)
The plaid set is one of the most recognizable styles of the 90s, attributed to Cher Horowitz (Alicia Silverstone) and her iconic yellow plaid blazer and skirt set from Clueless.
The cult classic spawned countless trends defining the 90s era, from fur-lined cardigans to slinky slip dresses.
But, the plaid skirt set cues up nostalgia for the days of beepers, trips to Blockbuster, and beverages like Snapple and Fruitopia.
The 'plaid set' also looks great on those curvy, plus-size gals!
---
OUTFIT 2
90s 'Spice Girls' Outfits (with Platform Shoes)
The 90s fashion was profoundly influenced by grunge and hip-hop bands wearing leather jackets, oversized knitted jumpers, one-leg rolled-up pants, etc.
But among all bands that influenced the 90s fashion trends, the Spice Girls were the most influential with their Posh, Sporty, Scary, Ginger, and Baby outfits.
The British band brought back the platform shoe trends of the 70s fashion to the 90s.
Regardless of your outfit choice, be that cheetah print tights, the iconic Union Jack mini-dress, or a pink slip dress with white knee-high socks, make sure you pair them with a pair of platform shoes for a maximum 90s effect.
---
OUTFIT 3
Rebellious 90s Schoolgirl Uniform (Platted Hair & Knee Socks)
As a 90s teenage girl, there weren't many ways to express your signature style, so the school became everyone's fashion show.
Peacocking styles and looks were just as important as acing your physics exam and getting your crush to notice you.
One of the most popular 90s party outfits is inspired by Britney Spears' iconic music video, …Baby One More Time.
The look comprises a black mini-skirt and a white shirt with sleeves up and buttons down – crop-knotted to let the belly button out and see a bit of your bra.
Finalize the look with lots of baby barrette in your hair, a pair of black girl's straps, and knee-high white socks.
---
OUTFIT 4
90s Camouflage Cropped Top & Bottom (with Army Boots)
Another favorite 90s party costume for girls is the camouflage outfit – Destiny's Child style.
From their infamous "Survivor" music video, the style is attributed to Tina Knowles, Beyoncé's mother, who served as the band's official costume designer.
In creating this Destiny's Child signature aesthetic, Tina drew inspiration from Motown, Grace Jones, and Queen Latifah.
One of the best places to get a 90s Destiny's Child party outfit is Depop – search "CAMO "to find lots of costumes listed as Destiny's Child 'inspired' cargo pants and bodysuits.
Don't forget your army-style boots and, ideally, a helmet for a complete 90s party look that'll make you stand out from the crowd!
---
OUTFIT 5
Short Jeans & Vest As A Top (with A Fanny Pack)
Made from a wide range of materials – from leather to velour and silk, 90s vests were worn as independent pieces rather than a suit combo and matched with skirts and jeans.
Go for a black velour vest (easy to find in thrift shops) and match it with a logo statement fanny pack and a light blue denim skirt.
Finalize the style with a pair of black Converse and white socks.
---
What To Wear To A 90s Party For Male
Below are the top 5 popular 90s party outfits for males, ideal if you want maximum effect at nineties-themed events, celebrations, festivities, and even reunions.
---
OUTFIT 1
Ryon Shirts & Overalls (with One Strap Down)
Showcased in movies, music clips, and on stage by supermodels, overalls were trendy in the nineties.
However, for a classic 90s party style, you must match your overalls with a rayon shirt and rock it with one strap.
Some popular choices (shirts) came in bright colors with floral prints. Whatever you do, don't pair a plaid shirt or denim shirt with this look.
Finalize the look with a pair of 90s-style Air Jordan basketball sneakers or classic 'Second Shift Work' boots from CAT.
---
OUTFIT 2
90s Tennis Set (with a Thick Headband)
Popularized by tennis stars, 90s thick headbands became a must-wear hair accessory that permeated the catwalk scene.
Headbands were everywhere, from colleges – paired with preppy clothes – to movies and music clips.
This stunning 90s party outfit requires long hair, a 90s tennis polo shirt from Nike or Head, and a pair of acid-washed jeans.
Finalize the look with a color-matching headband and a pair of 90s tennis shoes from FILA, Reebok, or Nike.
---
OUTFIT 3
Adidas Tracksuit & Unlaced Shoes (with a Gold Chain)
The oversized clothing style caught the imagination of everyone, from college students to celebrate hip-hop stars seeking to make a new fashion statement.
This trendy 90s party outfit was an absolute hit in the 90s, thanks to Run DMC's commercial, My Adidas.
Ideally, you go for a classic dark-colored striped Adidas suit and a contrasting pair of Adidas Superstars lace-free.
Accessorize the look with a large golden chain (or even 2) and a classic Black Fedora hat for maximum effect.
---
OUTFIT 4
Tees Under Blazer (with Sleeves Rolled Up)
Blazers with rolled-up sleeves and t-shirts underneath were a big thing in the early 90s fashion.
Promoted by those time movie stars, the look showcased a smart casual style to be worn at the office, going out, and even on a casual dinner date.
Ideally, go for a white (one size up) jacket, a contrasting color t-shirt, and a pair of light jeans or casual pants – baggy, fitted, cuffed, anything goes.
Complete the look with a belt that matches the color of the jacket, and a pair of shoes, ideally a "Chuck Taylor" Converse, penny loafers, or even suede leather Moccasin shoes with fringed design.
---
OUTFIT 5
Turtleneck & High Waist Jeans (with Fanny Pack)
High-waist jeans and turtleneck sweater combo was another classic piece staple of 90s fashion.
The look was sported everywhere, but Steve Jobs's 1991 appearance at the 'PC Forum' gathering made it a 90s trademark style.
However, Dwayne Johnson – The Rock's 1996 look showcases the perfect 90s party look, thanks to the high-waisted pants, platform sneakers, and accessories galore.
Match your turtleneck with a pair of grey New Balance sneakers, a jeans belt, and a belt bag.
Ideally, you add many silver accessories such as a necklace, bracelet, and watch.
---
What To Wear To A Hip-hop Black 90s Party
90s hip-hop fashion was special thanks to backward garments, neon apparel, baseball caps, gold chains, heavy rings & earrings, huge name tags, and Cazal eyeglasses.
90s styles were heavily influenced by rappers like Nas, Jay-Z, Biggie, and Tupac and had an overall feel of a gangster lifestyle.
Some famous 90s party outfits comprise saggy jeans with peeking underwear (pants below the butt), workboots, Chuck Taylors' sneakers, Raiders baseball caps, and sunglasses.
---
OUTFIT 1
90s Overall, Stripes, & Backward Cap (with a Clipped Pager!)
One of the most accessible 90s hip-hop party outfits for men, this look requires the following:
A pair of oversized overalls, a long-sleeved polo shirt with horizontal stripes, a pair of basketball sneakers, and a backward-worn baseball hat.
The brands are not crucial here; however, the color code is critical – dark blue, light blue, and white.
Also, the hat is oversized, or better said, the whole style is oversized, so go for at least one size larger.
Finally, don't forget the clip-on pager for a complete 90s party hip-hop outfit.
---
OUTFIT 2
Cropped Top, Oversized Shirt, Bandanna, & Baggy Pants (with Men's Boxers!)
Only 22 years old at her death, Aaliyah had already revolutionized the music industry with her forward-thinking mix of R&B, soul, pop, and hip-hop.
Equally, Aaliyah's unique fashion taste became synonymous with the 90s fashion styles.
The style has a daring androgynous aesthetic and is sexy simultaneously, with boyish swagger and street sensibility, setting the stage for Rihanna, Kendall Jenners, and Jorja Smiths of the subsequent years.
For this 90s party look, you need a dark cropped top that color matches a low-profile oversized pair of baggy jeans.
Then, an oversized men's shirt that color matches the men's boxers, color matching bandana, a pair of dark sunglasses, and workwear boots.
---
OUTFIT 3
Black Leather Suit, Leather Boots, & Leather Bandana (with One Leg Rolled-Up)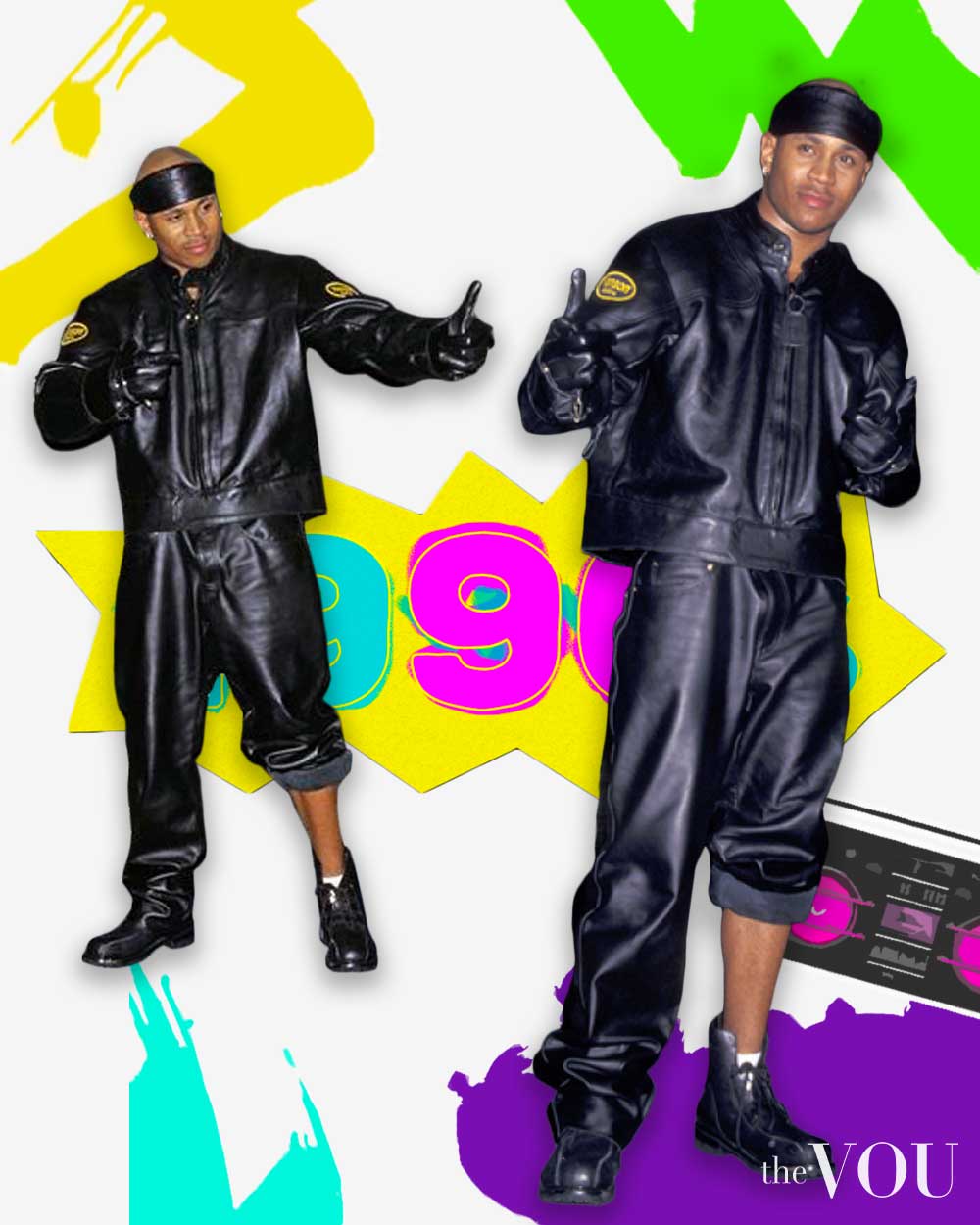 LL Cool J is considered one of the most influential fashion icons of the 90s hip-hop and streetwear styles.
From Kangol hats to dookie chains and Dapper Dan drips, LL Cool J's styles made the 90s outfits undeniably cool.
Of the many styles sported by LL Cool J during the 90s, the leather outfit is one of the most popular at 90s-themed parties.
Don't forget your leather gloves, leather headscarf, chunky sneakers, and the "Ghetto Style" rolled-up leg.
---
OUTFIT 4
90s Red & Yellow Adidas Tracksuit & Sneakers (with Kangol Cap)
In the 90s, full-set tracksuits were everywhere.
Bright, sporty, loud, and colorful, tracksuits were worn by everyone, from hip-hoppers to British footballers and from basketballers to rockers and movie stars.
One of the best 90s party outfits in hip-hop is Missy Elliot's red & yellow look.
The style is versatile and suitable for all sizes, including plus-size and petite clothing.
It comprised a classic Adidas tracksuit matched with a pair of same-color Adidas sneakers, a furry Kangol visor, and oversized gold earrings and chains.
---
OUTFIT 5
90s Turtle Neck, Wool Coat, & Bucket Hat (with Wallabees Shoes)
The Notorious B.I.G.'s usual hip-hop style is another fabulous 90s party look for those with large bodies.
The look requires a light-colored turtle neck to match a pair of wallabies in the same color, an oversized wool coat, casual pants, and a bucket hat.
Accessorize this look with gold rings and chains for an unbeatable 90s party effect.
---
90s Theme Party Outfits Couples
The nineties decade was filled with power couples like Britney Spears & Justin Timberlake, J. Lo and Puff Daddy, or Brad Pitt and Gwyneth Paltrow.
Below are the most representative 90s couple costumes, suitable for the most demanding 1990s party style.
---
OUTFIT 1
Casual 90s Matching Outfits For Couples
In the case of Gwyneth and Brad, everything was matching, from outfits to hairstyles, often sporting identically trimmed and dyed bobs.
Dating from 1994 to 1997, the duo always nailed 90s couple dressing with styles that nowadays staple outfits for a 90s party theme.
This is also the most effortless 90s outfit for a white couple.
All you need is a stripy sweater V-neck vest, a white t-shirt, a pair of high-waist chinos, and Converse (for him).
For her is a long floral dress in boho style matching her partner's color theme and a pair of platform sandals.
Finalize this 90s party look with tiny, round sunglasses – for both.
---
OUTFIT 2
90s Hip Hop Couple Outfit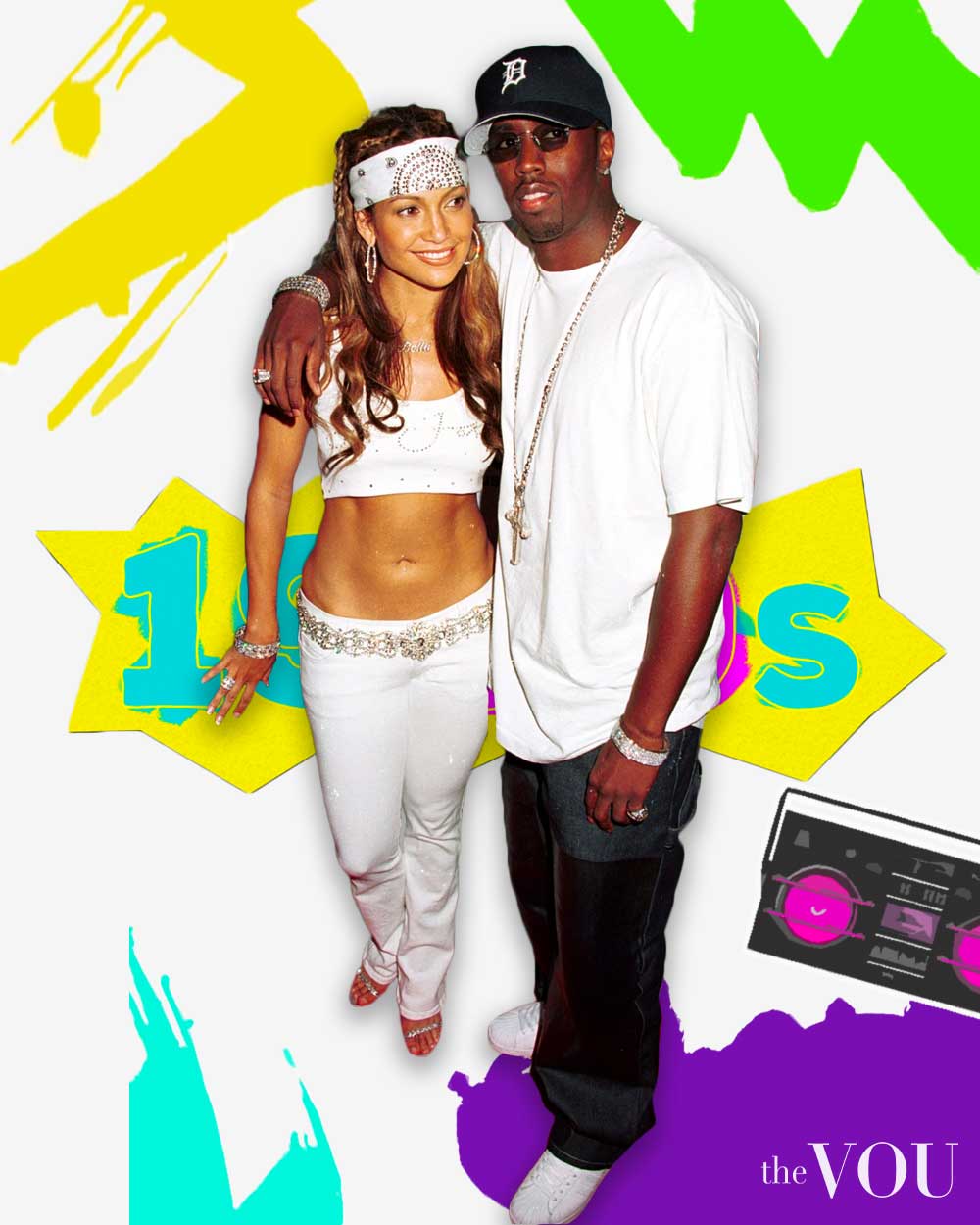 Lopez and Puff Daddy dated from 1999 to 2001, years that Combs recalls as: "a great time in my life."
This 90s party outfit for couples is suitable for those with a dark skin complex who love hip-hop music.
Why dark-skin tone? Because white trendy jeans for women, sneakers, sandals, tops, and diamond-like accessories create a stunning contrast with the skin.
Moreover, this style looks fantastic when the couple can pull some hip-hope moves simultaneously.
---
OUTFIT 3
90s Black & White Couple Outfit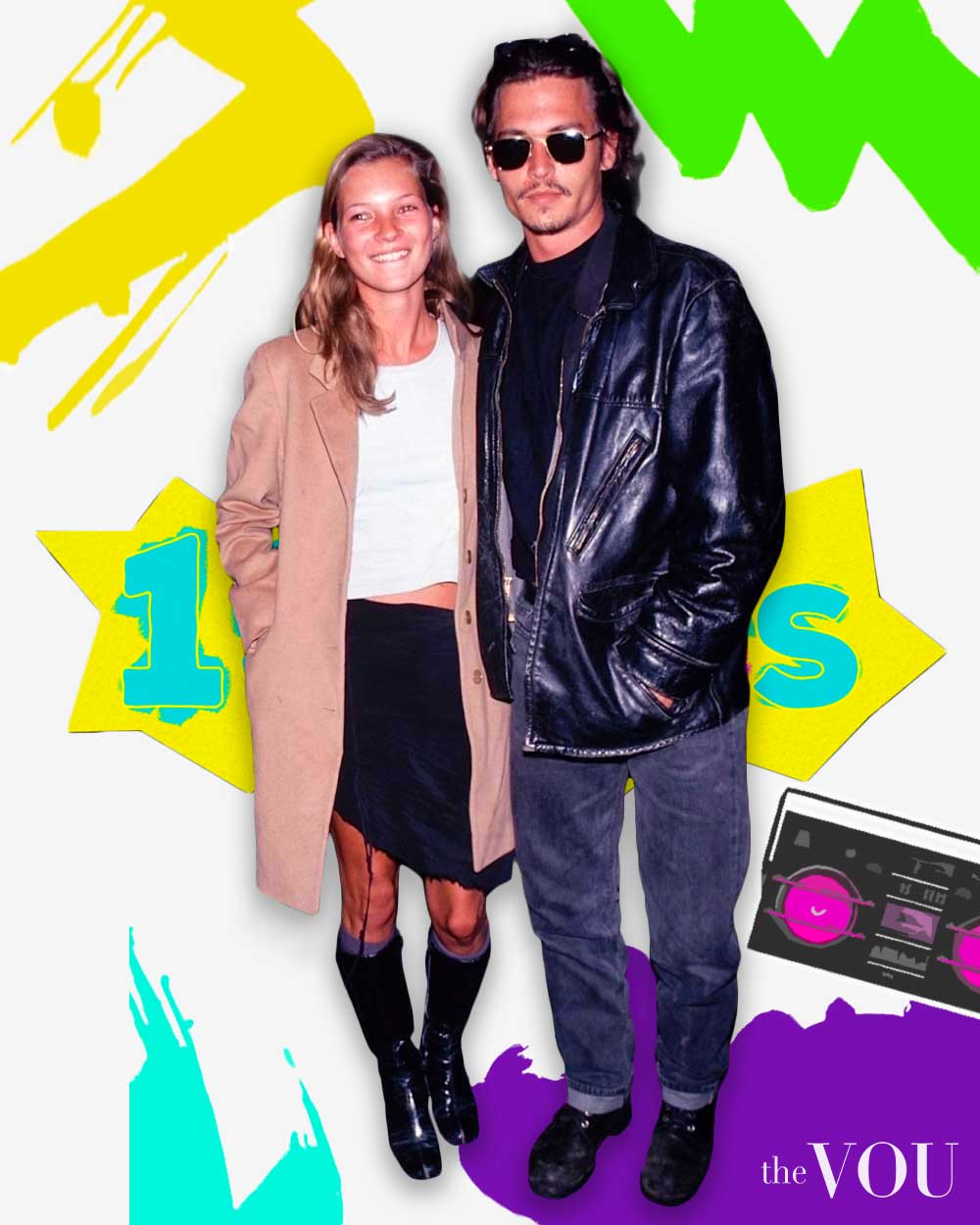 When Johnny Depp and Kate Moss first met, she was a 20-year-old jet-setting model, and he was a 31-year-old Hollywood A-lister obsessed with the Hollywood club scene.
Their passions are visible in the couple's outfits in the 90s, with Moss wearing long, structural coats and Depp 'deeping' (no pun intended) in his usual city look; leather jacket, jeans, and monochrome t-shirt.
Oh, if you're playing Johhny, don't forget the double glasses; there's a pair on his head – bet you didn't see them until now.
---
OUTFIT 4
90s Black Couple Outfit
Will Smith and Jada Pinkett Smith ruled the 1990s-style scene.
From micro sunglasses and boxy blazers to excessive leather, the Smiths set the benchmark for ultra-hip dressing that looks just as sharp today.
The Smiths coordinated their outfits beautifully, spotted at the "Devil In A Blue Dress" premiere.
Jada challenges the film's title with her Hawaiian-style blue dress, matching Will's oversized striped suit and a white T-shirt.
---
OUTFIT 5
90s Grunge Rock Couple Outfit
Another 90s power couple to get inspired by for a perfect 90s party costume.
While Love's overall aesthetic and dressing style is described as 'kinderwhore,' the look is straightforward to construct.
A long white satin dress, white pearls bracelet, and white low-heel pointed shoes. That's it.
The style is equally simple for him, grounded in the classic grunge style.
From the bottom up, Converse sneakers, ripped jeans, long sleeve sailor-style top with horizontal stripes, and oversized round glasses, ideally in red.
Don't forget the matching suicidal-bleached hairstyle, and a milk bottle, for a complete look. The baby's optional.
---
What To Wear To A 90s Party?
While all 90s party clothes must represent the nineties stylistic decade, choosing the best 90s party outfit for you depends on several factors.
There are specific 90s party clothes and styles for different genders, for women, men, androgynous, and even gender-free.
There are specific 90s party clothes and styles for different body types, from long and tall to petite and curvy, all-inclusive body types.
Even the haircut style and color matter when choosing a great 90s costume party that would have a maximum effect.
So, whether you're attending a 90s-themed party and need outfit inspiration or want to relive your youth's decade, this article includes a list of 20 inexpensive but effective 90s party outfit ideas.
The Verdict
Following this article's 90s party outfit examples, you'll find that putting together your own 90s party-style costume is convenient, affordable, and fast.
As a key takeaway, remember that finding and wearing the best 90s party outfit depends on your current style, age, haircut, and even skin complexion.
Most 90s fashion pieces comprise garments not necessarily representative of those times, such as bowling shirts, flared jeans, skinny jeans, and even double denim.
Other 90s outfits comprise flannel shirts and leather blazers, giving a sense of style that's more relevant to the 80s fashion.
But, above all, the looks you choose must represent the nineties stylistic decade worn by celebrities of those times.
So, whenever in doubt, come back to this article for the best 90s party outfits inspiration.
Weekly Newsletter
Keep up with the latest in fashion, beauty and style!
Now it's your turn…
Which one of these outfits are you going to wear to a 90s party?
Are there any other outfit ideas for a 90s theme party you've tried and want to add to this list?
Comments below, please!



After years of managing hundreds of fashion brands from London's office of a global retailer, Mandy has ventured into freelancing. Connected with several fashion retailers and media platforms in the US, Australia, and the UK, Mandy uses her expertise to consult for emerging fashion brands create top-notch content as an editorial strategist for several online publications.