'Why is Supreme so expensive?' is one of the most asked questions in the fashion world.
In this article, I'll introduce you to the brand's history and heritage and unveil 4 secret strategies Supreme uses to 'keep the flag flying high.'
From a small skateboarding label to a billion-dollar streetwear company in 2023, Supreme is one of the world's most expensive brands.
Moreover, following the partnership with the luxury giant LVMH, Supreme has become more expensive than most names in streetwear and even high-end markets.
For example, priced around $100,000, each Supreme x Louis Vuitton teddy bear and Supreme x Louis Vuitton trunk are two of the most expensive items in their respective categories.
So, Why is Supreme so Expensive?
Reaching a cult-like following and the status of one of the most expensive brands in the world is no accident.
Supreme has become one of the most expensive brands in the world by using, to perfection, 4 finely-tuned strategies:
As you'll discover in this article, these 4 strategies are beautifully intertwined, strengthening each other.
For example, each limited edition has lured in more celebrities; in exchange, a bigger community of fans, resellers, and collectors is built.
To outsiders, Supreme is a brand with an eye-catching logo, limited product releases, and designer collaborations.
To its followers, Supreme is an obsession that keeps building an entire subculture.
Without further ado, here's why Supreme is so expensive right now, in 2023.
1.
Rebellious Brand Image
Skating DNA, Streetwear 'Supremes, Copyright Infringers
Supreme was founded in 1994 by James Jebbia in the SoHo neighborhood of Manhattan, New York.
Launched as a primary skateboarding store 30 years ago, the brand has become one of the most popular clothing brands in the world.
Initially, Supreme's store sold only tees, hoodies, and sweatshirts, targeting New York's burgeoning skating community.
Throughout the '90s fashion and early 2000s fashion, skaters played a massive role in the creation and adoption of the 'streetwear style.
Since its inception, Supreme has cultivated and maintained an image of skatewear originality and authenticity.
As such, each of the brand's limited releases was highly praised by the community.
While Supreme was taking New York by storm, the same community of skaters was making the brand famous on the other coast of the US.
Located in central Los Angles, Fairfax Avenue comprises hundreds of boutique shops and designer brands.
Seen as the birthplace of modern skateboarding, Streetwear labels are particularly famous in Los Angeles' Fairfax Avenue.
And, as the skater culture is at the core of the streetwear movement, Supreme has been, and will always be, an OG, a history maker, and a number one.
But it wasn't until 2006 when Supreme reached country-wide popularity and fame thanks to the Supreme Blazer SB, a shoe collaboration with Nike.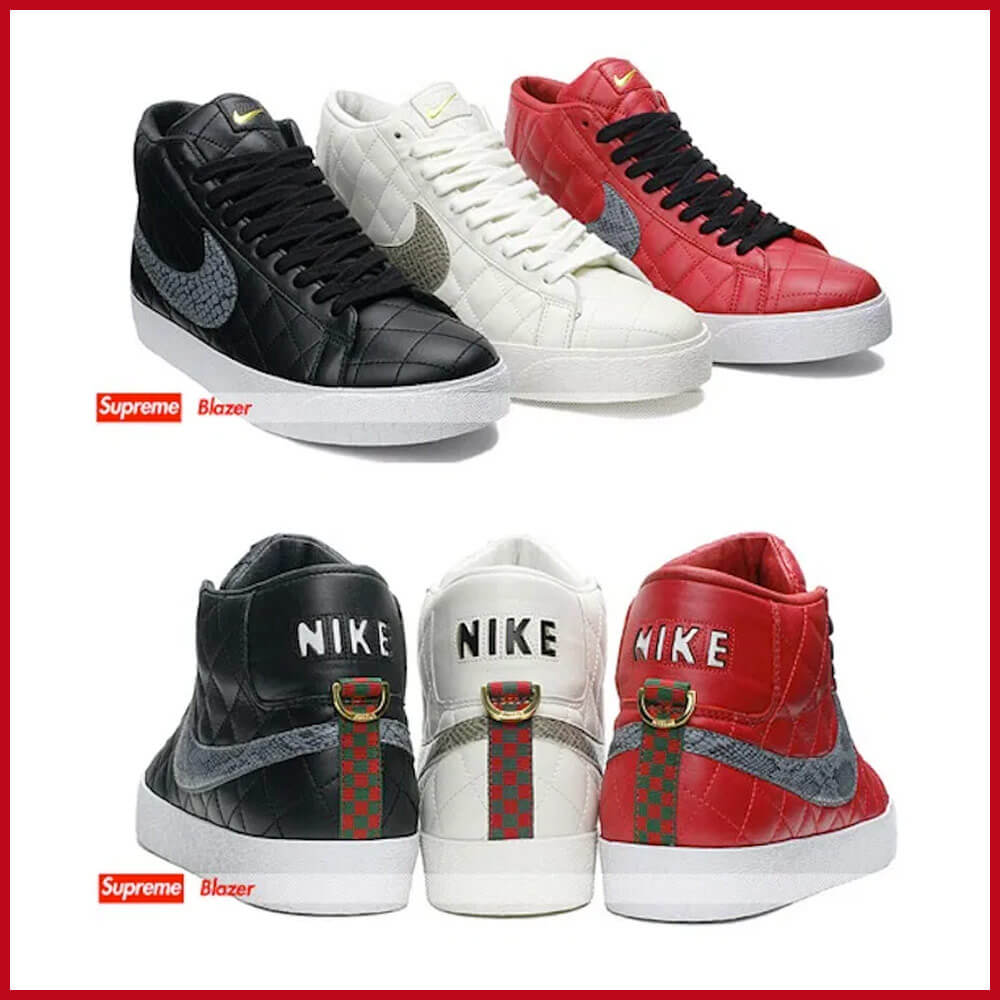 At launch, the shoes were priced around $150.
However, after Kanye West was seen wearing them at the Grammy Foundation Starry Night party, their price rose six times to $800.
That was the moment when Supreme's logo started to gain recognition on a global scale.
And from a small skateboarding store in New York selling 'fake branded tees' to survive, Supreme became a $1 billion streetwear company stocked in some of the world's largest streetwear stores, such as GOAT.
Nowadays, Supreme's iconic logo is easily recognizable for its simple yet, original construct: white italic lettering over a plain red background.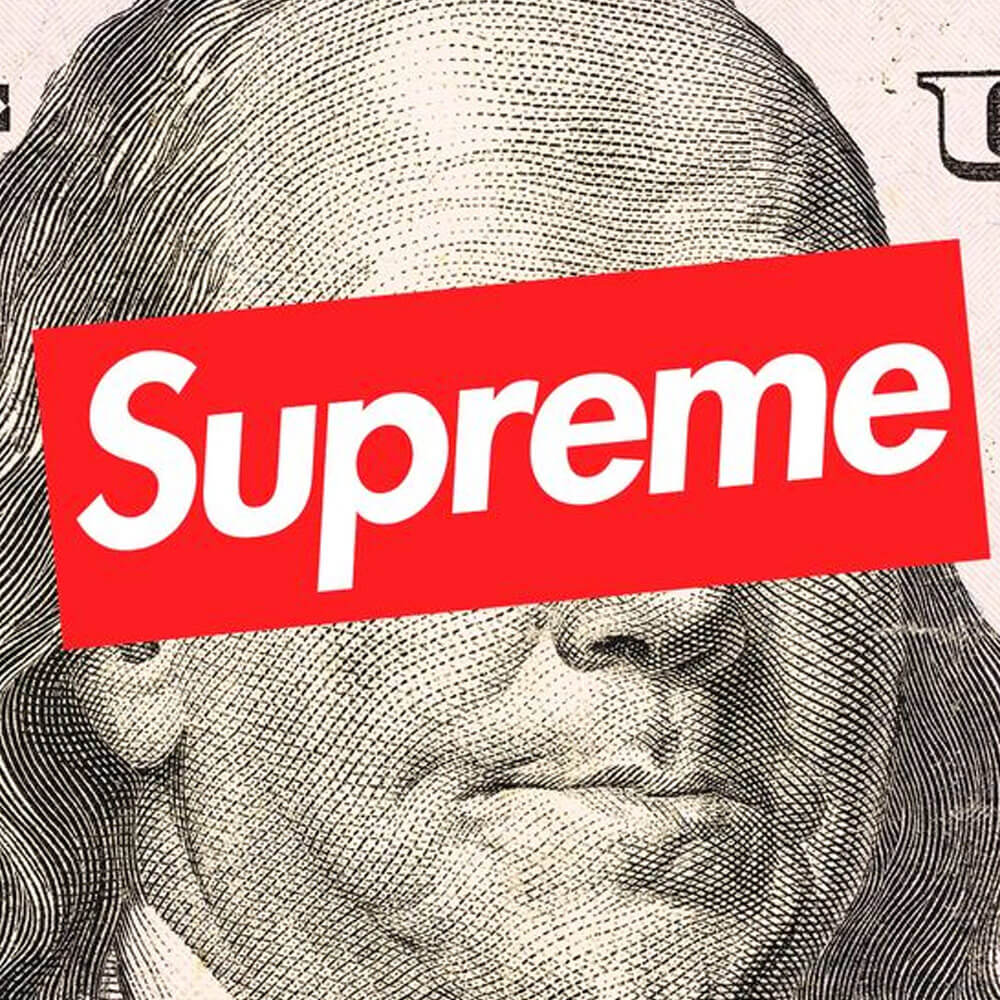 That said, few people know that Supreme's logo is another illegal copy – of Barbara Kruger's (a conceptual artist) design work.
But that's somehow normal, as copyright theft is another crucial part of Supreme's makeup and DNA.
In time, Supreme's 'appropriation' of images has contributed to the brand's rebellious image and growing popularity.
The brand's designers copied and adapted classic pop-cultural imagery and logos to ensure each piece feels more like contemporary art or graffiti.
One of the earliest and most popular Supreme T-shirts showcased a photo of Robert De Niro from the film Taxi Driver, accompanied by the brand's iconic red-and-white logo.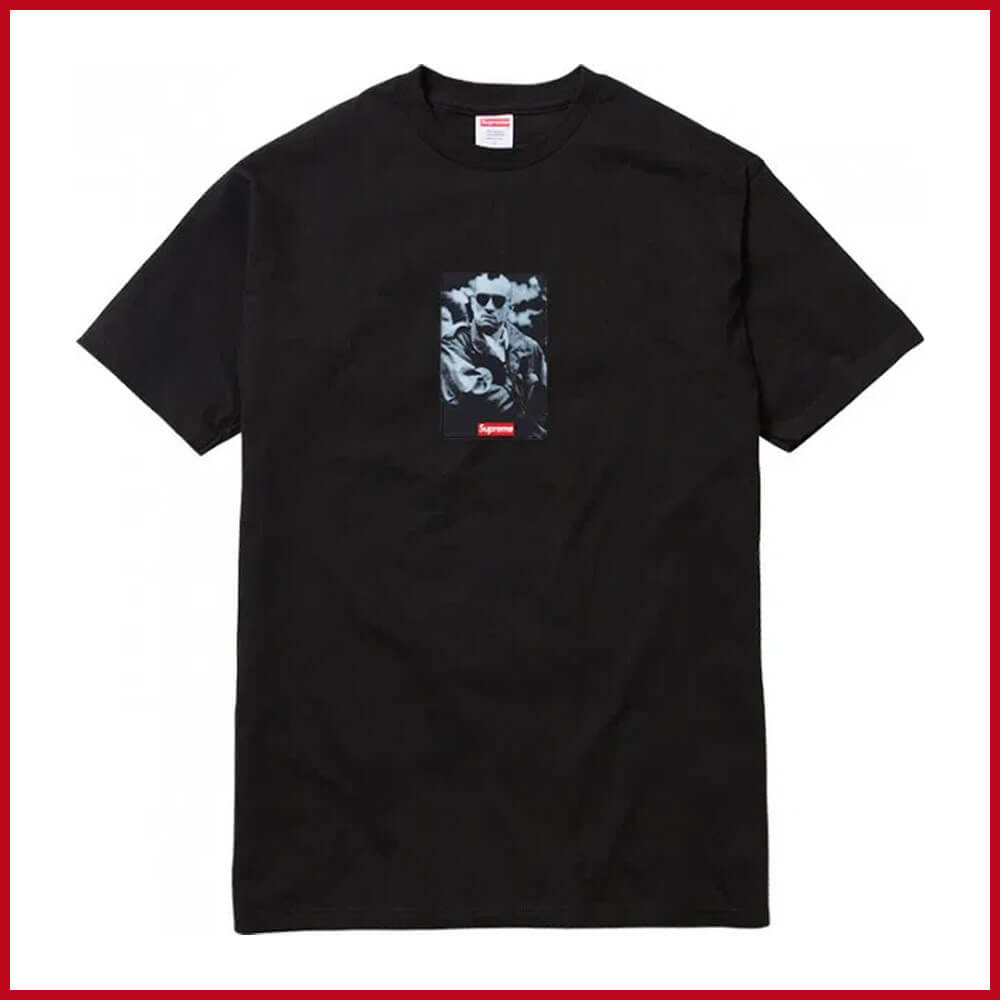 Supreme also produces pieces with popular phrases, allowing customers to 'speak' through their clothing.
Aiming to keep the products exciting, the brand's products feature new designs with Supreme logo variations.
The more you are exposed to Supreme's logo, the more likely you'll develop an association, a familiarity, a sense of belonging, and a connection with it.
In the past, the company's use of unlicensed imagery has led to Supreme being served several cease-and-desist letters from NHL, NCAA, and even LVMH.
But despite all legal wars and constant expansion, Supreme has managed to keep its cool, alternative, exclusive, and rebellious image.
Moreover, after selling a 50% stake to a private equity firm, Supreme managed to maintain its skater DNA and a logo that stands out: identifiable, remarkable, and easily recognizable.
---
2.
Products 'Hard-To-Get' Approach
Limited Store Access, Limited Stock, Limited Purchasing
Obtaining Supreme goodies, be they sneakers, jackets, bags, or T-shirts, is always difficult.
But that's because Supreme is purposefully making the process of buying extremely hard.
Apart from its online store, Supreme sells merchandise at around 12 brick-and-mortar stores worldwide.
As part of the company's strategy, the brand creates an image of hard-to-get, exclusivity, and limited availability of products.
For example, Monday morning, you access Supreme's official website.
You enter your shopping information; name, email, phone number, address, and credit card number.
Tuesday, the company sends you a text message to let you know 'if' you are selected to stand in line at one of their physical stores.
Wednesday, Supreme sends you another message informing you of the time and store you'll have to report to.
Finally, almost a week later (Thursday), you can go (only to the given store and at the given time slot) and wait in the queue to get the goods.
To top up the 'hard-to-get' element, there's another hurdle, namely the only-one-piece-per-style.
So if a Supreme shirt comes out in black, red, and grey, you can only get it in one color.
If you want it in black and red as well, you'll have to get two other people to order it for you.
Moreover, they'll have to stand in Supreme's waiting line next to you.
Another hard-to-get Supreme technique that generates further interest is the intentional release of fewer products than the market demand.
The more Supreme makes its buyers work to access products, the more alluring these services and products become.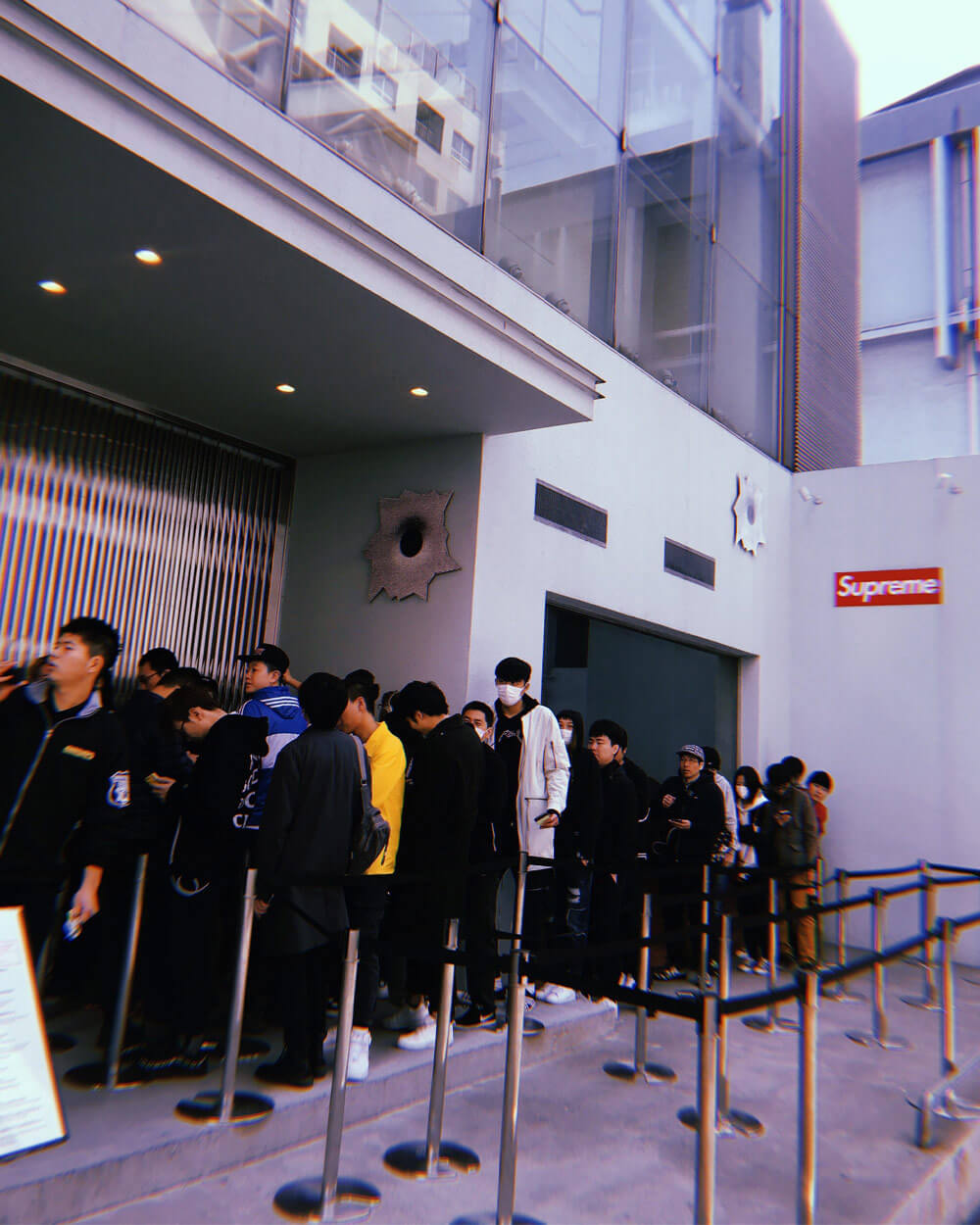 Making goods hard to access is a strategy that Supreme has copied from luxury brands after noticing it creates additional value in consumers' eyes.
The more hoops and loops consumers have to jump through, the more relevant, justified, and worth each purchase are to them.
For example, both London and New York have many top-quality streetwear brands.
The more exclusive and limited products are, the higher the demand – and Supreme is the best example.
Overall, Supreme exploits to perfection the law of supply and demand.
Whenever Supreme launches a limited edition collection in a low offering, it creates a higher demand for those products, which, in time, becomes further valuable.
And that's the point when resellers and collectors come in – see point 4 on this list for more info.
As Supreme's collectors are interested in rare and limited edition pieces, they don't mind buying Supreme at reseller prices rather than buying them directly from the store.
---
3.
Limited Editions & Rare Collections
Via Partnerships With Celebrities & Luxury Brands
Supreme is known for several COLLABORATIONS with Nike, Dover Street Market, The North Face, Vans, LVMH, and high-profile brands.
And the more celebrities wore Supreme products, the more Supreme's outfits, and accessories gained popularity among those interested in celebrity culture.
Some of the biggest names working with Supreme include Kanye West, Chris Brown, John Mayer, and Kid Cudi.
Indirectly, global stars and celebrities have boosted the brand's popularity in what's now called the 'Kanye effect' – an indirect reference to the star wearing the 'Supreme Blazer SB' shoe.
If you didn't catch the story above, these Supreme shoes were launched in collab with Nike and retailed for around $150.
The price didn't change much until Kanye West was spotted wearing them in 2007 at the Grammy Foundation's Starry Night.
Right after Kanye's pics hit the internet, Supreme's shoe resale price rose six times to $800.
Supreme launches several limited editions in collaboration with top celebrities and brands.
To better understand the concept of 'limited edition,' we will look at an example of two identical jackets.
Both are made by The North Face from identical materials, built on the same Gore-Tex technology.
One jacket costs $400; the other one is $4000. So, what's the difference?
The jacket, priced at $4000, is part of a Supreme x The North Face collaboration.
Similarly, the teal box-logo sweatshirt worn by Tyler, the Creator, in his "She" music video retailed for around $150.
However, once a buyer resold it, the price increased to $3,500.
This is how, indirectly, Supreme has created a reseller market of people who buy their products not because they are interested in wearing them but because they are interested in making money.
Whenever there's an opportunity to make money, there will be people (queuing around the block).
FUN FACT
"The 'money-making' demographic will always be larger than the segment of consumers interested in streetwear."
These people aim to resell Supreme products at prices much higher than the initial retail price for a profit.
And that takes us to the 4th strategy used by Supreme to become so expensive: Supreme's fan base or resellers and collectors.
---
4.
Powerful Community
Fans, Resellers, and Collectors
Over time, Supreme has amassed an enormous fan base.
On Instagram alone, the brand has well over 20M fans from all over the world.
As word of a new release spreads through their online communities, fans begin to book shopping sessions online, hoping to line up outside their closest Supreme stores.
Then, the madness commences, with shoppers constantly refreshing Supreme's web pages to get the brand's latest products.
Supreme's fans (called hypebeasts) contribute significantly to the climate of collective madness on forums, Instagram feeds, and resale websites.
A new Supreme release's excitement level sees resellers use any means available, such as software sneaker bots, to access the brand's products.
Once they get their hands on Supreme's collections, resellers place them on websites like eBay, StockX and auction houses like Sotheby's for the most expensive ones.
The famous British auction house included in its 2019 catalog a giant batch of Supreme things in its auction history.
According to Telegraph, over 1,300 items owned by Supreme's collector Yukio Takahashi – from minibikes to pinball machines – sold for a total of £200,000.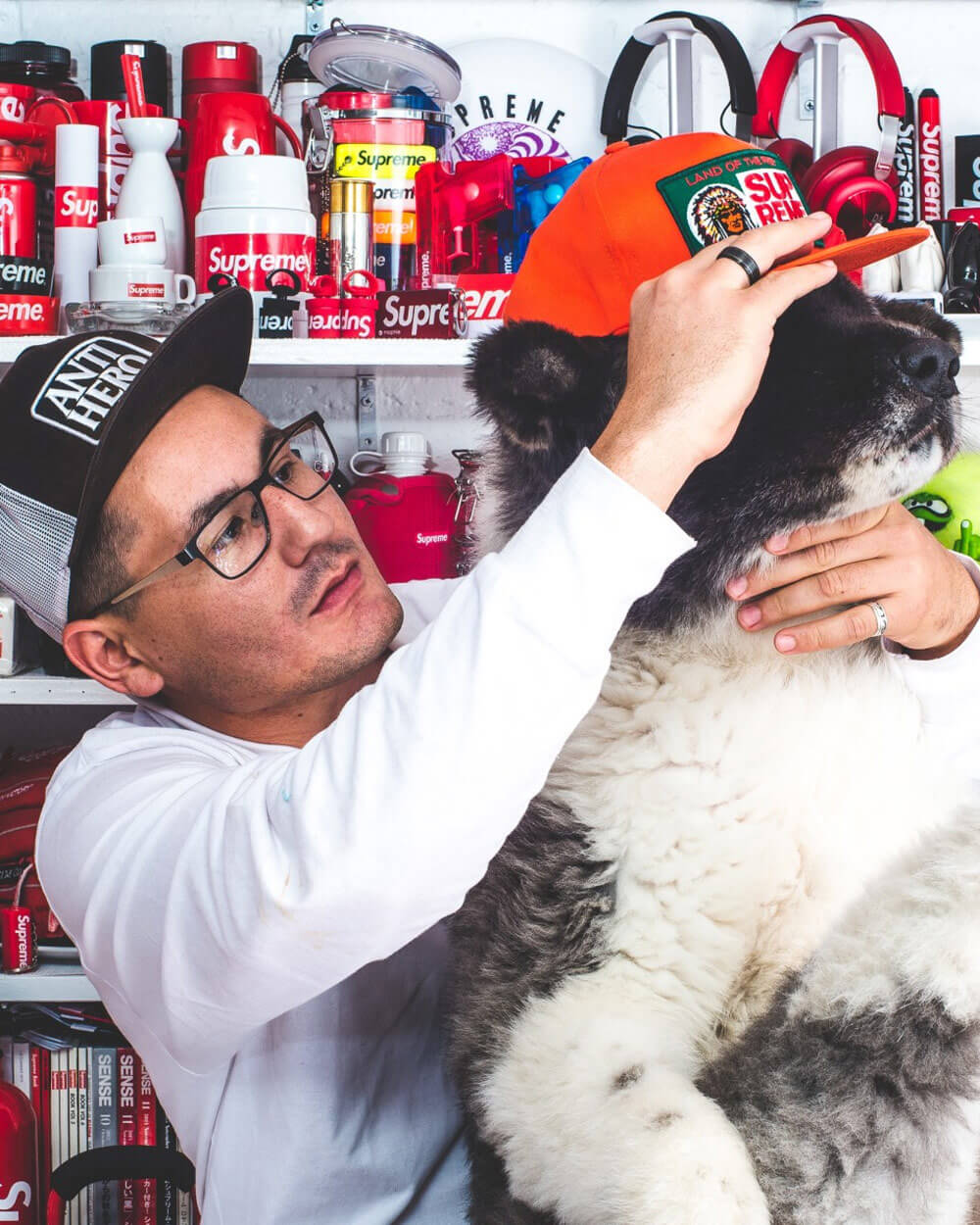 Supreme is almost a faith in Japan, the country with six out of eleven Supreme stores globally.
Because Supreme's products are in limited editions and highly sought after, some resell for up to 30 times the original price.
Supreme x Louis Vuitton was the brand's most significant and notable collaboration in streetwear history.
Given that Louis Vuitton produced and distributed the collection, even the early retail prices were high.
Conclusion
In reality, the price of an original Supreme product bought from their stores isn't anything out of the ordinary (price-wise) especially compared to other similar brands.
For example, most graphic t-shirts from Supreme retail for $36.
That's not more than what you'd pay for a similar t-shirt from other brands in the streetwear category.
But, as the brand only makes a limited number of hyped-up items everyone wants, these products sell out fast and long before most people can get one.
For example, when Supreme dropped their famous box logo design on crewnecks during their Fall/Winter 2018 collection, all nine colorways and four sizes for each colorway sold out in 32 seconds.
Moreover, most customers trying to get a Supreme crewneck got a card declined error, as the company was trying to block online fashion bots from mass purchasing items.
Once sold out, customers paid almost $1,000 for the same crewneck that someone else managed to get from the official website for just $150.
However, not all Supreme products are resold for profit.
An item that doesn't resell for more than the original retail price is what we, in the Supreme community, call a 'brick.'
There are many Supreme bricks on reselling platforms if you're interested in getting a Supreme item without paying a crazy premium price!
Here's some information on the best places to buy authentic Supreme items if you want to check out some prices.
Finally, the next time you hear someone asking, "Why is Supreme so expensive?" point them to this article and help them understand the whole culture behind Supreme.
The business strategy of Supreme is built on limited editions, resellers, collectors, and their collaboration with celebs and well-known fashion brands.
Weekly Newsletter
Keep up with the latest in fashion, beauty and style!
Now it's your turn…
Why do you think Supreme is so expensive?
Do you think Supreme is worth the money?
Please leave your comments below so others can benefit from your view.



After years of managing hundreds of fashion brands from London's office of a global retailer, Mandy has ventured into freelancing. Connected with several fashion retailers and media platforms in the US, Australia, and the UK, Mandy uses her expertise to consult for emerging fashion brands create top-notch content as an editorial strategist for several online publications.